* If there was rain/sleet/snow I made sure I had the rain jacket on (over the riding jacket), rain mits on (over the riding gloves), liner in the ridig pants, plastic bags over the socks before they go into the boots. See both notes below.
** Not true on this trip as I started out with Joe Rocket "Ballistic" pants which did not have a liner. In San Jose I picked up a set of First Gear "HT Overpants" and simply left their liner in - hot temps found me sweating - I dealth with it. The JR pants were a single layer pant - and they were not waterproof. For those I had to put on a rain layer under those pants (my rain layer would not fit OVER them - specifically they would not fit over the boots) The HT Overpants (with liner) do seem to be rather waterproof. So far I've not used rain pants under the HT Overpants w/ liner installed.
*** The poly-pro "moisture wicking" socks can't work if they can't wick moisture further out from themselves. The moisture from my feet stays trapped in the riding boots, the socks get wet, loose their thermal ability and I end up with cold feet by the afternoon. If I bag my feet first this keeps internal moisture (from my feet) away from the socks and thus the socks stay dry and my feet stay warm. If it's raining I also use a bag outside of the socks. The outer bag keeps external moisture (rain) from getting to the socks from the outside. Might sound like a hassle but it's just part of the routine - plus, bags (plastic grocery style) are easy to obtain and pack small when not needed.
Standard, loaded setup
1984 Honda Magna "V-65" VF-1100c, ~46,000 miles at trip start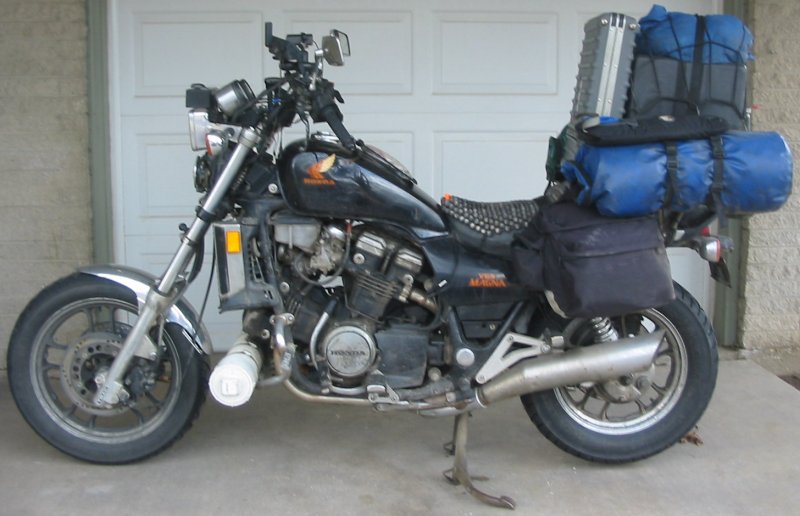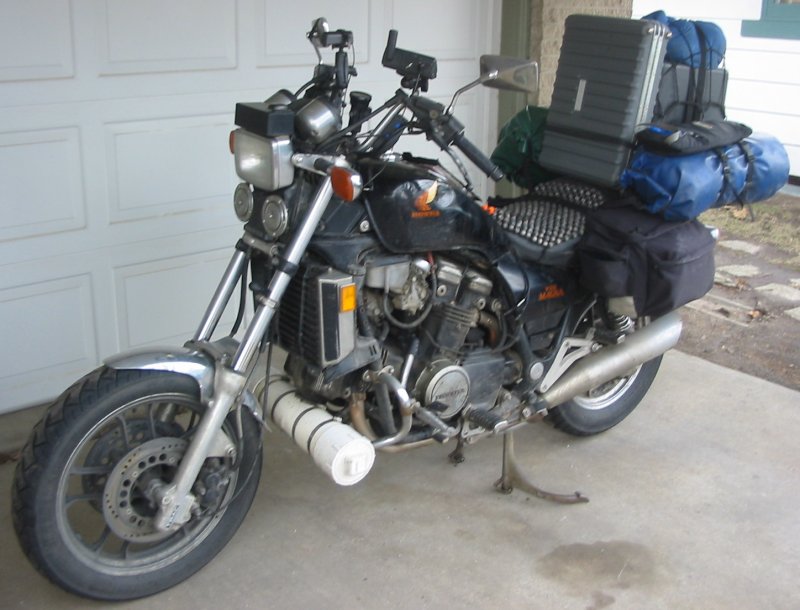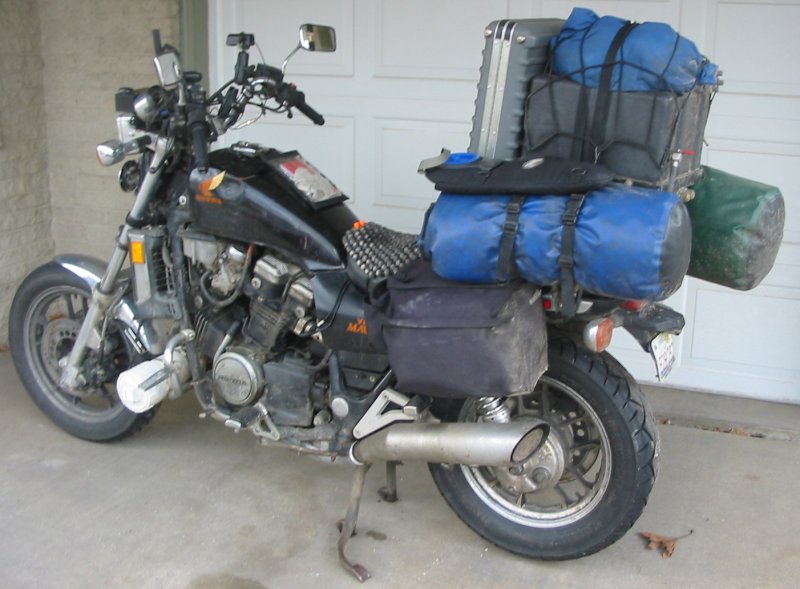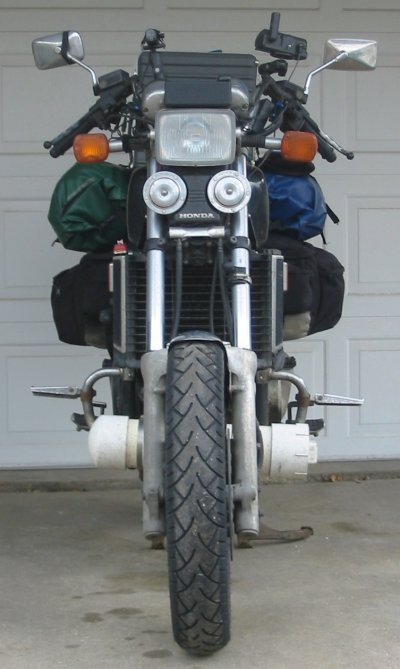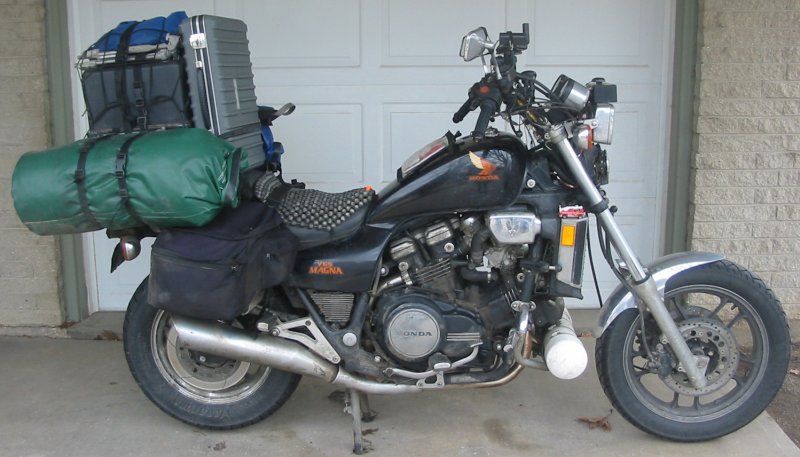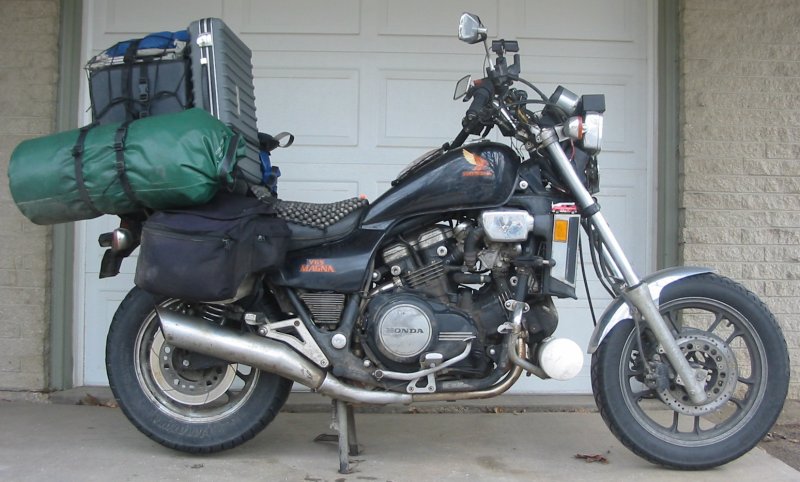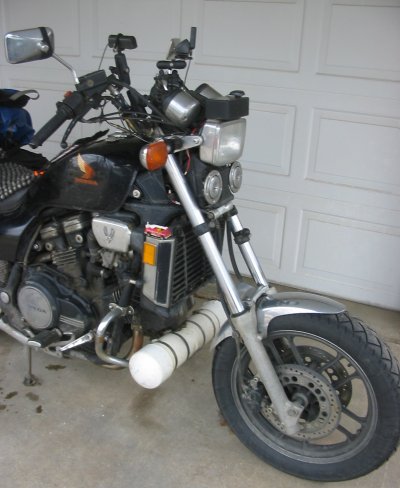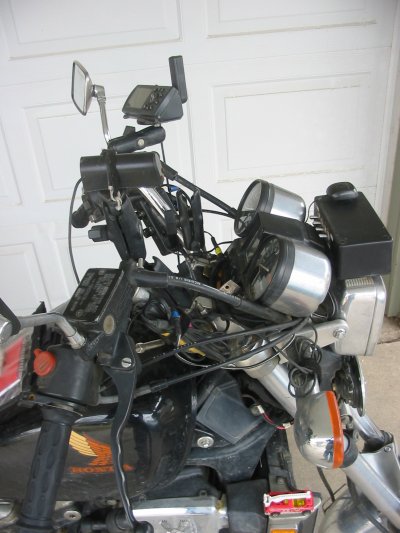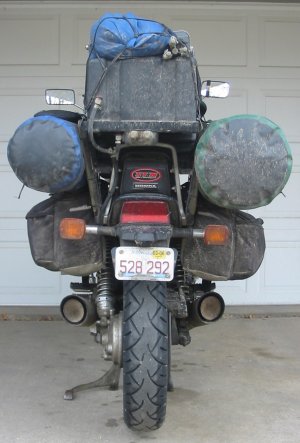 Dash setup - with full cameras
(cameras pulled if it's raining) - pretty much as it is when I'm riding.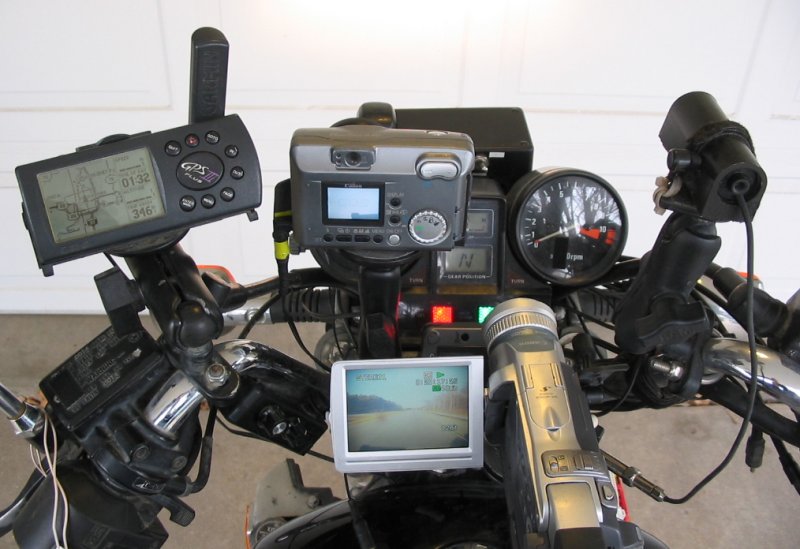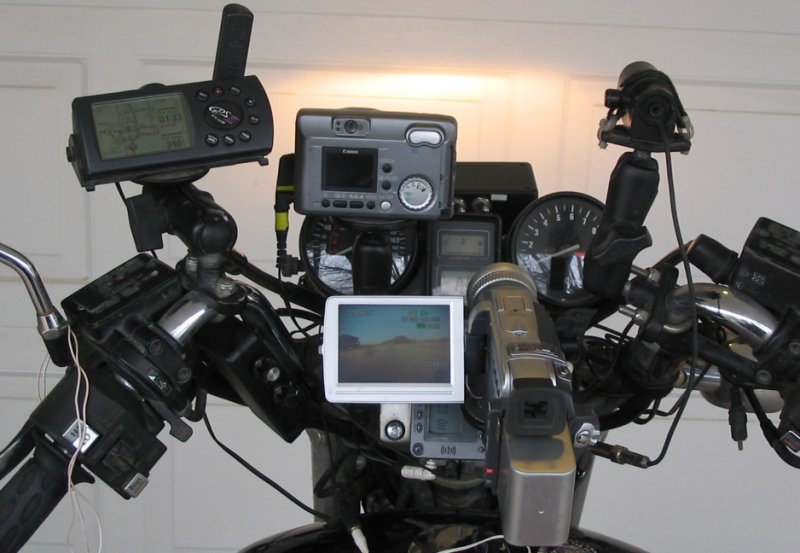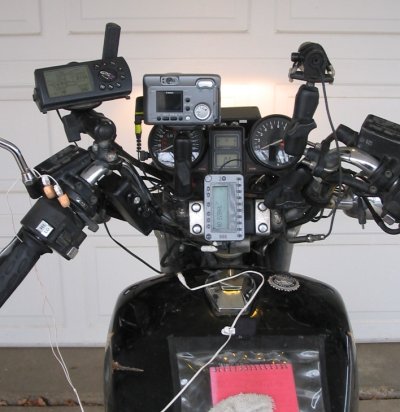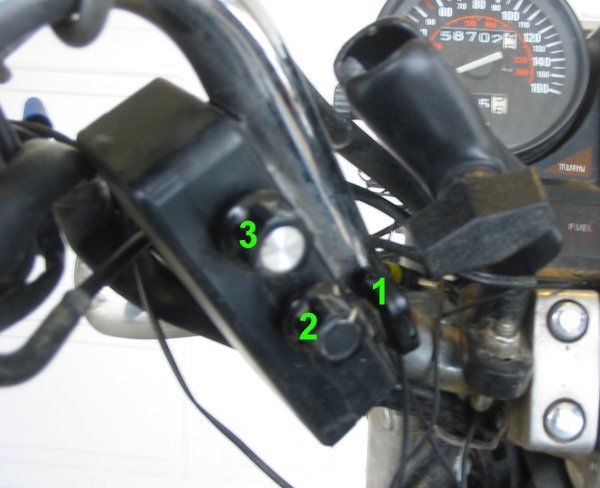 Still camea with protective UV filter and accessory ring installed.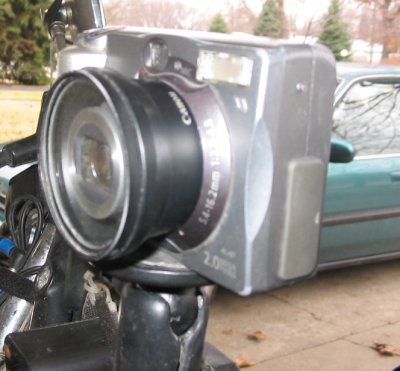 UV filter and accessory ring removed.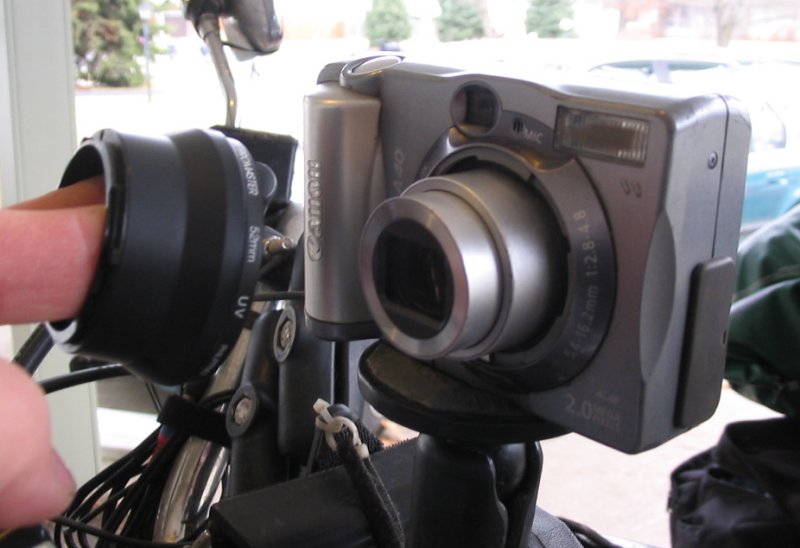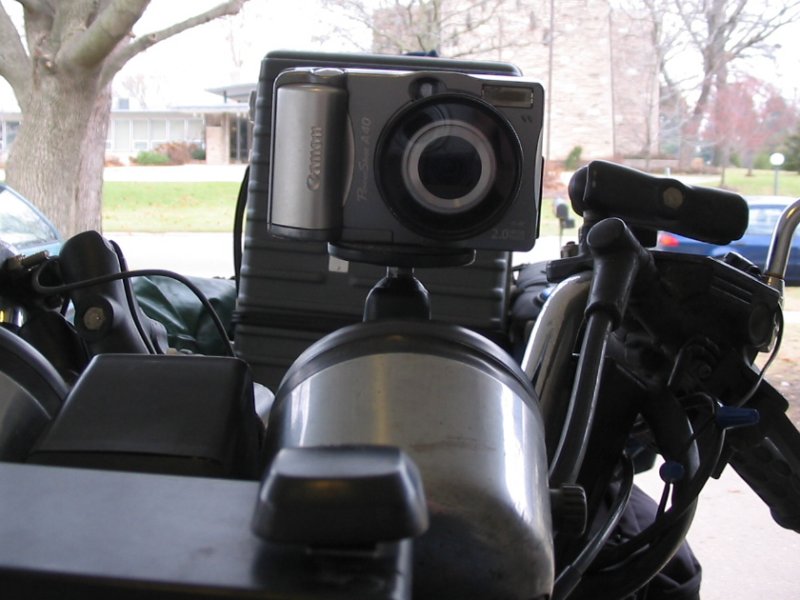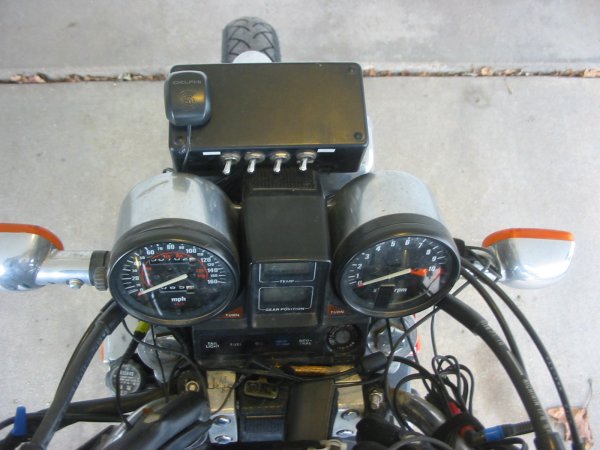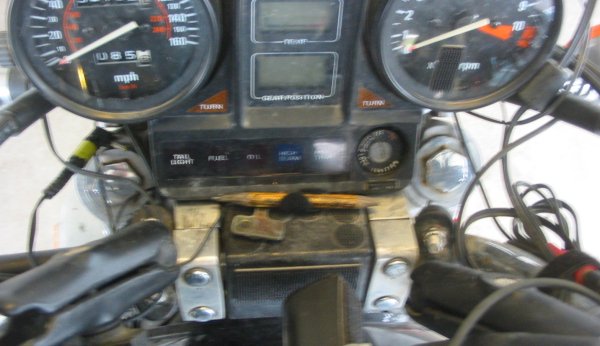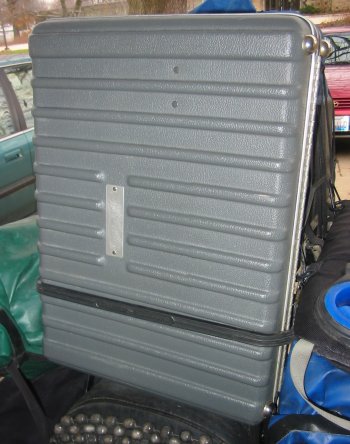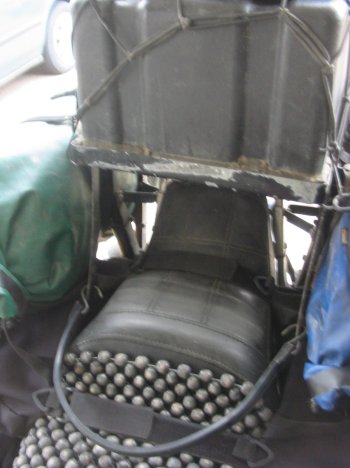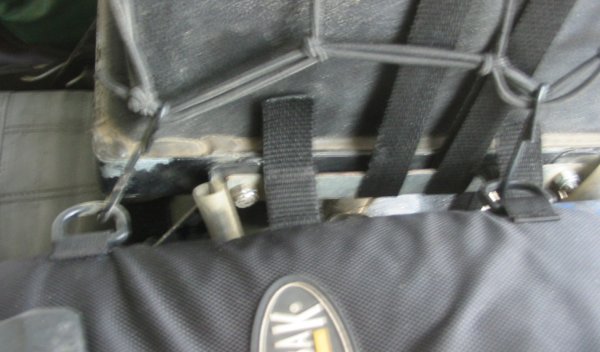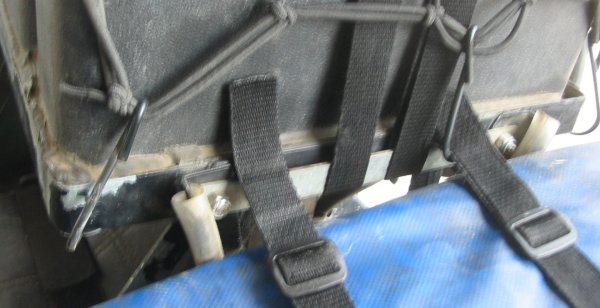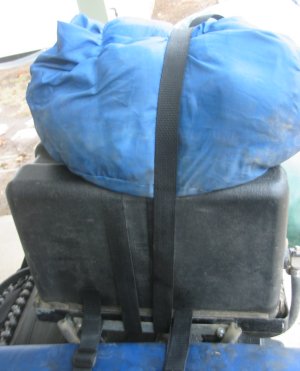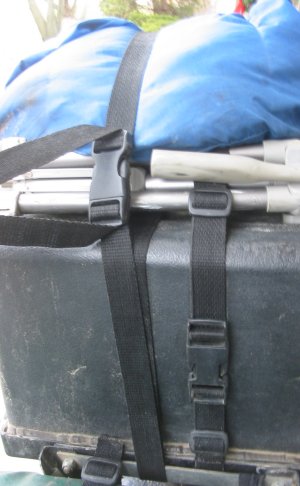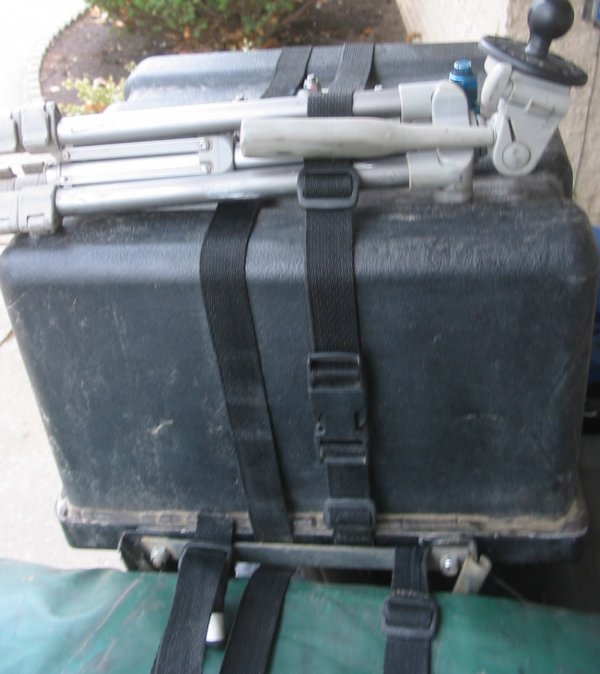 To fill the aux fuel cell I had to remove the blue bag and pull the straps out of the way.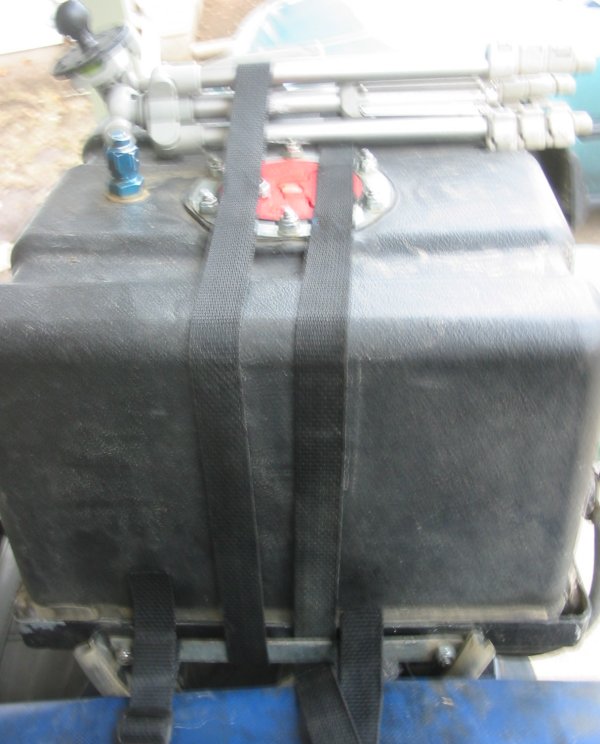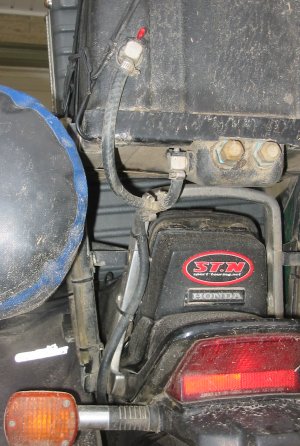 1) Upper valve (open position) ; 2) Lower valve (closed position)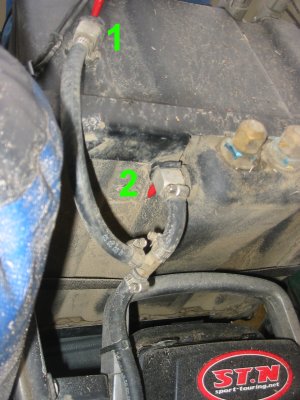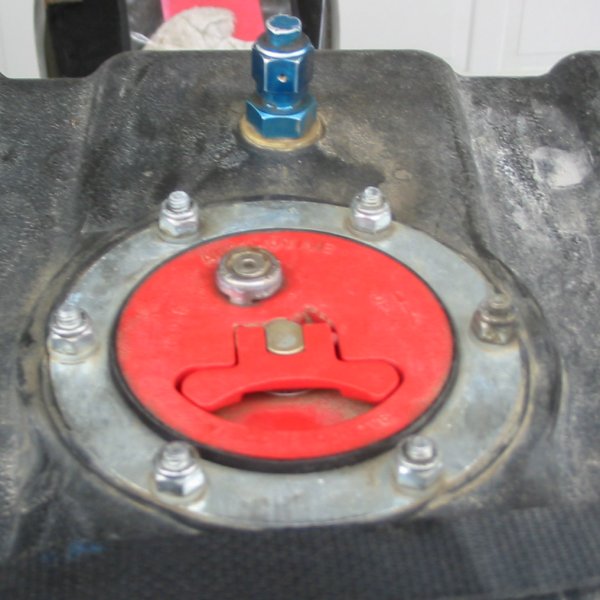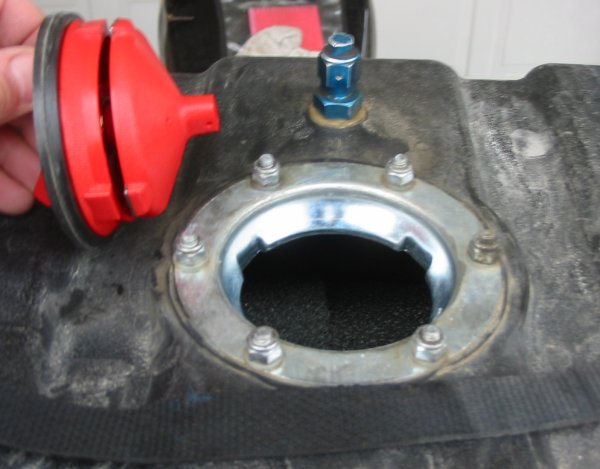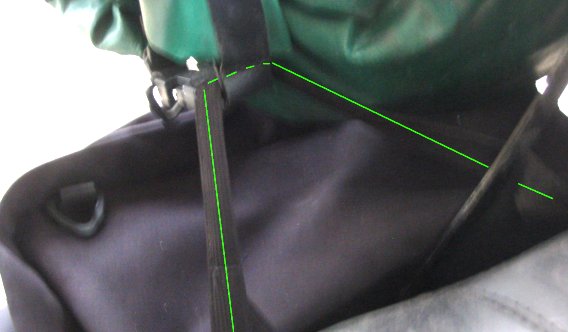 Two side straps - left side for the blue tent dry bag.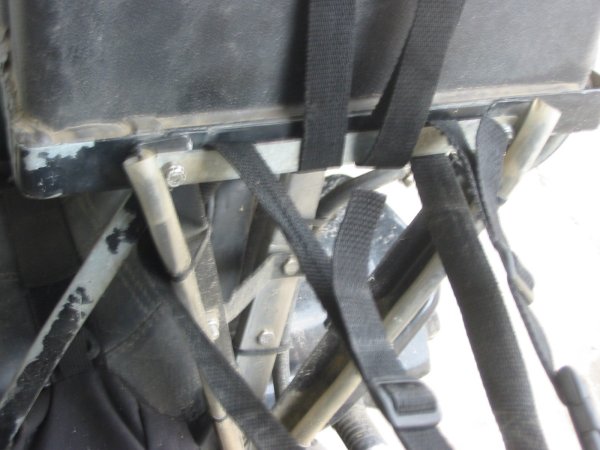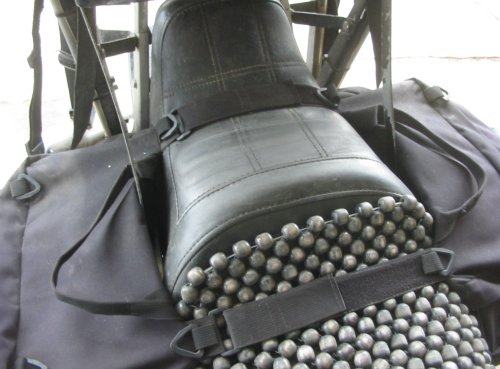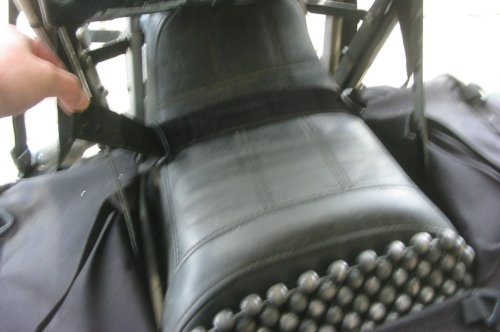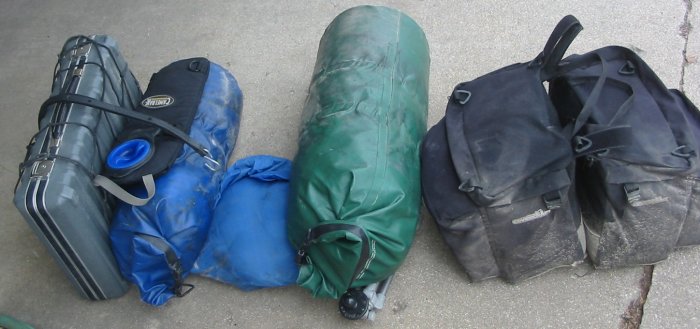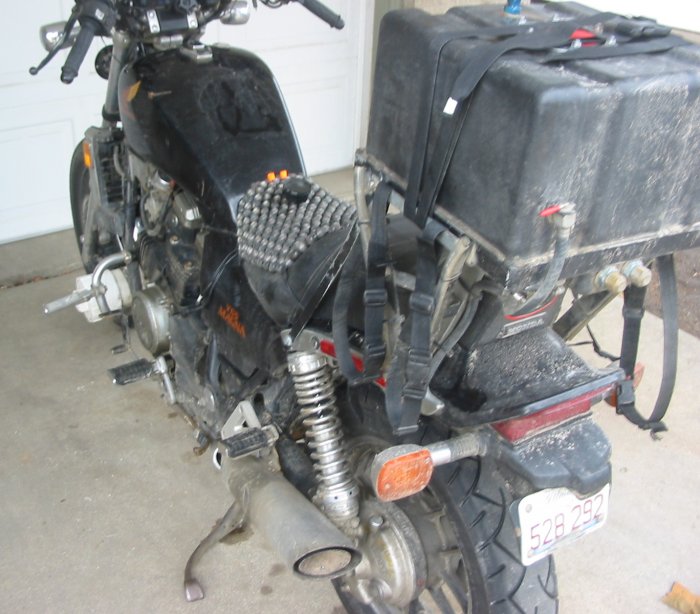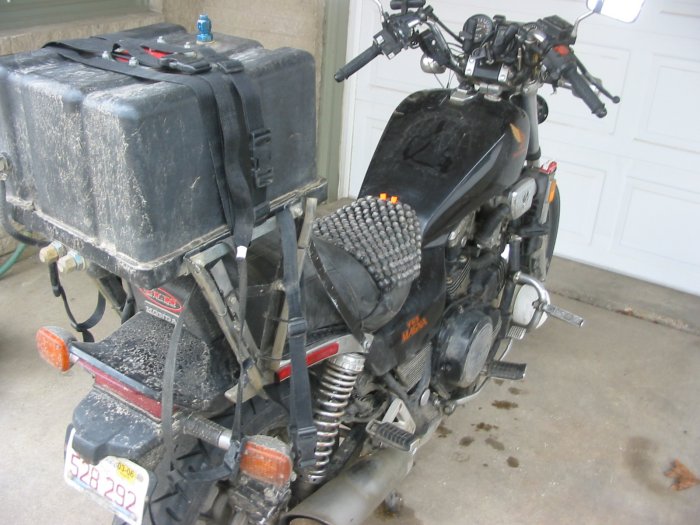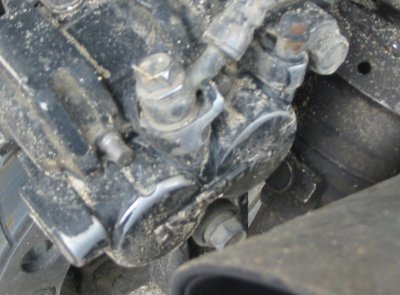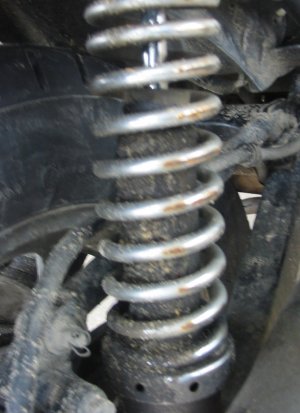 Ahhhhh - the beaded seat cover!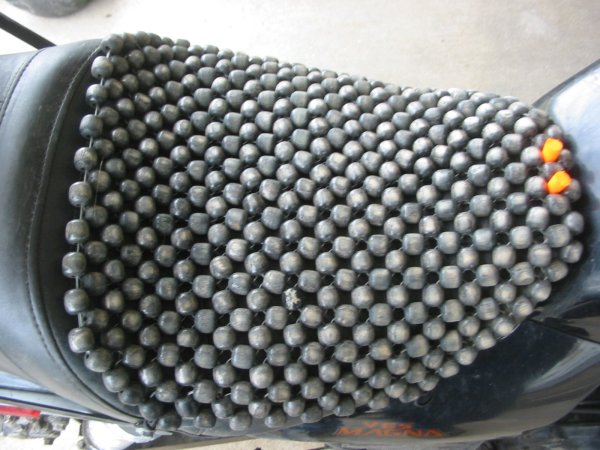 Some paint scratches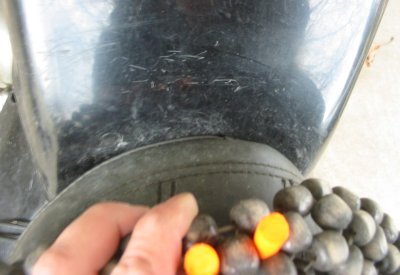 The FireChick truck - still hanging on!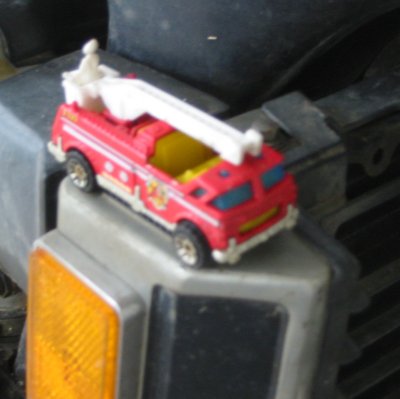 Ahem, well, the bike did get 'marked' on the rocky road - dent in the right front exhaust pipe.
See the
Addendum
page for the crazy rock road I tried to ride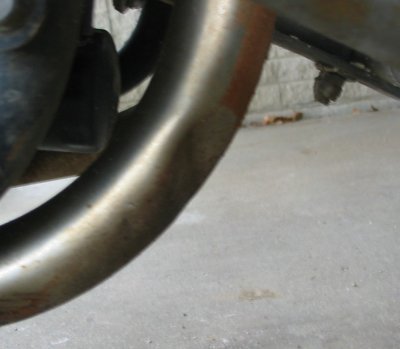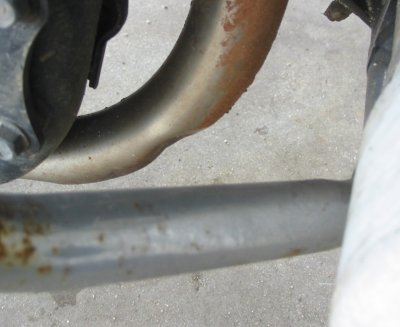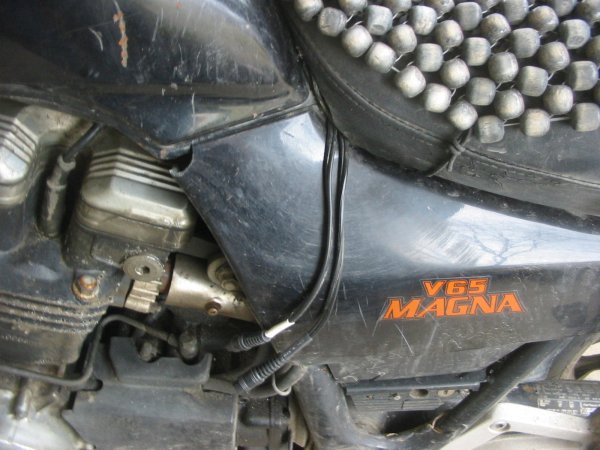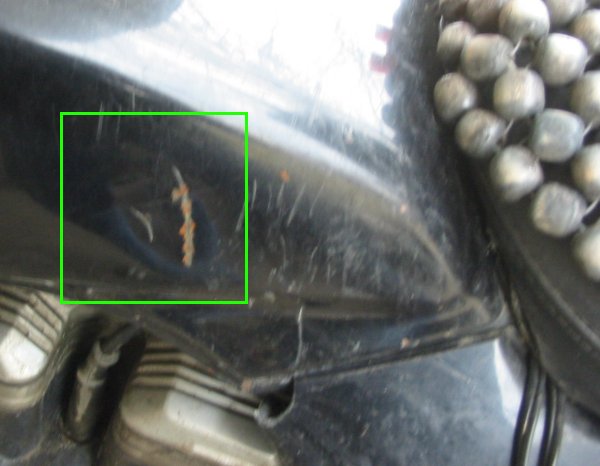 Bike trinkets
The firetruck, as you may know is from FireChick. The Pikes Peak item is from
Keeennn
during our
2003 Colorado Trip
.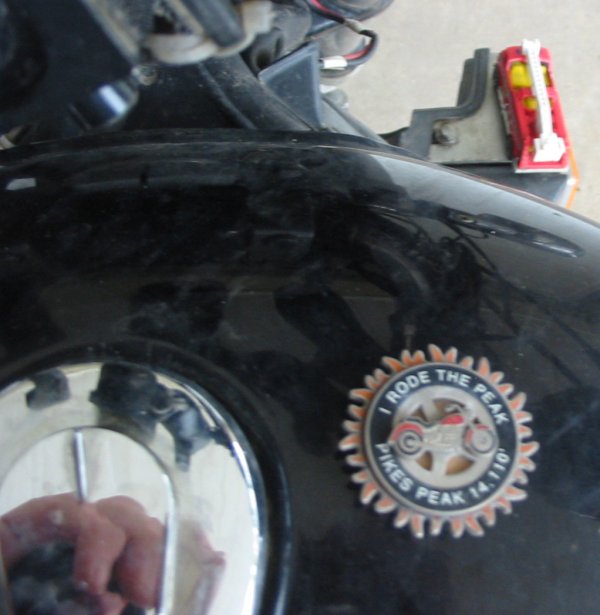 Accessory wiring.
1)
Heat-Troller
(PDF:
dual, perm mount, coax
); 2) Fuel filter; 3) Power distribution (fused, switched)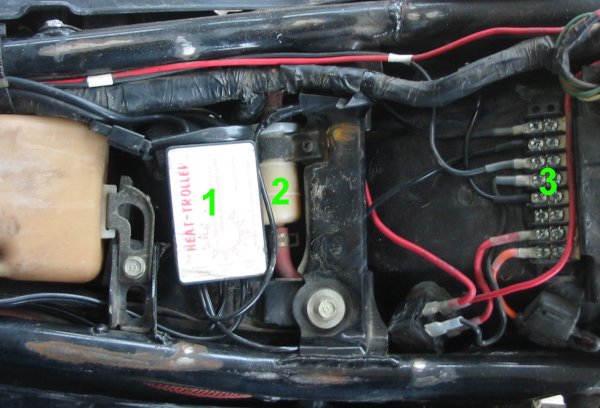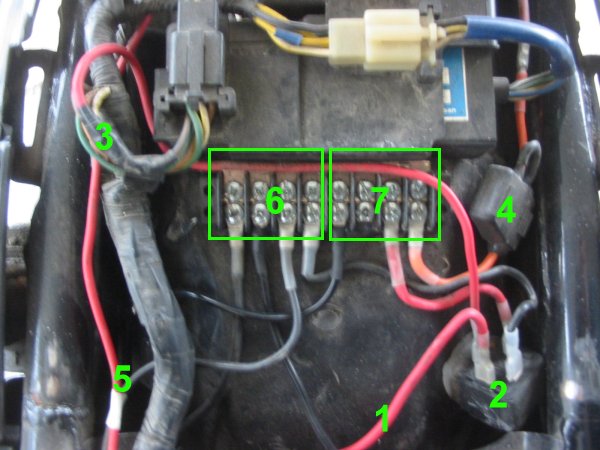 Power converter box - easily removed from the bike. Unthread the wiring and unplug one supply power connection.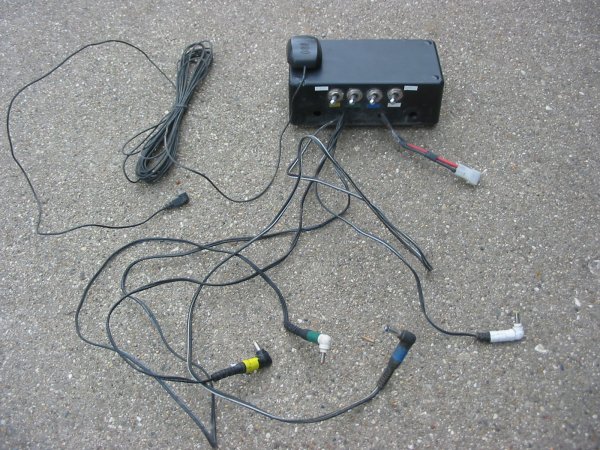 XM antenna (note the wear into the RatShak project box where the antenna lead ate into the corner of the box)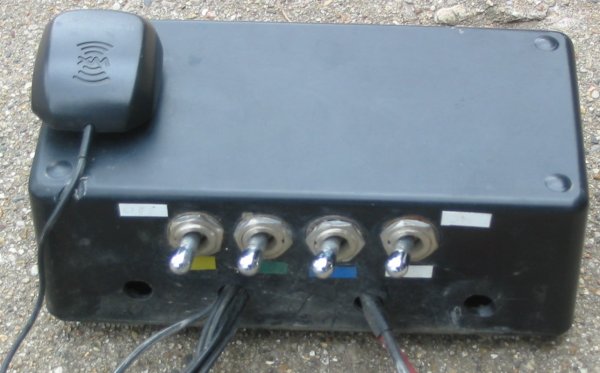 Air intake holes - to keep the DC-DC converters cool.
Air comes in at the front of the box at the bottom and exits the box at the rear.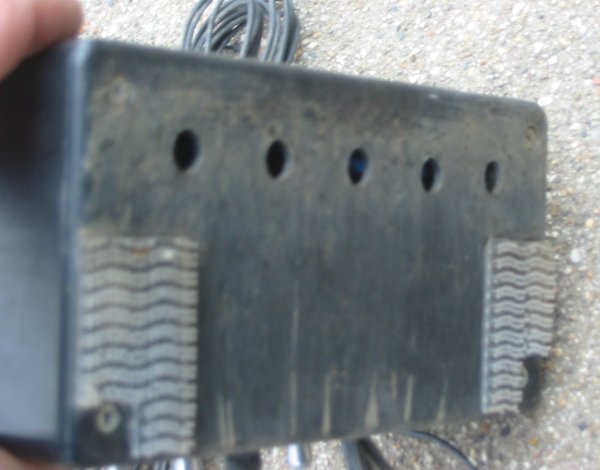 Mouting pads - box removed.
"Industrial strengh" unisex fasteners (Radio Shack SuperLock fasteners -
PDF
). Available in clear and black.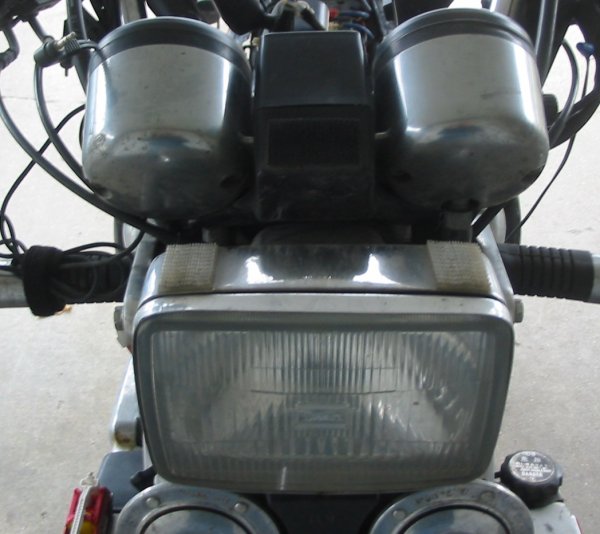 Switched, fused 12V DC power lead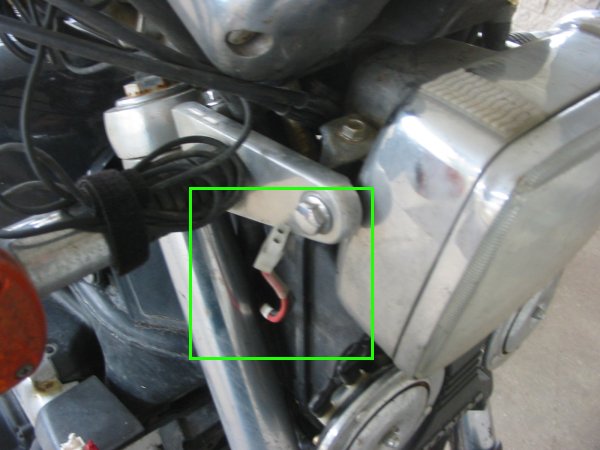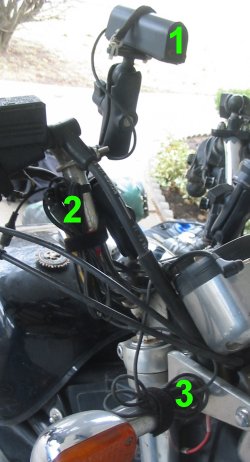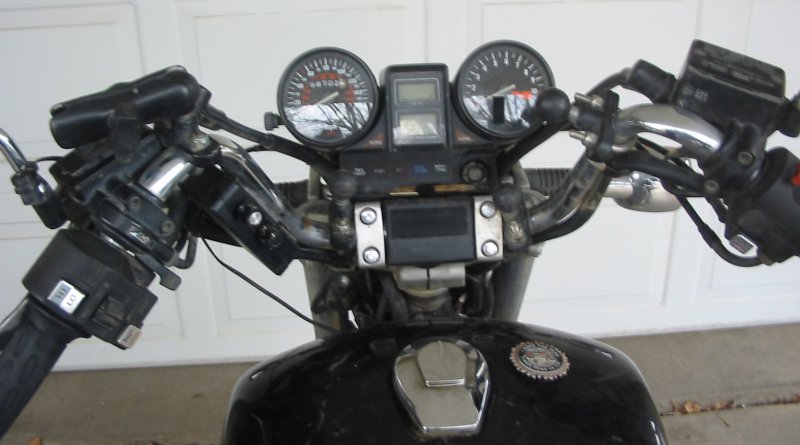 RAM mount - with extension arm - down by my right foot.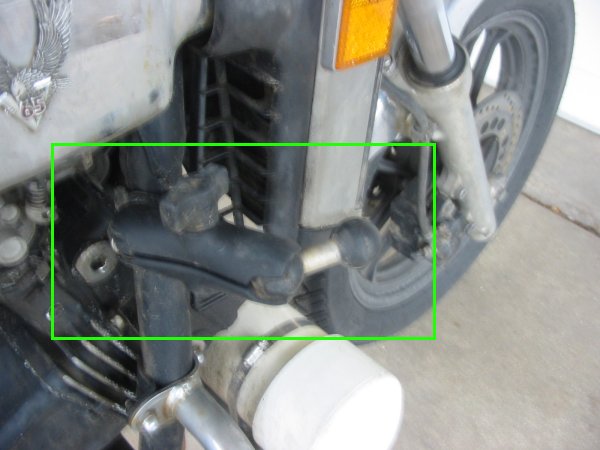 Extension arm removed.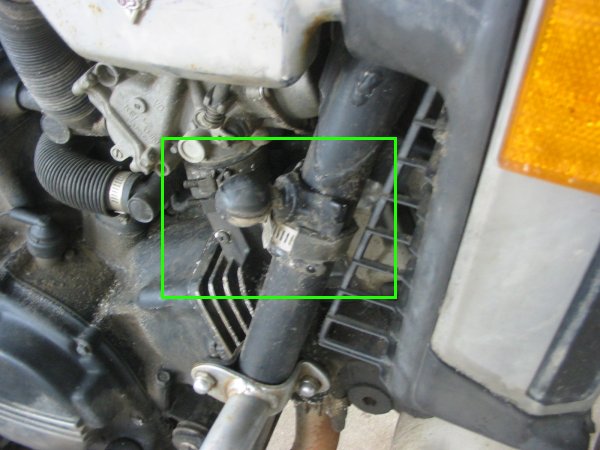 RAM mount on the forks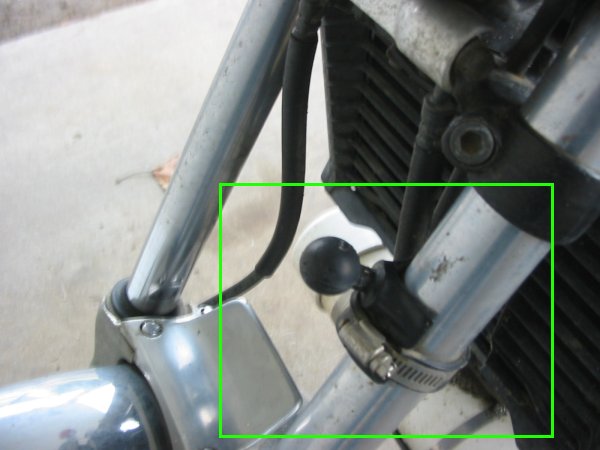 Stuff removed from the handlebars
1) RAM arms, 2) Camera head, 3) Still camera protective/UV cover, 4) Power converter box, 5) XM Roady2 radio antenna.
(
click for a larger size
)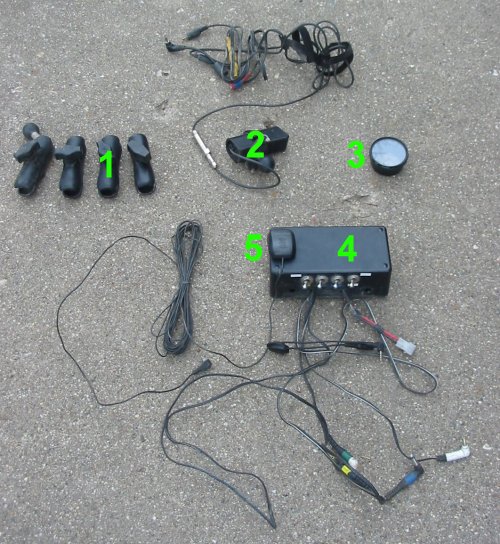 Blue (tent and ground plastic) & Green (sleeping bag & thermarest pad) dry bags, Camelbak water pouch, map pouch (Velcro converted to magnetic)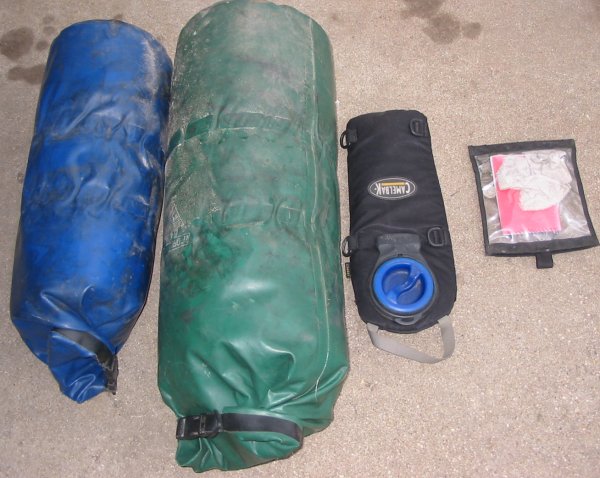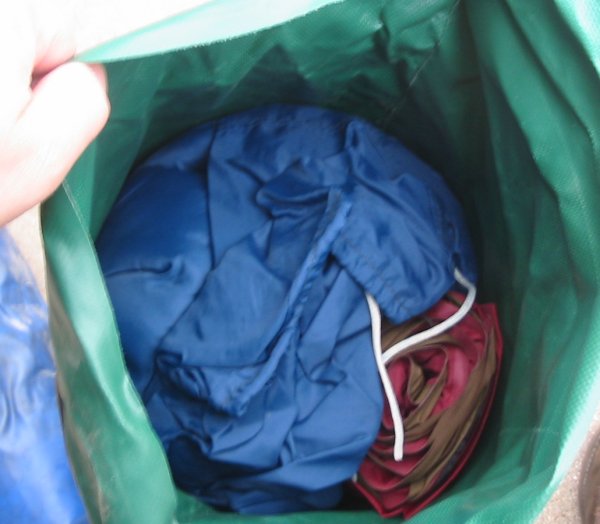 REI "TAJ 3" (
PDF
) three person tent and thick plastic ground cloth.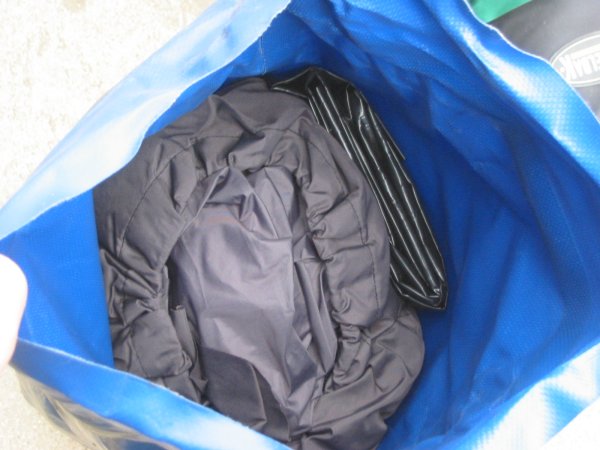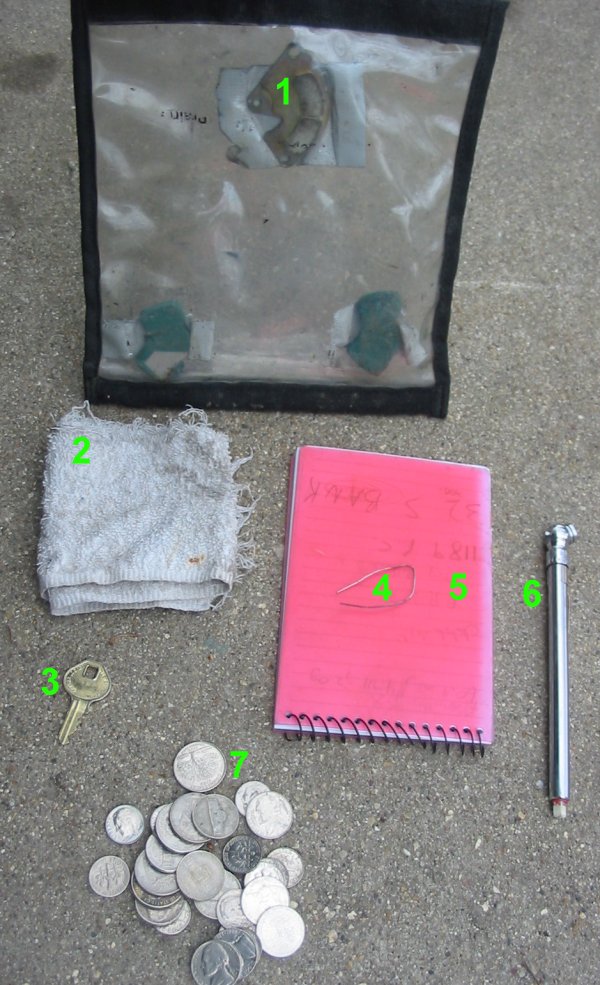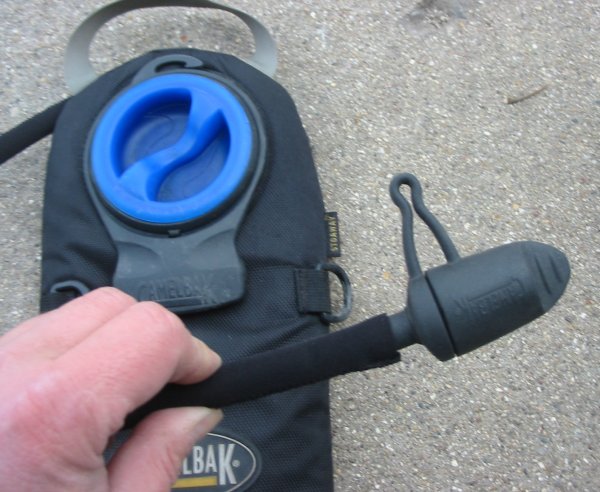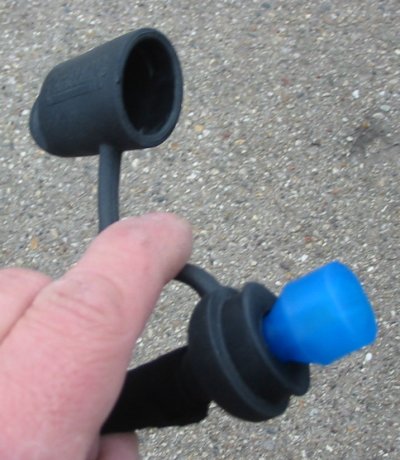 Tripod with RAM ball mount. Not used as much as I thought I would. A bit of a hassle on the bike as well.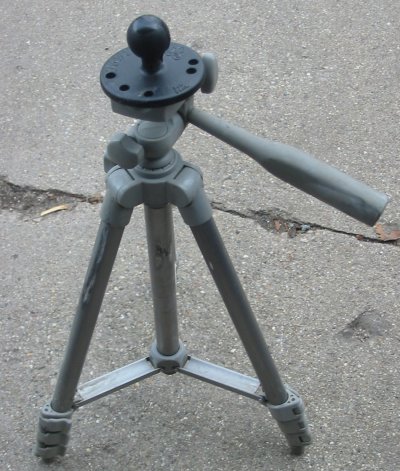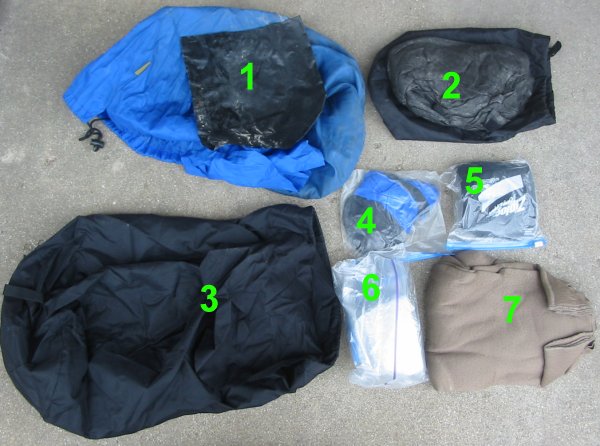 Riding gear set - cold weather.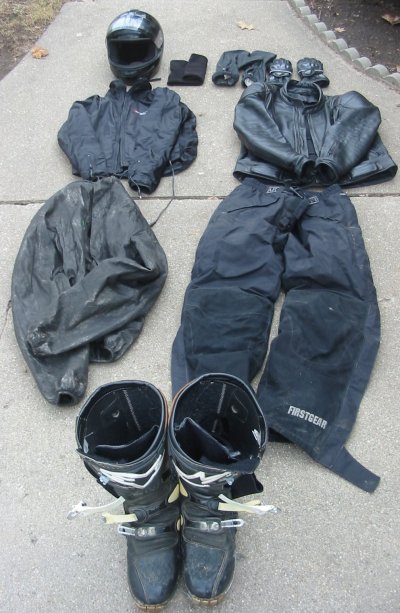 Boots
AlpineStars
Tech 8's (
PDF
)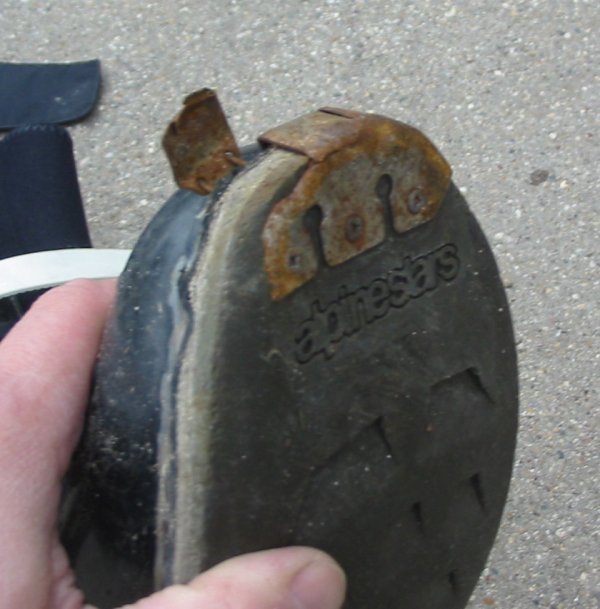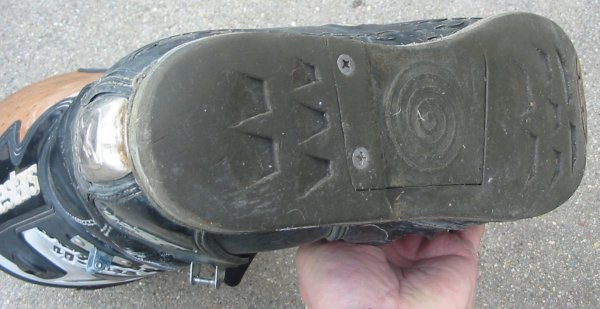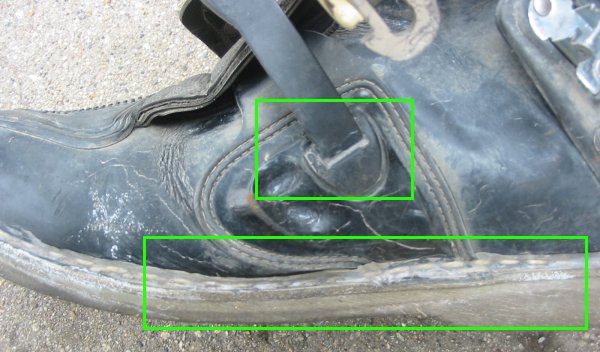 Glue covered seam on the left - standard seam on the right.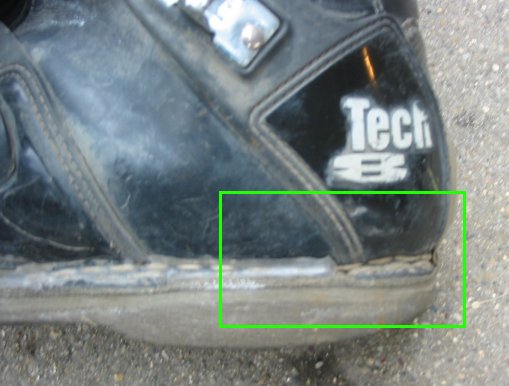 Other boot - one finger worn off, another getting close.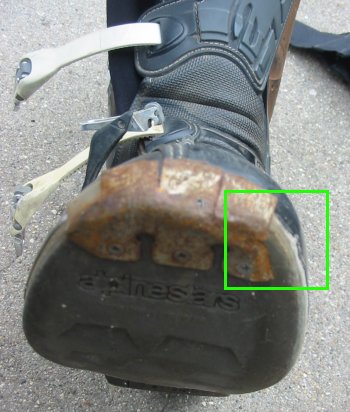 First Gear HT Overpants
(
PDF
)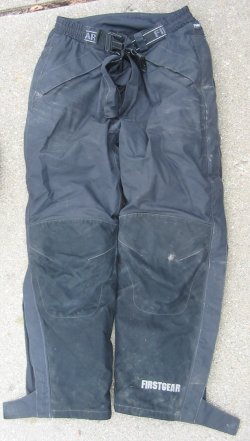 Rain Suit
Frogg Toggs
Pro Angler rain suit (
PDF
)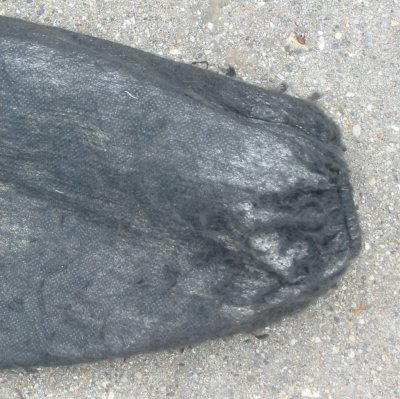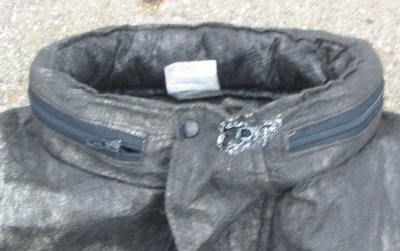 Heated Jacket
Ahhh - the heated jacket -
Warm-n-Safe
Jacket Liner (
PDF
)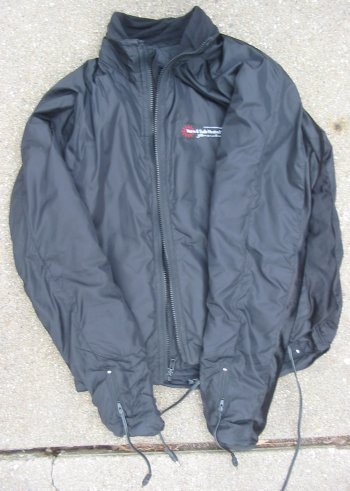 Riding Jacket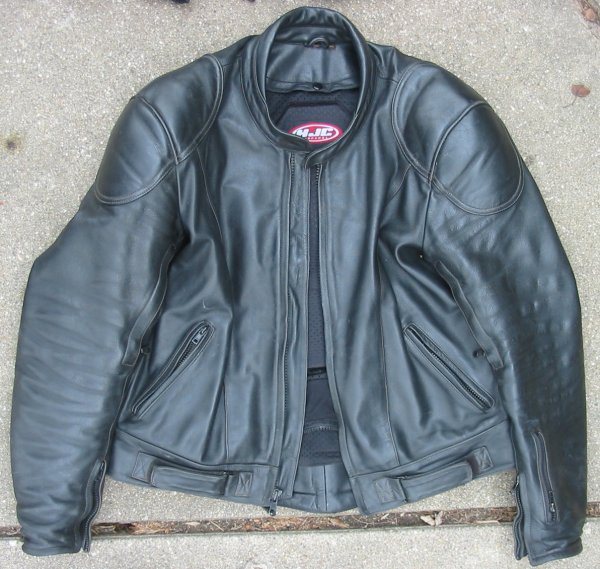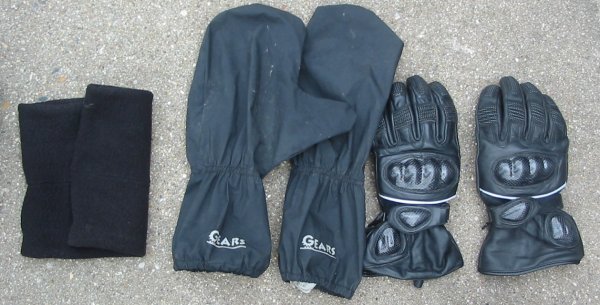 Helmet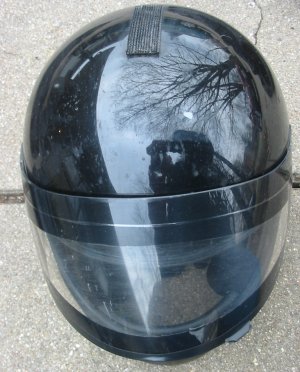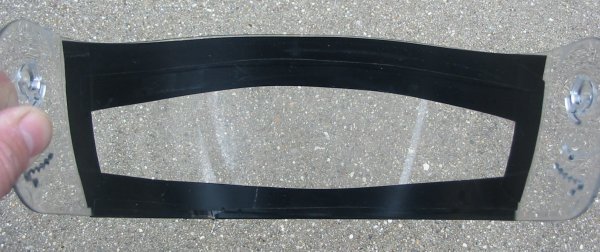 Saddle bag - right side - front pocket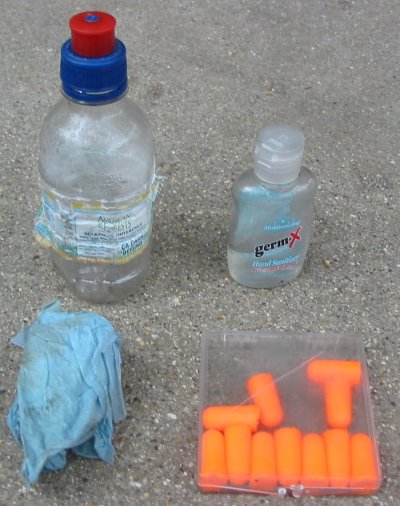 Saddle bag - right side - outside pocket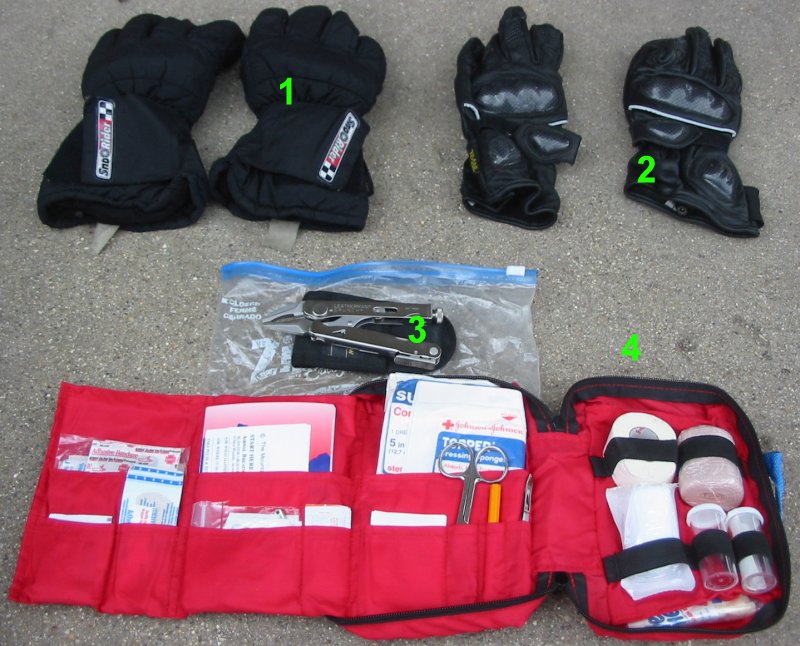 The first aid kit packed up with the leatherman inside - kept in the plastic bag to keep it dry.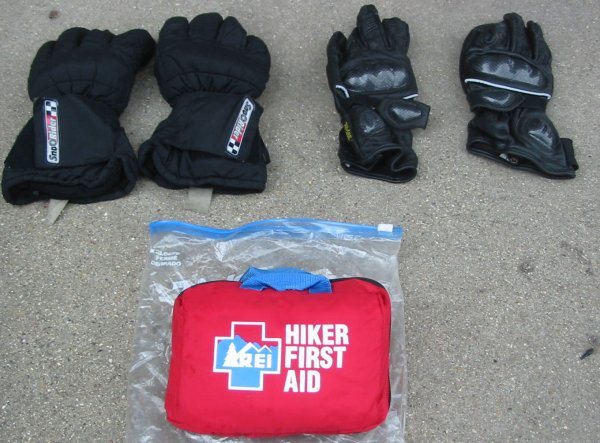 Saddle bag - right side - main pocket
Books, "nice" clothes, oil, slime. Not shown is the camcorder that would sit on top of this stuff - again in a plastic bag to keep it dry.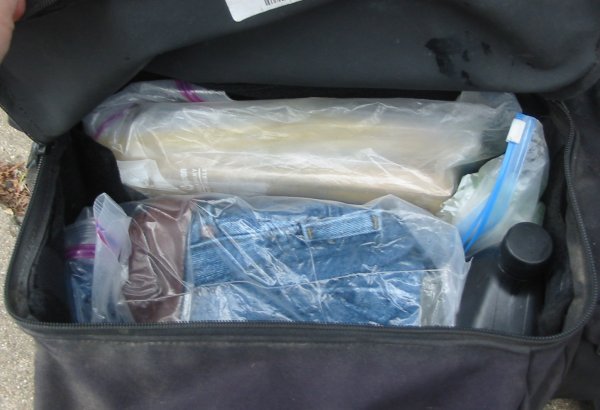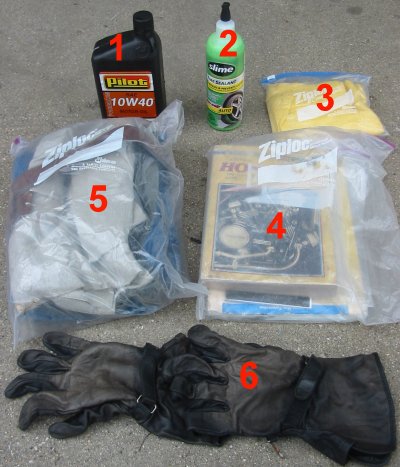 Saddle bag - left side - front pocket
Plastic bag for granola bars. Padlock for hostel lockers (heavy weight - try to keep it on the left side)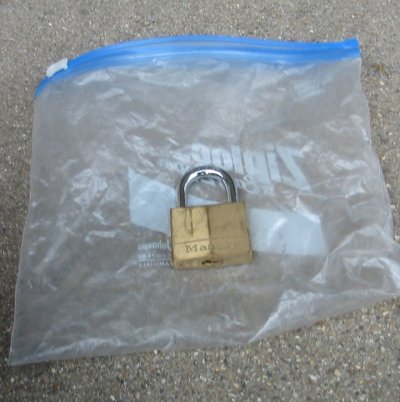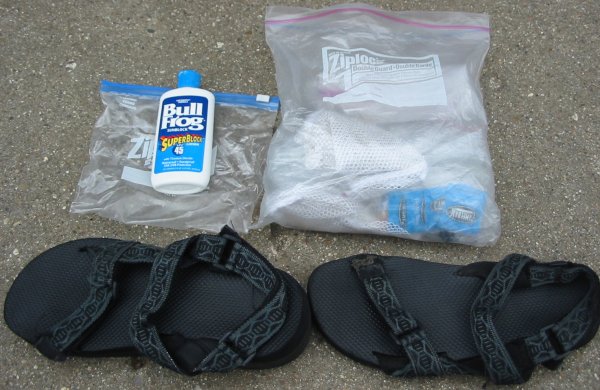 Saddle bag - left side - main pocket
Red bag for toiletries, t-shirts, underwear / socks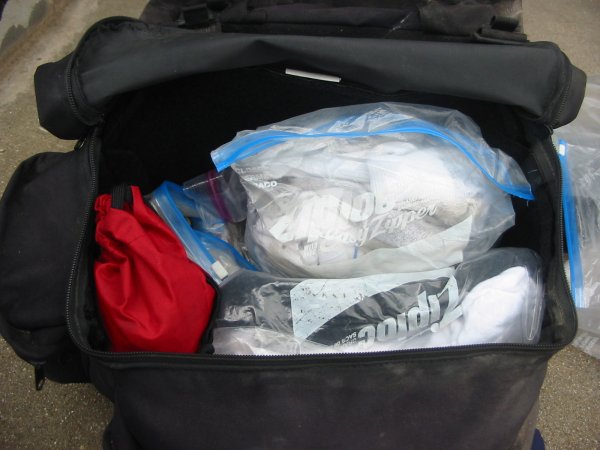 1) Toiletries bag; 2) Breakdown supplies; 3 - 5) t-shirts, underwear/socks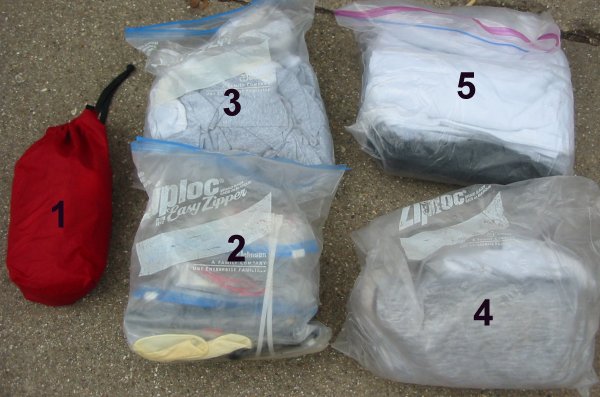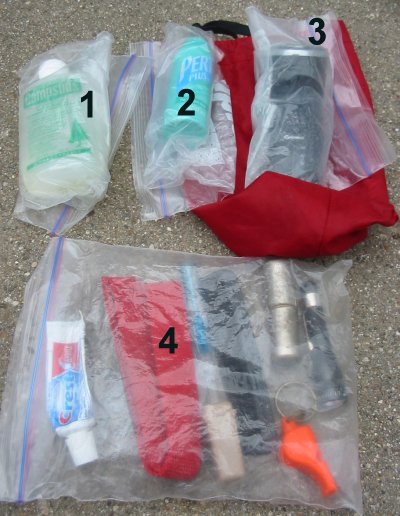 The main breakdown supplies bag
(click for a larger size)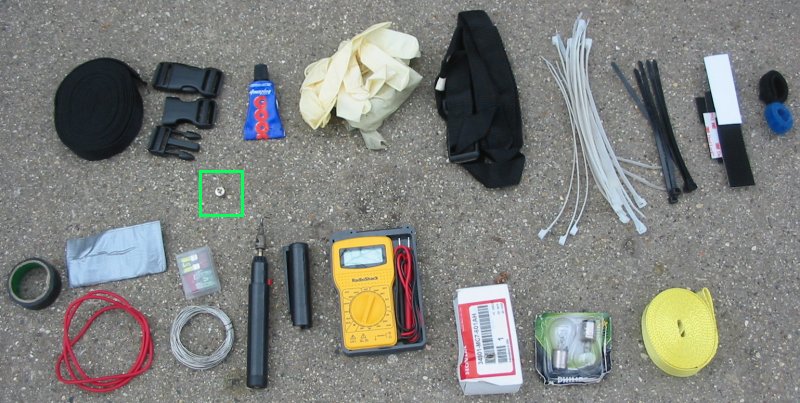 Saddle bags - left side - wear marks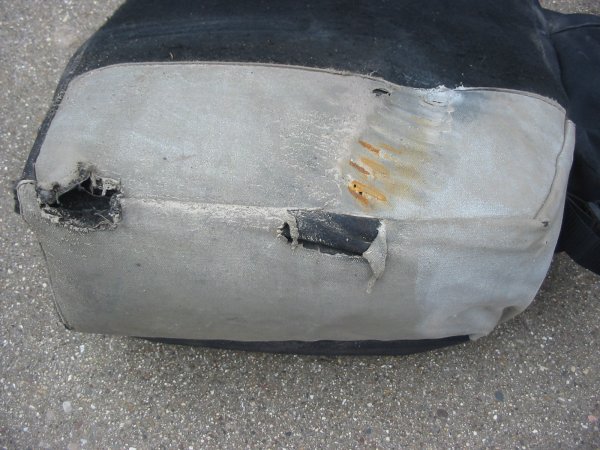 Saddle bag - right side - wear marks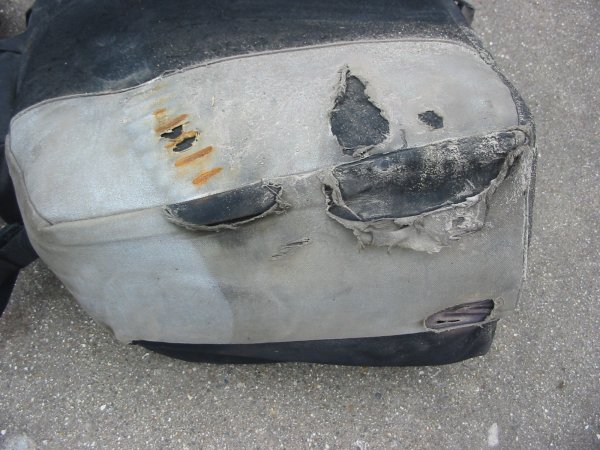 Tool tube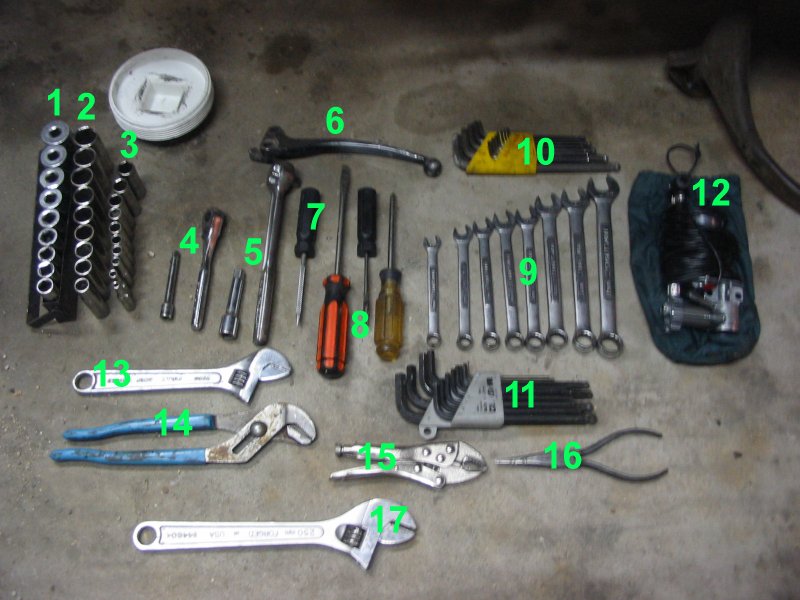 The tool tube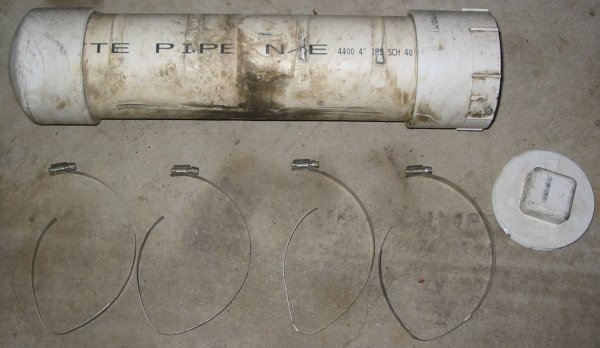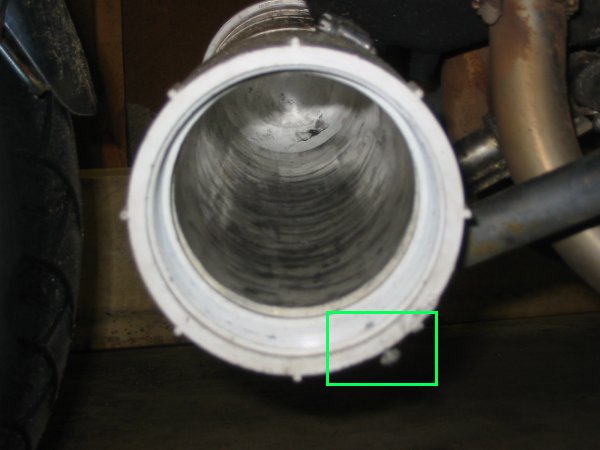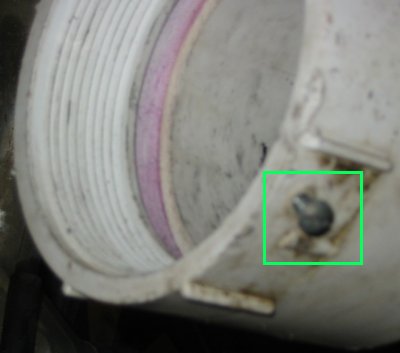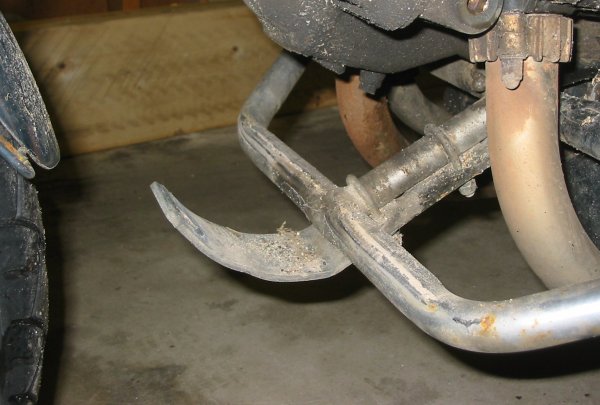 Primary Swiss-Army knife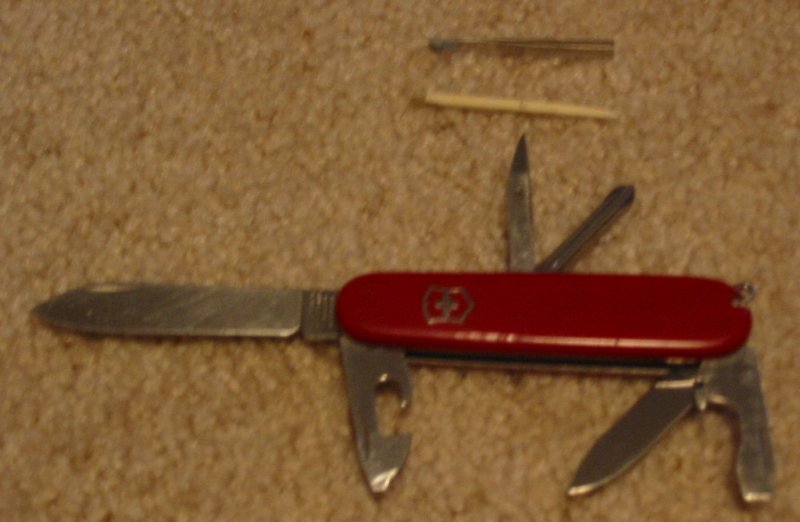 Riding jacket contents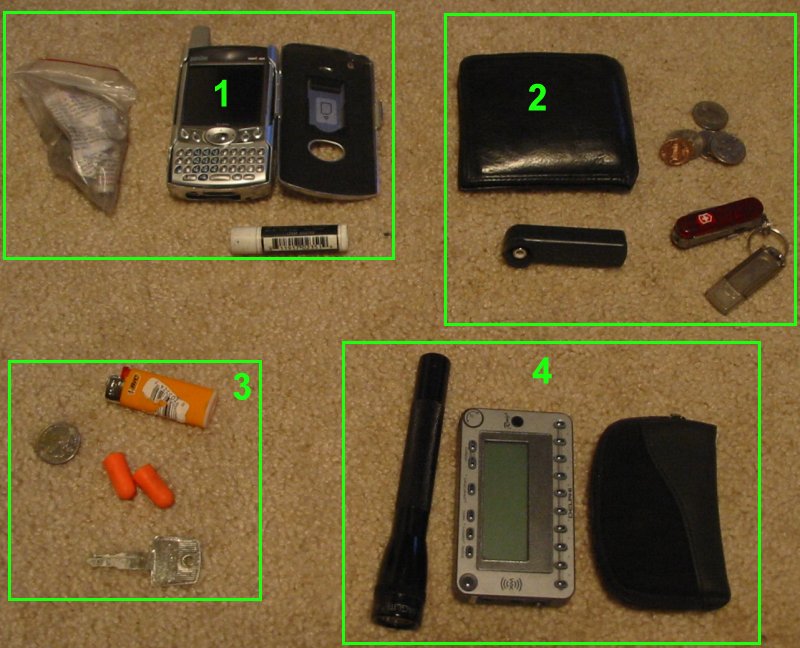 PalmOne Treo 600 PDA/Cell phone with RhinoSkin aluminum case.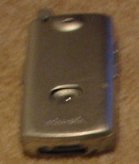 Inside the hard case - Laptop and accessories
1) Cables & hostel handbook
2) Tapes, batteries
3) Cords and chargers
4) Laptop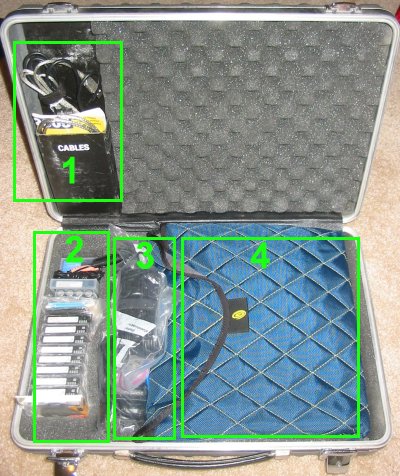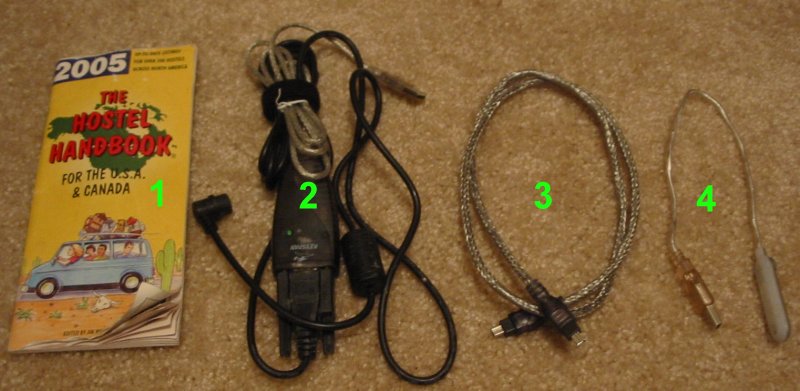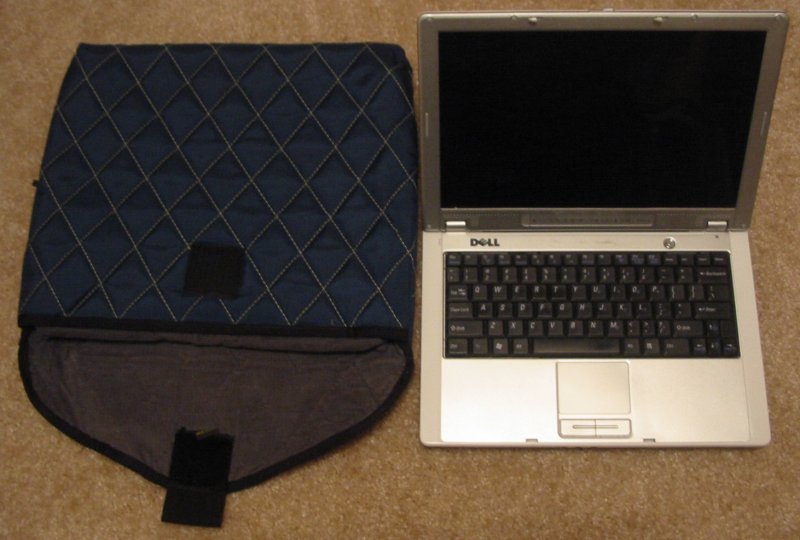 Cables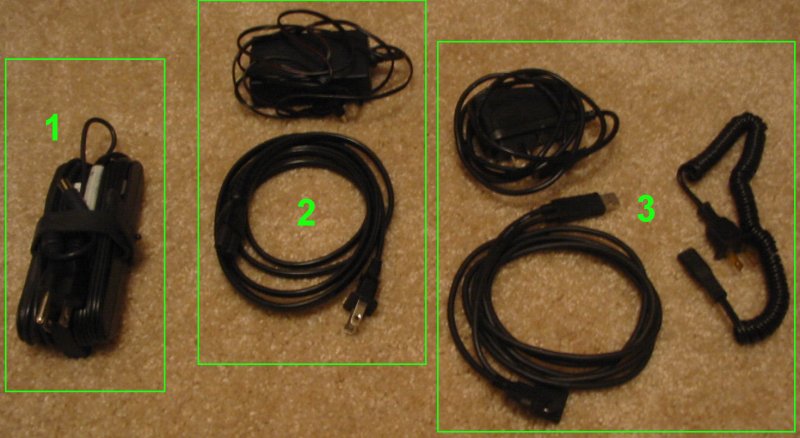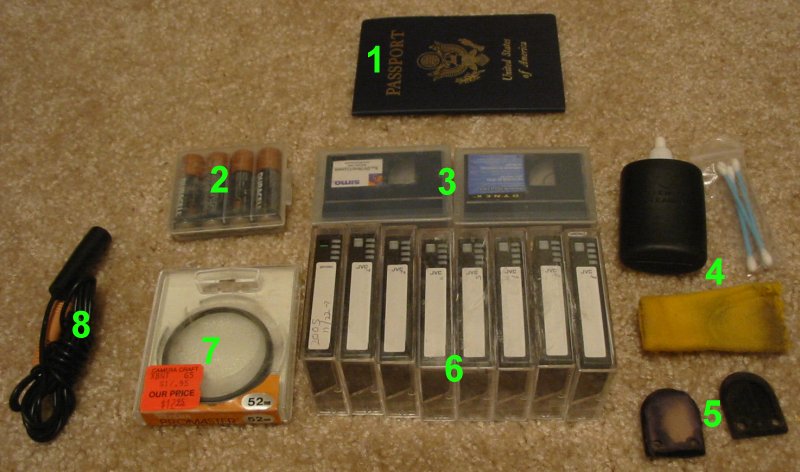 Contact card with my cell phone number - just in case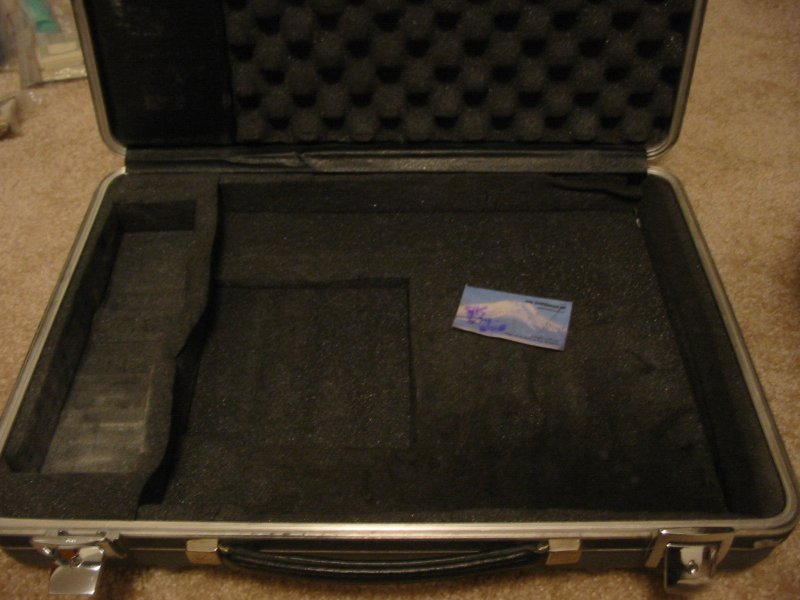 WhooHoo - the first - and still only - stamp in the passport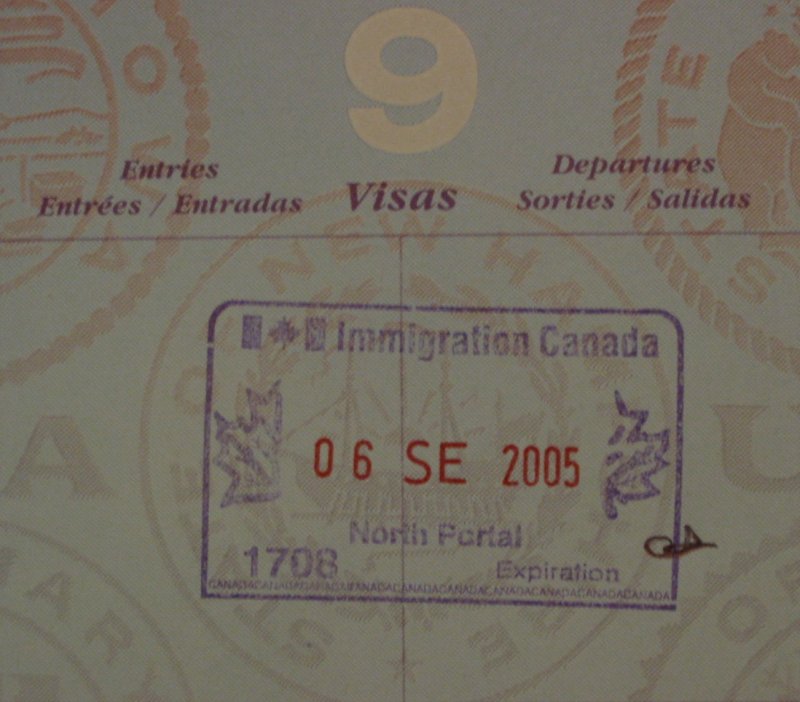 ---
Software



Desktop image



(reduced to fit this screen)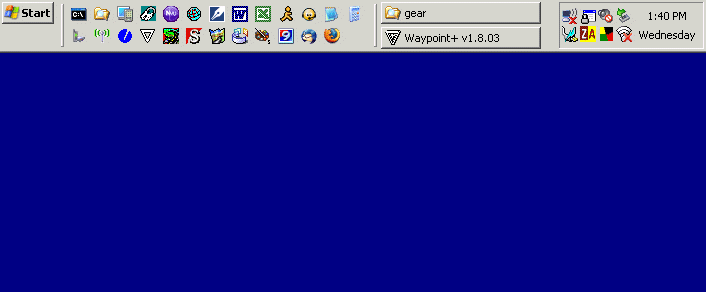 Quick launch items

Top row - left to right:


System tray

(items in the top right of the desktop)
Program

Notes

Operating System

Microsoft Windows XP Pro, service packs current at trip start (I was cautious as to most any software change made en-route). OS Folder encryption not enabled - but I gave it some consideration (should the laptop leave my physical control).

Windows Explorer

(explorer.exe) - the "Swiss-Army Knife" for Windows. Mainly used for file operations - moving pictures from the camera card to the hard drive, with backups created along the way. The one app that was first to open and last to close.
DeLorme's Street Atlas USA 2005
Primary map program. Mainly due to the fast and comfortable zoom-in/out method with the touchpad. SA is listed for the "USA" so items in Canada are limited. SA is capable of uploading waypoint and route information to the GPS.
Microsoft's Street's and Trips 2005
Secondary map program. Uses a two-step process to zoom in (using the touchpad). Use a key sequence (or move the mouse to a different part of the screen) to zoom out - slow / awkward. Decent road coverage in Canada.

More realistic roads overall. DeLorme's SA program would list what are now trails as roads (generally I like these small roads for a touch of adventure).

When talking with a traveler from a different part of the world I would pick MS's product to look up their home city - good world coverage of cities (not always roads but that's OK). It does not look like this program would upload a route to the GPS so I didn't use it for routing / uploading.
Garmin MapSource v3.02
Limited roads - older program - but it does easily create waypoints that could be used to form a route. Mentioned earlier I would "enhance" a route originally created in DeLorme's SA program by adding waypoints with this program. Even with this being older and not showing newer roads I would use this program to upload additional road detail to the GPS. Most of the trip was run with the GPS's built-in, limited, roadway map (called the basemap). Since I was using mainly US highways these were often on the basemap.

WayPoint+
A handy utility (free) to exchange data between the laptop and the GPS. I would use this utility to download the tracklog data from the GPS. From there I would save it in both a text format as well as an older Street Atlas (v4) format. While the data is in WayPoint+ it is capable to readily "combine" separate tracks into one track (something you can do manually via editing the text tracklog file). This utility is also capable of "plotting" the track map - this is where the basic track images on the white background come from. Neat to see the route traveled w/o other map information clouding the picture.

DeLorme's Street Atlas v7
Older map program that is compatible with the exported WayPoint+ StreetAtlas v4 data fomat. I like the way the tracks look on this program over the other 2005 version programs. The maps shown on the website (after Thanksgiving) are of this map program. The Pre-Thanksgiving maps are via the Microsoft program. So why the change? I'll leave this tidbit buried here:

I flew home for Thanksgiving

. A surprise for Mom and Dad. Just before Thanksgiving I was in Denver with family but I (back in Monterey, CA) booked a flight into Chicago's O`Scare airport for Wednesday afternoon. Wed night in Rockford. Thursday in Rockford (good food). Friday AM back on the bus to the airport and back to Denver. While at home I grabbed the SA v7 CD to install onto the laptop.

MS Picture and Fax Viewer
An nice app for me to run through a set of images and decide which will "make it" to the website and which ones will "get deleted". An original set of photos is kept on a different drive partition so I do have an original of each photo taken. It's at this stage that the panorama photo sets will get pulled out from the main mash of photos. I make a sub-directory for each panorama and pull the "set" of photos into that sub-dir. Each subdir has an easy name - 1, 2, 3, etc. I often pass through the list of non-panorama photos two or three times - deleting each pass. What is left over will get further processing.

Paint Shop Pro v5
An older program - one in the "oldie but goodie" category. Many features but the ones that get used for every picture - crop and resize. Some pictures might also get touched up (remove a signpost or two).

With cropping being a visual process there is no "batch" work for the pictures - each and every picture displayed on the website gets touched (not just this trip photo set - all pix on the web site - 3455 imges before this trip - 7196 [total] after this trip - and you wondered where the calculator would be used). A quick touch would take 7 seconds (quick crop, resize [lesser quality photo is 600 pixels wide while a higher quality photo would be 700 or 800 pixels wide], close with save). Edits - removing a sign - may take several minutes. All images are sized down - none are sized up. If, after cropping, it is already at full size and it is below 600 pixels wide - it stays as such.

I will highlight a batch of photos with Windows Explorer and drop the set onto Paint Shop Pro. This way all of the photos will be opened and stacked up and ready for work - I don't have to "open" each one individually.

With the original photos being about 400KB in size (2 MP camera) and the laptop having 1GB of ram I open 120 pictures with speed and ease. Paint Shop Pro, basic program start, consumes 7 MB of RAM. With 125 JPEG photos from the 09-29 trip date (53 MB on disk size) it took 24 seconds to open the batch. With the last 5 photos it slowed down a bit. After opening this photo set PSP.exe is listed as consuming 426 MB of RAM.


PhotoStitch v3

Canon Utilities - came with the PowerShot A40 still camea. Dump onto it the photos used to record a panorama scene - click GO. 9+ out of 10 the resulting panorama stitch job would be quite good. If not, it could be nudged with manual controls. Decent app - fast.

Command Prompt / WordPerfect / Nvu web page batch process
After a few days of manually creating the web pages I came to the realization that there must be a faster way. Even starting from a stock, blank, semi-prepped page I had to change the page title and import photos. Importing the photos, in the correct sequence, became an issue. To solve this I ended up using a batch file that would 1) rename the image files so they would be lower case; 2) Create a text file that had all of the image names in it - in sequential order; 3) Call a word processor (WordPerfect in this case - Word's macros aren't working - maybe I didn't install some component) that would open the file with image filenames, wrap the needed HTML codes around the names, and then "merge" this prepared image set into the center of a generic web page. At this point I would have the ability to easily change things looking at the raw HTML - add some text (From and To city), HTML page title / date. Clicking a toolbar icon would kick off another simple macro that would save this web page, close the word processor, and open the web page in the final web page editor (Nvu). From there I would add content - my write-up and some text by many of the photos. With the photos already edited and the web page created we're ready to upload to the website (with Core FTP LE).

If you would like to review the items, here they are: (LC.bat, Web-Create.wcm, Web-Finish.wcm). If you look into Web-Create you will see near the bottom a reference to "\open". This utilized the QuickWords function of WordPerfect. When this key sequence was typed the top section of HTML code would be inserted (from the top of each HTML page to where the images start). In the future I could see NOT using this feature but instead have this code set in a separate text file - to be inserted above the filenames. Why? Changes to the default code would have been easier (not difficult to change a QuickWord - just easier to edit a small text file - mainly to change the month of the page name 09- changed to 10- to 11- to 12- to 01-).

Nvu
Nvu web page editor (free). For those familiar with Netscape's web page editor - the same base code. Not great but not bad. My web pages are generic - I specifically stay away from flashy stuff and try to stay with items that will stand the test of time - each page gets created and will hopefully stay without needed edits for years and years (an eternity in the computer world).

Core FTP LE
Graphic interface file transfer program (free) - used to transfer files between the local computer (laptop) and the remote computer (website). Functional. Decent.

Pinnacle Studio Plus v9.4
Software purchased for movie creation. Used to copy raw video from a tape in the camcorder to the hard drive. Edit that footage to something presentable. Add transitions, titles, music if desired. Compile to a file for the website. Capable program - more features that I currently use (though I am expanding my use of what it offers). Easy to use as well - decent interface.

Mozilla Thunderbird
Free POP/SMTP based e-mail program. I prefer a local program over a web interface (as I don't always have Internet access which is required for a web interface - this way I can read and compose w/o being connected). I've used Eudora for years (and old version that is showing some age) and I've used Outlook for a year or so as well. I should probably switch to Outlook - specifically since I use a Palm device. Thunderbird recently came out so I figured I'd give it a whirl. An OK app. I need to decide which e-mail app I will settle with. I like the way Eudora handles groupings of addresses, Outlook comes in second (but could come in first if I got used to its method), Thunderbird takes a third place seat in this regard. For reading / composing / handling attachments - Thunderbird is fine.

I would love to find an e-mail process that handled secure communications from the client to the server - at least the login ID / password stage (web-mail this is fairly common - but I prefer POP/SMTP mail). Passing this plain-text information out via a wireless network always makes me wonder if another user is out there capturing it. Searching the FAQ's and support logs for my web host it seems this is only possible if I get a dedicated IP address to get a SSL / certificate based setup. Thoughts? Suggestions? Contact me

Mozilla FireFox
Web browser (free).I like the tabbed browsing (CTRL-T). The built-in search box (CTRL-K). With Java, Flash, Shockwave for FirfeFox on the system websites that I've visited function well. With the "Flashblock" extension you also don't have to download or view the more common (and annoying) flash ads (and for flash content you do want to view simply click once on the flash icon for it to download and run). Right-Click on basic ads allows the blocking of the ad server for all websites - easy to do - and after a week of use few ads are shown (sweet).

AOL IM
AOL's Instant Messenger (free). Basic IM work. Nice to chat with friends when I'm out on the road.

VOIP Buster
Software / Internet based telephone. Skype-Out is an alternative service (appears to be more costly). VOIP Buster, when calling a US or Canadian number is free. I stuck 5 Euros ($6.35 US) into a VOIP Buster account (via PayPal) which allowed the software to have calls over one minute in duration. If the Internet connection was spotty this software was un-usable. With the microphone (would be nice if this laptop had a built-in mic - one less cord / item to carry) and either the built-in speakers or the earphones I could sit and make phone calls. Checking voice mail sitting at the laptop was convenient - notepad to jot phone notes and a keyboard to press 7 or 9 to delete or save a message. The Verizon Wireless cell phone did not work in Canada - and it wasn't something I cared to change. The cell phone was also spotty with service in Alaska as well - even when I had a signal I could not always make a call due to the provider.

TopSecret
An encryption software package used for passwords and stuff of that sort. Decent. I've tried to look for exploits - haven't found any yet (I'd really like to know how secure it is).

Palm Desktop
Addresses, dates - standard fair PIM work. Sync's with the Treo 600 PDA / Cell phone

Media Apps
Quicktime player, Real player, Windows Media player. A handful of CD's were MP3'd and placed onto the laptop.

Utility Apps
7-Zip (un-compress raw website stats files), Ad-Aware (anti-spyware), Adobe Reader (view PDF's), Adobe Elements (create PDF's), AVG (antivirus), Partition Magic (hard drive partition app - OS partition backup copy [I also had a spare hard drive - prepped and ready to go sitting back home]), Sonic (CD & DVD writing software), SpyBot - Search & Destroy (anti-spyware), Unit (comprehensive unit converter - DOS app from MINCO products - one of my "keepers"), ZoneAlarm (software firewall)

---
One for the end of the page
Hard bags vs Soft bags
If you have any questions from this gear review - I welcome any question you might have:
Contact
page.