Well, one tip - in Yosemite - was already mentioned - but there are others. I call them tips as the bike did end up on its side but no injurious "collision" or "accident" happened.



Tip #1 - Hinton AB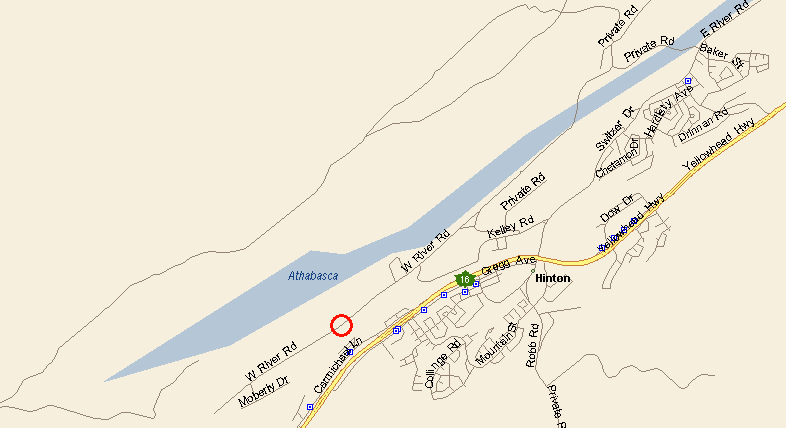 It was a drizzly day - something fairly new to me on this trip as I had mainly clear and dry conditions all the way to Lake Louise / Banff. I had a bit of drizzle south of Jasper (unfortunate as there was some great scenery) and then again north of Jasper - nearing Hinton. I found the town to be industrial (smelly) and not logical as to streets. Exiting the highway put me on some side streets that did not have an entrance back onto the highway. I had to poke about some side streets to try and find the way back to where hotels were. I went down, I believe, Switzer Dr, took a left on Kelley Rd, and another left on W. River Rd. Switzer was a well used road but Kelley and River were industrial things. River was a dirt road. You recall I mentioned drizzle, yes? Dirt road plus moisture - potential for mud.

Since it was a dirt road it was maintained via scraping the surface flat. This is fine for the main section but the side sections then end up a bit higher as they are not scraped down. I picked a spot to make a U-turn - a wide one being that it was a bit wet. The spot was where two driveways come together on the left side of the road - a nice wide spot to make an easy turn. Right. The first half+ of the turn was on the road and the remainder would finish on the driveway aprons.

The front wheel bumped up onto the 2" higher section of un-graded driveway apron - and mushed out - washing the front wheel out. No way I could keep the bike up so I let it down onto its left side.

Aux fuel tank - full. Main fuel tank - ??. I could not fully lift the bike. I could get it up about 80% but no more. Unloading of luggage started but still no dice for me to right it - at least before a passer-by stopped. With assistance we were able to get it back up on its feet. A reload of luggage and off I went. No broken or 'moved' mirror or other parts.

It was "just a simple, wide U-turn".....



Tip #2 - Washington - Mt. Rainier - A catch off guard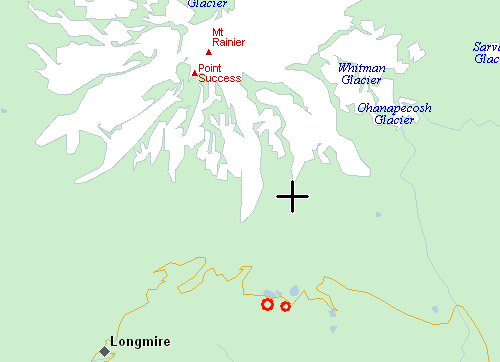 This was one of the "OOHH - stop and get that picture" stops. Unplanned. Quick. I've done several on this trip (I've also done many more where I passed it by, slowed, turned around, and casually came back to it). I was heading uphill and noticed a lake to my right. Since I was traveling slow (20 to 30 mph) I decided to make a quick stop. In the last 1/4 revolution of the wheels the bike went off center to my right. Again - hold on and set it down as gently as possible. Unload the laptop case (a bit for weight as well as a bit to get a better hold to lift). Put out kickstand (remembered this tidbit on the second lift attempt). Put it into gear and grab some front brake - lift - umph - done. Move off the roadway and make it look like "nothing happened" before any motorist passed by. It was at one of the two red circles - not sure which - doesn't matter.

So was this picture "worth it"??








Tip #3 - California - Yosemite



This was a 'public' tip as I was on the phone with my sister Julie. Check out the Yosemite day entry.




Tips #4 thru ??? (perhaps five to seven tips all together) - UGH



This road, National Forest Rd 3N03, is the reason for the "Tips" addendum entry section. I was coming from Big Bear City with a destination of Joshua Tree. The direct route, 3n03 (red line) was preferred because, well, it was direct. The "long route" was the green route - Up to Lucerne Valley, Route 247 over and down. Direct route we're talking 31 miles. Up, over, and down puts life at 50 miles. (jump below the map)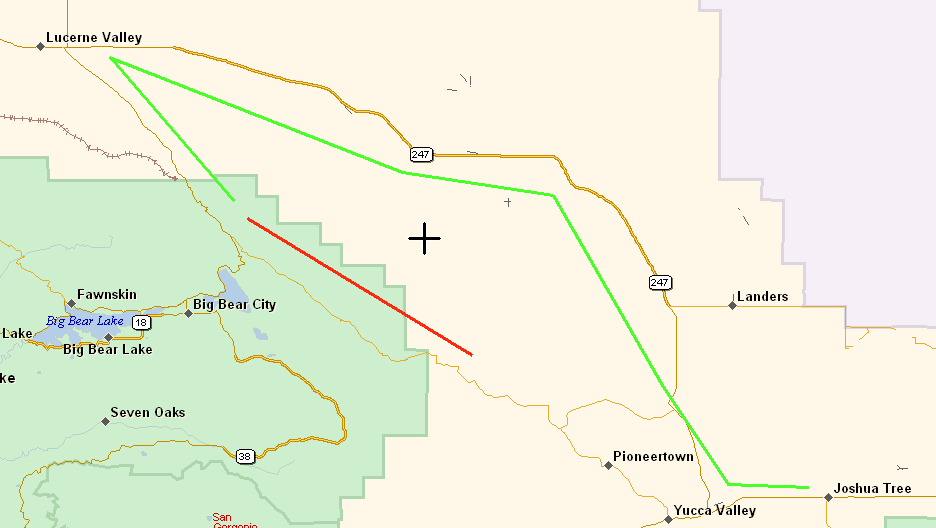 Well the DeLorme software, which I have tagged as "optimistic" as to what is a road, did it again. I shouldn't really say that as I could easily have NOT taken the road - but I did. I now wish I turned back at the start of this little forest service road - 3n03.

Nothing broken - but the bike does have a few dents down below on the exhaust system (LUCKILY it was only that).

One route is 31 miles while another is 50. The 50 would be much faster, easier, better than the 31 mile route. I did about 6 of the 27 and turned back - so that put me at 12 miles of it.

The route was, of course, unpaved. It was a mix of packed soil, surface sand (not too deep to be an issue), rocks, rocks, then more and more rocks - and the rocks were getting larger. Oddly it was tagged as "street vehicles only or those that have a green sticker". It was for high clearance 4x4's or dirt bikes. Street vehicles only - right. On the GPS I showed that I needed to get through the first 6.5 miles and then I'd have some sort of basic road - OK fine. At about the 4 mile mark the rocks got larger. Elevation changes happened too - uphill stuff - not too drastic but not flat either.

Tipover #1 happened. I had to offload bags from the bike before I could get it righted.

I did mentally note that the rear fuel cell contained only 1.5 gallons - not too heavy - before I headed onto this "road". At this tipover I figured I could dump the remaining 1.5 gallons into the main fuel system without overfilling it. This would lower the center of gravity a bit but moreso make it a little easier to lift a sideways bike.

Just another couple of miles and I'd be out onto a better road! I pressed on - a couple dirtbikers heading easily the other direction - zip and gone. More tipovers happened - two or three perhaps but none were too difficult to right the bike - no bags needed to be removed. Then I made it to the "end" but the road didn't change into what I expected.

It did level out and the rocky travel disappeared - a nice thing - but the sand became deeper. This was a certain issue - getting stuck. I checked the GPS with greater detail and what was ahead didn't look inviting.

An undesirable decision but I made it - turn around. At least I knew what to expect. What a pain. I now had to go down some of the elevation changes. More tips - one causing the shifter to be bent/pressed into the bike and requiring bags to be offloaded. From that point - right near the small water crossing - I knew that the rest of the road would be relatively uneventful.

Sheesh.

Well - one of two things (perhaps both) can be said - I'm an idiot for pressing on - though I did find my limit for 'adventure' with this bike. Second it goes to show how durable and reliable this bike is. I gave it some punishment and never did it concern me that it would not make it out. No broken mirrors or turn signals. The shifter bent but I was able to unbend it - no further action needed. The left mirror also "turned" at the last tip - but it didn't break. For a bike that was designed for straight-line, fast stop-light to stop-light runs it certainly held up on this crazy terrain.

Anyone recall the song that talks about pickups - "set it on fire, roll it down a hill - I still wouldn't trade it for a Coupe DeVille". I guess that's me with this bike.

As before - asphalt is never so smooth as when you come from a lesser road.

Tipovers - at least 4 perhaps no more than 7. A couple were "partials" as the side of the road kept things uprighted a bit. Restarts became routine (carburated motor) - hold the throttle open and crank until it fires enough to stay running. Thirty seconds or so later all four would be running smoothly.

I'm somewhat tempted to ride the road from the "other end" to see how it is. To see where it turns from "normal" to "crazy". That would tell me how much "crazy" stuff remained between where I turned back and easy riding. It's 30 miles from Joshua Tree to my turn-around point. That's too much backtracking - 60 miles added to the day - which will already be a longer one (400 miles).

Here are some pictures for YOUR enjoyment:




The road was a lot of this - not too poor actually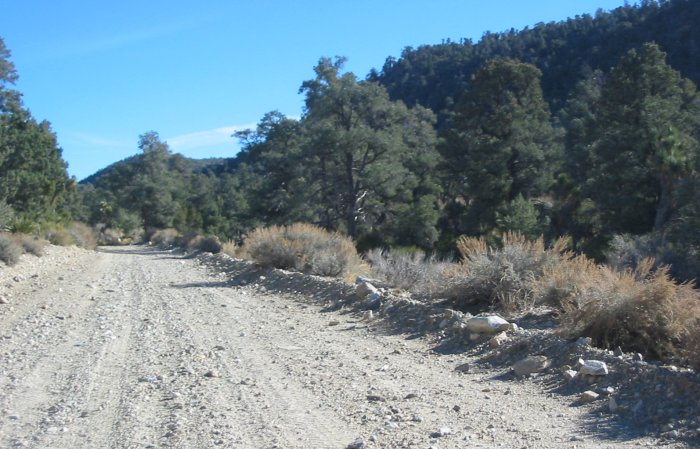 Some larger rocks to avoid but there is still visible "two track" to follow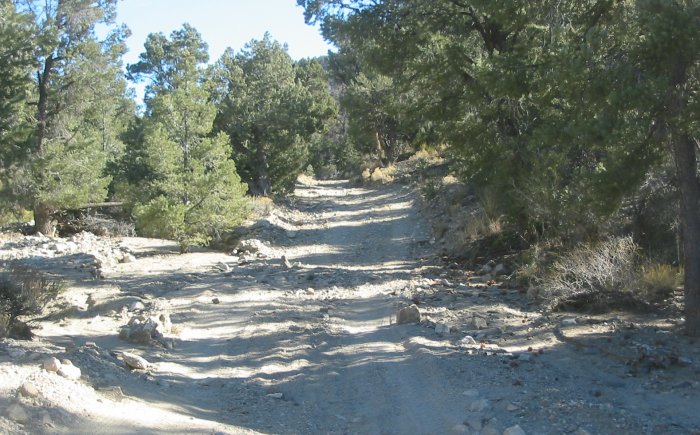 The "two track" disappeared - now to pick a line and go.
This is more uphill than the picture shows (though still not serious uphill).
Oh, did you notice the rocks are getting larger and more common??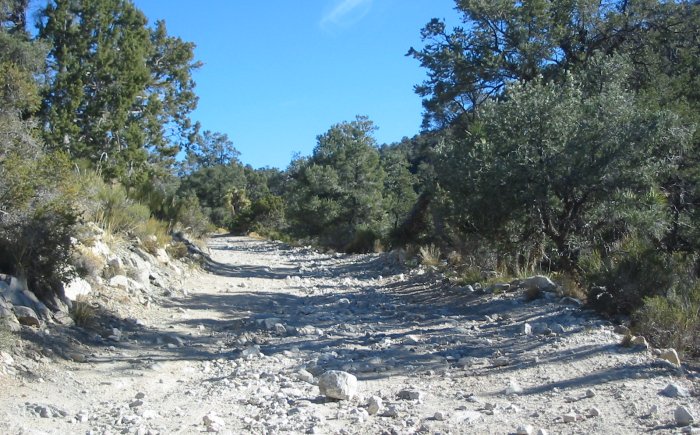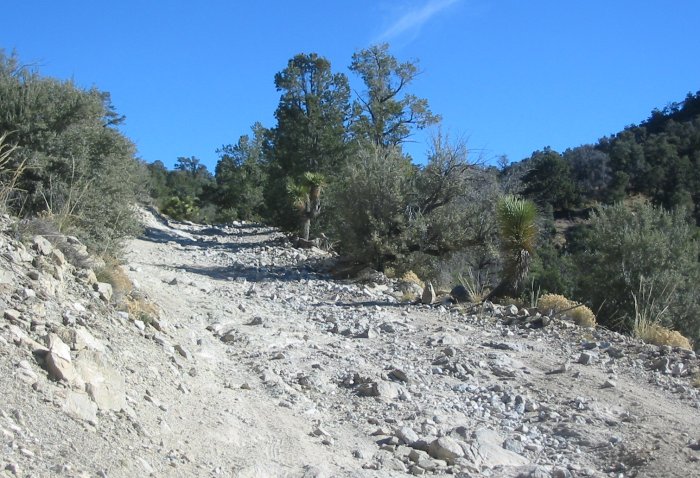 Yep, there it is. A sad sight.
The first of several.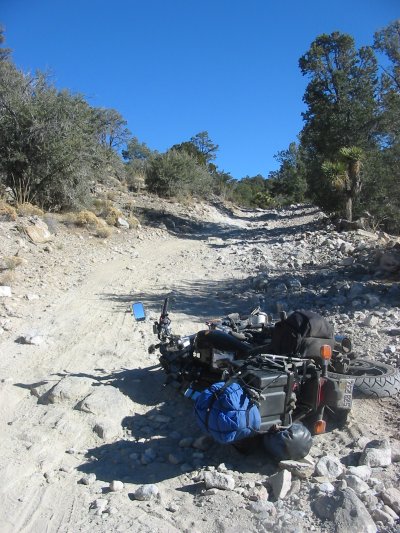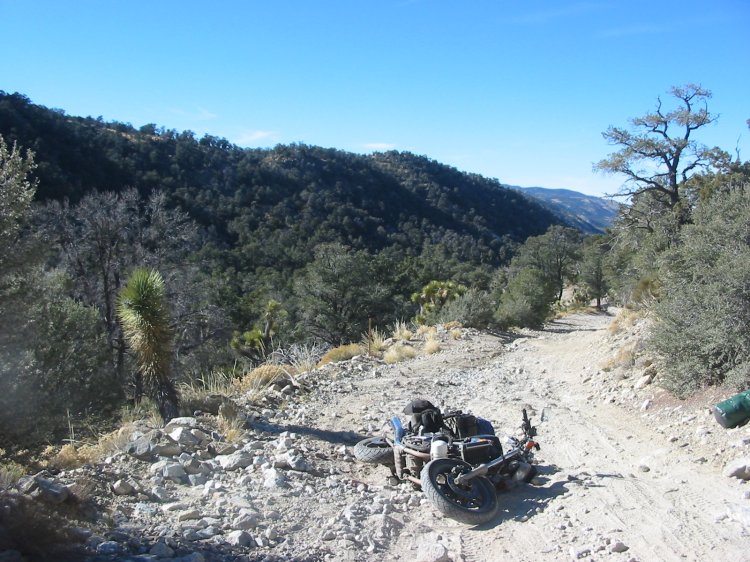 AHHHH - THAT'S BETTER!!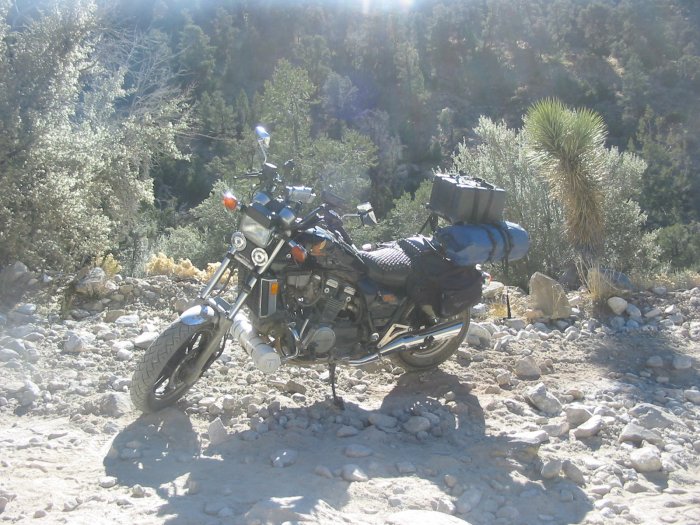 Sand - deep enough to make me more nervous than those rocks.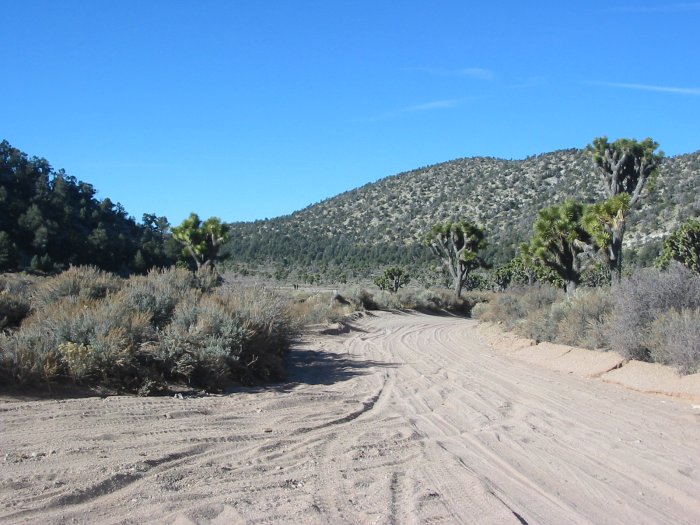 Sweet, sweet sign - LATER!