Skyline Drive & Blue Ridge Parkway
September 10 - 15, 2006



For the past several years Ken and I have taken a week-long cycle trip to some scenic area of the U.S. While I've had my share of "trips" lately I felt "obligated" to "help Ken out" and "keep the tradition going". Right. Any excuse to take in some grand vistas....
Our goal for this excursion would be the Skyline Drive (link: Byways) and the Blue Ridge Parkway
(link: Byways)
. These two roadways connect the Shenandoah National Park (link: NPS) at the northern end and the Great Smoky Mountains National Park (link: NPS) at the southern end. Skyline Drive, 105 miles, is the road through Shenandoah while the 469 mile Blue Ridge Parkway connects the two parks. Speed limits are low on these roads (35 mph for Skyline Drive and 35 or 40 for the BRP) so it can take two to three days, depending upon stops, to complete the route.

Our transportation would be the bikes of the day - Ken's nice BMW and my trusty old Honda. We would meet up near Joliet Illinois and Interstate jump most of the way down. We'd "do the drives" and then make a stop by the standby's of US-129 (Link: TOTD, Deals Gap) and the Cherohala Skyway (link: Byways). The return would be more Interstate processing.

Since the elevation of the destination roadways was high - riding on a mountain ridge for most of the miles - we found ourselves up in the clouds. Fog, Fog, and more Fog. Ugh. The grand vistas were covered with white. We contemplated scrapping "the drives" and heading down into the valleys but then the fog would lift and we'd plug on a bit - only to be met with more fog. We'd give another contemplation to skipping the drives and the fog would lift for a bit more. As we progressed through the drives our attitude changed from going lower to get out of the fog do "just do the whole dang thing." So, yes, we did ride the full length of the two drives. Perhaps better than 70% was in foggy conditions. There was a silver lining to this though - there was no other traffic!


This single photo about sums up the grand vistas on "The Drives".


Unfortunate, yes, but that's the way the weather went!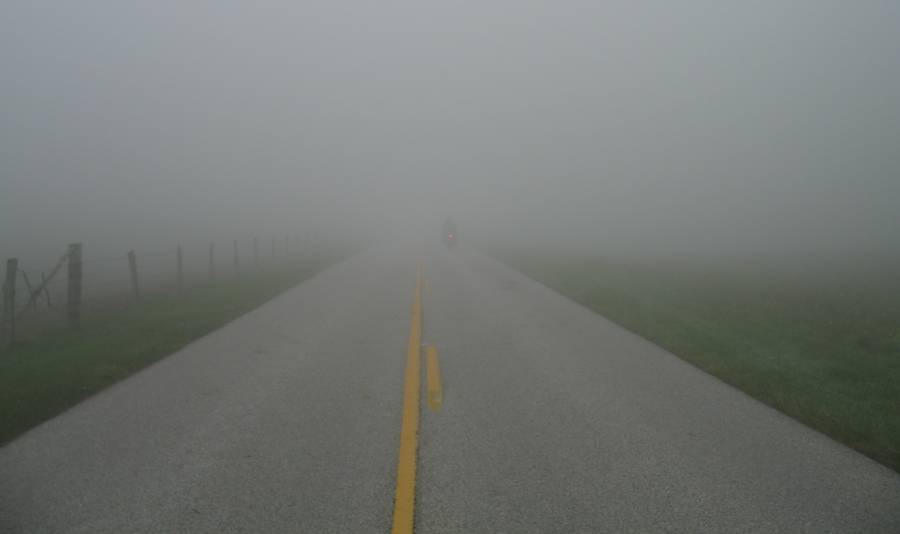 ---
---
Ride Reports

Pictures, video, a few notes
(Look in the "Notable Items" column for something of interest
then click a date in the left column to view that days items)
| | | | | |
| --- | --- | --- | --- | --- |
| Date | Destination | Miles | Photos | Notable Items |
| Sept 10, Sun | Morgantown, WV | 657 | 10 | |
| Sept 11, Mon | Waynesboro, VA | 286 | 19 | Skyline Drive |
| Sept 12, Tue | Boone, NC | 304 | 50 | Blue Ridge Parkway |
| Sept 13, Wed | Robbinsville, NC | 280 | 5 | Blue Ridge Parkway - Highest Elevation sign |
| Sept 14, Thu | Williamstown, KY | 437 | 50 | US-129, Cherohala Skyway |
| Sept 15, Fri | Rockford, IL | 432 | 8 | |