Sept 28, 2005 - Wednesday
Seward, AK to Anchorage, AK
Well - not much of any plan for today - to get to Whittier (so that I could drive through the one way, two mile auto/train tunnel) was the only list task. Before leaving Seward though, Arthur, a guest at the hostel, suggested I make a stop at the "Exit" Glacier - so I will. Also at the hostel was
Gary and his wife
(I don't recall your name - sorry) from Australia. They saved up for a trip - a trip around the world. Once they had enough funds they quit their jobs and purchased world trip airline tickets. They are about 1/4 into the adventure. WOW. From Alaska they will ferry to British Columbia? Fly to Calgary and drive through Banff / Jasper, fly to Chicago (via Dallas) then back into Canada (Toronto, Montreal), Niagara Falls, New York, then, I think Mexico, and on, and on, and on...
Heading out of town I grabbed a little fuel and off to the glacier where I met
Paul
. He is from North Carolina (retired from IBM) and rides an '83 Honda Magna V-45 - the closest bike to mine from all the folks I've met so far (and perhaps for the whole trip). He is nearing the end of a month (two month??) Alaska experience. He's been trotting about the state exploring all sorts of stuff - his first time but not the last. We swapped cameras for a few pictures of each other - thanks!
After we parted I headed back to Seward for a bite to eat and a face mask cleaning. Back on the road the destination was the Whittier tunnel. This tunnel (no pictures - it was raining too heavy to prep the cameras and there was no way to stop in the tunnel to get a camera out) is about 2 miles long, it is one lane wide, and has railroad tracks along with the roadway mixed as one. It was probably made as a train tunnel then converted to combination train/auto use (no Internet tonight so no researching it). At the listed 25 mph it took perhaps about 4 minutes to ride through it. Straight line and flat from end to end. It cost $12.00US for a ticket (it costs to go to Whittier and is free the other direction). The GPS, not able to get a signal through the rock, was not able to create a track log - thus the map shows an "open spot" in the line of "push pins map track" that reflects where the tunnel is. At the bottom of the hour traffic is allowed to go to Whittier and the top of the hour from Whittier. Vehicles line up at each end in one of six or eight lanes with a stop-go light at the end of each. I guess when a train needs to pass the traffic is halted and it gets priority. Each time through today there were about 20 vehicles.
Back in Anchorage I decided to see where the Suzuki dealer is - and to see if the tire is in. Found it w/o much issue - and the TIRE IS IN - Thanks to my family for getting it to UPS - and for UPS to come through as expected (they dropped the ball on the water pump issue and have offered to refund shipping - it won't cover my hotel expenses but it's something). I'll go back to Suzuki in the morning for the tire and oil change - then off to Seattle via Tok, AK and Whitehorse, YT and down through British Columbia Canada. This should take about four to six days. Once I'm down in Seattle thoughts of snow should subside for most of the trip remainder (at least until the tail end and my trek back to Illinois). All for now - it's 1am.
Video
Around Exit Glacier (near Seward, AK)
2005-09-28.mpg
MPG, 3.6 MB, 0 min 27 sec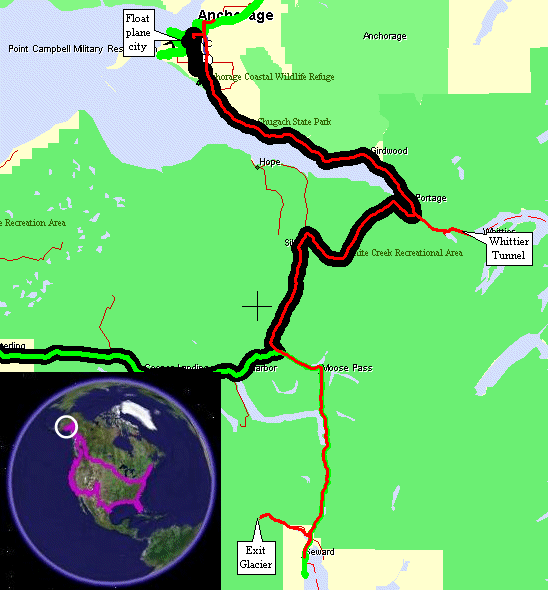 Exit Glacier and the visitor center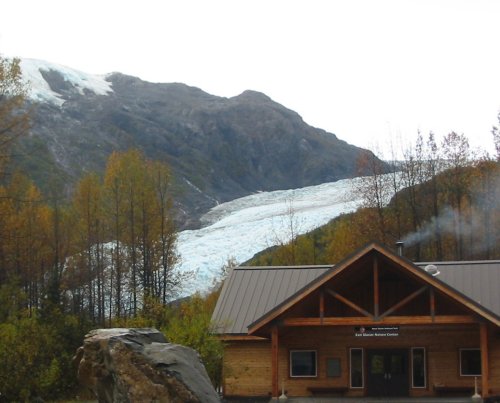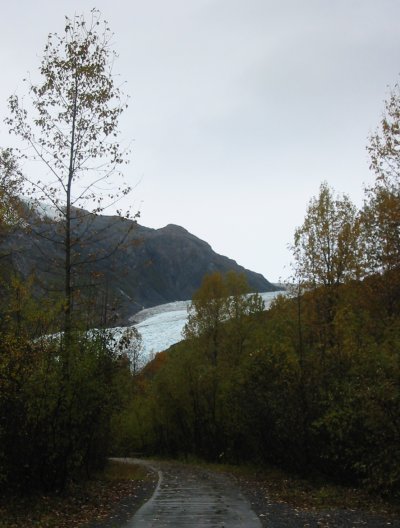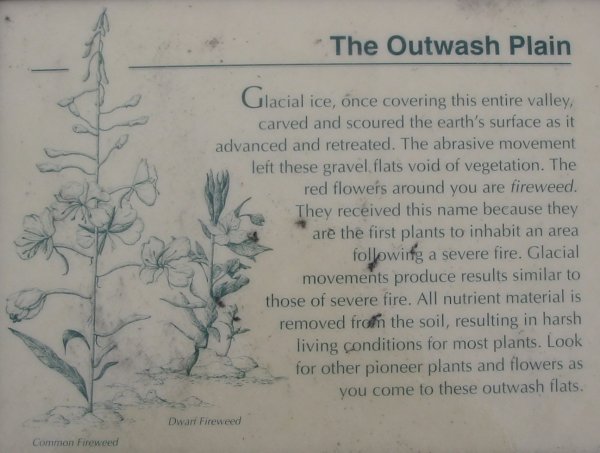 Turning my back to the glacier we see this...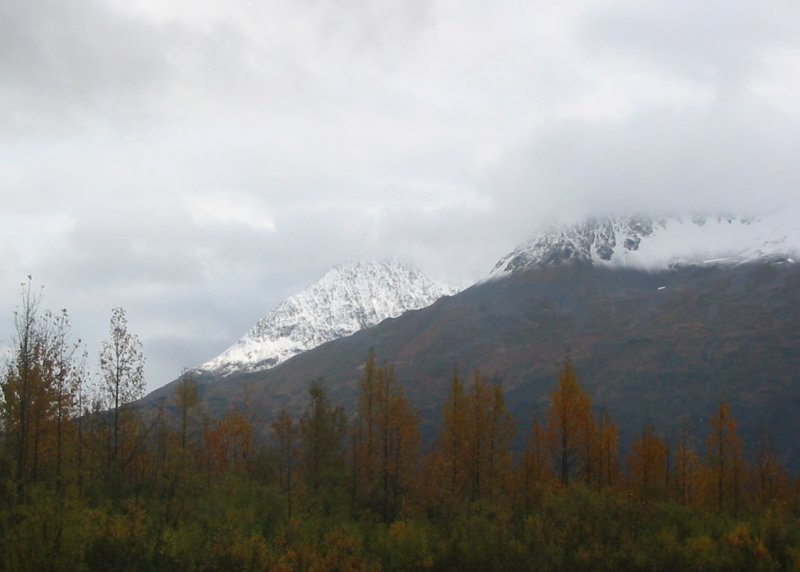 (
click for a larger size
)

For perspective, Paul is near the bottom right of the glacier - tan / grey jacket.& blue jeans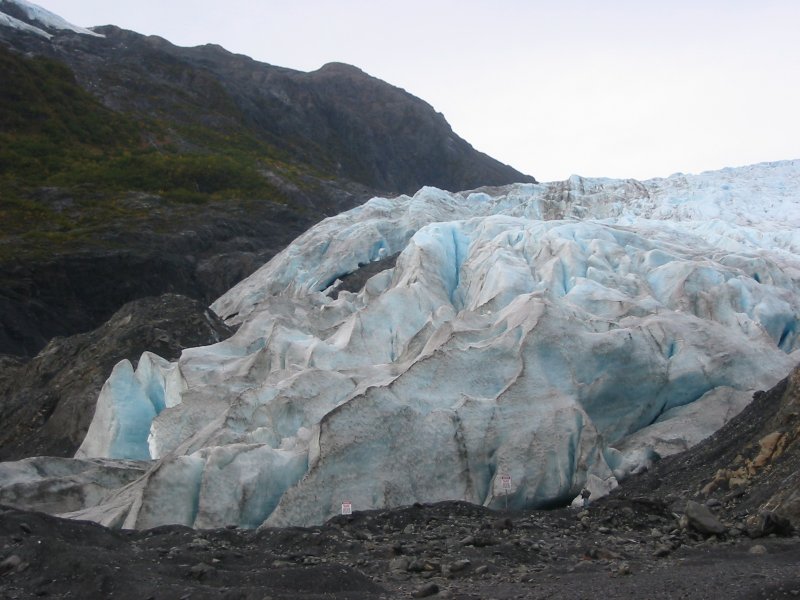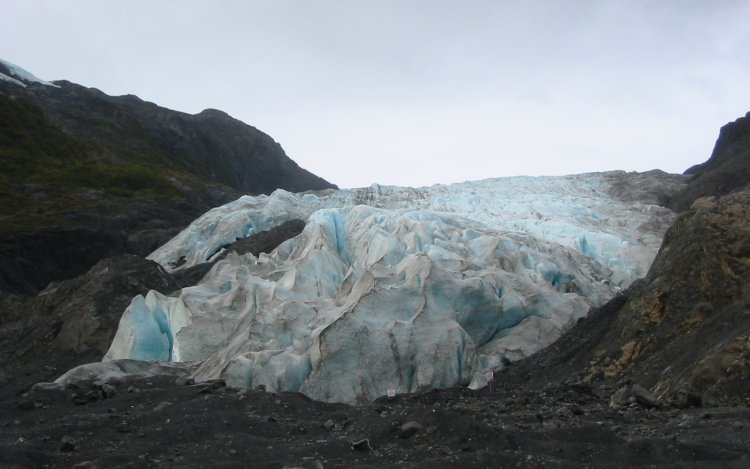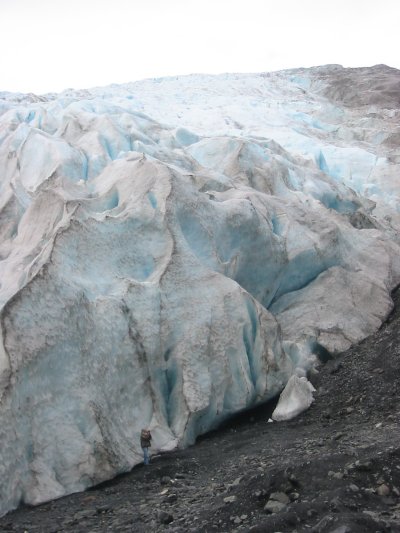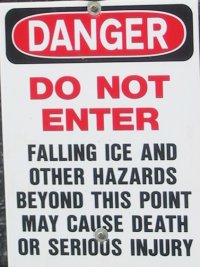 Perspective on this picture is odd - are these large chunks of ice or just ice cube sized things. I believe they are about siz to eight feet high - perhaps more.