Deals Gap Trip #2
Meet up with Ken @ Routes 47/20/72 and head down to US-129 in TN.
See as many good sights as possible along the way.

Day 1 (about 500 miles) Thursday pictures (59KB page size)
Head down Route 47 to near Champaign IL - hop on the Interstates
(click map for larger picture)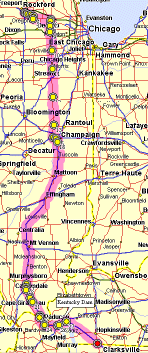 Day 2 (about 385 miles) Friday pictures (154KB)
Some Interstate work but mostly interesting side-roads
(click map for larger picture)

Day 3 (about 300 miles) Saturday pictures (430KB)
Nice day - nice loop trip
(click map for larger picture)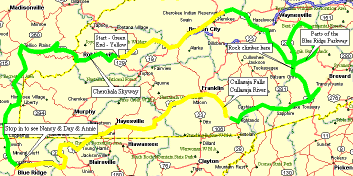 Day 4 (about 410 miles) Sunday pictures (395KB)
Start heading West - back to home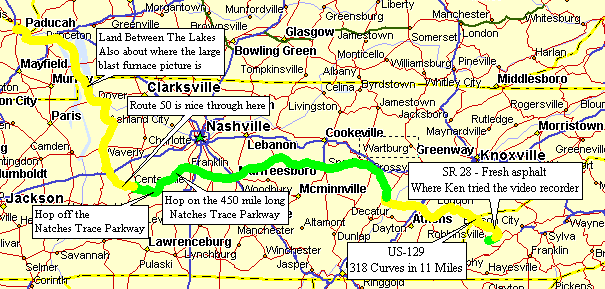 Day 5 (about 440 miles) Monday pictures (22KB)
Short look around the Southern tip of Illinois then retrace tracks heading home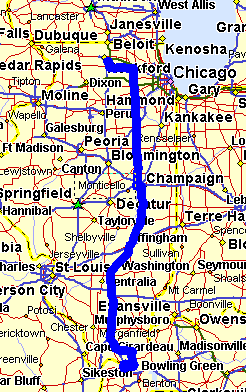 Total Miles: 2032 (by the maps); 2270.6 (if you go by the ODO)
Fuel Cost: $68 (lowest cost unleaded)
Fuel Stops: 23 (about every 100 miles)
Bike to GPS does show about a 3% error (with more Miles / MPH shown than I'm actually traveling)
This is backed up by comparing with Ken's bike (which seems to be more on the mark) as I'll be showing 100 miles on the tank while he shows 97 miles.
If you'd care for StreetAtlas v5 maps of each day - they're zipped up here