2006-04-19


Up with the clouds

Bare track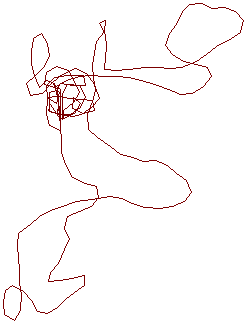 Track placed onto a map
31 miles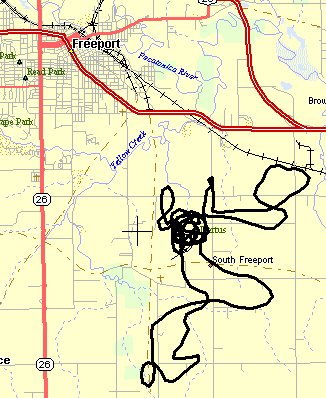 Air temps in the mid to high 60's (F) wasn't the warmest of day - but not too bad either. When I took off
I noticed that the cloud base wasn't that far up. Turning the radio channel to get info it mentioned they were about at
6000 Feet MSL (mean sea level). Base altitude is about 900 Feet MSL - Only 5000 more feet to go. Certainly higher than
normal flight (1200 to 2200 Ft msl). For some reason I had the itch to get up there - so I pushed weight back and waited...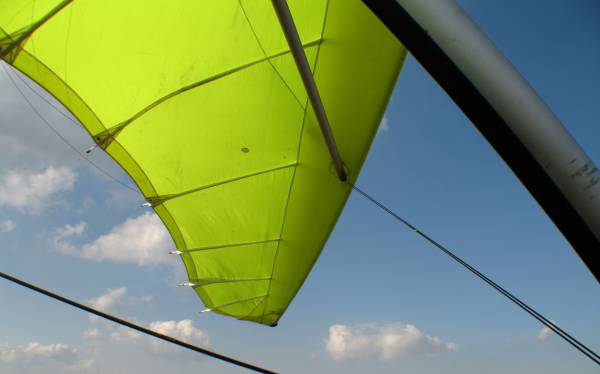 While some farmers are out working the fields it will be some time before they green up.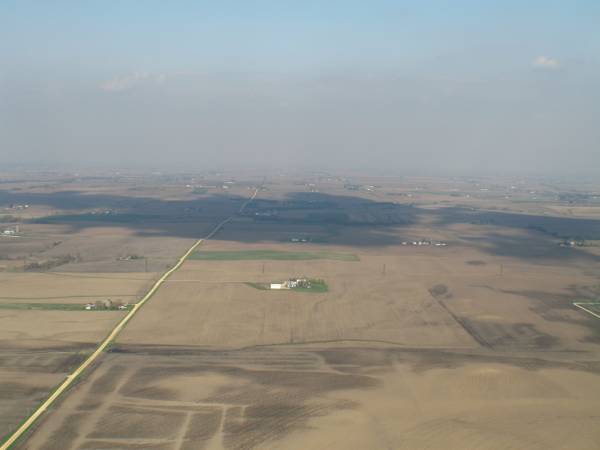 We've had some rain in the past few days - some fields are still wet.
Albertus Airport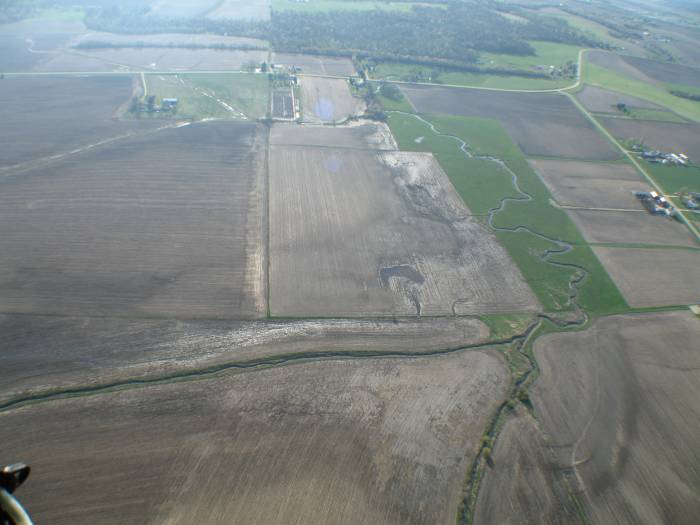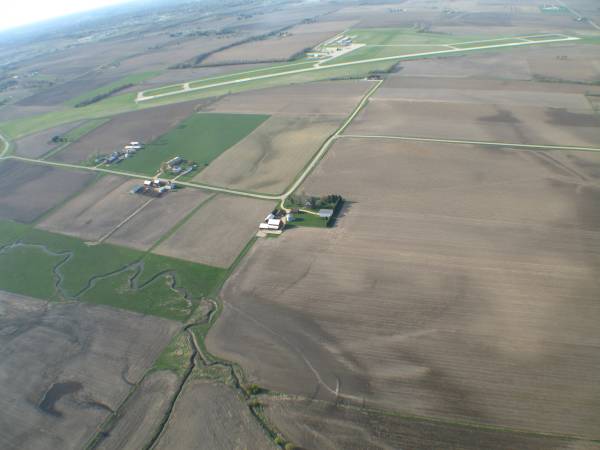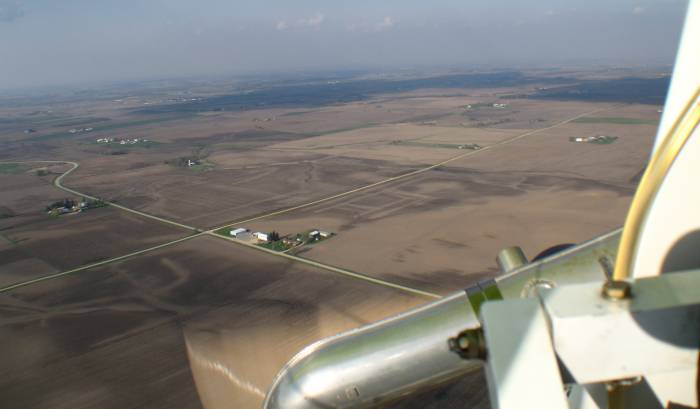 Instrument Readings
Top left - Cylinder Head Temps (cht) 325 & 350 F
Bottom left - Exhaust Gas Temps (egt) 980 & 1050 F
Top right - Engine speed (rpm) 5500 rpm
Bottom right (hidden) engine run time meter
Bottom right - GPS: 26 MPH ground speed, 4:46pm, 2683 Feet up (msl), 3.29 miles so far.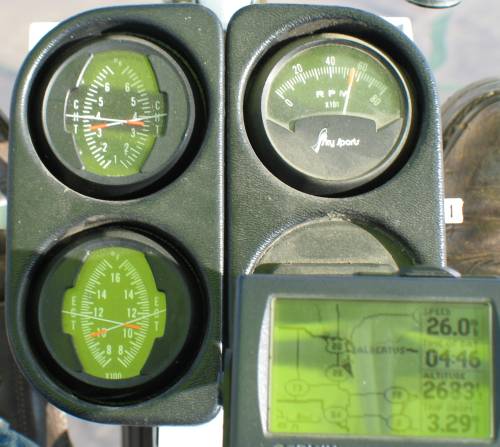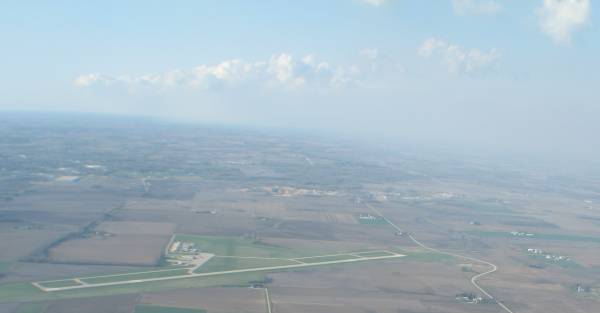 Close to cloud base
I need to stay away from them (I wouldn't want to get hit should another plane be flying through)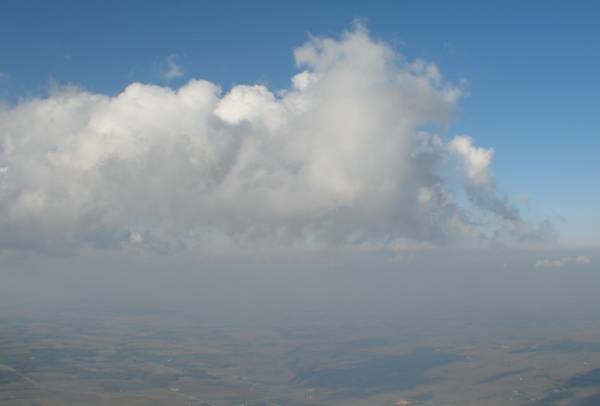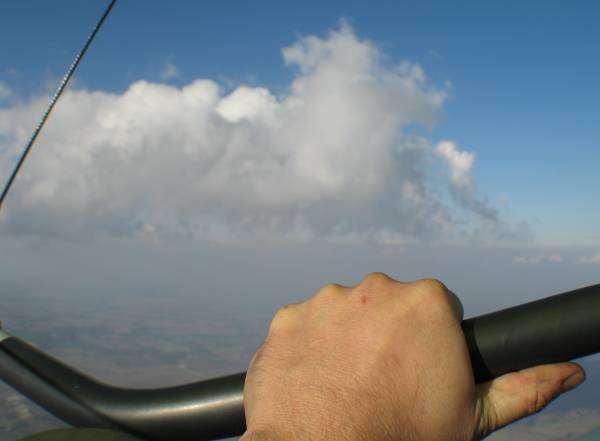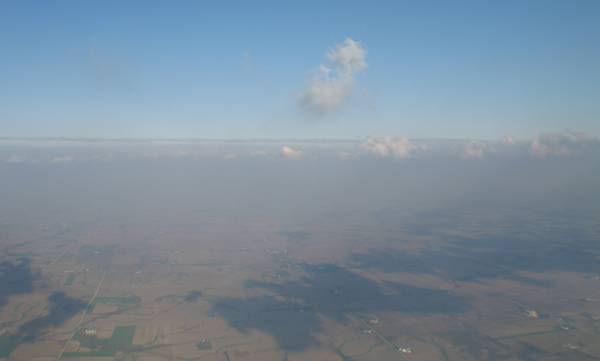 A tad higher than 5500 Feet (so above ground were about 4600 feet up). 4:53 pm.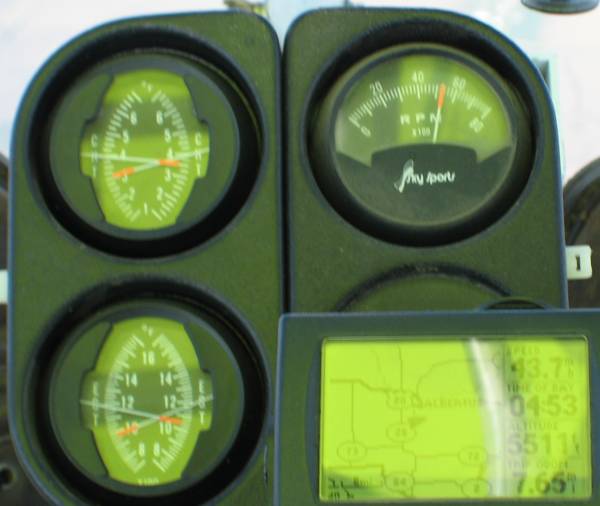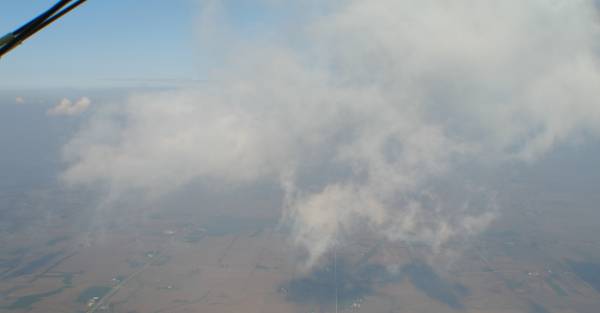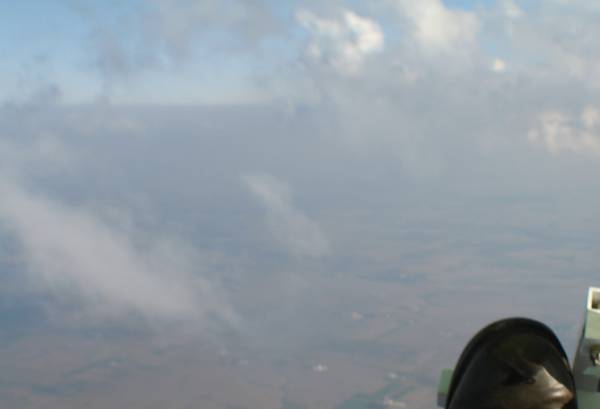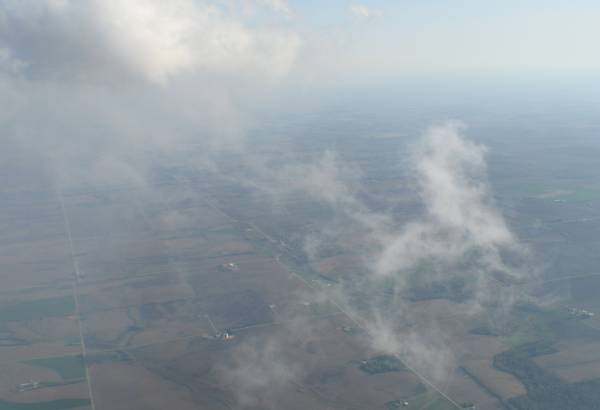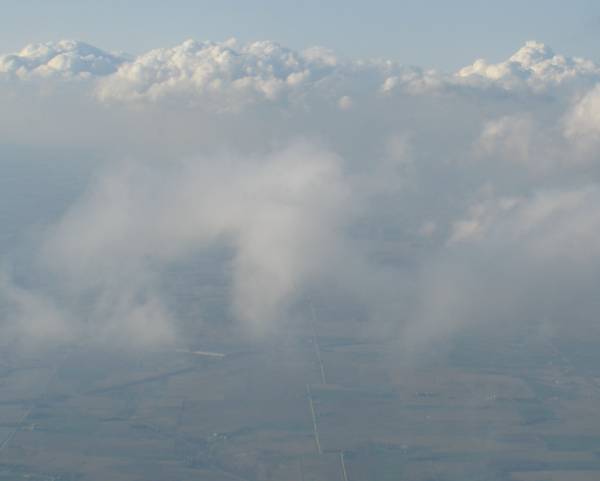 Intersection of US-20 at the eastern side of Freeport Illinois.
The tire plant. GoodYear Farm tires and Tiger Tires.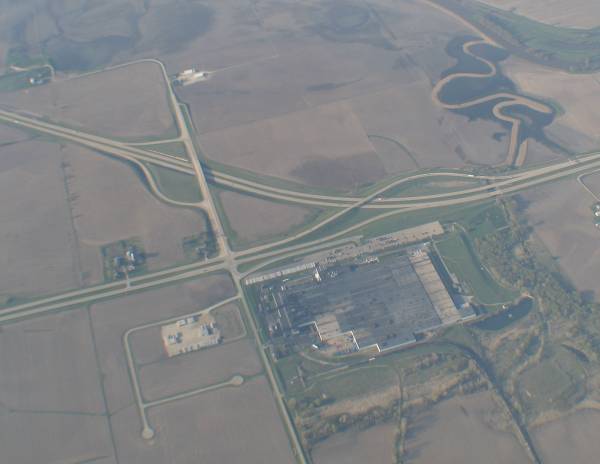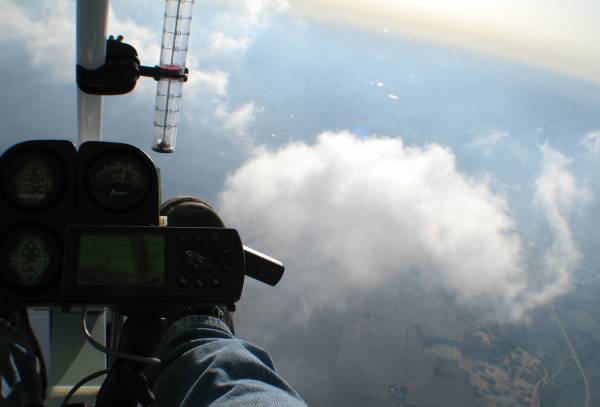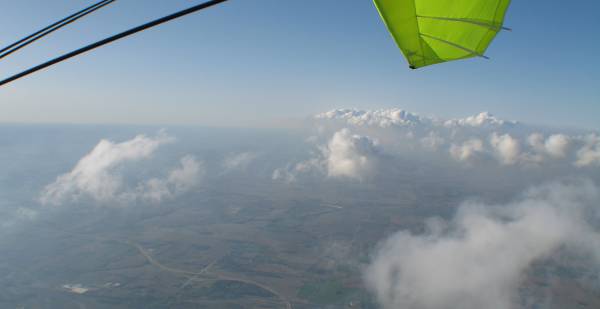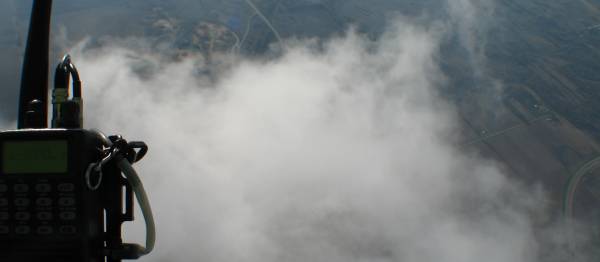 Time to head down
7021 Feet msl. It's getting a tad cold too.
With a loss of about 4.5 F per 1000 feet elevation I figure it might be about 27 F colder than at ground level -
maybe somewhere about 40 F. I don't think it was that cold - perhaps there was some warm air rising to help me keep warm(ish).
At 4:46 pm I was at 2683 Feet. At 5:08 pm I am at 7021 Feet. That's a difference of 4338 Feet and 22 minutes.
The rate of climb then is 197 Feet per minute. Engine speed was at 5500 rpm with a max speed of right about 6000 / 6100 rpm.
Density altitude was listed as 2000 Feet.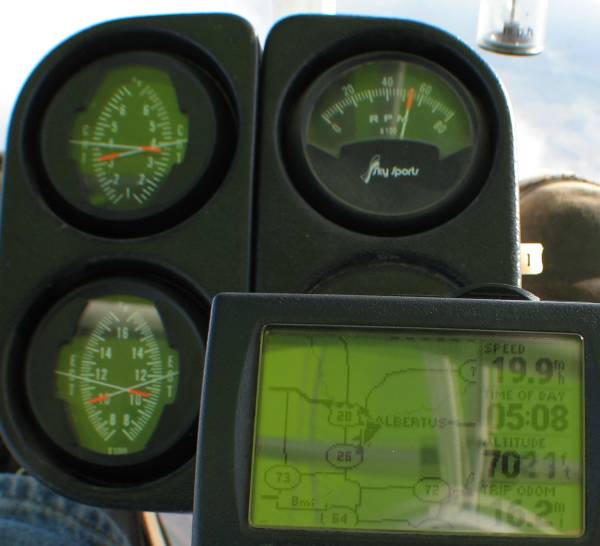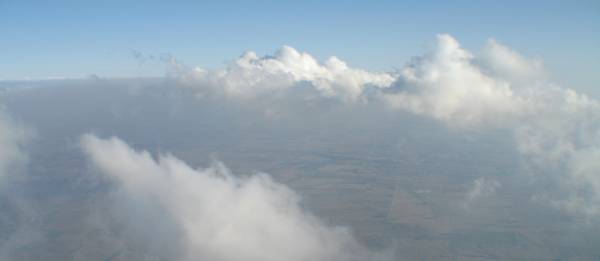 A rare sight - my shadow on a wisp of a cloud.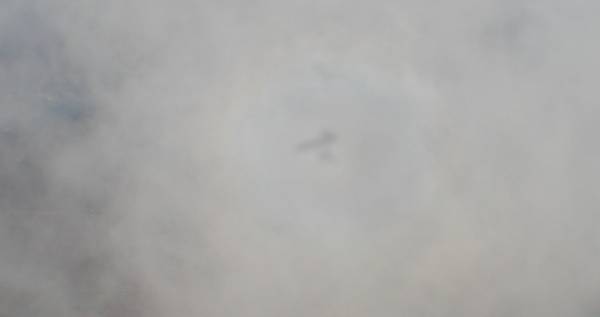 Back down below cloud base looking up.