December 8, 2005 - Thursday
Alpine, TX To South Padre Island, TX
Hmmm - what to say. It was a day to get from A to B.

"A" is Alpine TX - west Texas. "B" is Brownsville TX - south Texas. In between - about 600 miles.

The western portion was open space alternating between valley riding or high country riding. Low scrub brush along the terrain with no trees to obscure views. US-90 is a communications corridore - fiber optic lines on both sides of the roadway with repeater stations spaced out along the way. The Union Pacific railroad generally following along as well. Border Patrol vehicles sitting or moving through the area too (what is it with them pulling old tractor tires behind the vehicles - a method to flatten/smooth out the dirt roads?).

Pulling into Del Rio I had to stop at several lights. With the sun and slow speeds I started to overheat. Passing by a bank sign that had a temp showing I had to laugh - 31 Deg F - and I was overheating. I did have full layers on as it was a cool day. T-shirt, elect jacket (now turned off), sweatshirt, riding jacket, rain jacket.

Stopping was little and far between - stopping for pictures was rare as well. Those taken while moving were often blurry - due to the speed and rough surfaced roadway. Two lane roads - 75 MPH - little traffic - nice.

Instead of leaving Alpine on a full tank I knew of fuel 30 miles down the road in Marathon. Marathon is the stop where yesterday the attendant commented that I should "stop back soon" - I didn't think I would be but I guess I am. A stop there would give me some insurance fuel for the first leg. With 600 miles I should be able to do this run with one fuel stop in Eagles Pass assuming full fuel to start. With fuel in Eagles Pass, a half-way point, I should be able to finish the day on this load but at Larado I had to stop to top off - low prices - Buck-99/Gal. So aside from fuel in Marathon, Eagles Pass and Laredo and some sit-down food in Eagles Pass the motor was running with kickstand up the whole time.

Somewhere after Quemado I experienced something new - shoulder riding. The road shoulder was almost full width (pavement) for a passenger auto. I'd be riding along and come up on a vehicle (can someone say "pickup"!) just putting along on the shoulder. The shoulder had two track marks from the use. Slower moving vehicles, riding properly in the roadway, would often pull onto the shoulder - at the same rate of travel - to allow overtaking vehicles to pass. Semi's to breadtrucks - they pull over as far as possible. Wild.

One of the more interesting shoulder riding pickups that I saw was a mobile hunting blind. 4x4 truck nicely painted in camo greens that had a steel frame erected above the cab. Two chairs and a three sided 'cover' with sight and gun holes.

The farther southeast I traveled the geater amount of trees to see - more and more so much so that the terrain was covered in trees. Many were lower and densely packed.

By Zapata (I think) it was dark - and shortly later it started to rain. The rain was somewhat expected as Brownsville had a 40% chance all day - with temps hovering in the low 40's to high 30's all day.

As I neared Brownsville I noticed a sign to South Padre Island - that spot/name would be a bit nicer on the main index page so I think I'll make that the stop.

US 83 in this area (the cut off to the new destination) was under construction. Rain. darkness, construction - always a joy. Toss in some fog on the face mask (so I start running with it cracked or wide open) and the inside of the mask gets covered in droplets. Visibility isn't optimum. I now pass by the exit I wanted (but I didn't know it at the time). The next exit was the formal one - but it was closed due to construction. Hit the next one, turn around and look for the one I want heading the other direction. I should have stayed on the invisible frontage road as I again passed the exit I wanted (closed). Taking the next one and turning around again I stay on the frontage road and get the road I want (TX 100).

Through all of this back and forh - stopping, starting and accelerating - the "It's raining so I have only three cyl's firing" issue kept smacking me in the head. Not wanting to idle well at a stop and not wanting to get-up-and-go for merging into traffic kept life entertaining. Yea - I need to look into this. But when it's nice I'll be wanting to ride and I won't give it another consideration until some nice wet day.... repeat. [I could have worked on it today - Saturday - but it was cool and windy outside - so I sat inside, vegged with the TV and laptop (IM'ing with Ken and Luke). 'guess I better not complain about it any more!]

Getting close - the GPS is showing me at an altitude of 7 feet. Single digits - nice (read: warm).

Next up the causeway over to the island - wet with "bridges freeze first" thoughts. It was gusty - not a consistent wind to lean into - enough to make me slow down and have thoughts of how close the temps were to freezing. The morning Wx report showed a stable high 30's all day (into late evening) so I'm hoping it would be true. The next morning at breakfast I learned that this causeway was the one hit by a barge some time back where some people were killed. No ice and no wayward barges - all's well.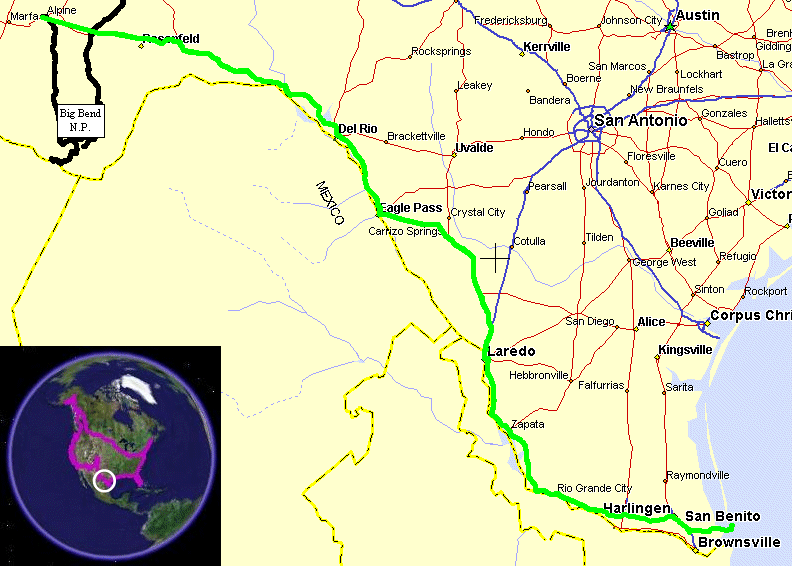 Leaving Alpine TX - ice covered fountain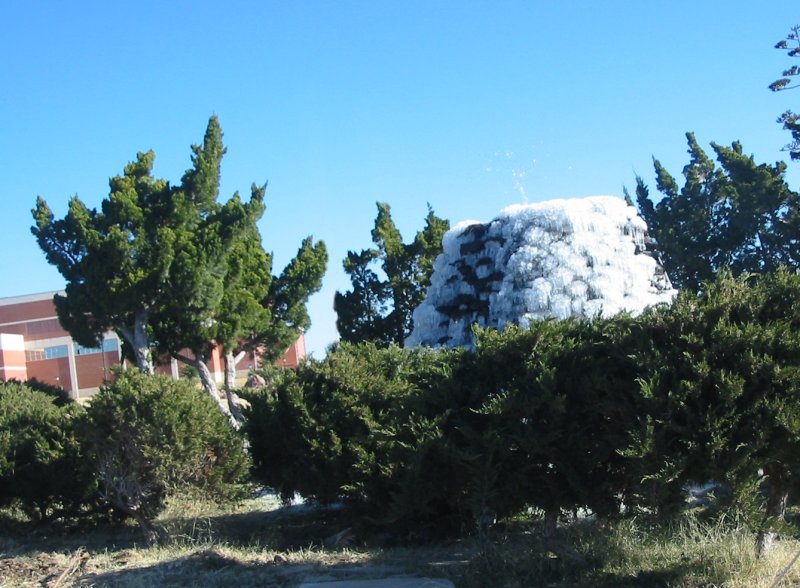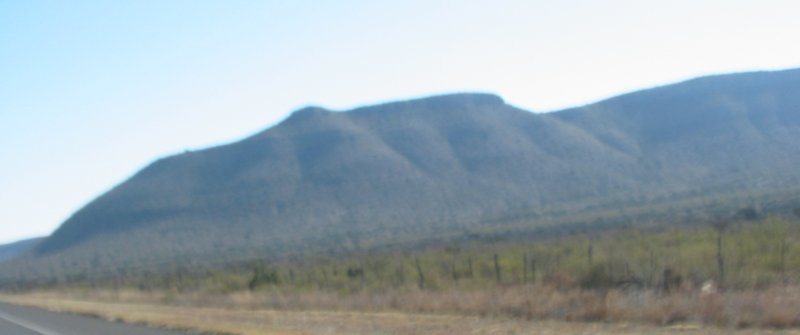 A nice ranch entrance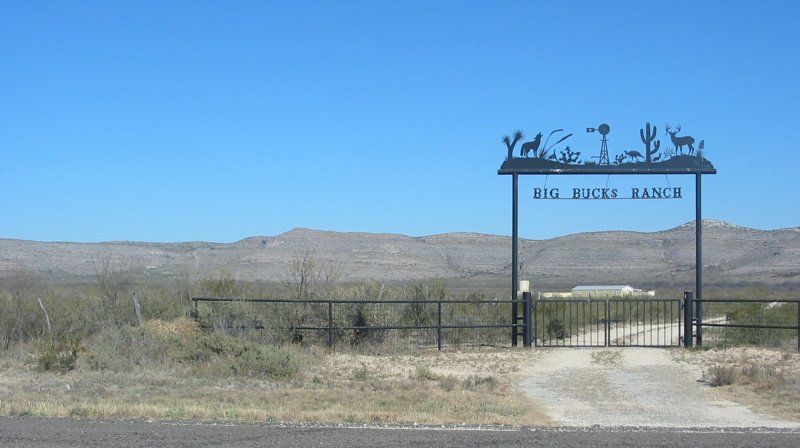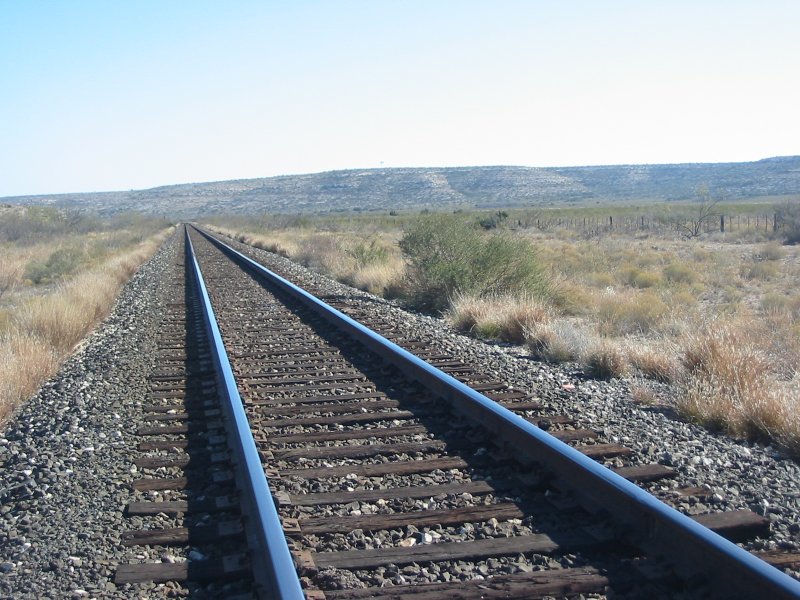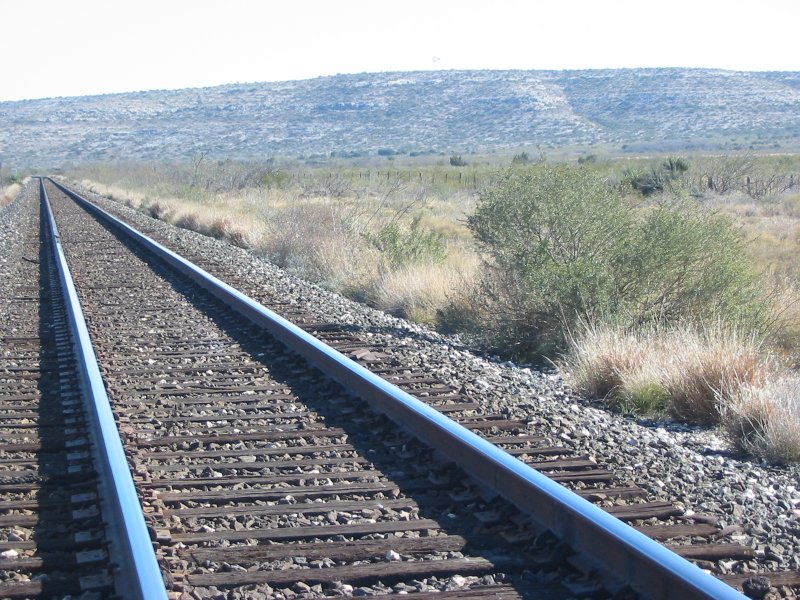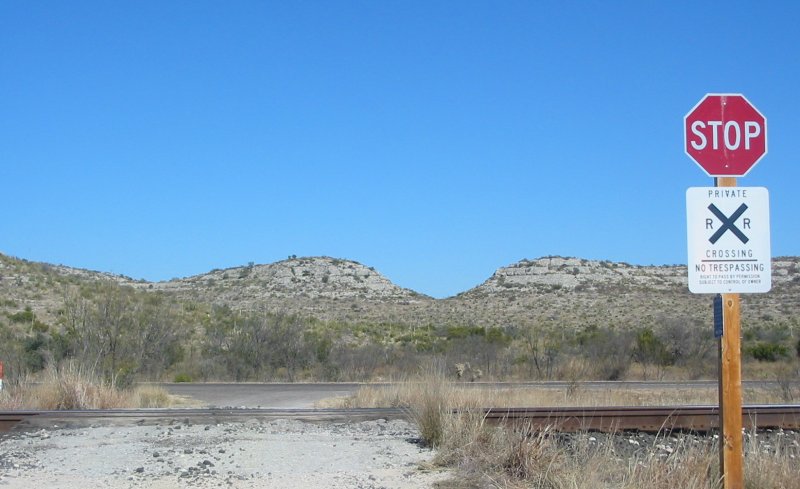 Down in the valley - hills around

Up on the highlands - animals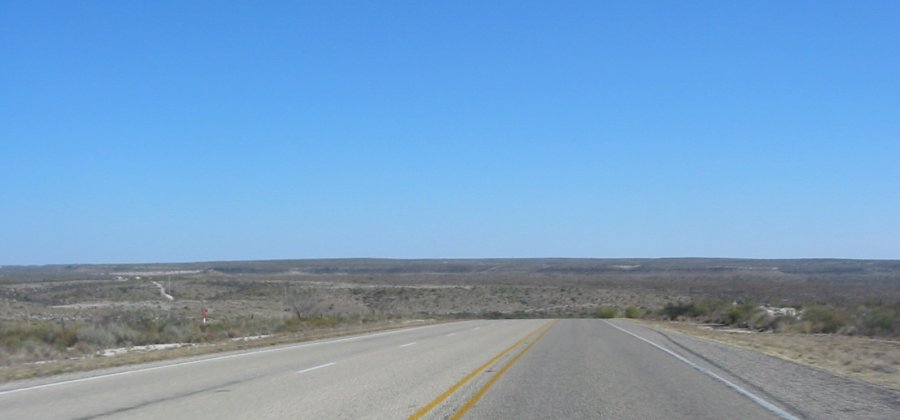 Box cars parked on a siding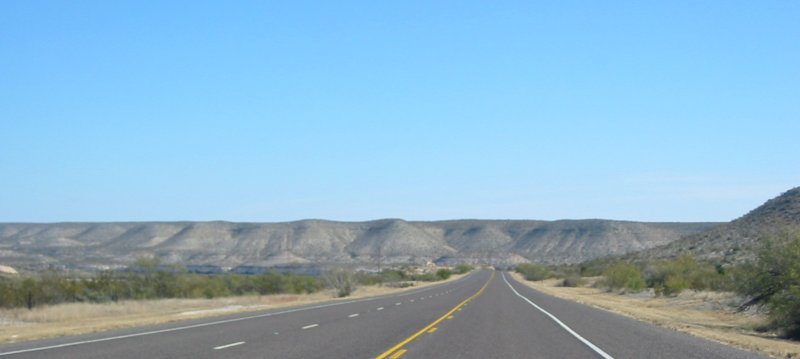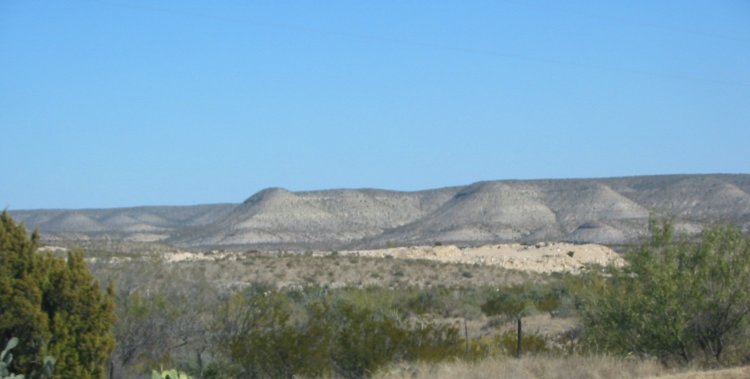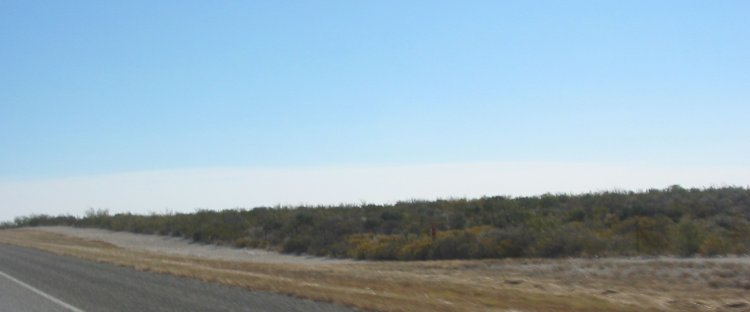 Road cut rock layers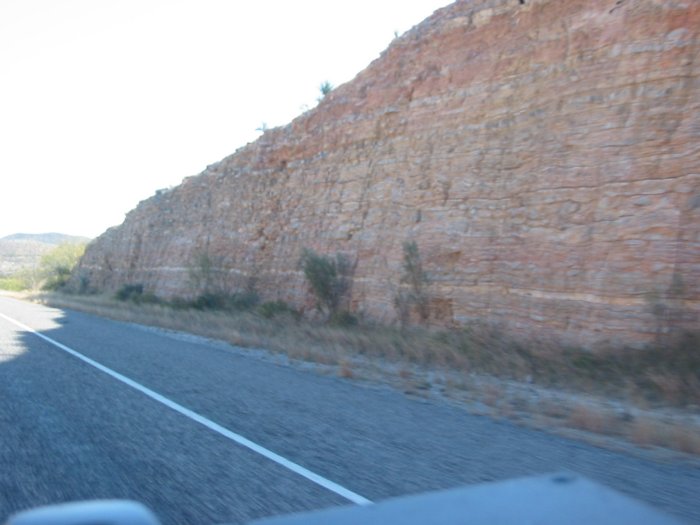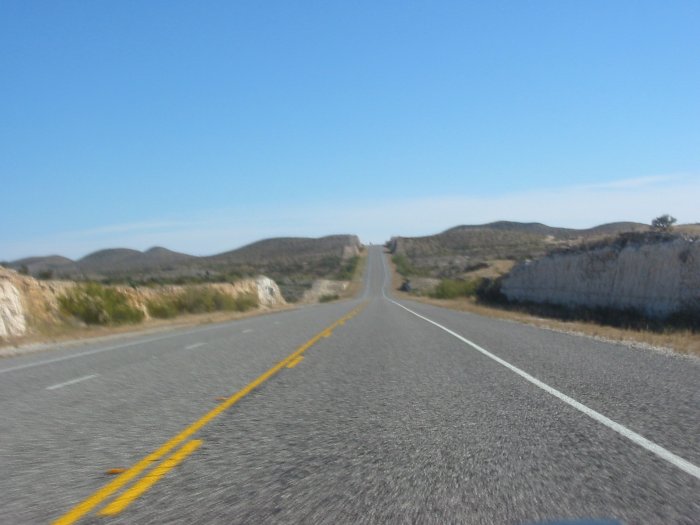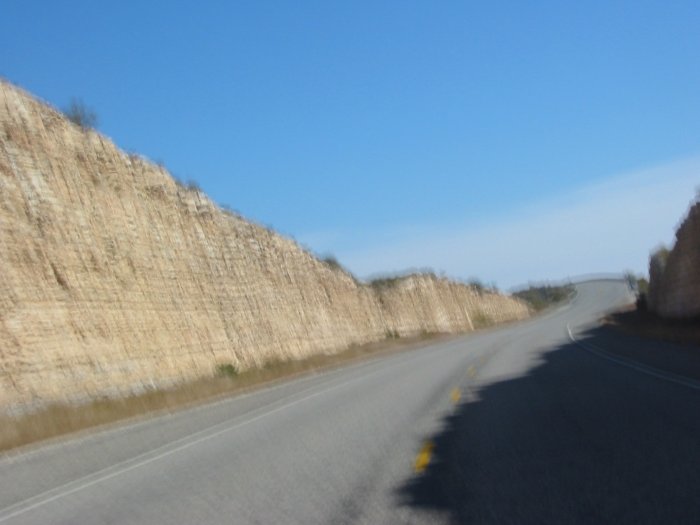 Odd seeing a large body of water out here - Amistad Reservoir / Devils River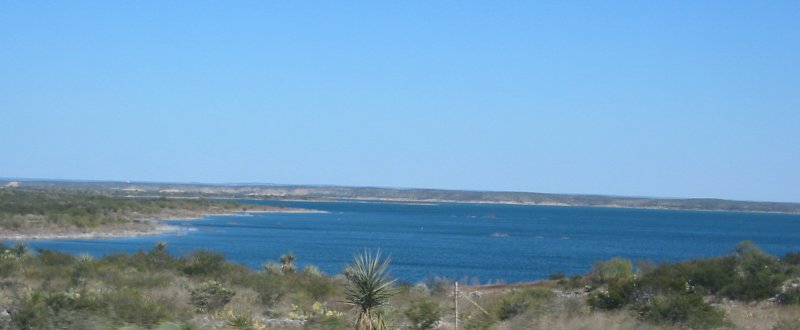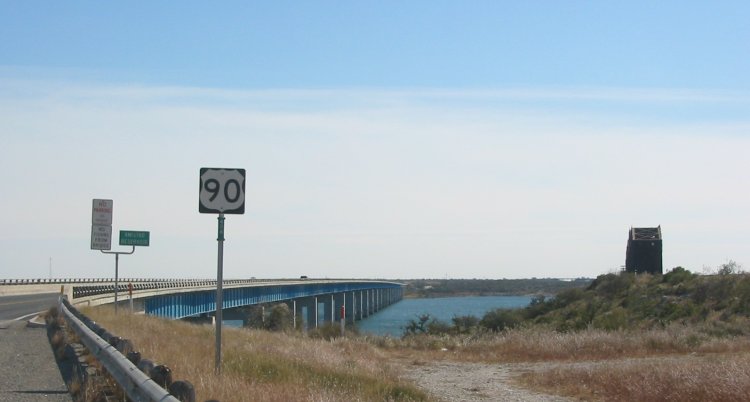 Starting to get into some trees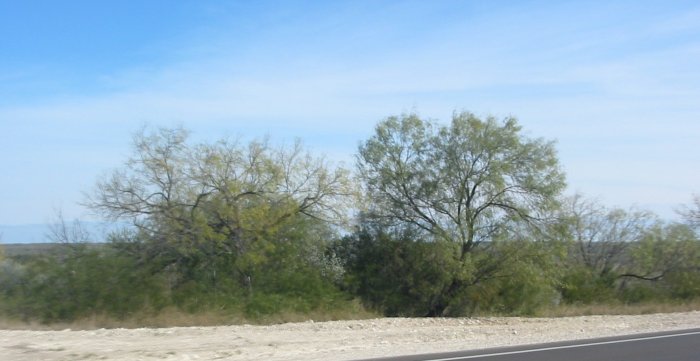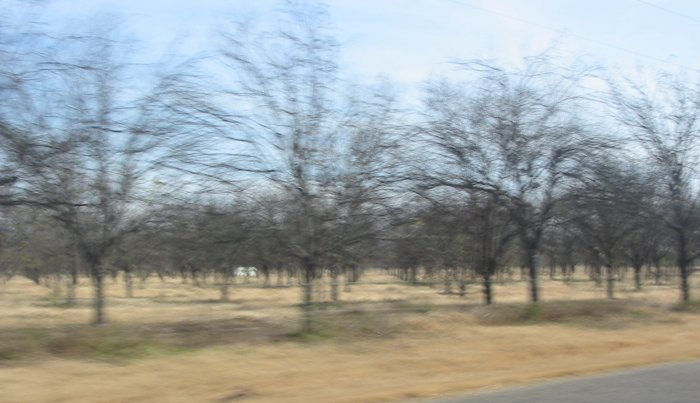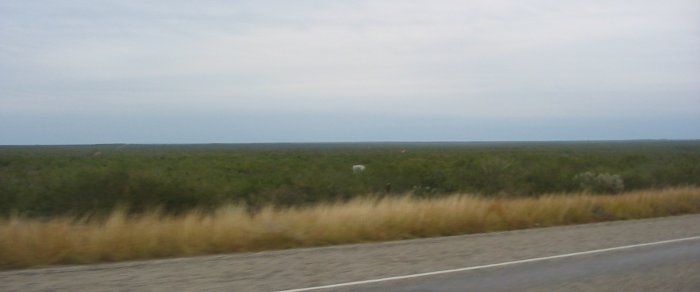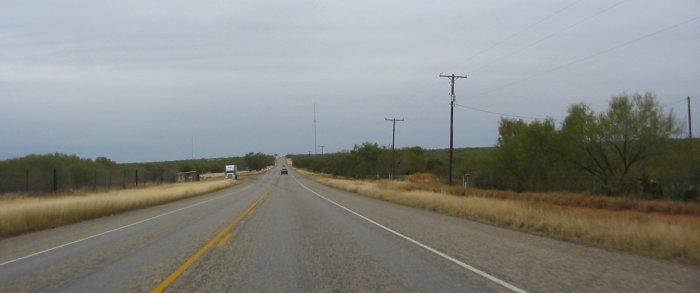 Oil rig lights at night