Nov 20, 2005 - Sunday
Flagstaff, AZ To Stafford, AZ
Options, options. When to wake up (hostel - no alarm clock), where to find Mass, here to call it an evening. I have tentative thoughts as to where to end up - all keyed with the desired "hit list" between here and Denver (get there by Tues eve).

Getting set with the new time zone - back in Mountain time - I was up unusually early - 6a Mountain (which would be like 5a Pacific). I was going to hit the road with a destination of Holbrook AZ for a 9:30am Mass. In the parking lot another guest stopped out as I was getting set to turn the key. He asked if he could grab a picture - sure thing! Thumbs up - done deal. Then I saw him pull out an Altoids can, just right to hold his small camera - I had to get a shot of that - done deal (except that I didn't notice the camera say "No CF Card" - shot NOT saved).

Time was on my side and I knew I'd be about 30 minutes early to Mass. On the way I saw a sign for Meteor Crater - 6 miles down the road. Sure, why not.

The visitor center is a private organization (no National Parks pass access this time) so I went in for a $12.00 picture set. Not taking much time I went back to the highway. Down at Holbrook the waypoint for the church didn't match to where I wanted to be. Baptist, Methodist, etc - all set in a one block area - and the building that was the Catholic Church was now something else. Hmmm - 9:31a - a look at the peaks - I see another church a couple blocks away.

Yep, cars in the lot - and more stragglers jumping in at the last minute - this had to be a Catholic set of folks.

From Mass I wanted to decide on a new deviation - the Petrified Forest.

The Petrified Forest is about 20 miles east - a bit out of the way - but I could easily drop down on the park road to where I wanted to go. This might be a worthwhile deviation - off I go.

This park was able to utilize the National Parks pass I purchased back at Olympic National - Hurricane Ridge. The pass cost $50 (plus $15 for the Gold Eagle hologram added at Mt. St. Helens) and I believe I am past the break even point (had I paid cash at each of the parks I entered).

Out of the park - good views in addition to the petrified trees - I headed down to US 60. Show Low, AZ was a fuel and food stop.

Heading down US 60 I wondered why it was a commented / suggested road. It was decent ride but after many miles I thought - was this it??? Then IT started. Speed limits dropped. Yellow signs started to pop up. The earth started to be gashed and split. The road started to drop down into the canyon....

The destination was the Salt River - and then back up again. All told the twists and elevation changed lasted 20 to 30 minutes. It was spectacular.

From there I processed through Globe and over to Safford. Tomorrow I'll head up the other side of "the loop" - the side that is more interesting between the two.
Video
VIDEO NAME
LINKED FILE.MPG
MPG, 0 MB, 0 min 0 sec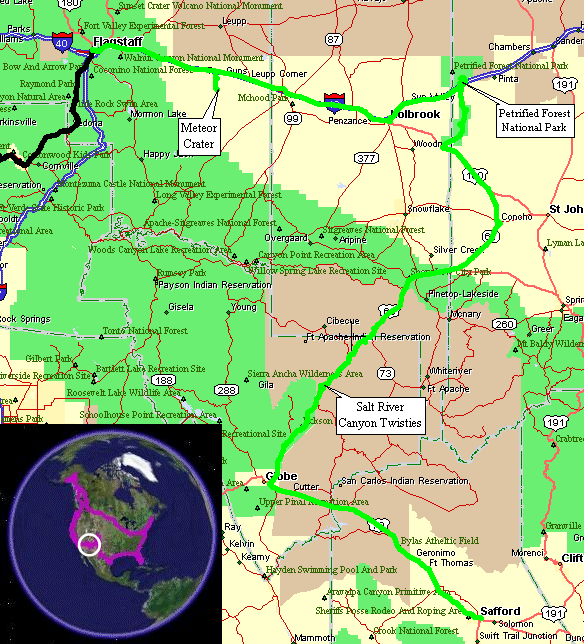 Meteor Crater - 360 view
Click for a larger size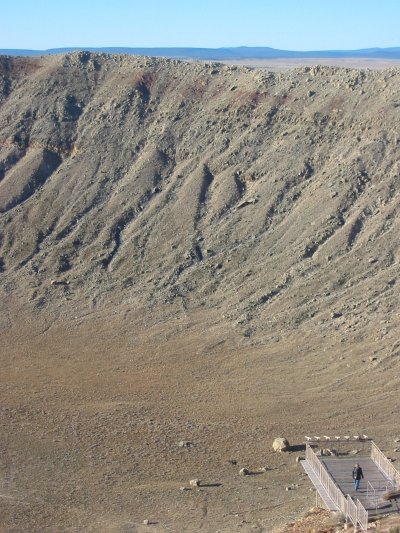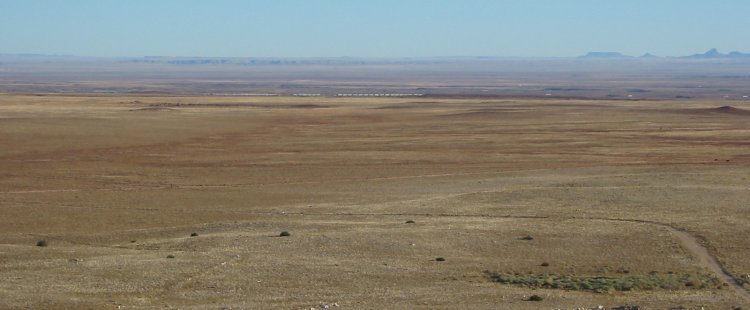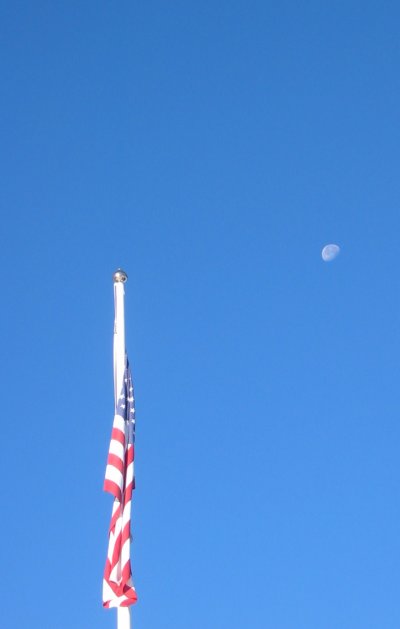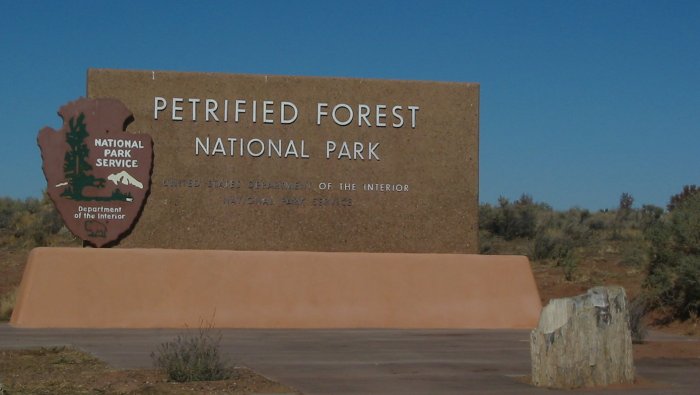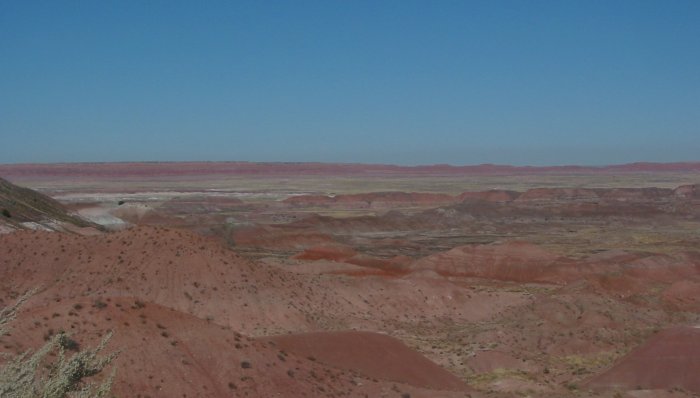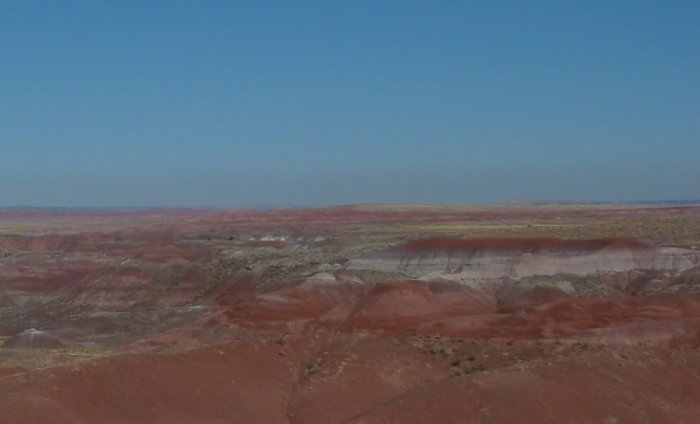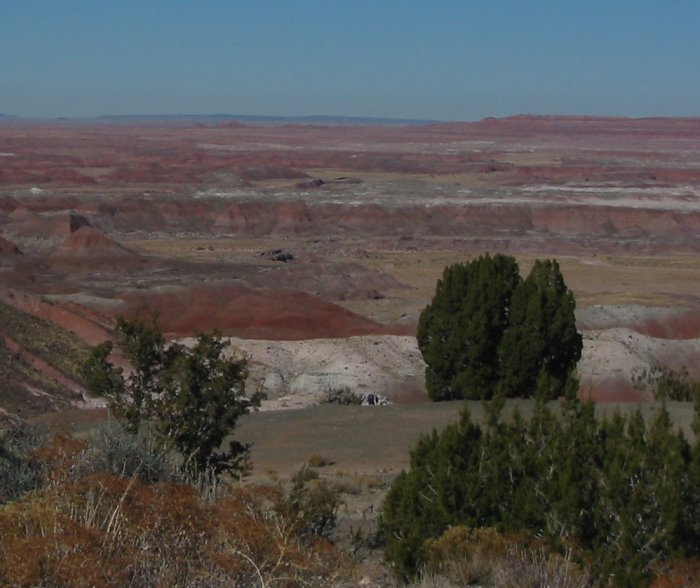 Click for a larger size

Click for a larger size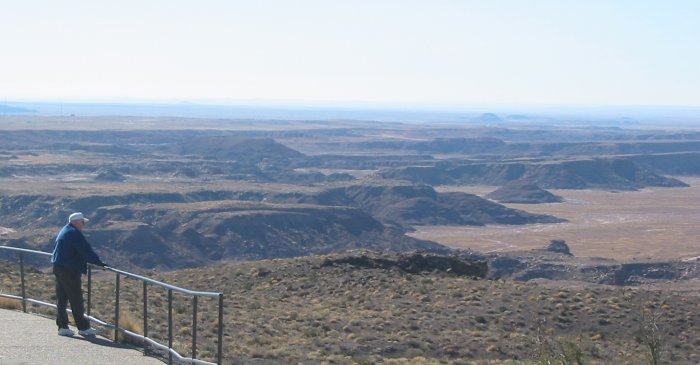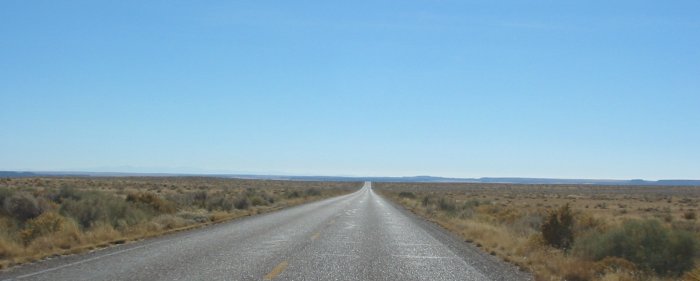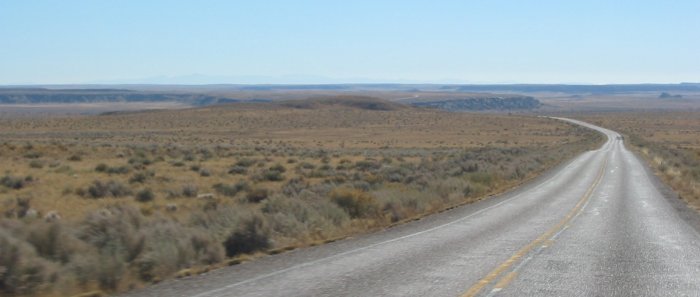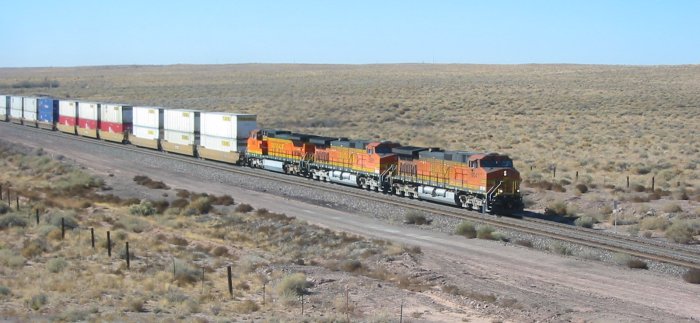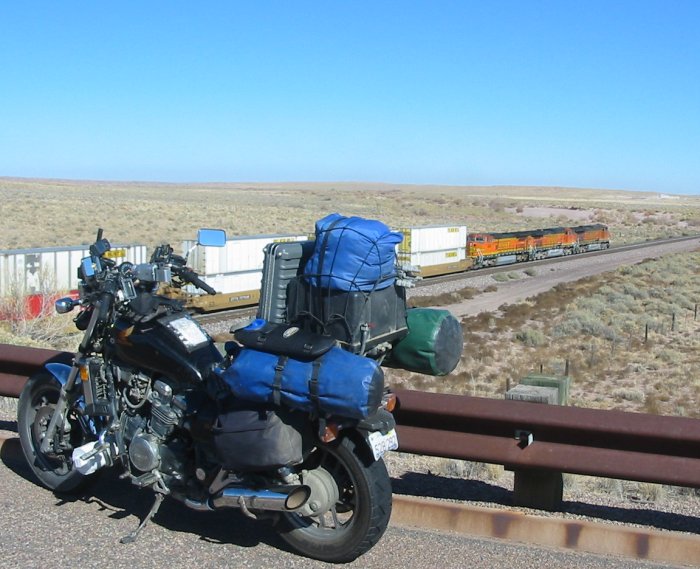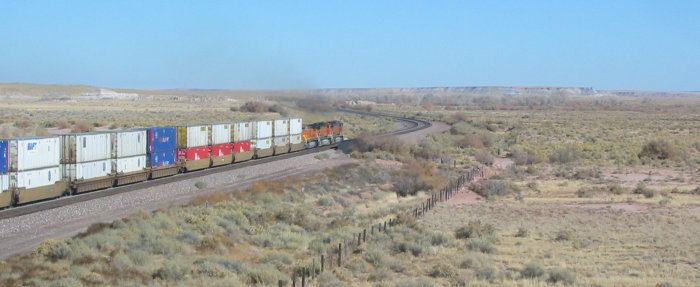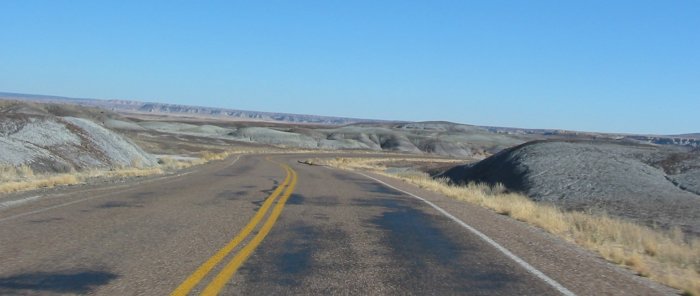 These colored layers remind me of the
Badlands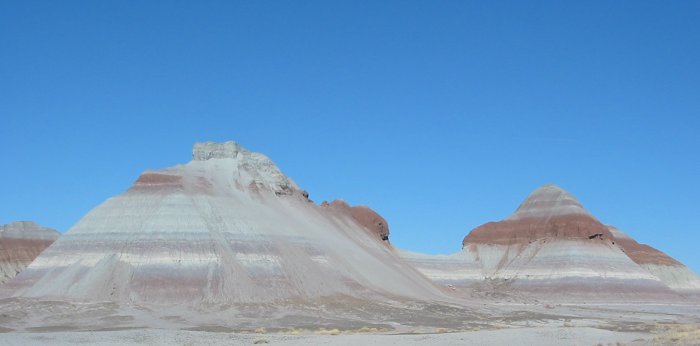 Still in the national park - open space, no signs, no posts, no wires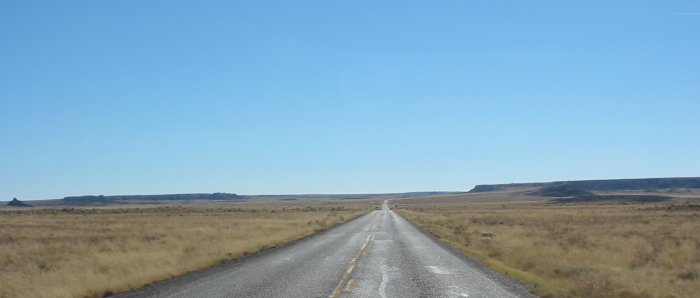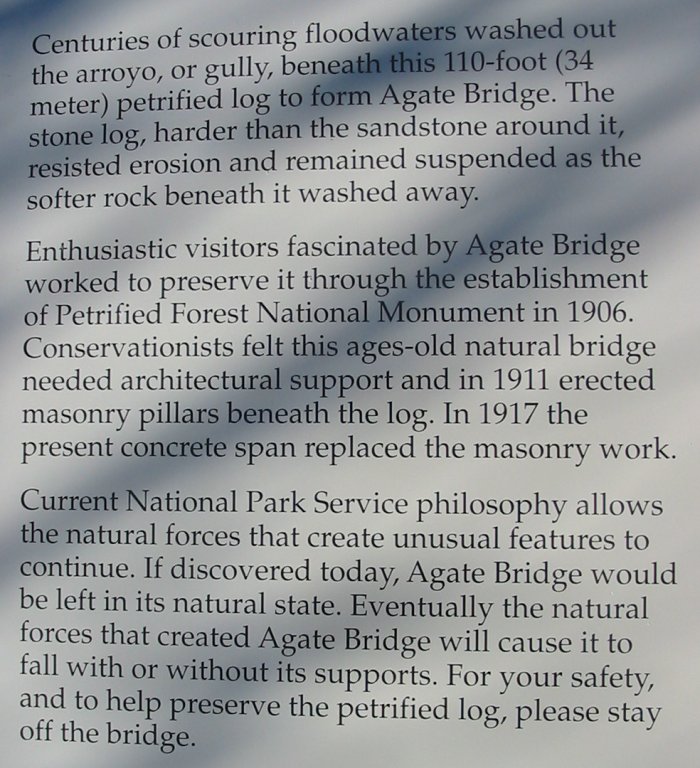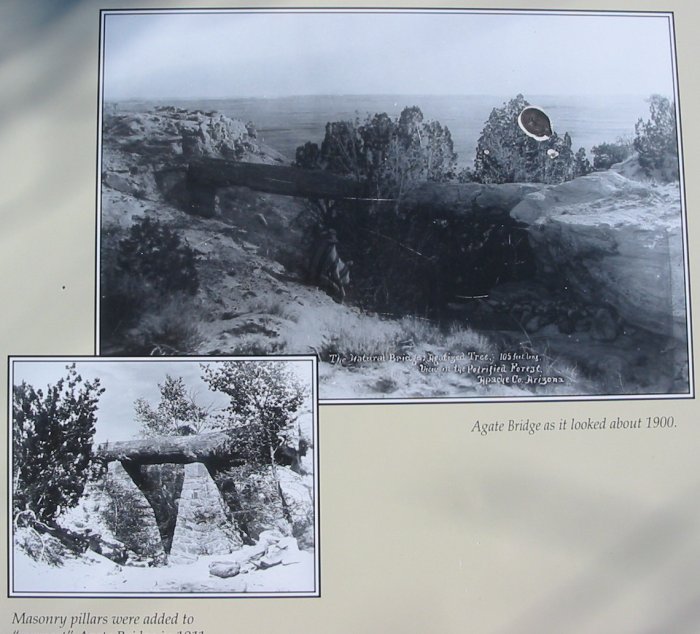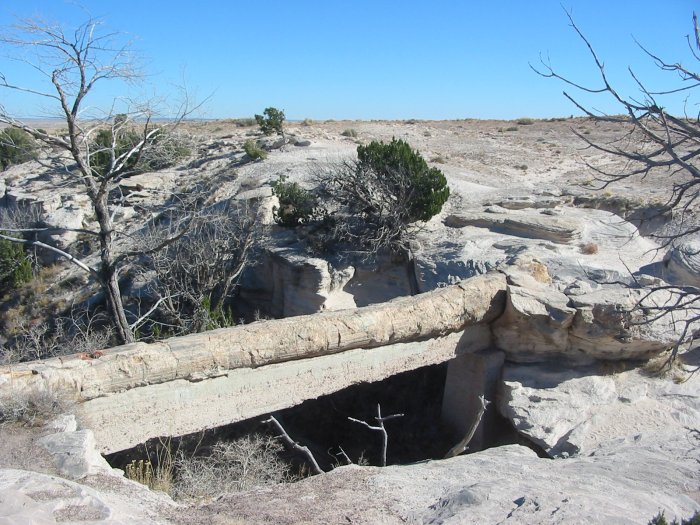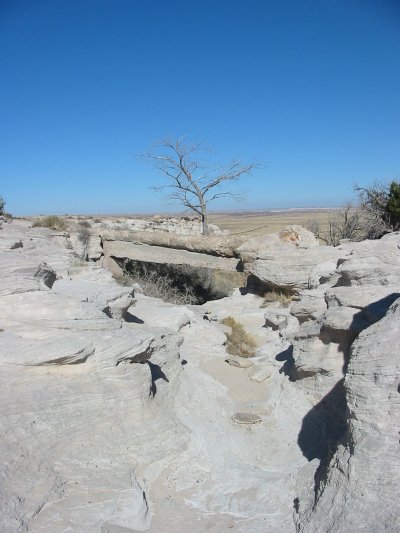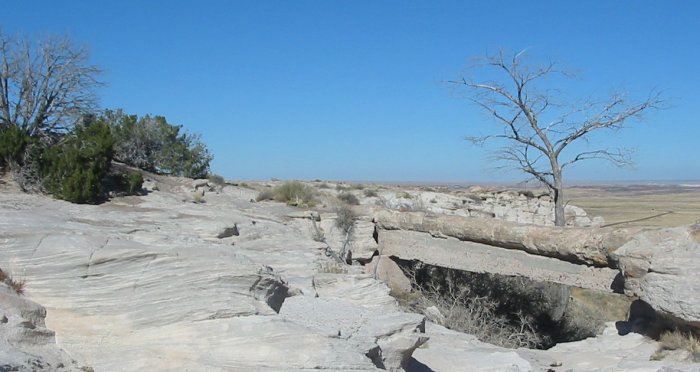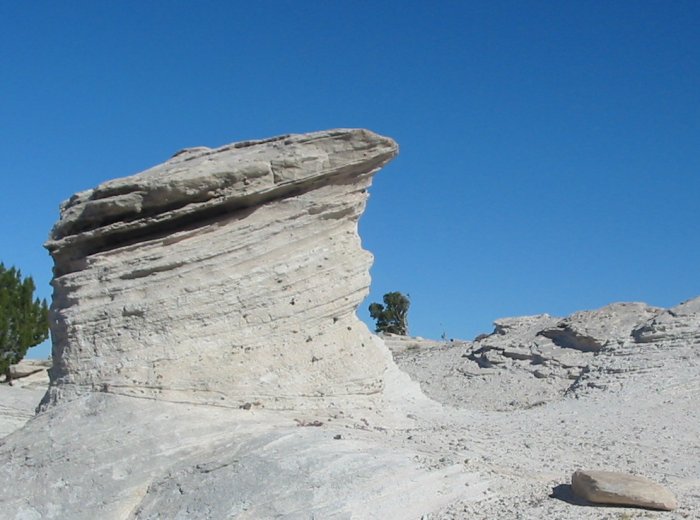 This is it - Petrified Forest in action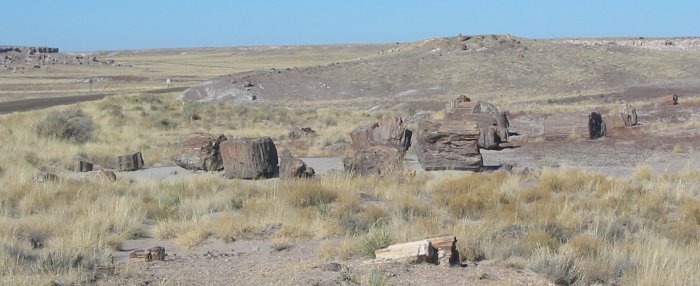 OK - leaving that action - now for some more open spaces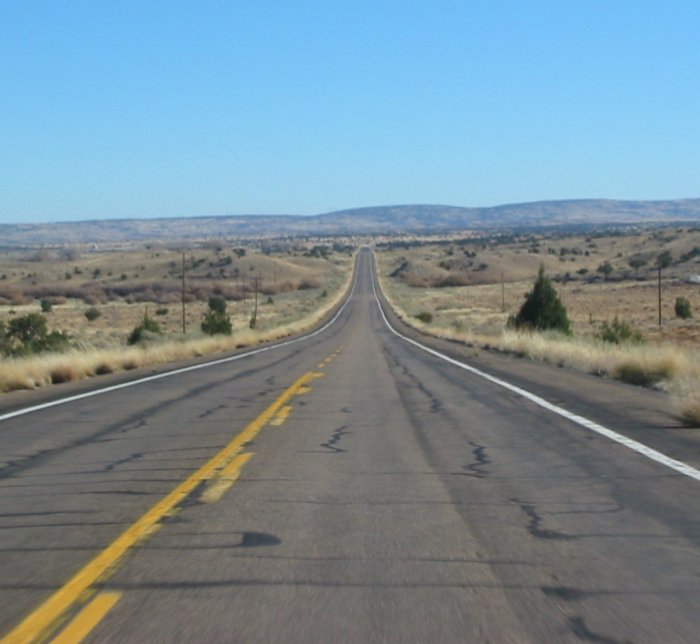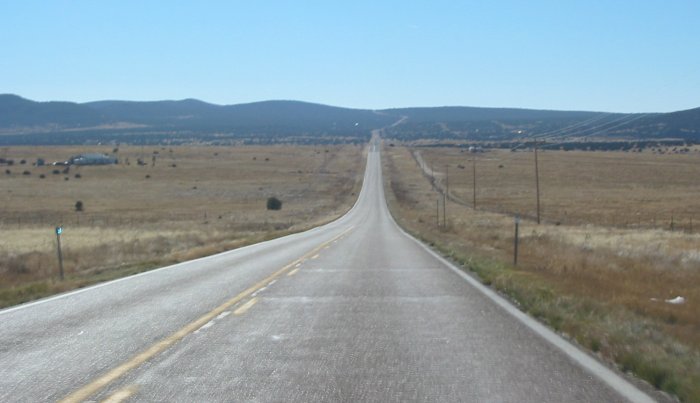 Show Low, AZ is a bit farther down the road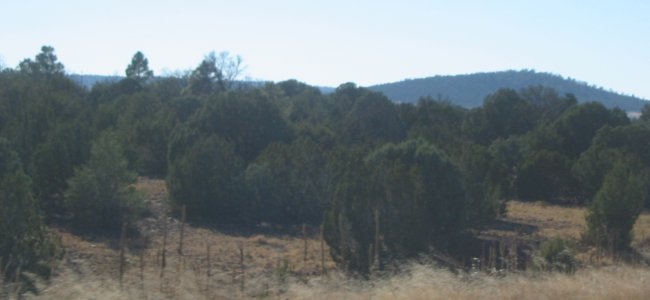 US 60 south of Show Low - getting more into the pine trees.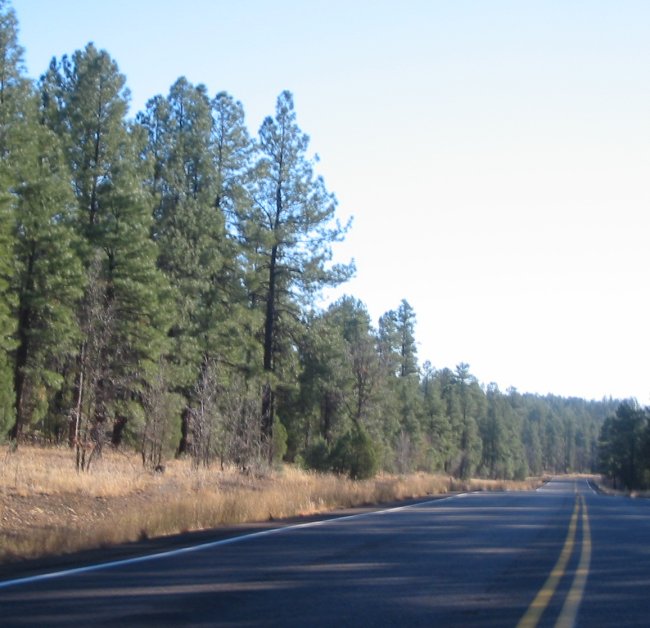 And some sort of valley...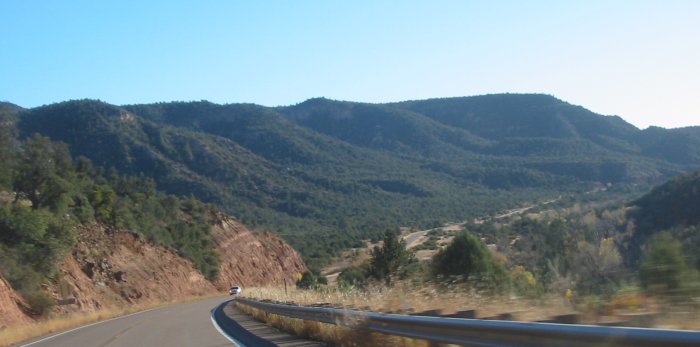 Holy cow - some valley it is!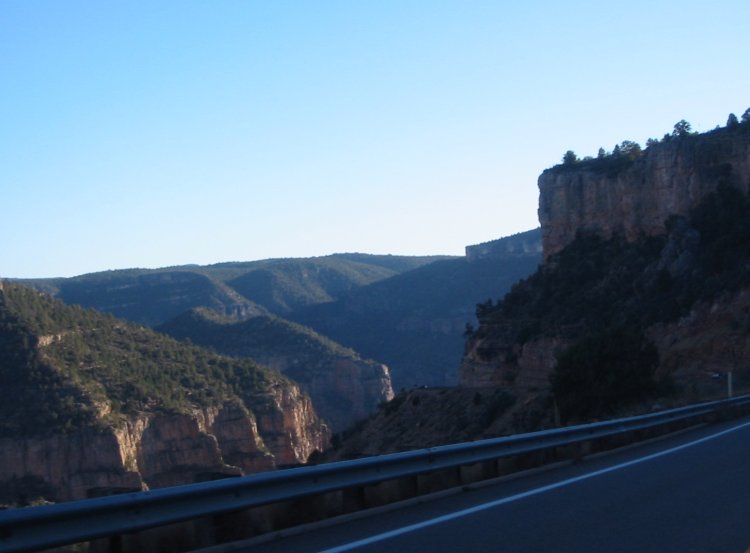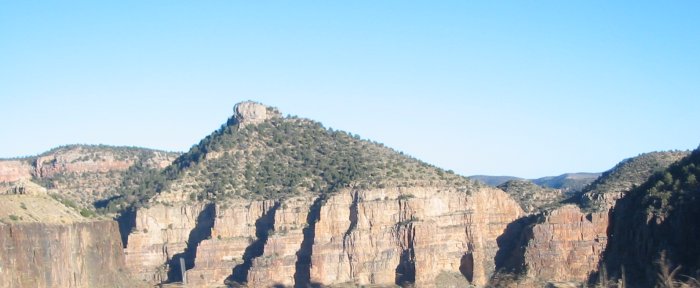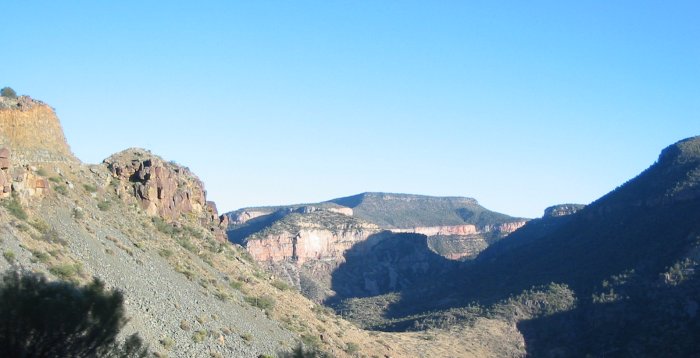 Getting closer to the bottom of the valley - note road cut going up the other side.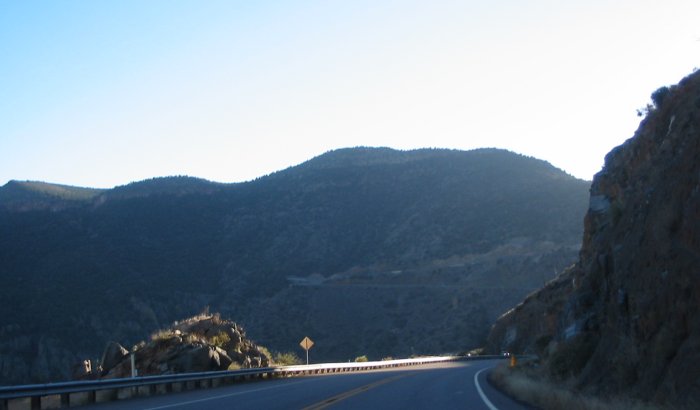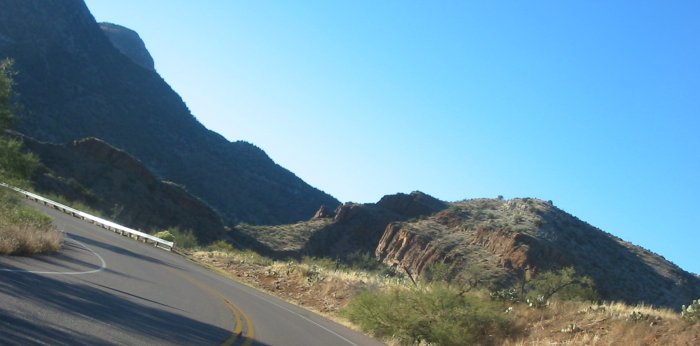 Salt River crossing - 1/2 way between Show Low and Globe AZ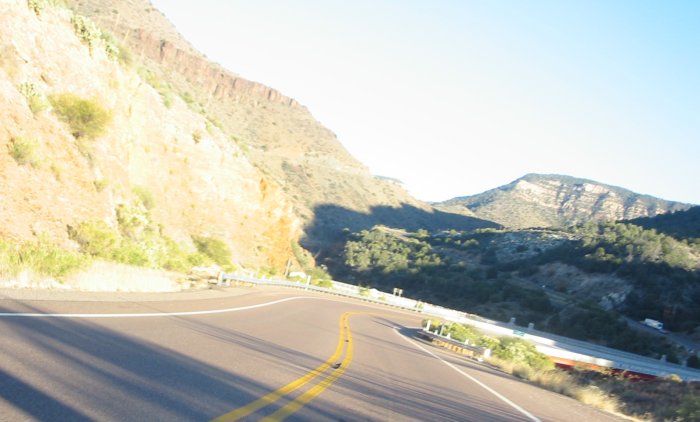 Looking back where I was.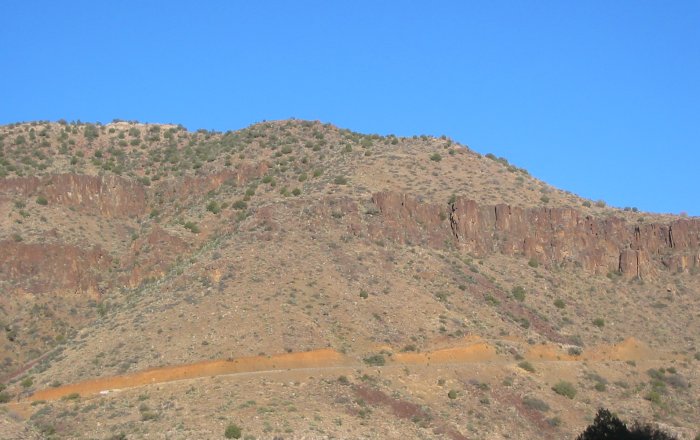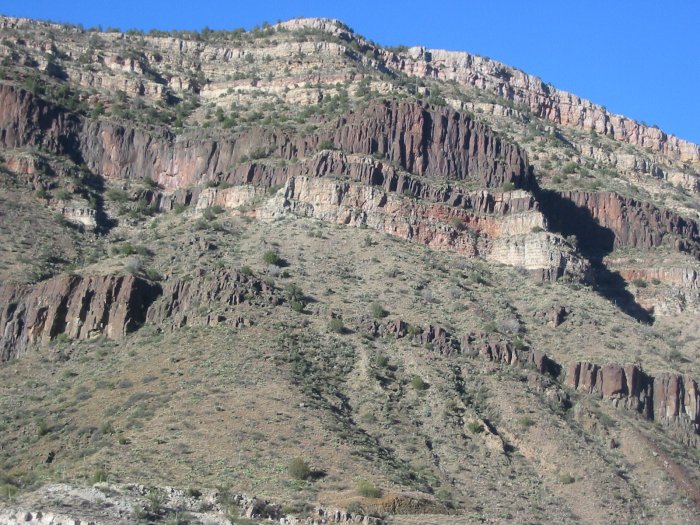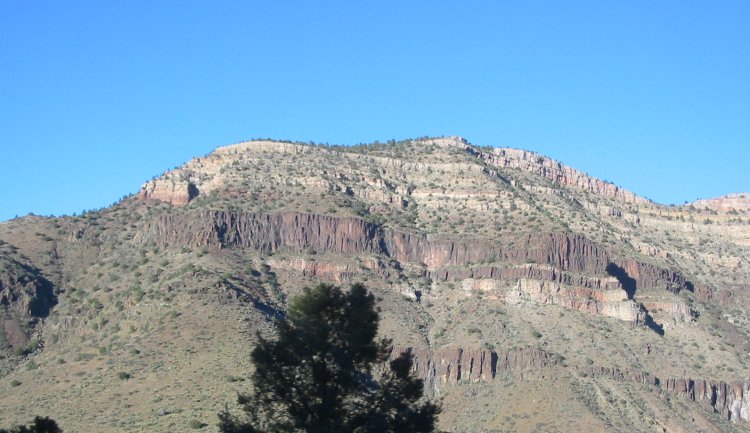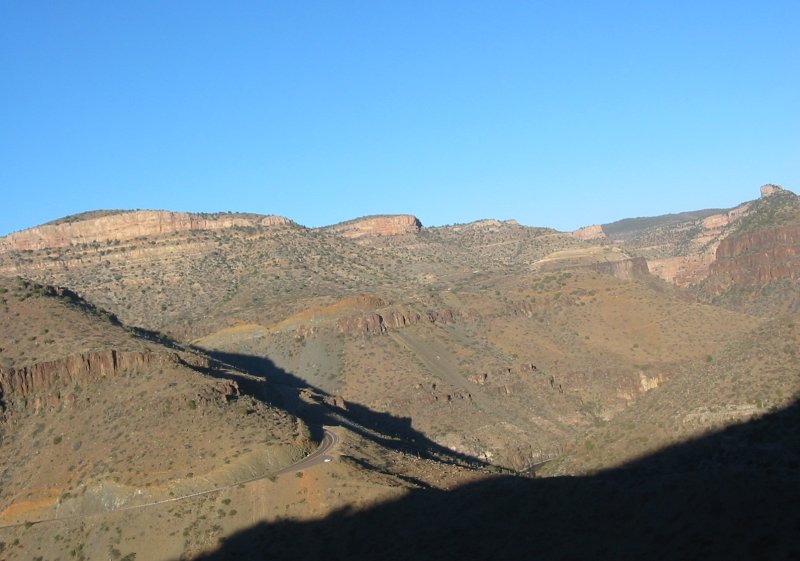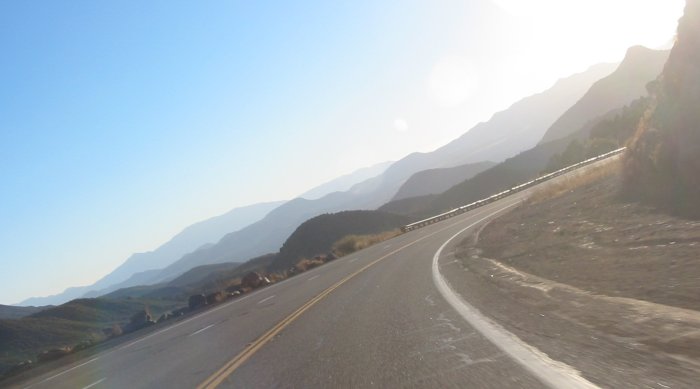 Tonto National Forest