Nov 17, 2005 - Thursday
Lancaster, CA To Mojave, CA
Tasks for the day - backtrack a few miles to snap a picture for Jeff of an SR-71 / Blackbird. I passed by the static display last night. Lancaster / Palmdate CA is the home of Edwards Air Force Base - Lockheed Martin and the Skunk Works. One of the hangers had the skunk logo on it. Snap snap then vroom vroom.

Here are a couple websites with more tidbits:
wikipedia.org
www.edwards.af.mil

The vroom vroom lasted until the edge of town (which has unusually high speed limits - 50/55/60 on the major roads in town) where I passed a Honda cycle dealer - with a bone yard next door. The bone yard was a "U-Pick". One dollar admission, hunt for & grab parts, bring them up for final costing. I didn't find the airbox cover I seek (left side of the bike just below the fuel tank - right side of the bike still has the cover).

They had two or three V-65's (1100cc) in various states of disassembly and one or two V-45's (750cc) but no rare V-30's (500/550cc). There was no organization and they had piles of unmarked stuff - rotors, carbs, motors, tanks, bags, controls, tires, wheels - on and on.

While it was an interesting diversion, Tehachapi Loop was the big goal of the day and it was getting close. Not more than an hour later I was in the town of the same name where I picked up a sub - tossing it on the bike. The GPS says I have 6 miles left - yep there it is - with a train looping around - sweet. Off the freeway and onto the surface roads stopping at the historical marker. This is one of the seven wonders of the _railroad_ world. I was fortunate as trains were active most of the time I was there. When they weren't I enjoyed the sub.

End of the day will be back in Mojave CA. No hostel in the area but I passed by a $30 hotel the first time through. A decent enough place with a bonus having the BNSF & UP tracks / yard right across the street. Engine rumble from slow passing trains - I cracked the window to hear it better (think I'm crazy yet?).
Video
Tehachapi Loop
2005-11-17.mpg
MPG, 10 MB, 1 min 17 sec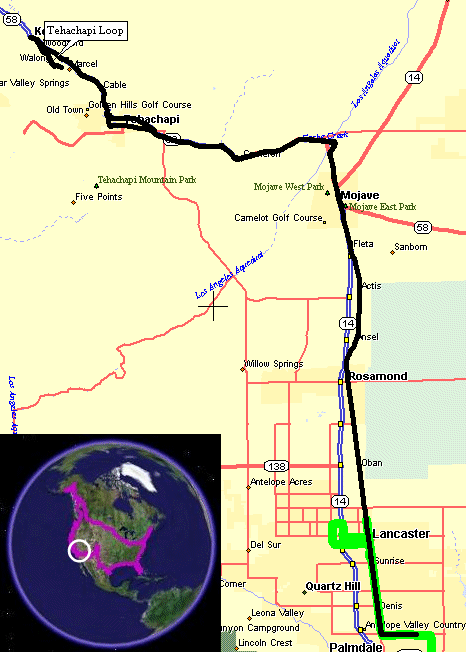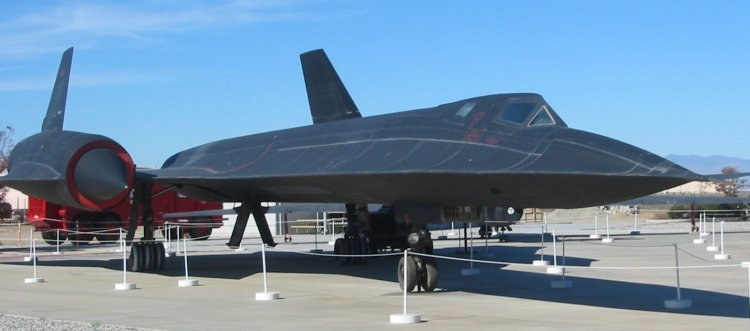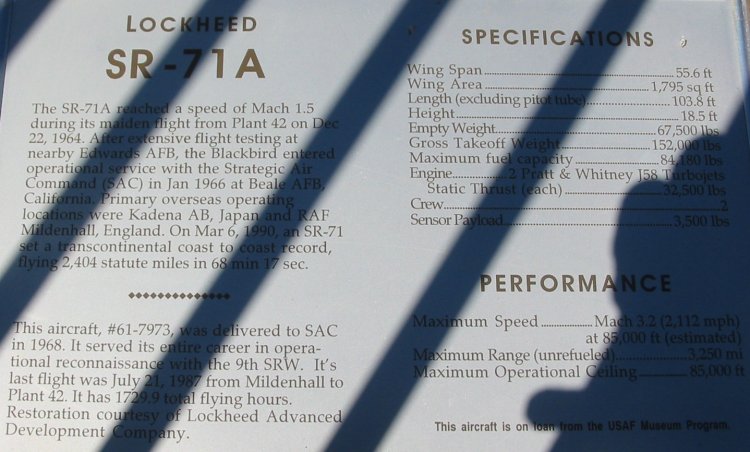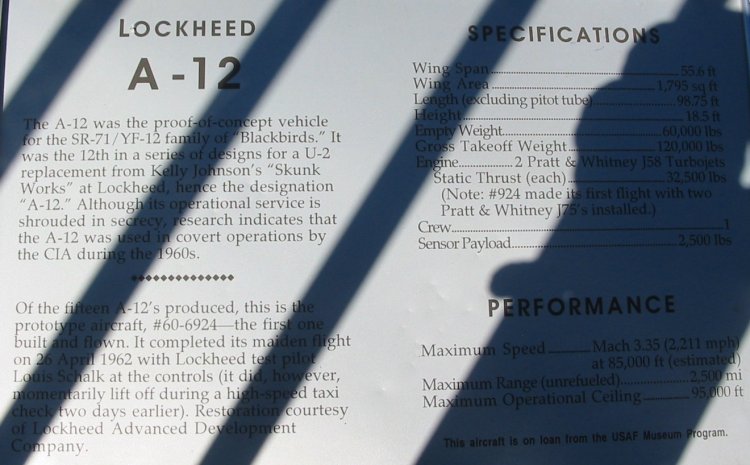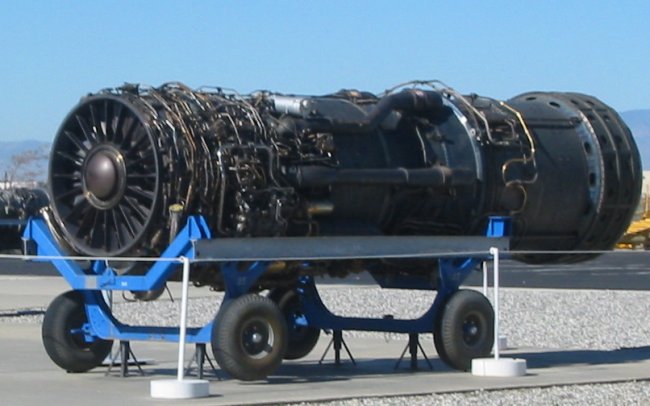 Nearing Tehachapi - train tracks and tunnels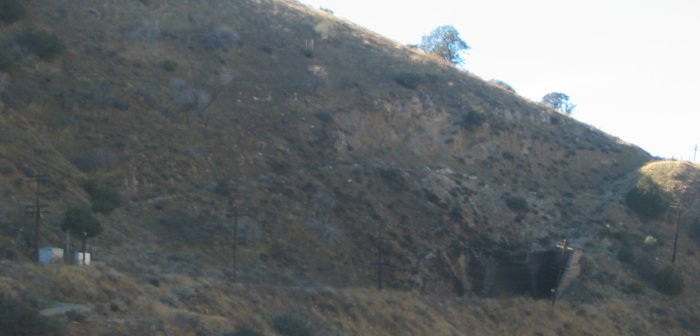 The loop as seen from the freeway

The loop seen from the historical marker viewing spot
Click for a larger size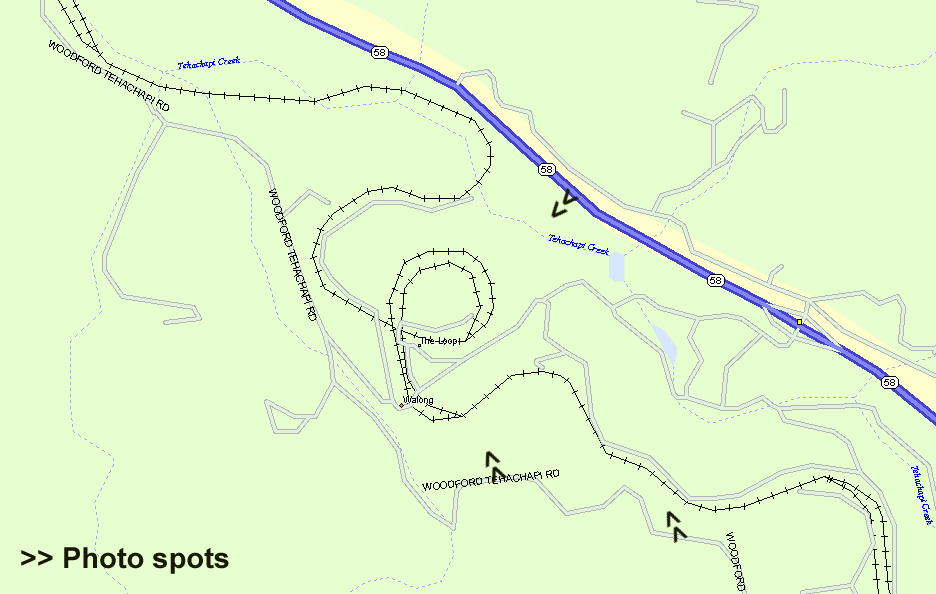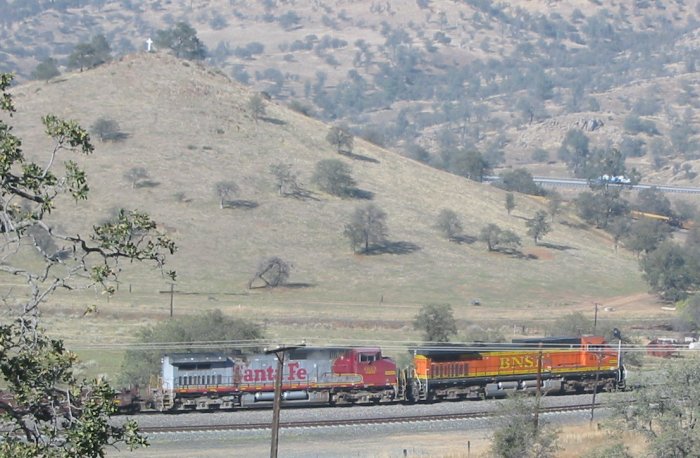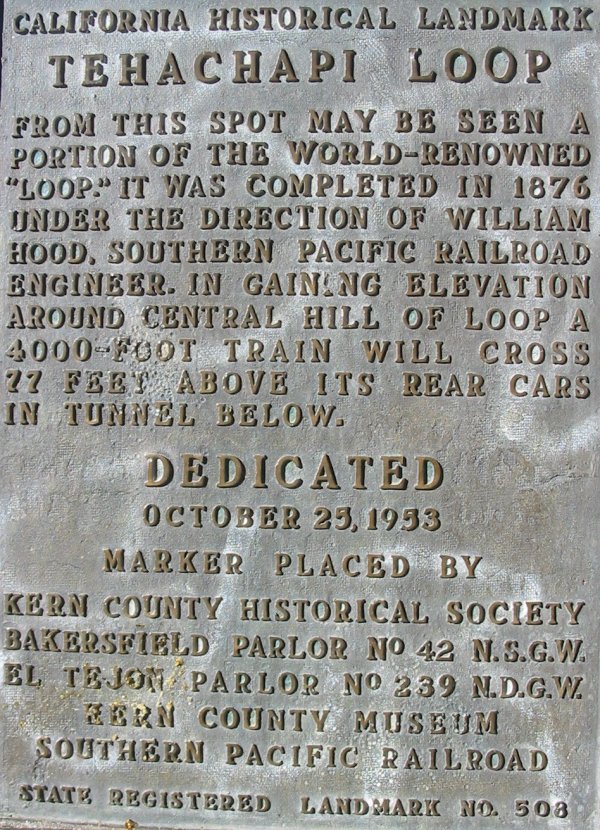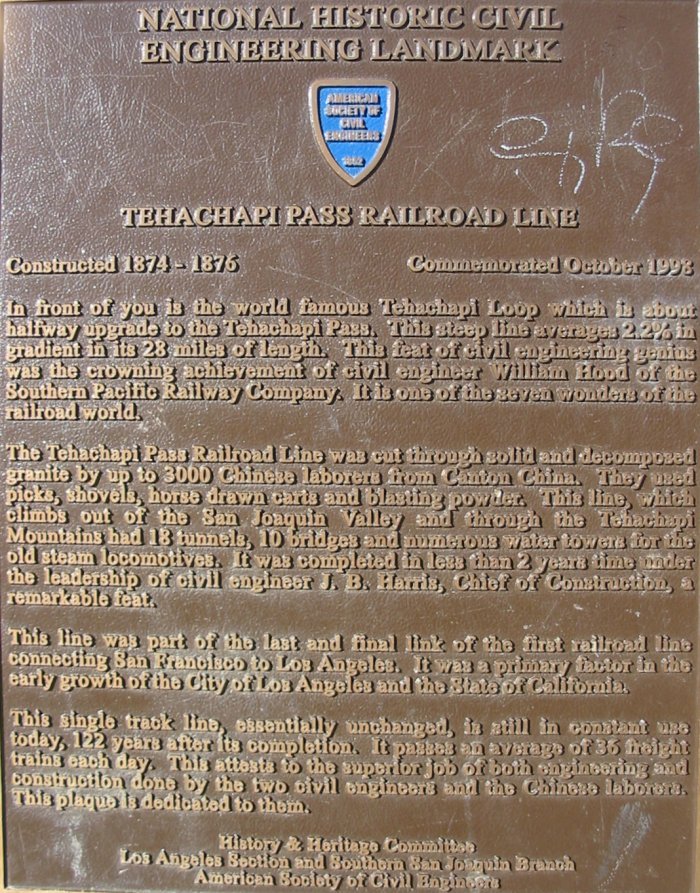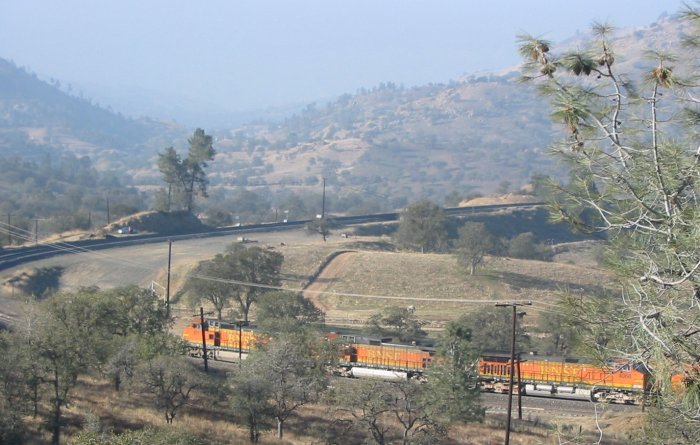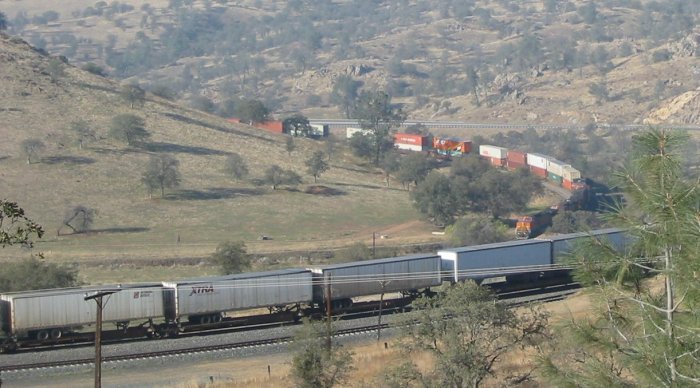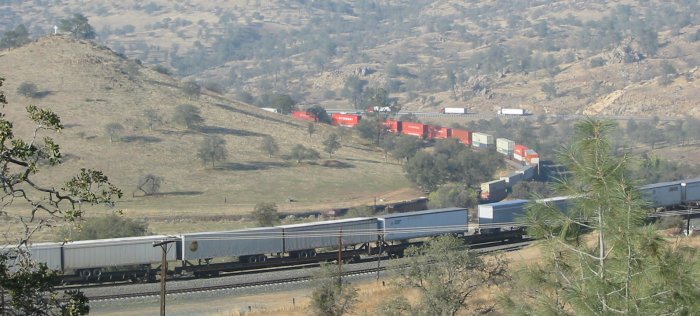 Farther uphill from the loop - helper engines coming down to get ready for another push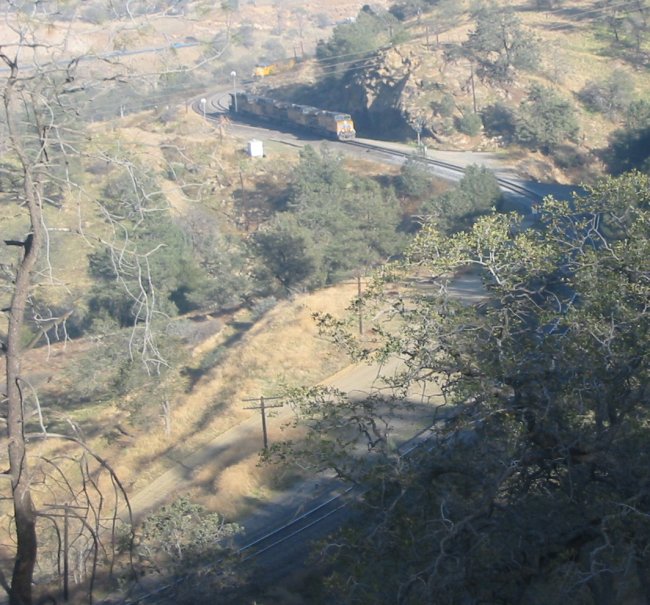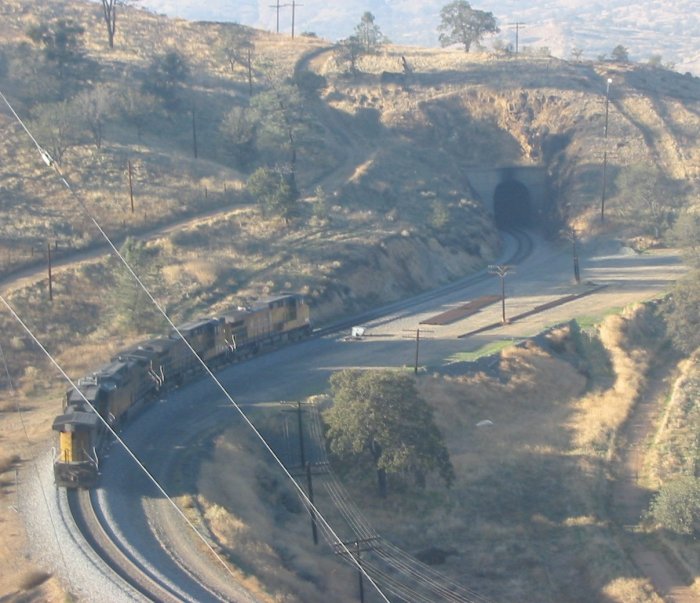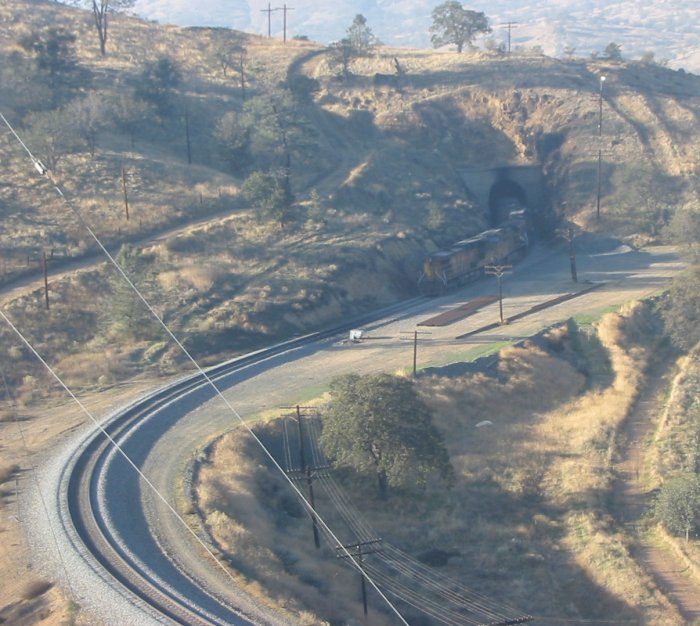 Helpers out on the loop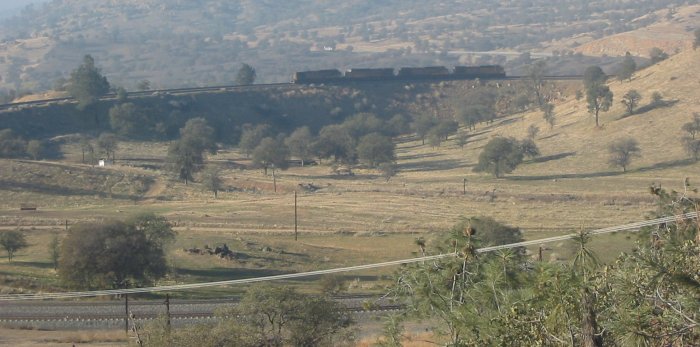 Helpers exiting the lowest portion of the loop - the tunnel. Notice the flat railbed (left to right) above the tunnel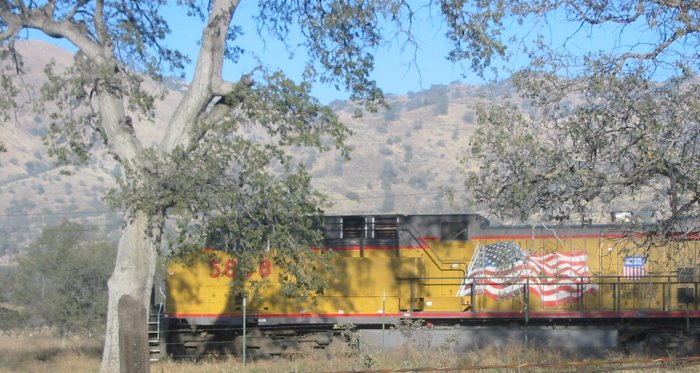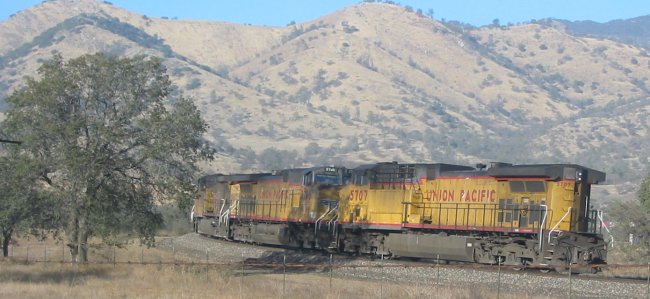 Heading back to Mojave - power generation / wind farm