Nov 6, 2005 - Sunday
Sausalito, CA To Santa Cruz, CA


My time at the Marin Headlands is over. Moss is growing on the wheels. Wake up early - head into Sausalito for Mass - and get greeted by more of the crazy steep hills getting there. I wonder how they get asphalt machines to do some of those driveways. Back to the hostel for a quick pack and I'm off. Golden Gate Bridge again then to drive through Golden Gate Park on my way out to Hwy 1. From 1 my plan was to drop south on CA 35. This threw me a bit with the no-Interstates thoughts. CA 35 runs alongside I-280 - but little did I see on the maps that they also become one. I ended up on a one way that at the end had "Freeway Entrance" signs on it - drat - no turning back now. The jaunt was short as the first exit was less than 1/4 mile away. From there I picked through side streets. While a bit unplanned for I did enjoy it - seeing the houses as well as a nice view of the airport. I stopped for a few minutes and watched some planes land and take off. In second gear, motor off, facing downhill, the motor would slowly turn off. Every 30 seconds I'd have to move a foot forward to keep with the bike. Not unexpected due to being in second on a steep hill - a curiousity at the first notice of movement.

The neighborhood picking ended where CA 35 headed into the hills - I followed. Skyline Drive / Blvd was the same route I took on the way down to San Jose. This time I'm coming in from the east whereas the first time I was from the west / Half Moon Bay.

There were more bikes this time - a Sunday afternoon. At the gathering of bikes I pulled over - Alice's. I certainly didn't fit in amongst all of the other bikes there - but no matter. Several folks came up to chat with a couple who were getting into more serious questions - such that might help them with a long tour.

I'm running a bit late in getting down to Santa Cruz (family friends the destination for the evening) but I have to get a bite. I picked a table that had a couple other riders and enjoyed a nice lunch with them. Time is getting shorter - so the wheels needed to roll.

Between me and Santa Cruz - kind of - was Big Basin - click - included in the route. Thirty sevel miles to go. Thirty seven miles that might well take one hour. Twisties and more one-lane, two-way roads. Nice trip.

Friends in Santa Cruz found we enjoyed a nice evening. Some things changle little.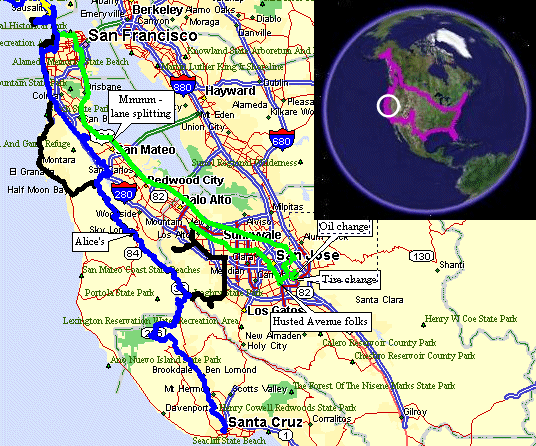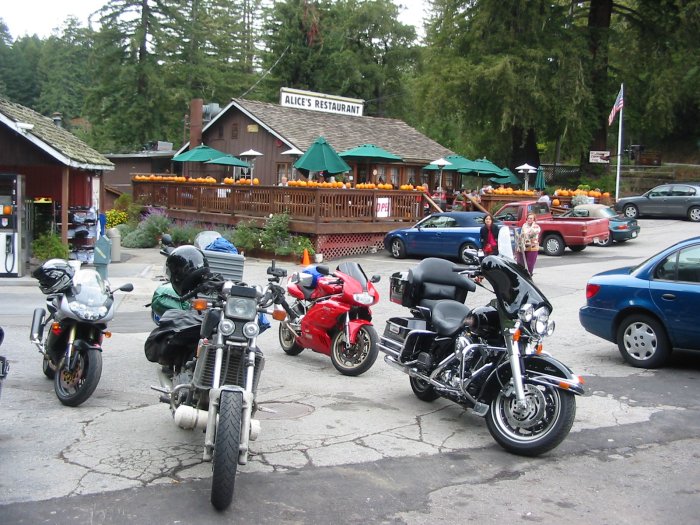 The following pictures aren't too hot - just to remind me of the scenery...