Oct 15, 2005 - Saturday
Clallum Bay, WA To Makah Nation


Morning came and what a GLORIOUS one it was!! BLUE SKY - WhooHoo!! I was only 16 miles out from Cape Flattery / Makah Nation - also along a nice smooth asphalt curves along the shoreline road. Load up a frest tape for the video...

The road was a bit wet in some sections but much of the surface as dry already. Some blue sky sure is good for the attitude factor. Knowing I had some time I also hit another location - Koitlah Point. This location has a good northerly, easterly to south easterly vantage.

DeLorme's "Street Atlas" is a bit more "generous" as to what is a road than is Microsoft's "Streets & Trips." Often what is listed as a road in DeLorme's app is nothing more than a very overgrown two track. I'm all for exploring but on this trip (alone with a heavy bike) I wouldn't want to get caught on a narrow single tree lined track and have difficulty turning around. That said - both programs showed a loop road around the Makah Nation. Most if not all of these "marginal" roads originated as forest logging roads - many of which have not been used in years. I was hopeful to 1) find the road and 2) to find it in usable condition. I found it! but sadly it was not in usable condition. From either end I stopped when it went to overgrown two track / single track - rats. Perhpas if I was on a lightweight dirt bike I would have trekked forth.

After Koitlah Point I headed directly over to Cape Flattery. Knowing what was ahead I made sure I left the jackets back at the bike - the walk down and out results in a walk up and in - each way taking me about 15 minutes of steady pace. Pictures were aplenty. Shot I headed back to the bike. After talking with a few folks there I checked out one more spot. If you take the road to the right - just before entering the parking lot - it winds up the hill about a mile. Up there it spills out into an impromptu vista point. This vantage is about the same as from the trail end - but a few hundred feet higher. Being higher gives some depth to the Tatoosh Island with the lighthouse.

From there I traveled back down in search of something to eat - destination the Warmhouse restaurant. Since the day was so nice I wanted to drive down the western portion of the coast to see what was there. Not too much actually but I did see a campground. Nothing like a nice day to think about camping - even with a forecast for rain in the morning.

Well - Hoback campground it would be - Pacific Ocean / Mukkaw Bay, some sand, some trees, then me. The signs through the area nicely shoulted out that I was in a Tsunami Danger Zone - great - hmmm - what're the odds - OK - I'll give it a try even with a chance of morning showers.

The evening went fast. I spent it with David & Jenifer who are visiting from England - touring via RV. HI!!

In the morning - yep - a light rain. I stayed in the tent for a bit but finally made my way out and it let up. I packed and headed East. Instead of hugging the coast all the way back to PA I dropped down to 101 then shot east - about 5 miles longer of a trip but perhaps 45 minutes shorter. My goal was a hotel to settle into - work on video and pictures and dry the tent.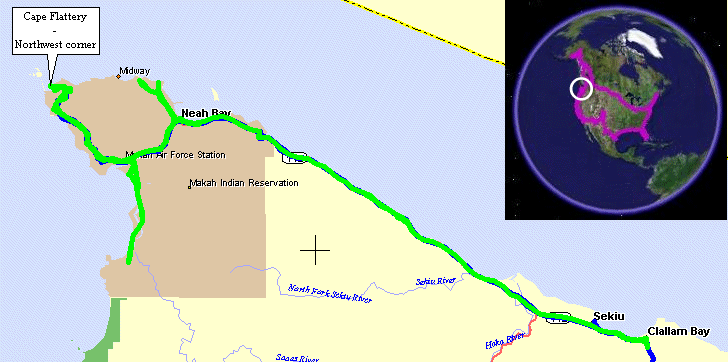 Video
Roads, Clallum Point, Beach
2005-10-15b.mpg
MPG, 24.3 MB, 3 min 5 sec
Heading out - Straight of Juan De Fuca
Vancouver Island, Canada in the background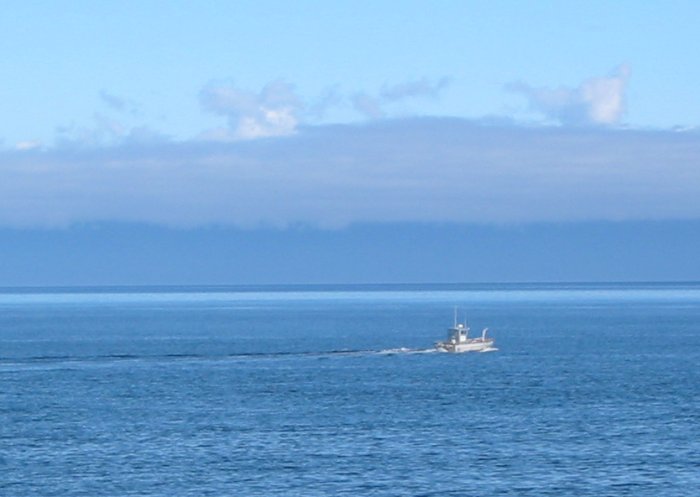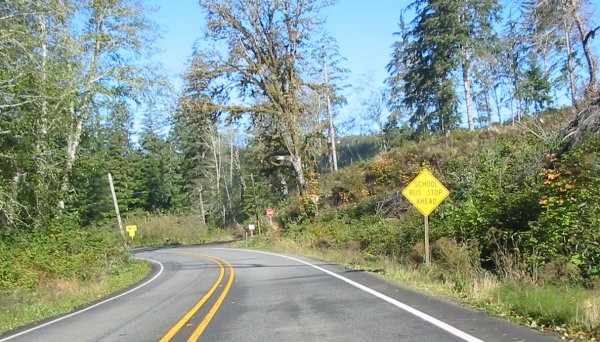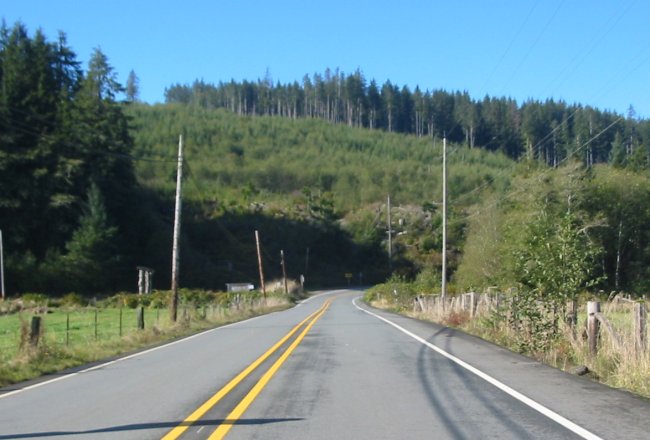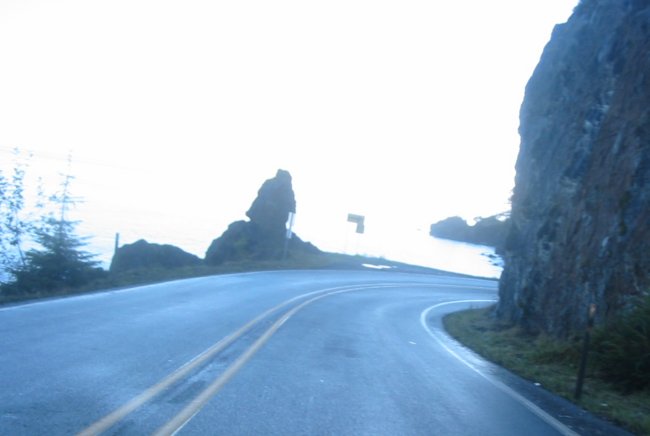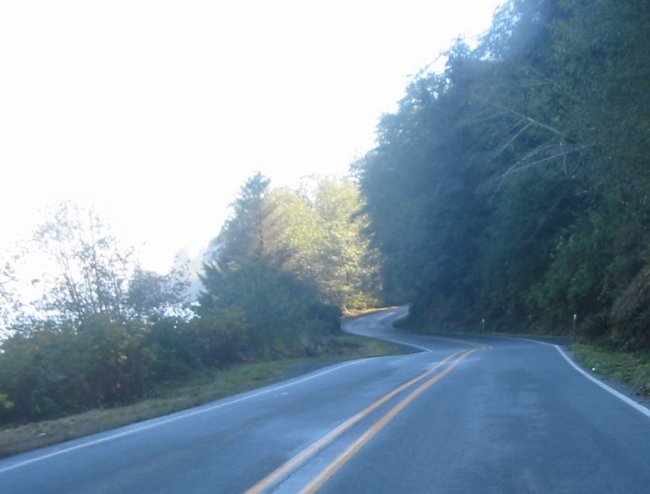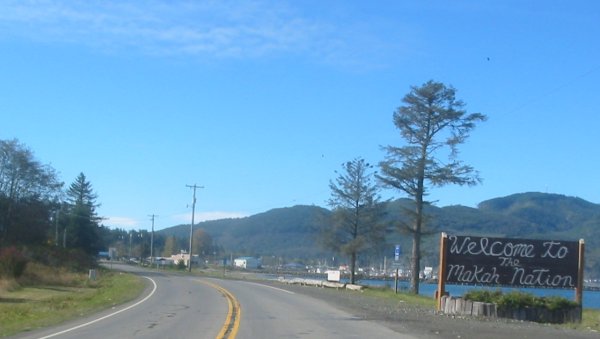 Heading up to Koitlah Point - and also hopefully to find the loop over to the Cape Flattery area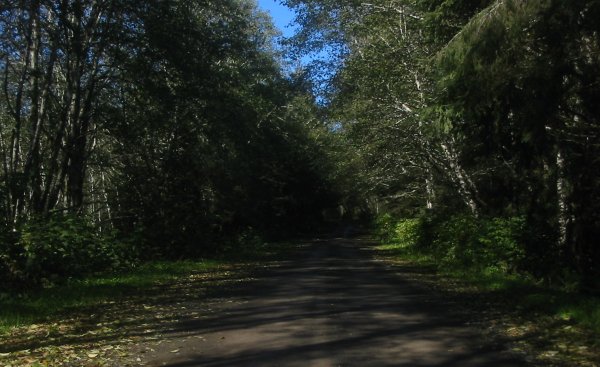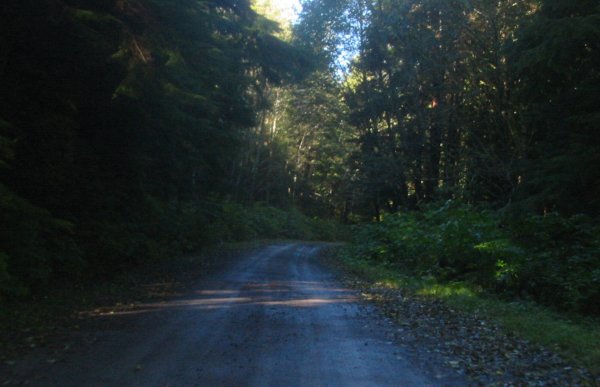 To the right is closer to the water - it probably won't go too far - that'll be the first choice.
It was the one to Koitlah Point (a few hundred feet around the corner).
The left ends around the corner at a pistol/rifle range.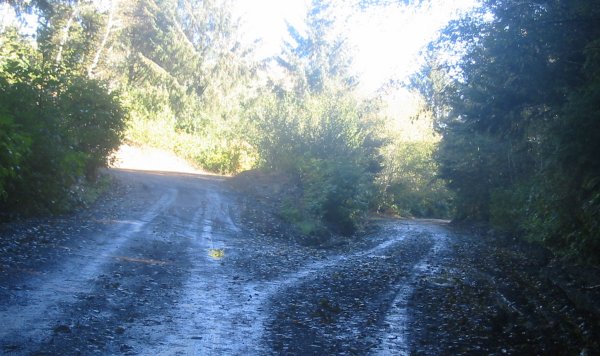 Koitlah Point - looking East. Waadah Island straight out.
Neah Bay and the town are behind the straight breakwater on the right.
Panorama
Click for a larger size
Now to look north.
Vancouver Island, Canada is about 12 miles away.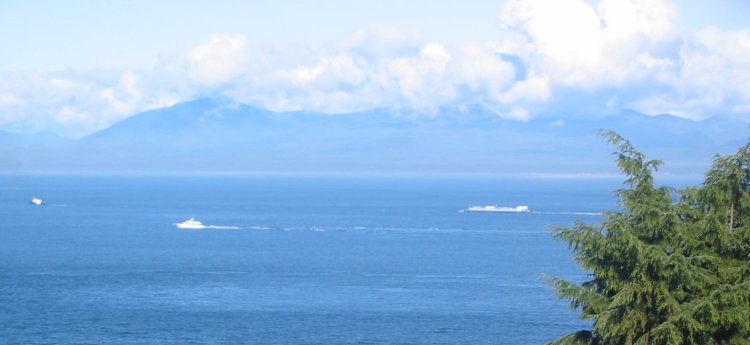 Now to see if I can find the loop road...
A bunch of surfers came from this direction - perhaps they know something - so down that road I go.
UGH - the city dump - but the road passes through it - OK - I persist...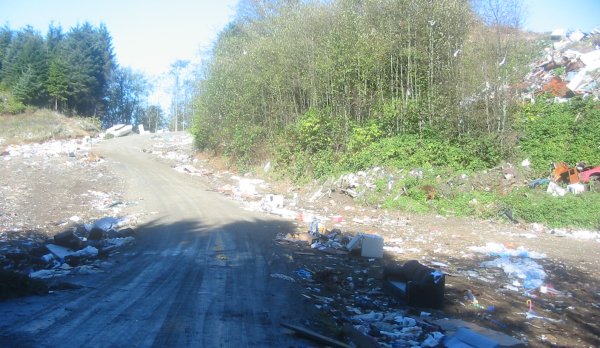 Once through the dump the road dead ends - drat - back through the dump. Just don't tip over!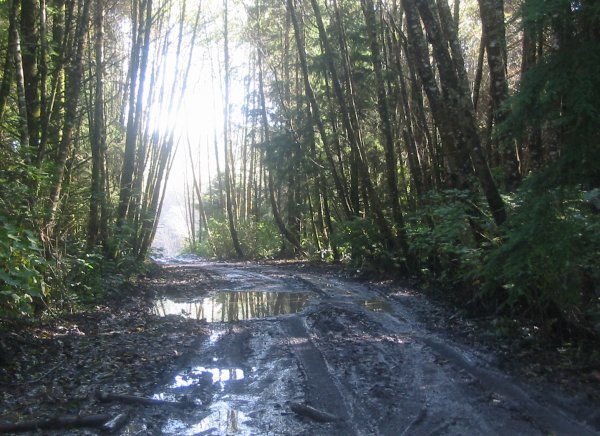 The loop road was a bust. Take the 'normal' route. A helicopter sitting by the Headquarters.
It started to fly around the point - a film crew was driven to the point. Someone mentioned PBS.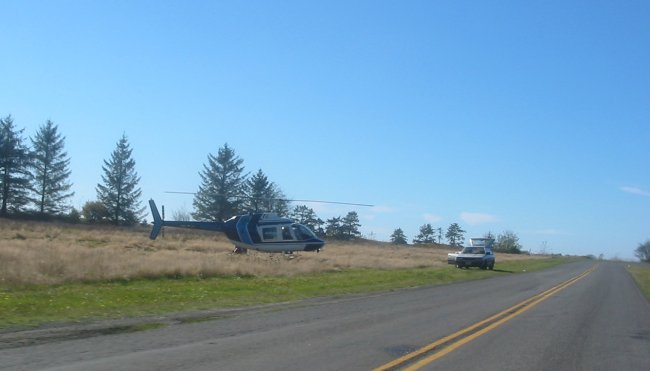 A few miles (4 or 5) of dirt road to the parking area. A bit easier, nicer in dry, sunny weather.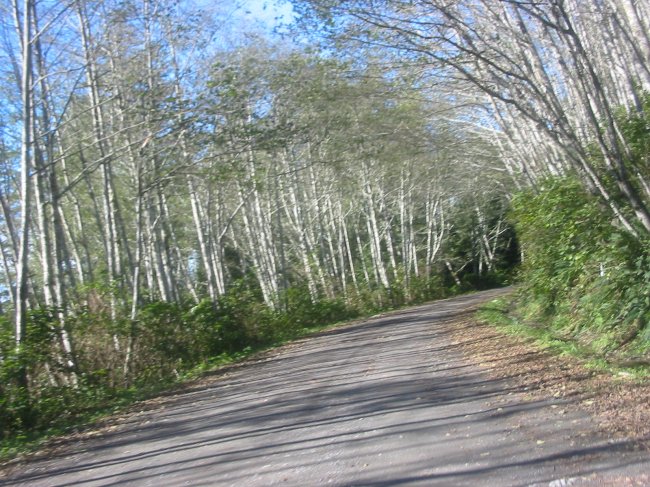 Trailhead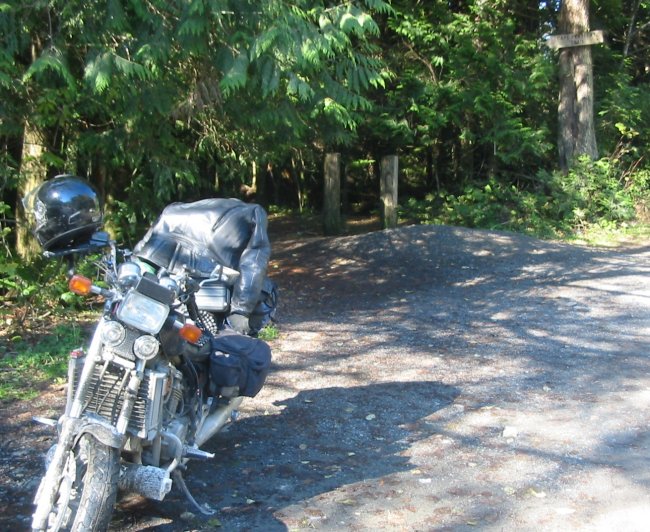 Walkway to the shore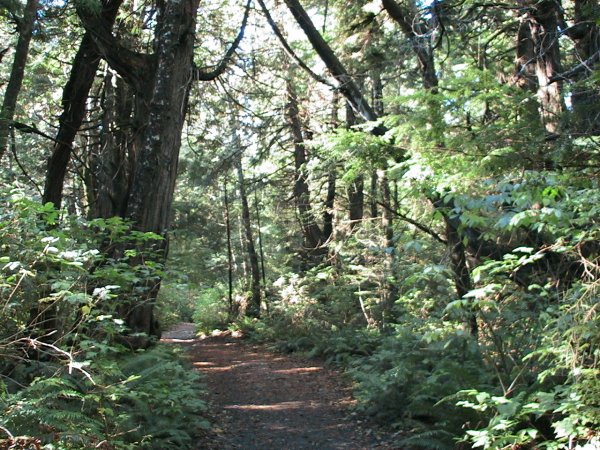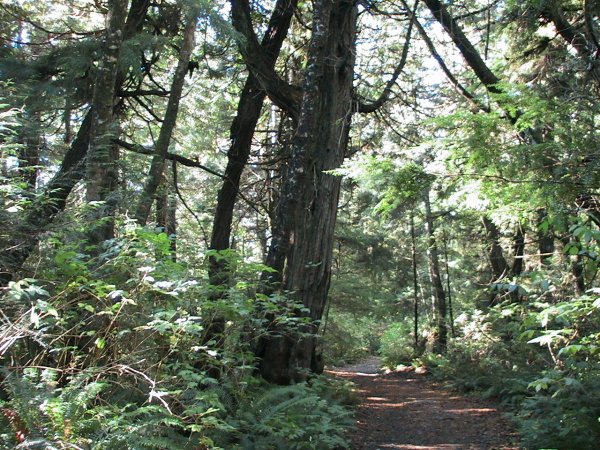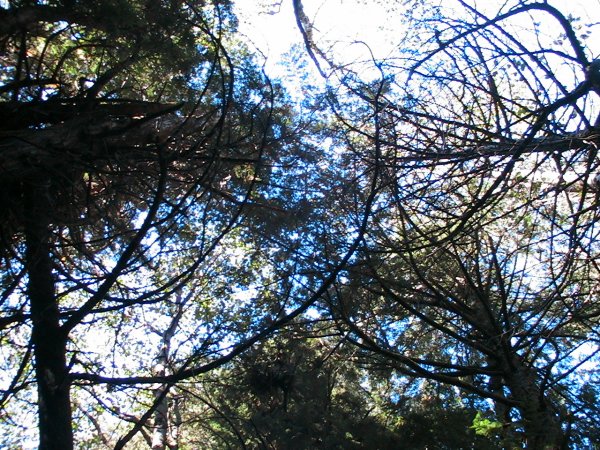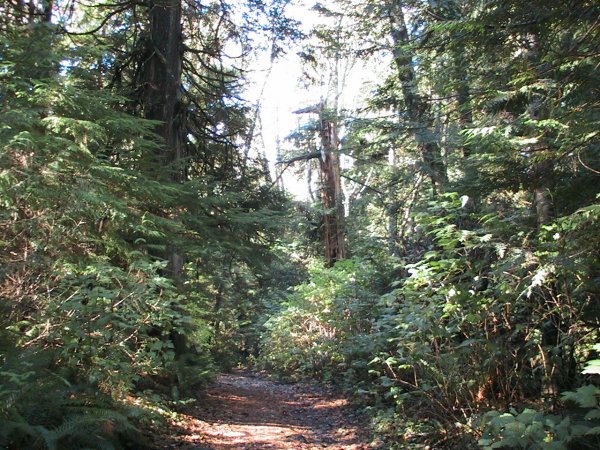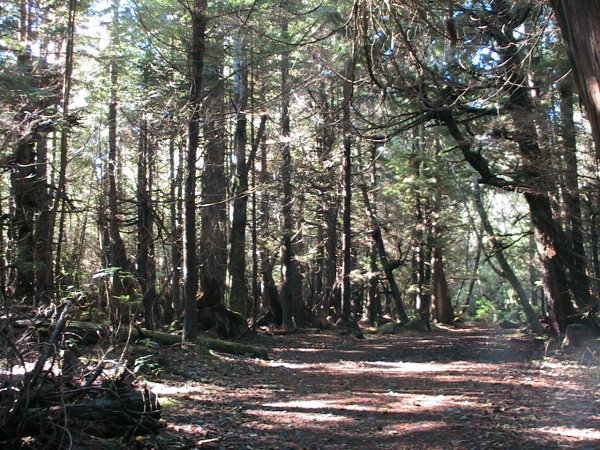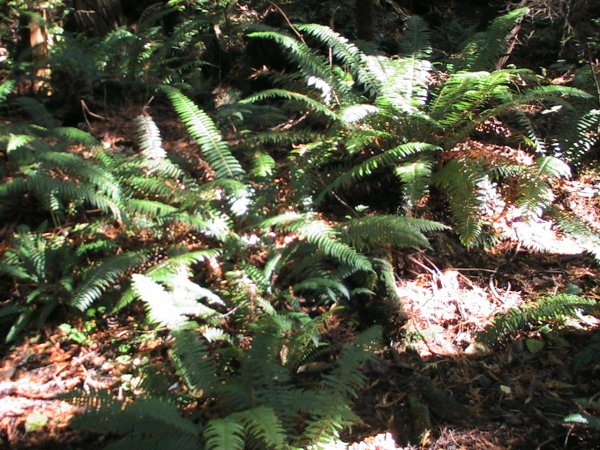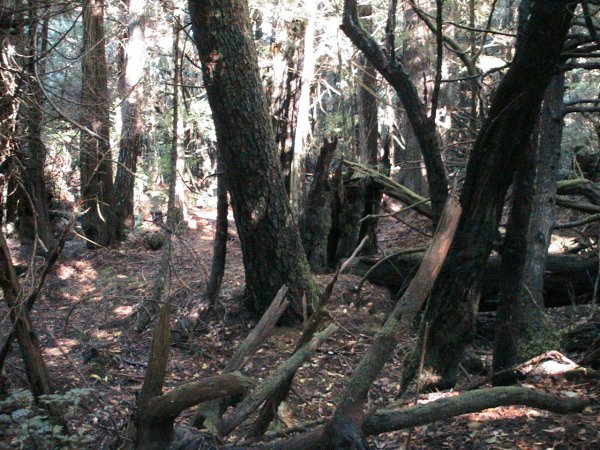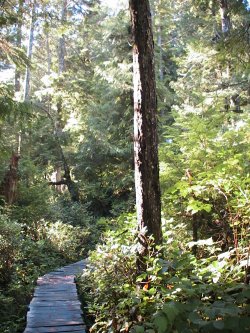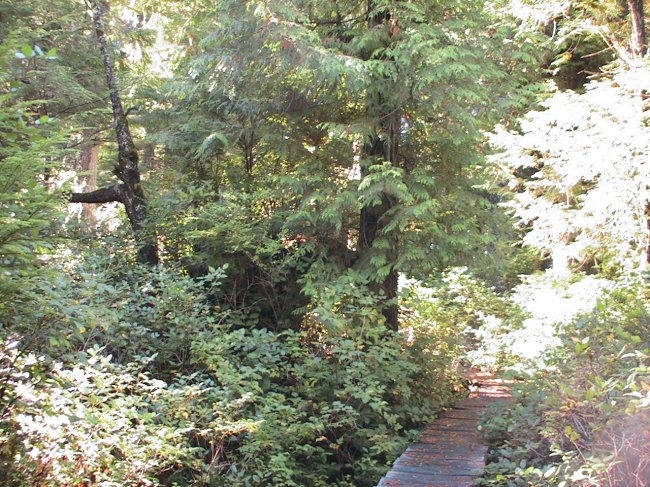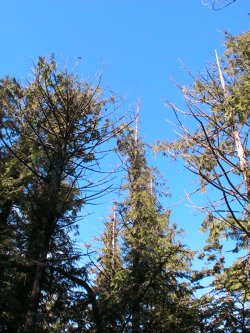 Shallow roots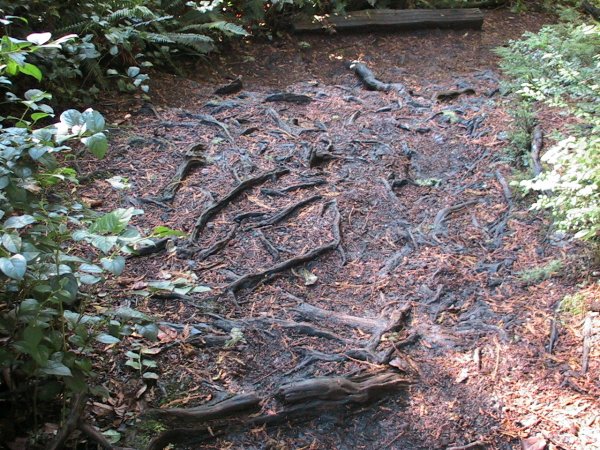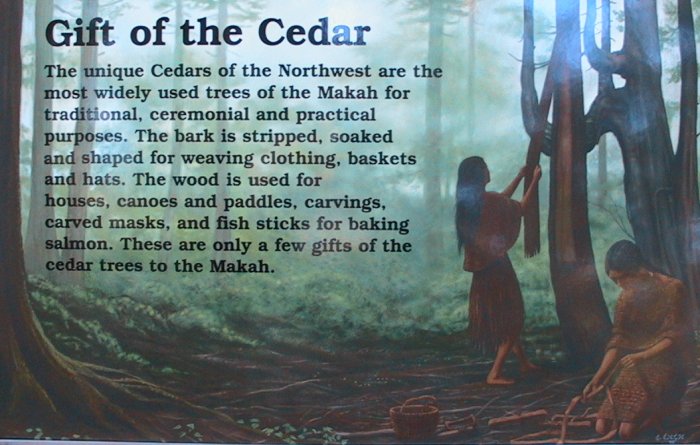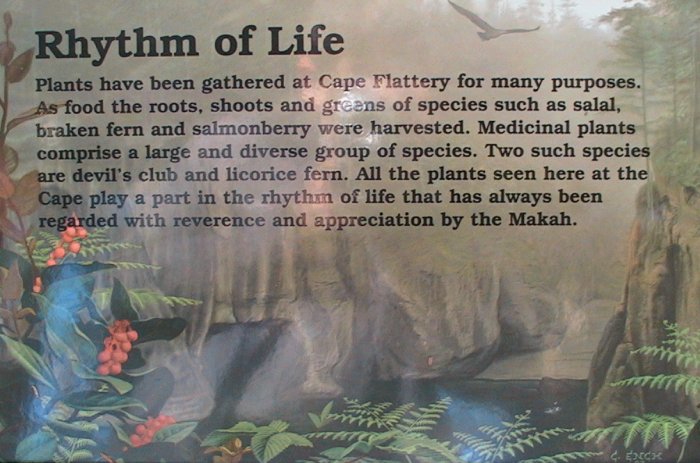 Ahhh - nice, clear views!
The first viewing stand.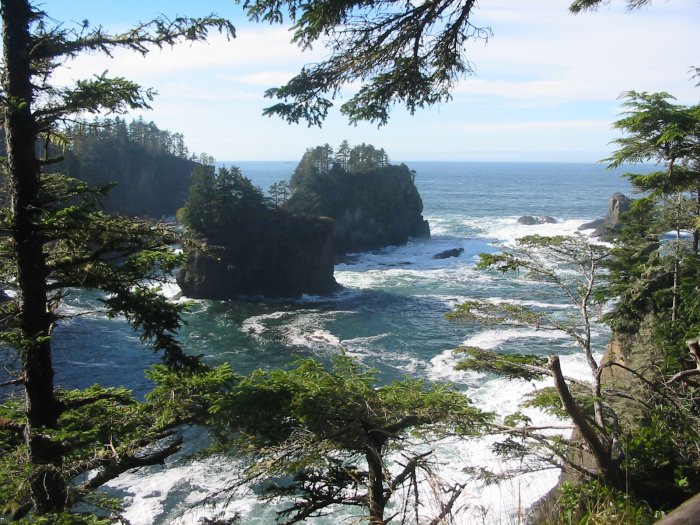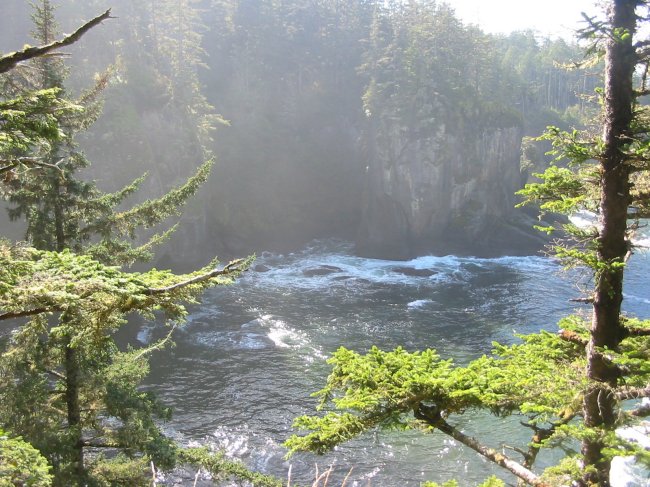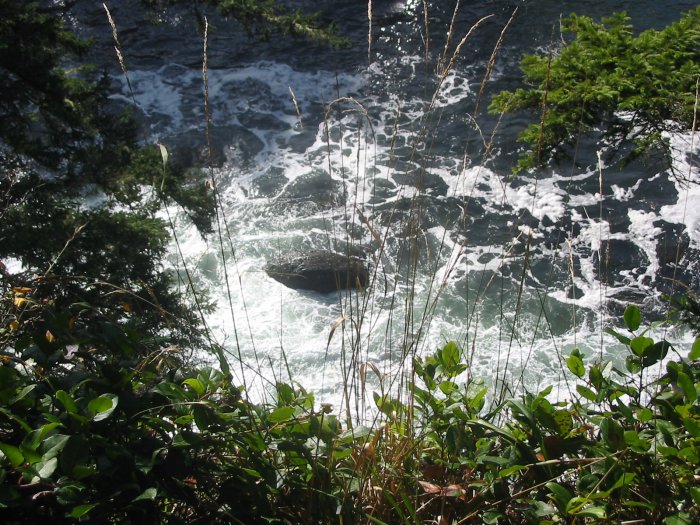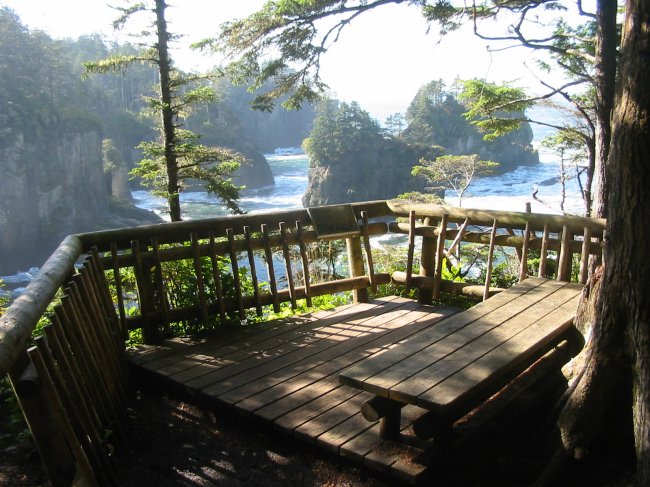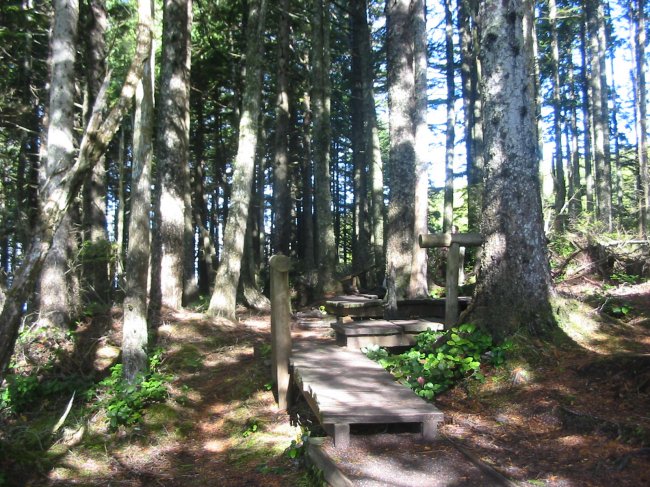 With its mouthful it jumped up, took a gander at me, and was gone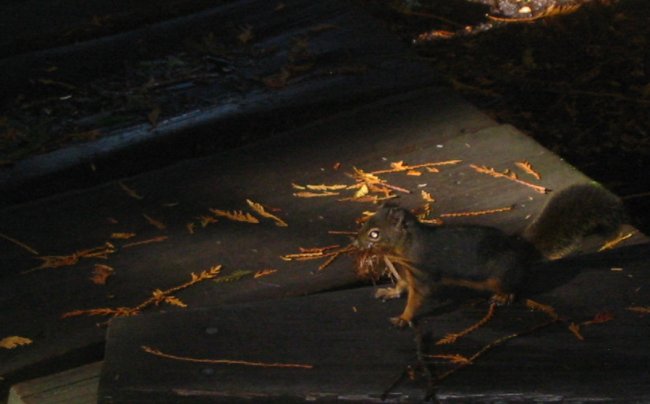 On to the other viewing stands.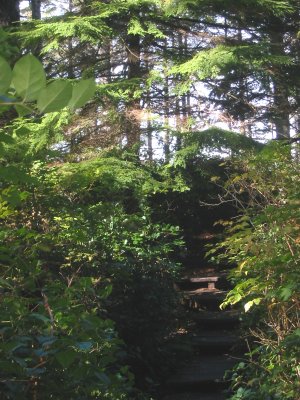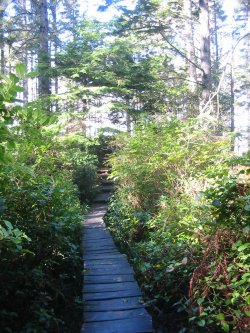 Looking North towards Canada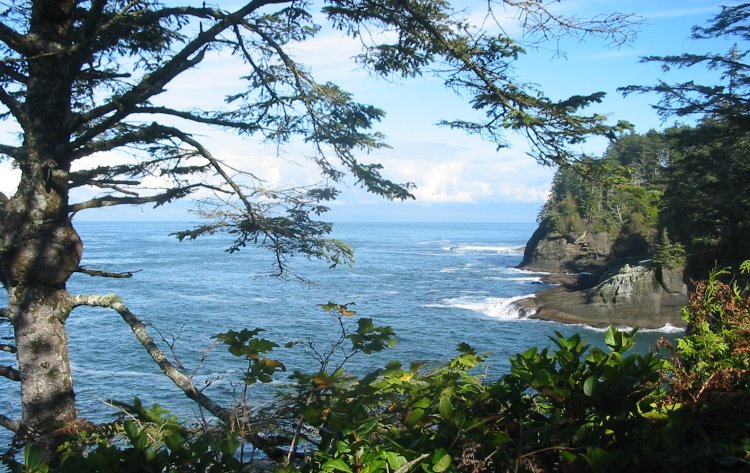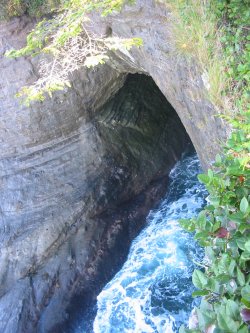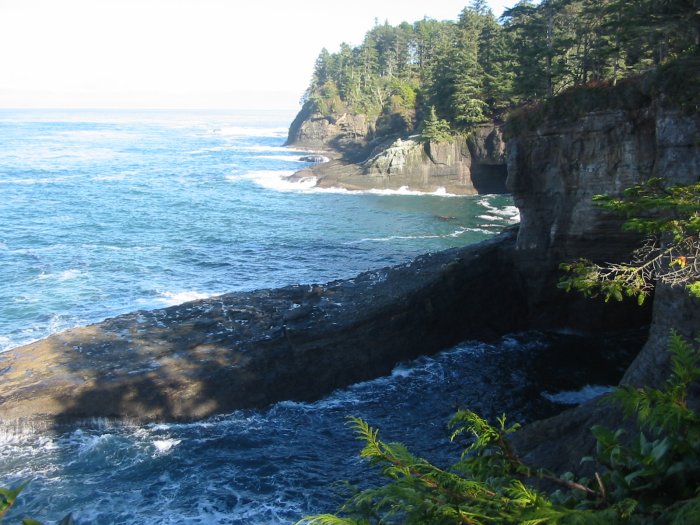 Looking Southwest (somewhat into the sun)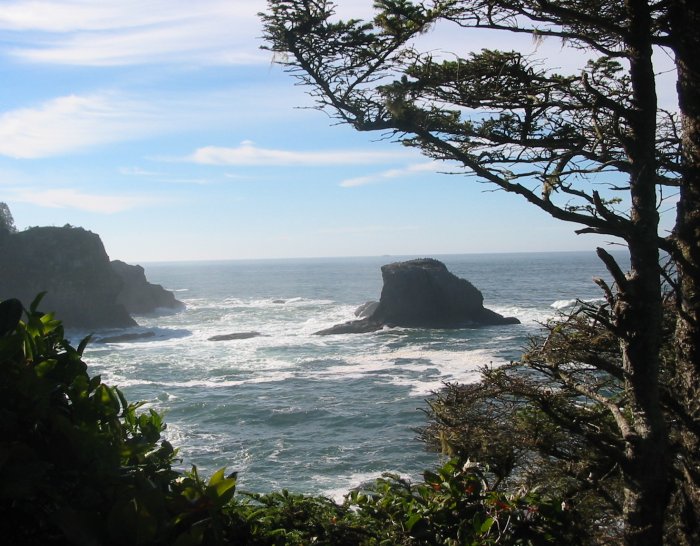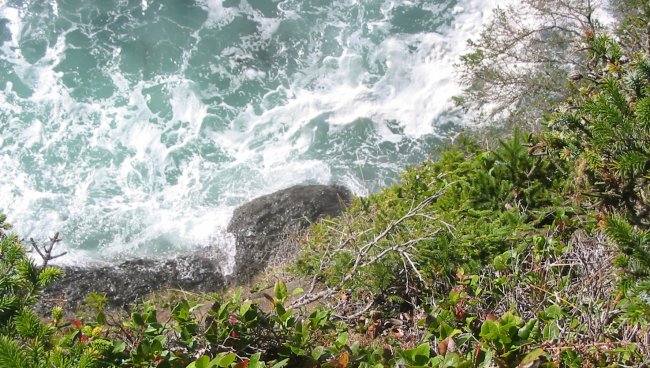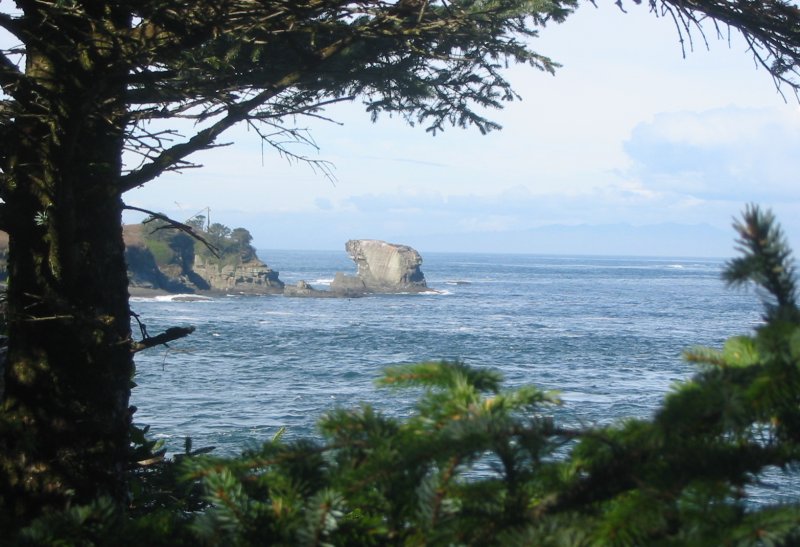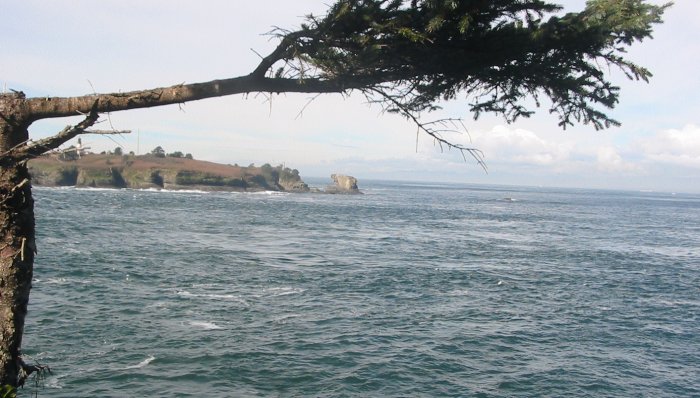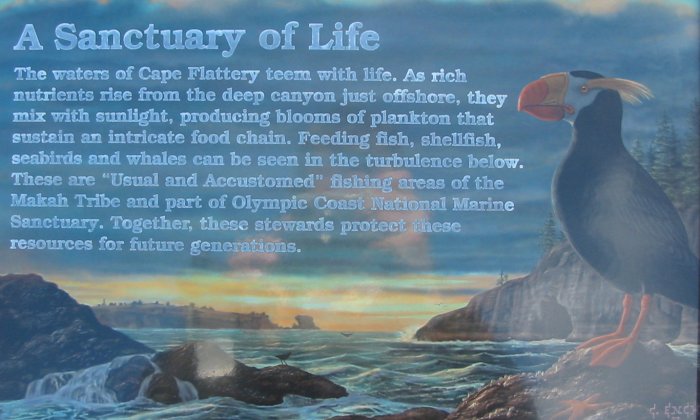 Cape Flattery - main viewing stand
360 View
Click for a larger size

I guess - this would be THE spot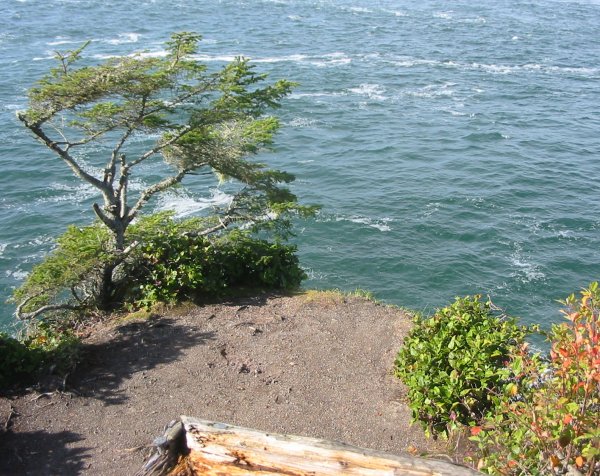 Tatoosh Island and lighthouse
Click for a larger size

Yet another
Click for a larger size

Some folks out enjoying the nice day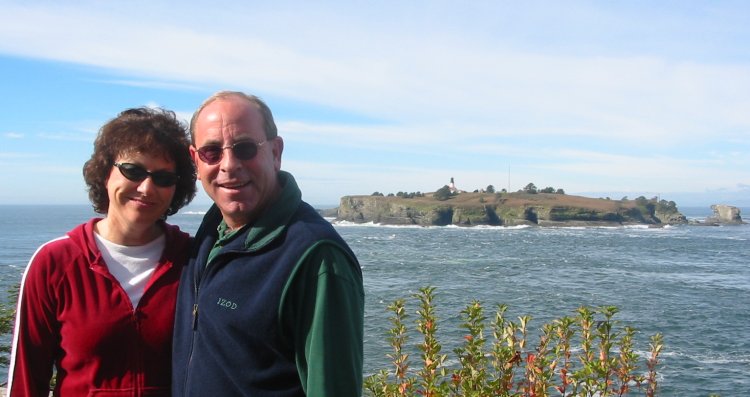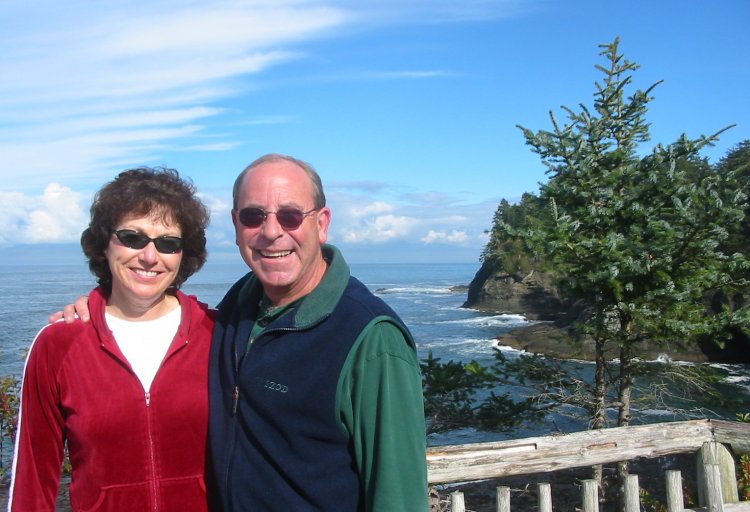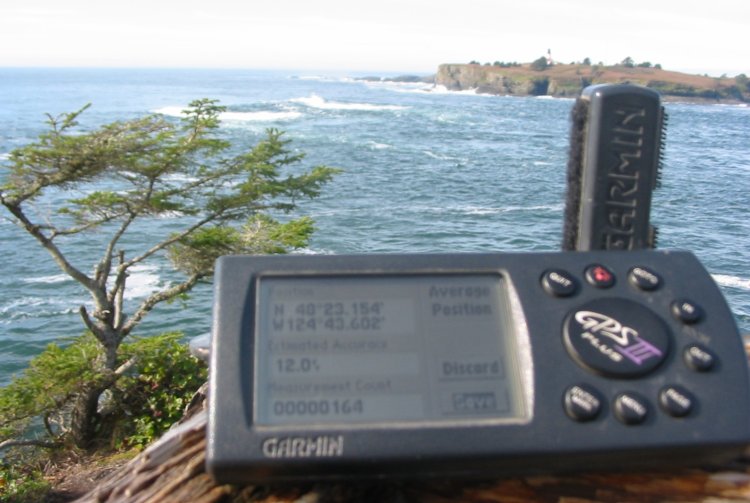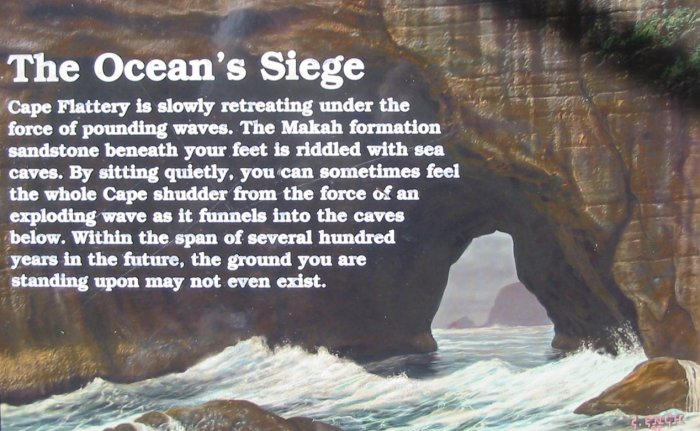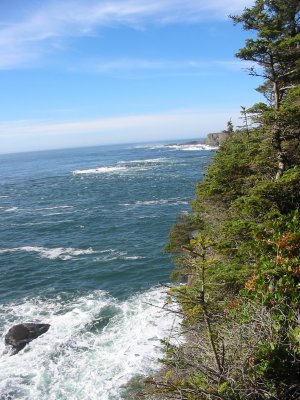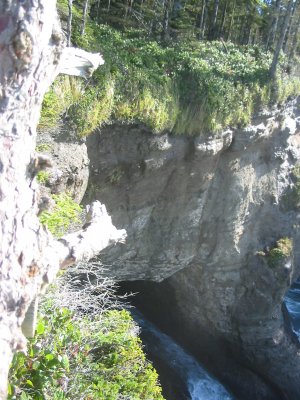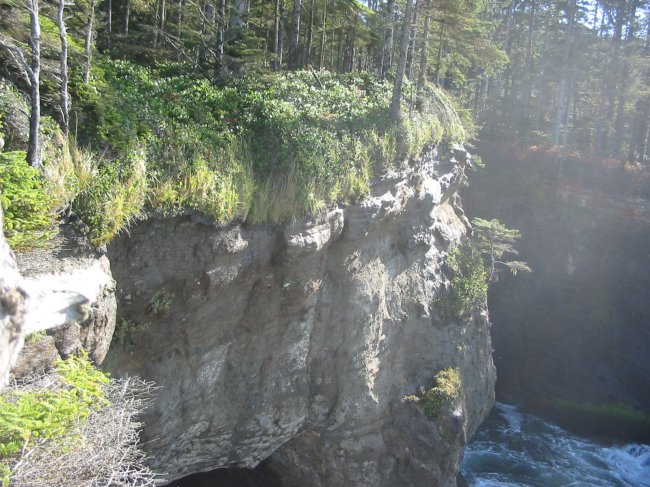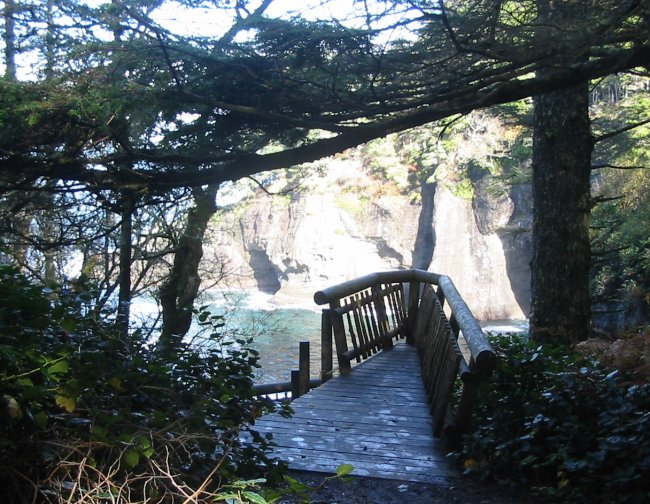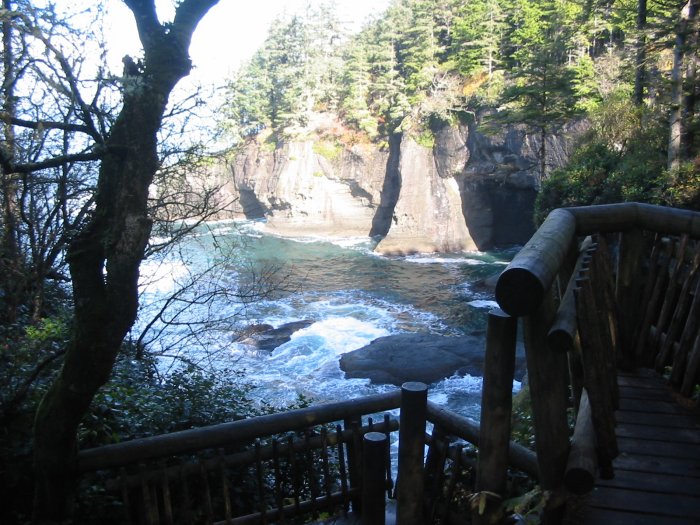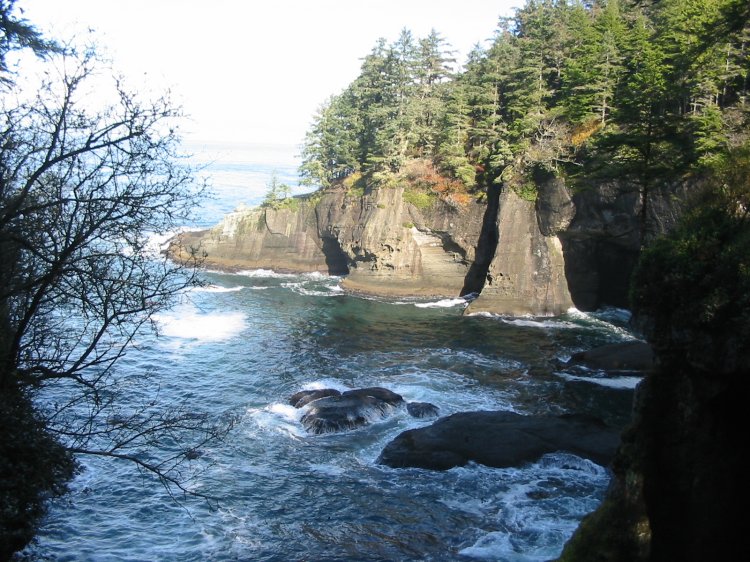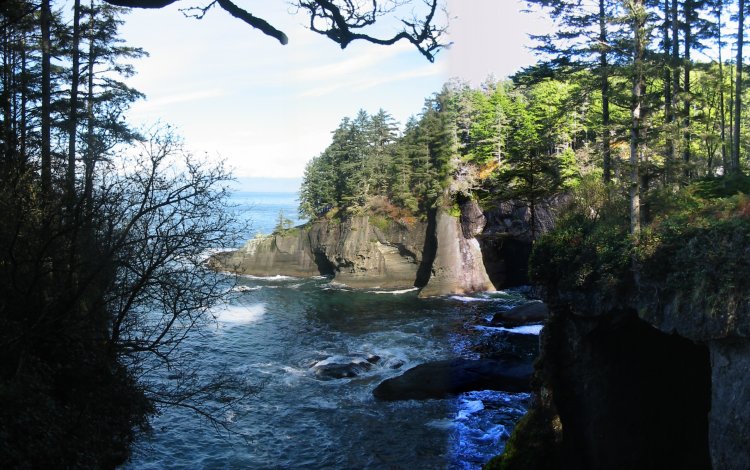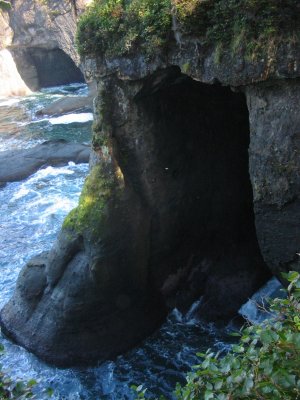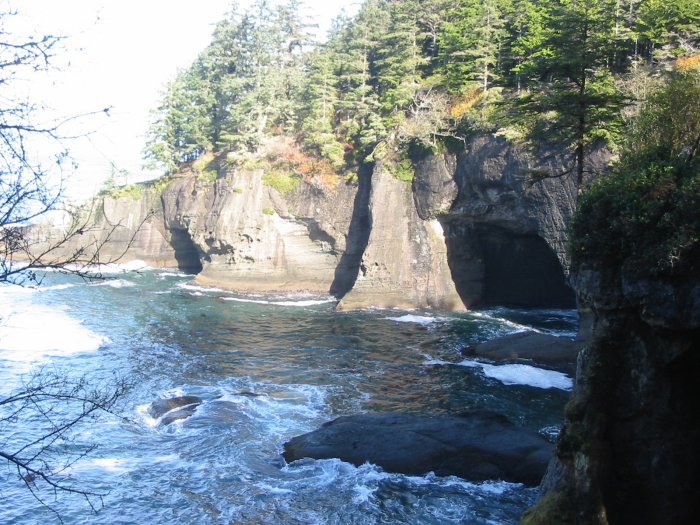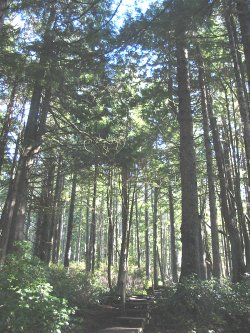 Goofy tree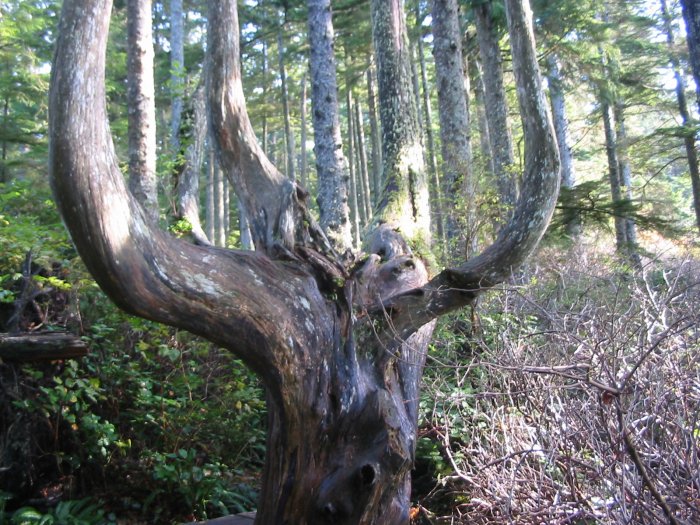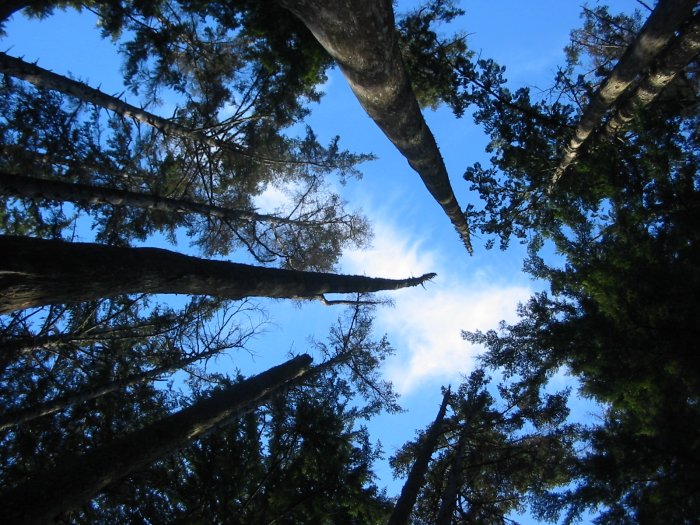 Back at the parking lot - Morgan (left) talking to visitors about her project. Folks filling out survey's.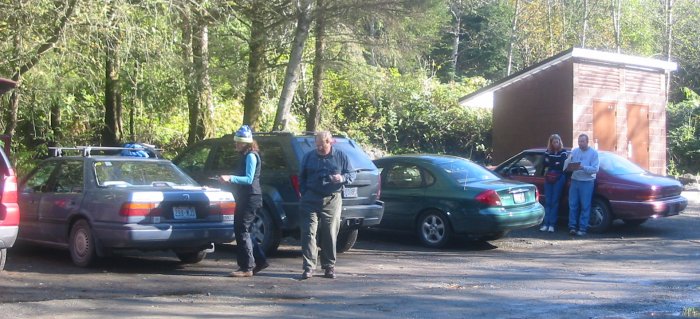 Would be nice if this was clearer...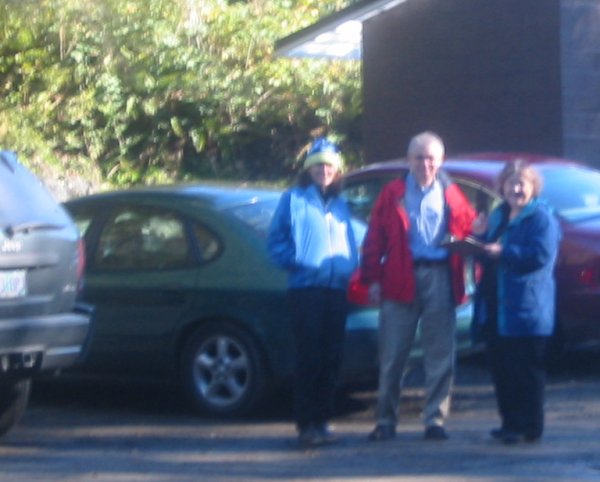 Cape Flattery - from the upper viewing lot
Find the weather station in the trees (it is only about 100 feet from the main parking lot which is off to its left)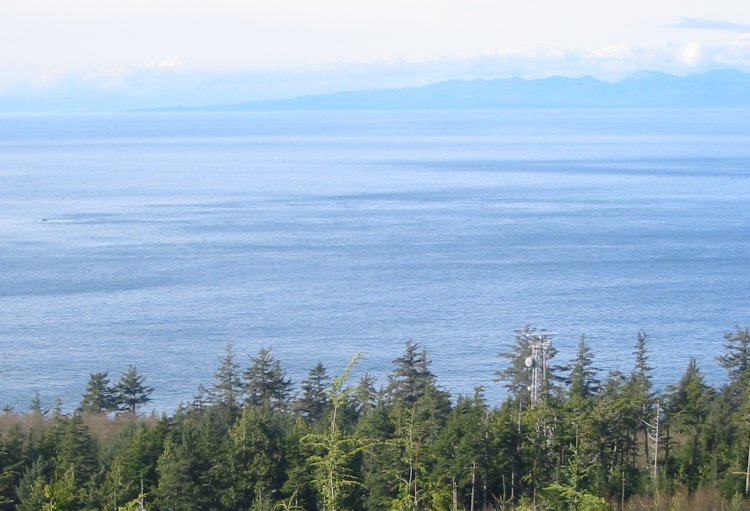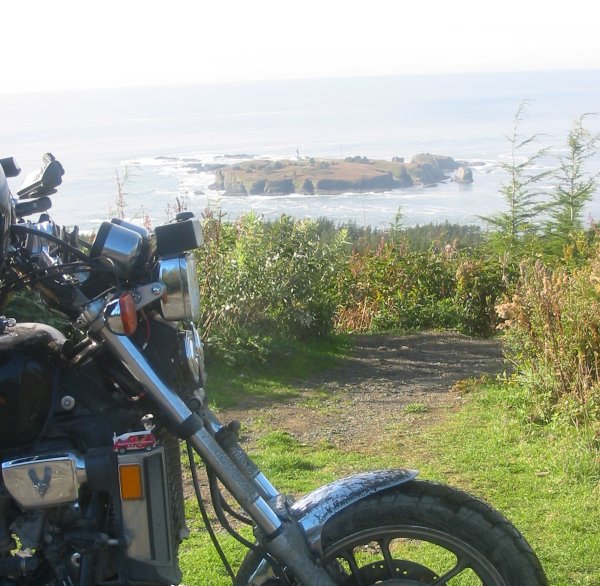 Hmm - this looks rideable (it became overgrown only a few hundred feet farther)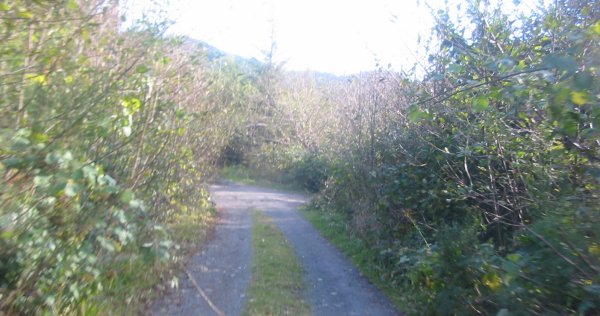 Back down by Neah Bay
Click for a larger size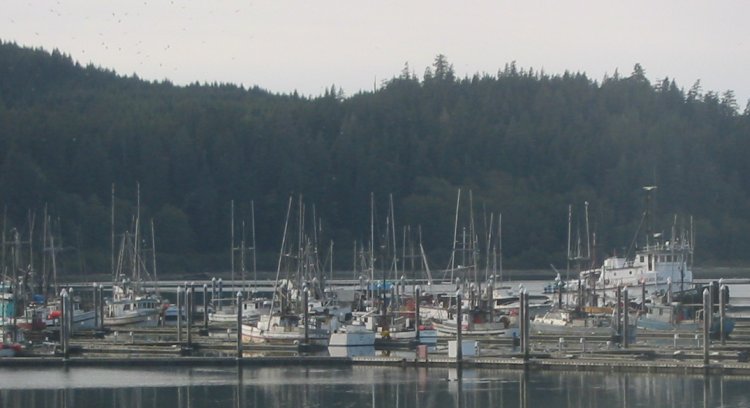 Campground
Turn one way to look through the trees and see the tent...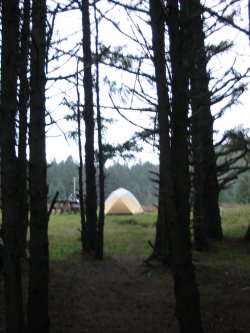 ...turn around to see the beach and Pacific Ocean.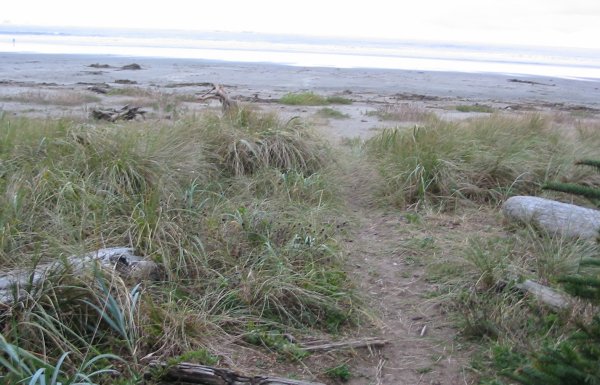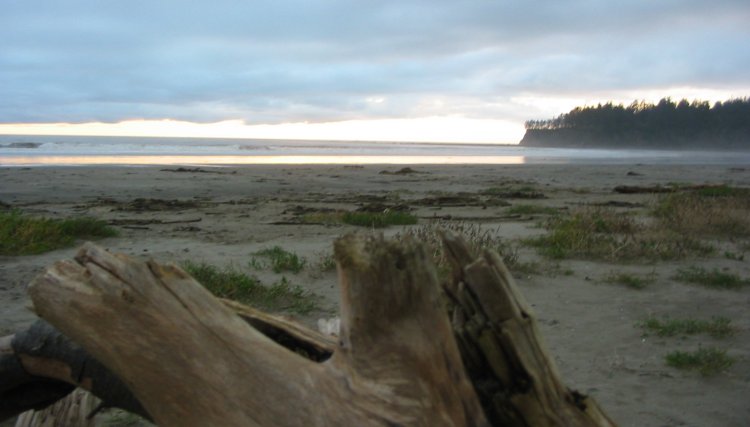 Two or three surfers were out working.

David and Jenny, visiting from England.
We spent many hours talking - quite enjoyable!