Oct 2, 2005 - Sunday
Watson Lake, YT to Iskut BC
Today was a late day - I didn't leave Watson Lake until perhaps Noon. The maps show little in the range of towns / places to stay between Watson Lake and and where I might plan on stopping for the day. It could be an after dark day. With the good scenery I hope to stop before dark and not miss any of it.

The Cassiar Hwy is much less active than the Alaska Hwy. It is also a smaller class of road. The roadbed is of a lesser quality and is narrower. There is no roadway painting - side stripes or center striping. The side of road clearing is also narrower. Roadside clearing was exceptionally wide (in most places) on the Alaska Hwy.

Sections of "re-aligned" hwy exist here too - the road has been flattened and straightened a bit. Two additional differences also exist - the first is that there are four or five long patches of packed gravel while the second is that there seems to be fewer inhabitants - towns are smaller and few driveways exist (though you can go for long stretches on the Alaska and have the same condition).

One item of note would be a collision that had taken place a while before I came to it - a pickup with a fifth-wheel camper and a semi (van trailer). As I approaced it was a left hand turn. The truck was 'oncoming' traffic and was laying on its left side (mostly) then a bit further through the curve was the pickup/camper partially laying on its right side. I say mostly because the outside of this turn had "Jersey barriers" lining it (those cement barriers that get placed together end to end). I don't think either vehicle hit the other but it seems they both met at the curve and each did a bit of swerving to move out of the way of the other. The end result was each of them tipping to the outside of the curve. A maintenance pickup was already there and the occupants were just standing about waiting for heavy assistance (perhaps from Whitehorse??). I had the video camera rolling for this section of road so it'll be visible on video as well as a couple frame grabs.

At Dease Lake (the town) I thought about stopping - it had a few places to stay - but while I checked out the info sign along the highway there was another town a little less than an hour down the road that should also have a spot - down the road a littke more it is.

A side note on the weather - some rain / drizzle in the early stretch of the ride. Temps were in the low to mid 40's (F) most of the day. Altitude ranged from about 2000 ft to 4000 ft. Up on the mid-northern part the snow was lower - down to 2600 ft (tree line being well above that). Here in Iskut, about 2500 ft, the snow is still well above tree line.
Video
Cassiar Hwy, accident
2005-10-02.m1v
MPG, 6.5 MB, 53 sec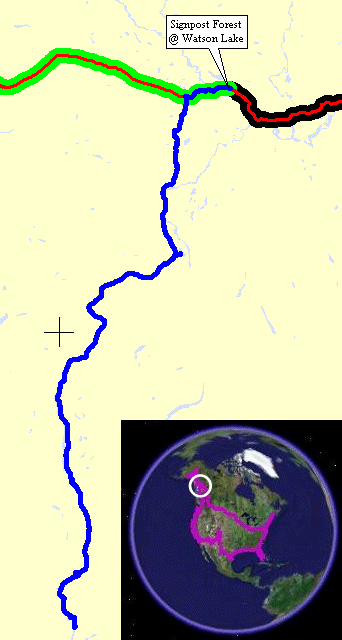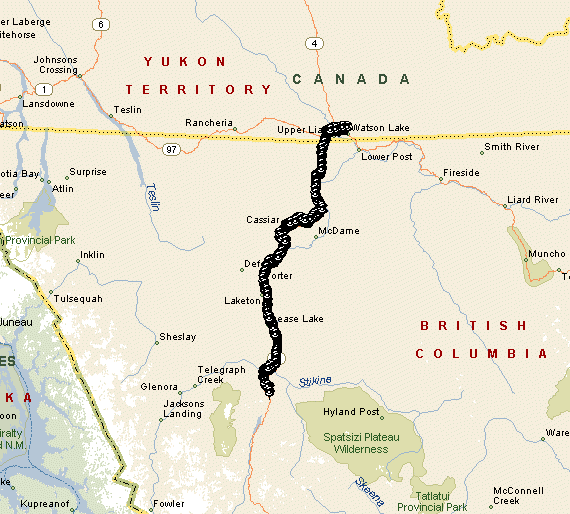 Accident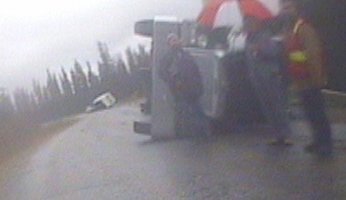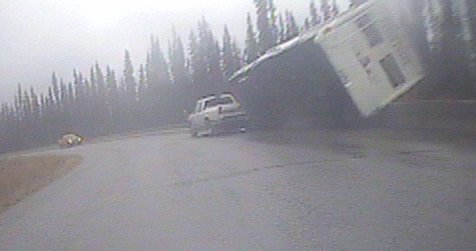 Boya Lake, Boya Provincial Park - another nice park.
Possibly far enough from the hwy to not hear traffic (what little exists). Decent campsites.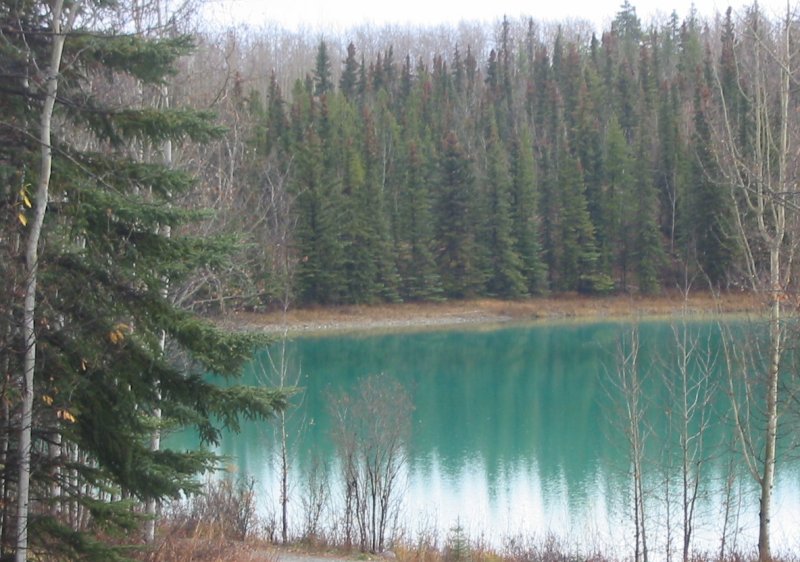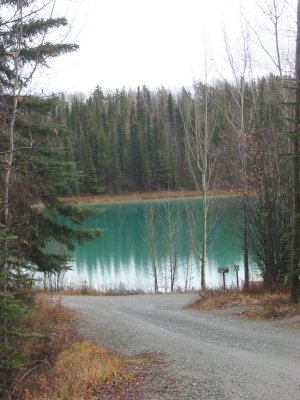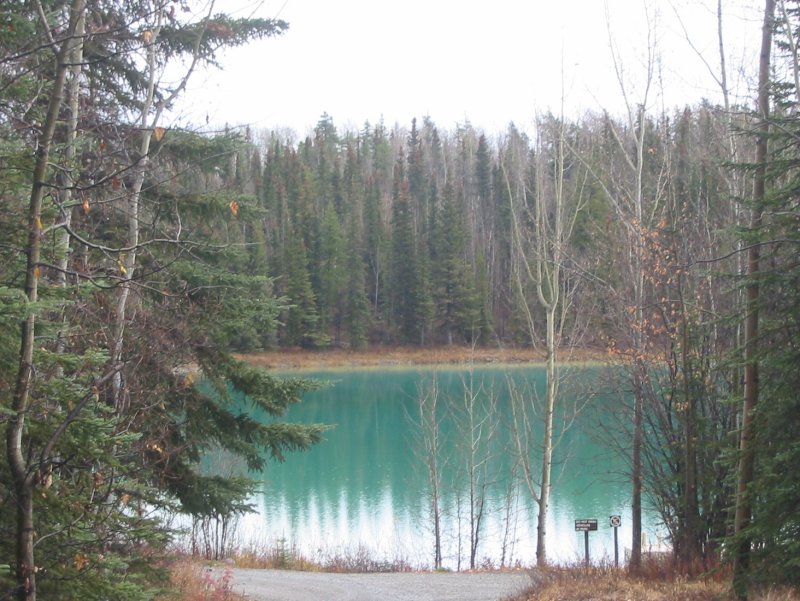 CLEAR water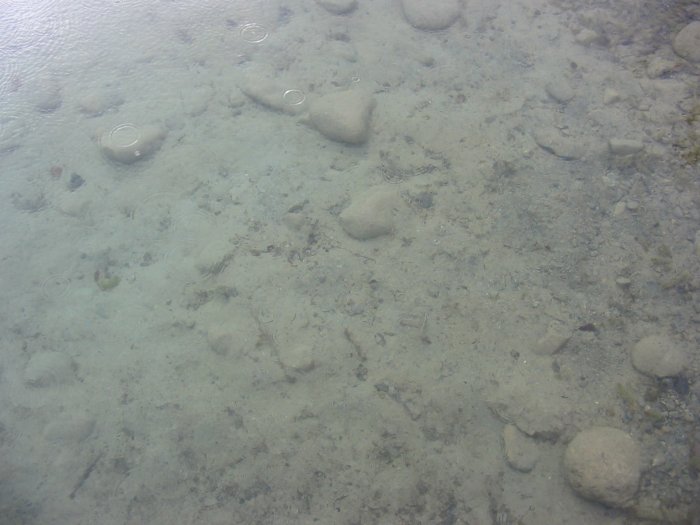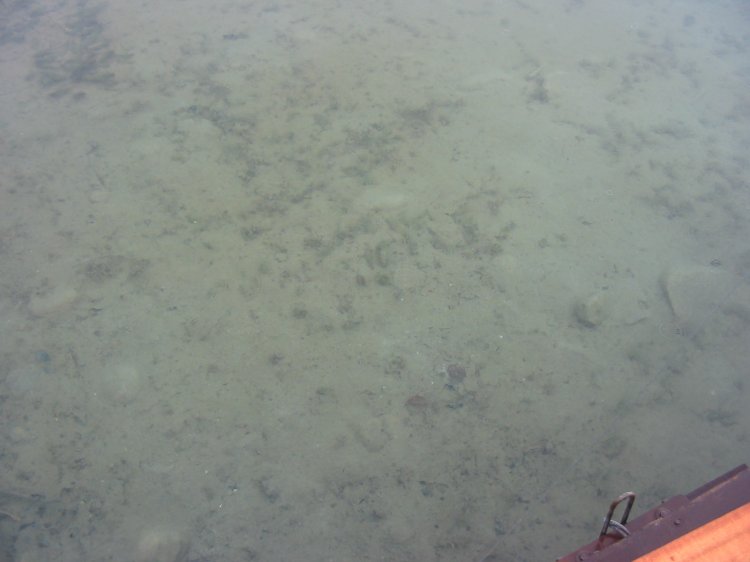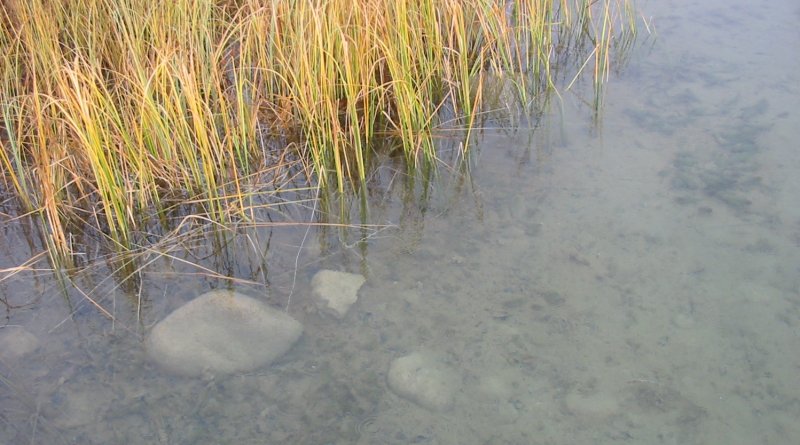 About 5 to 6 feet deep
Chains crossing - holding the pier in place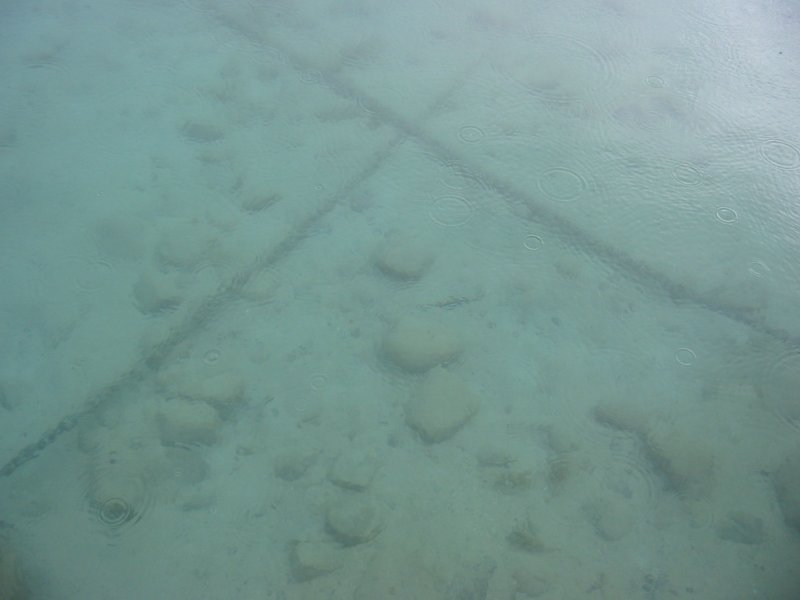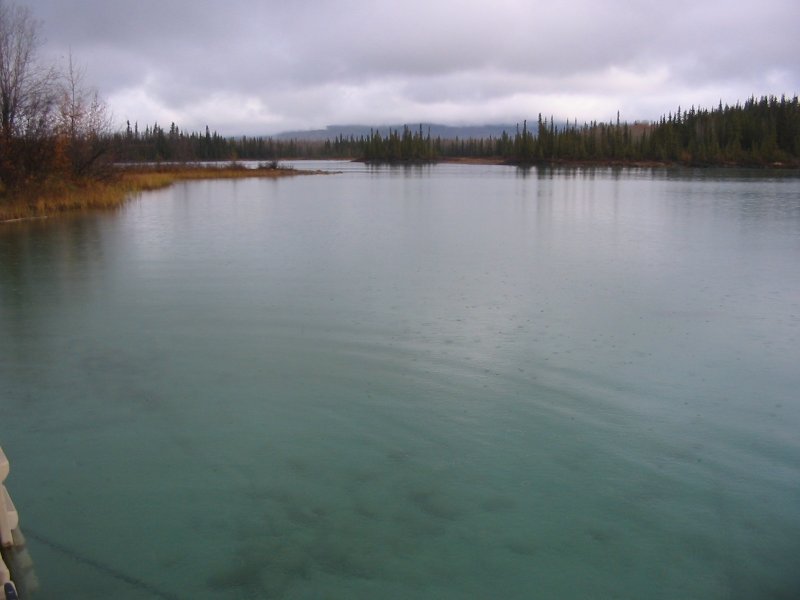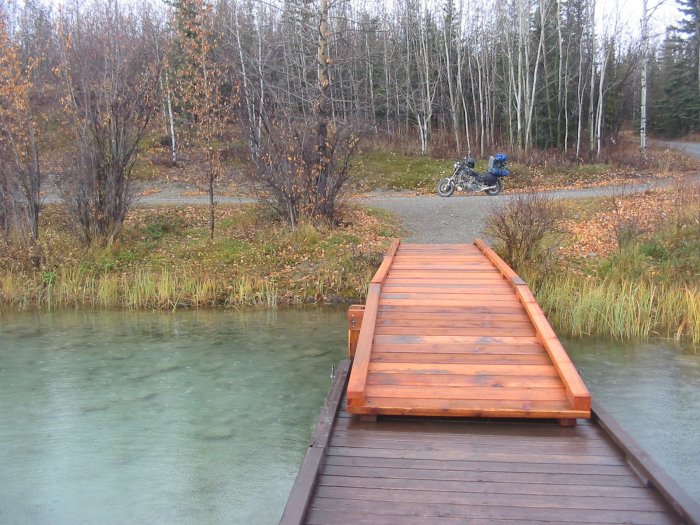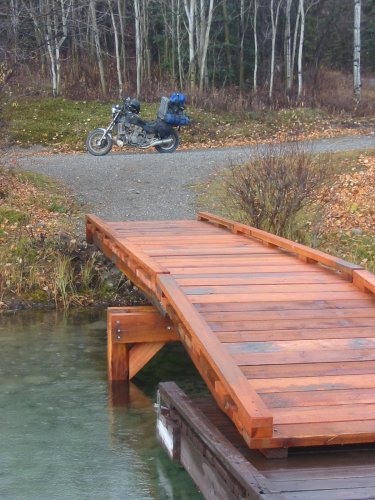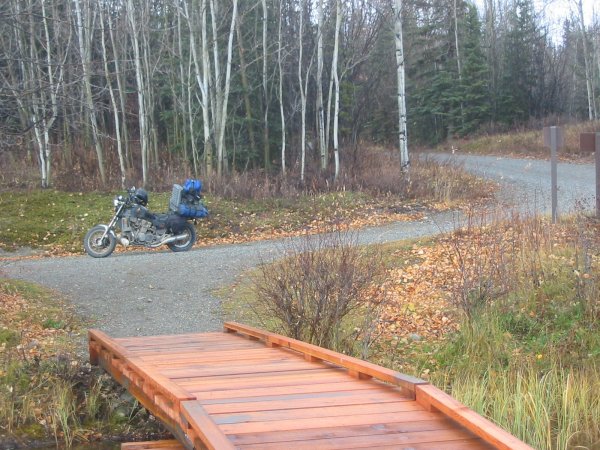 Good Hope Lake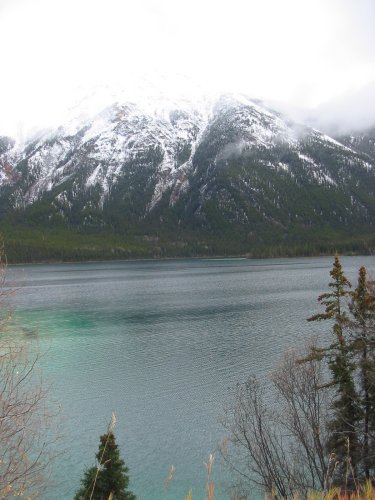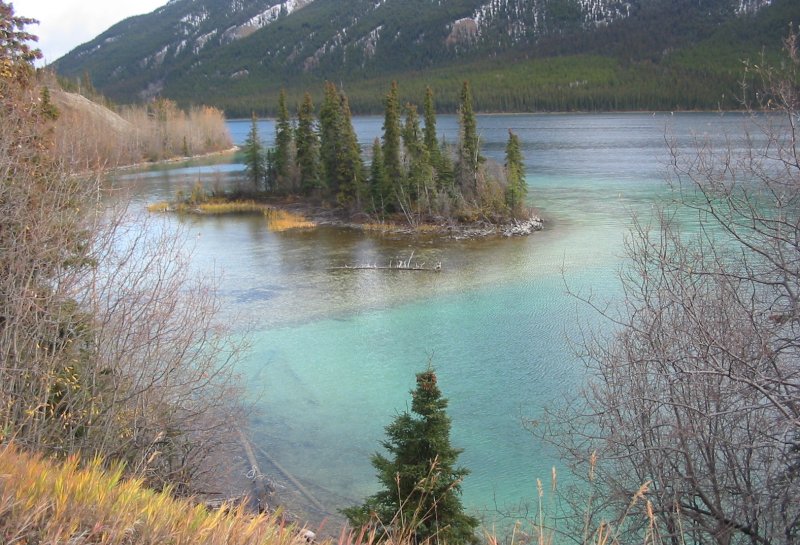 (
click for a larger size
)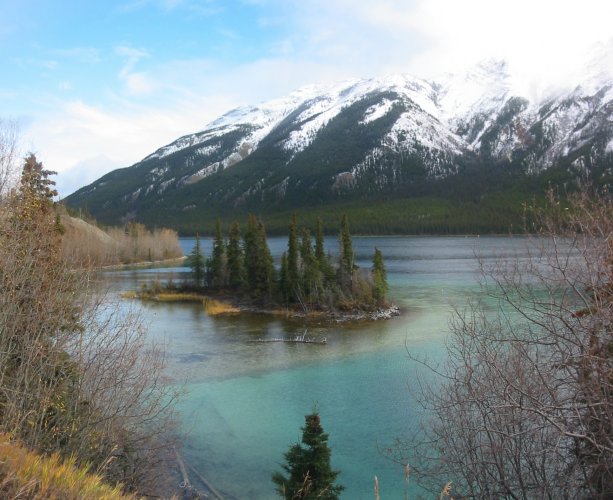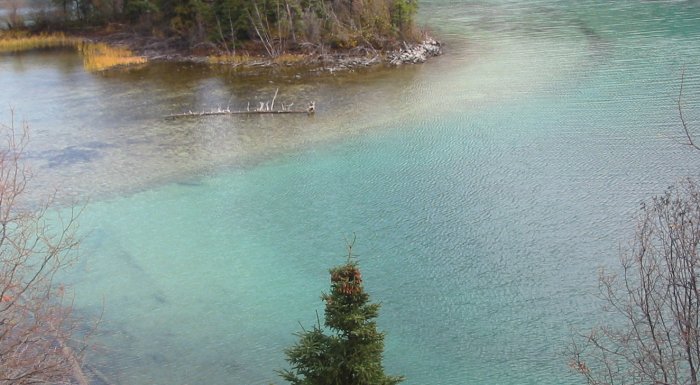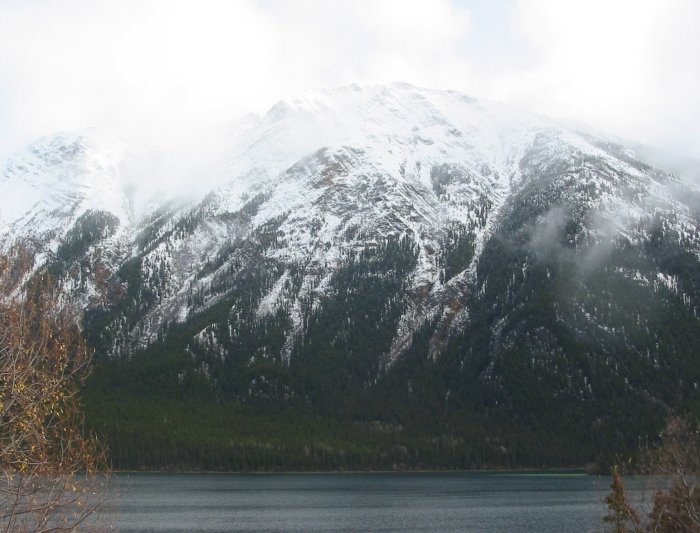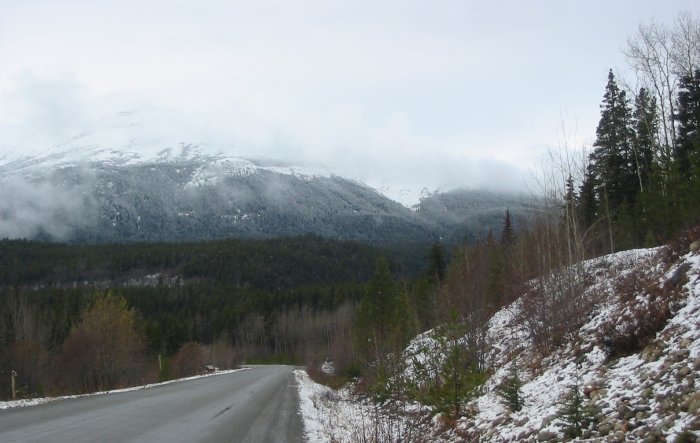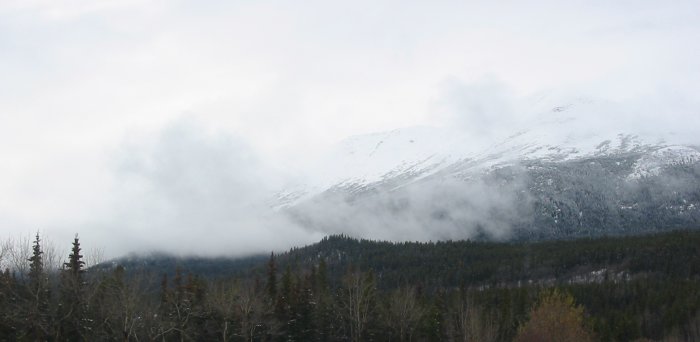 This is perhaps the most snow I'll be close to on this trip - though the final segment back to Illinois could be questionable.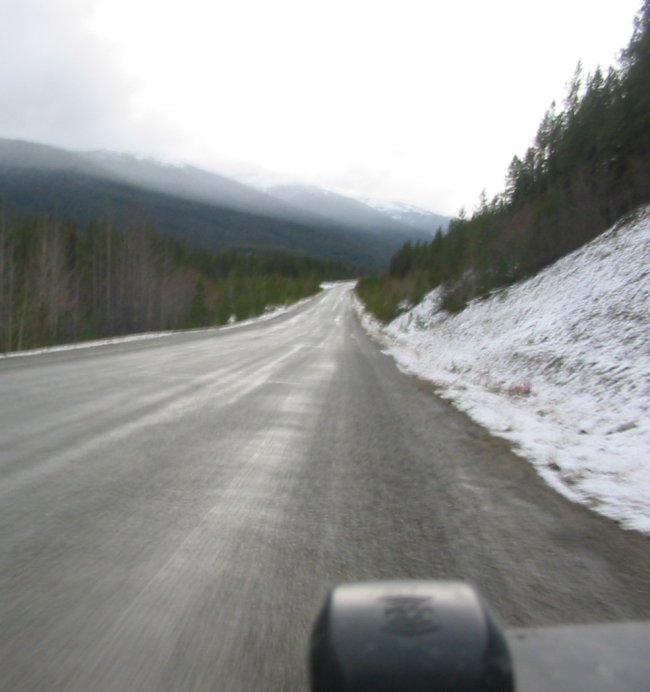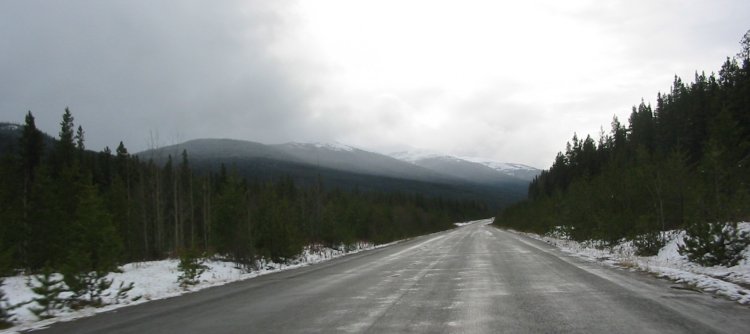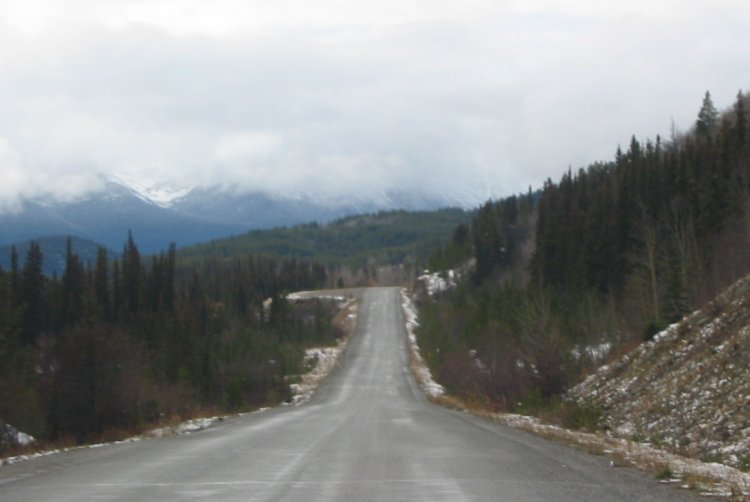 Coming into Jade City, BC

I turned around so I could get a photo of the Jade City telephone company...

There ya go.
1) it's small 2) the antenna is on a short pole - different from what I'm used to in the flatter part of North America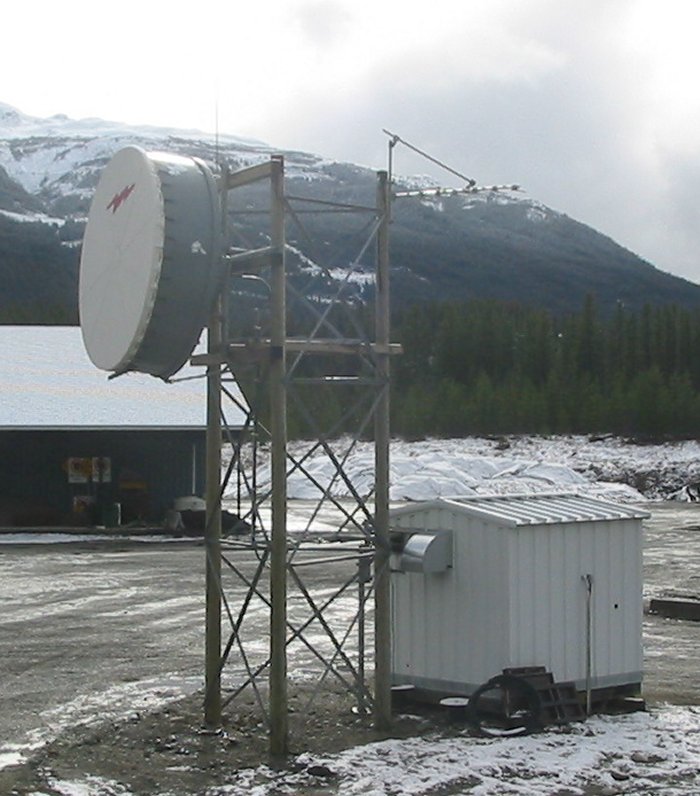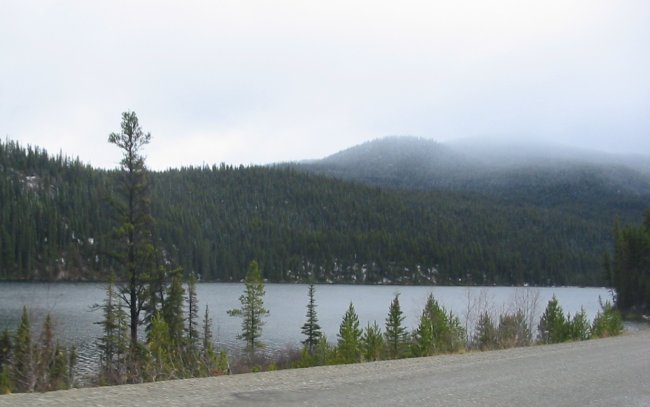 This is a nice spot... Simmons Lake.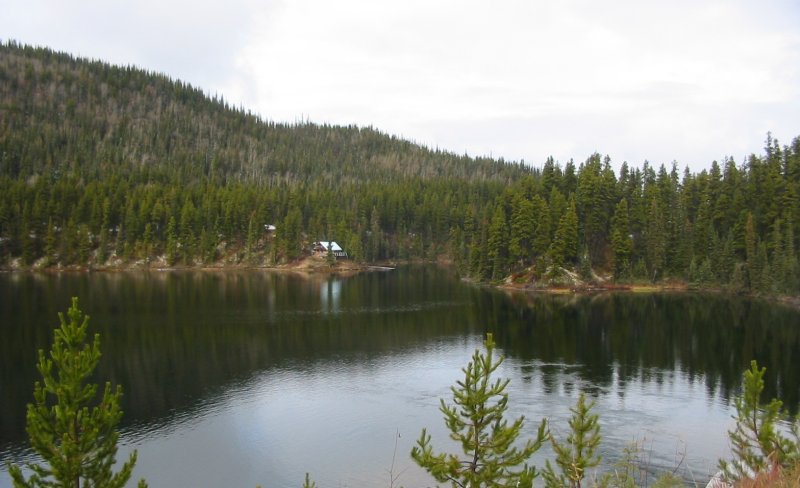 (
click for a larger size
)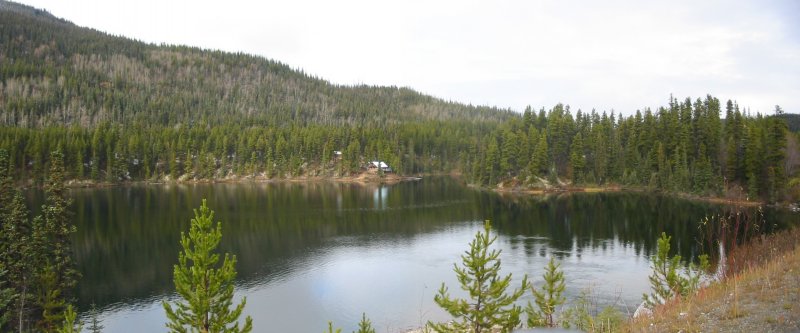 (
click for a larger size
)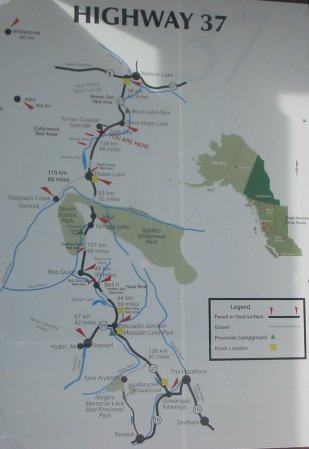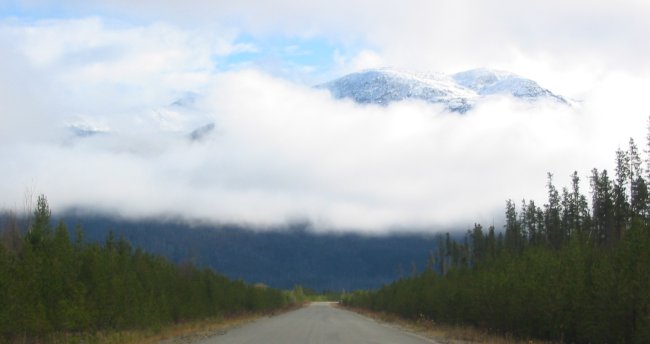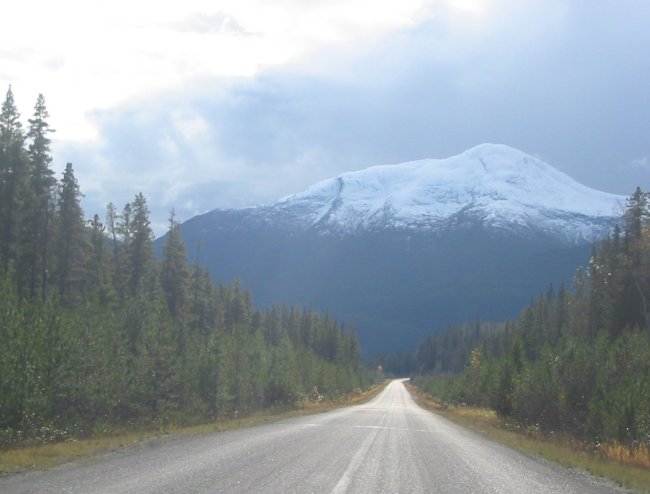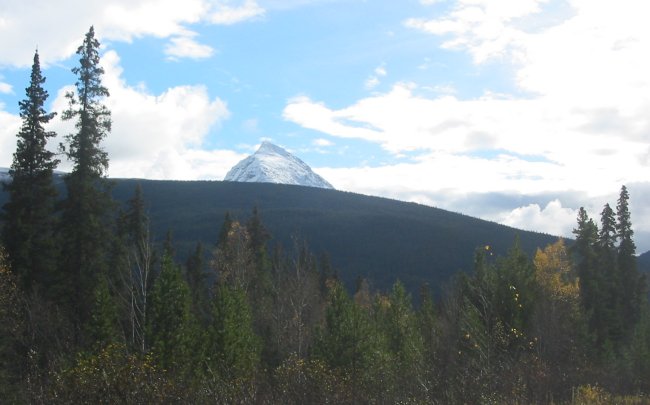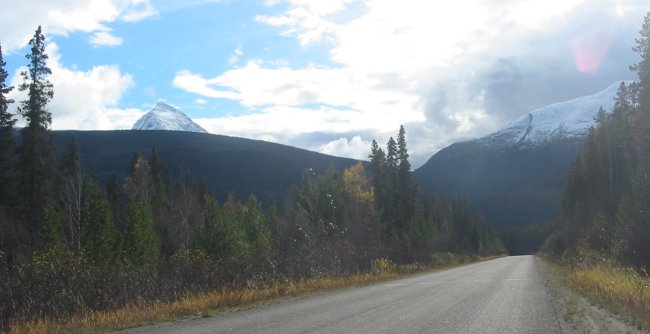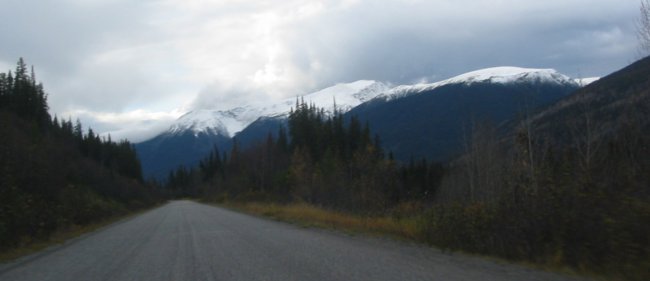 Soil surfaced roadway - coming to Dease Lake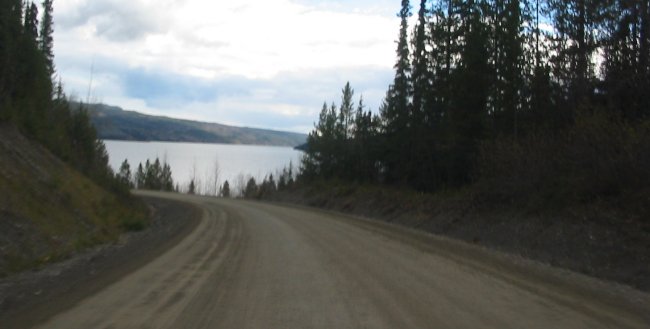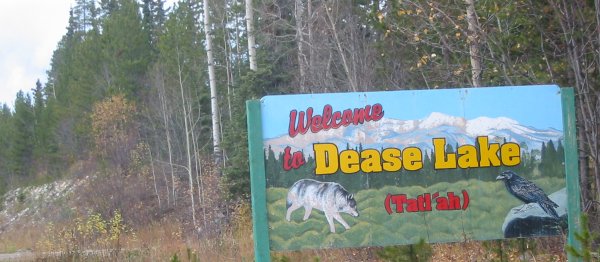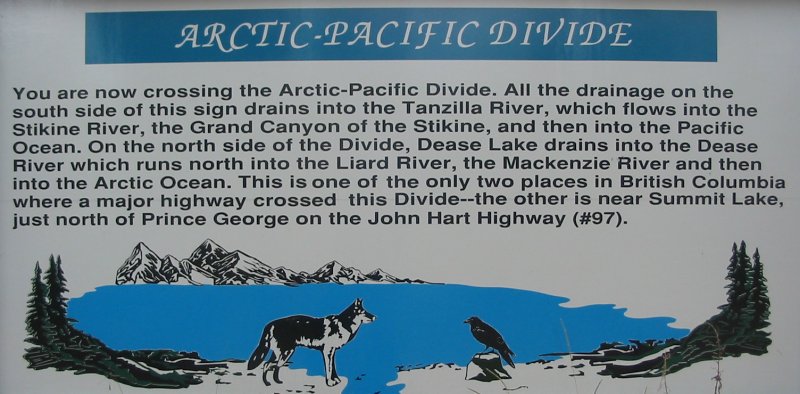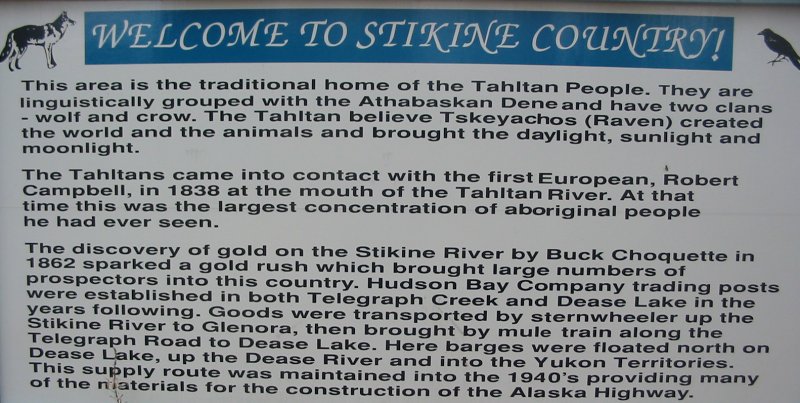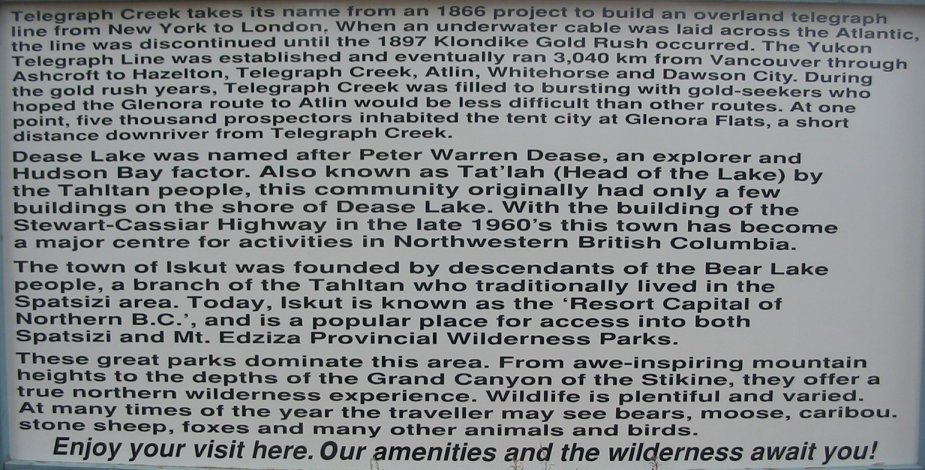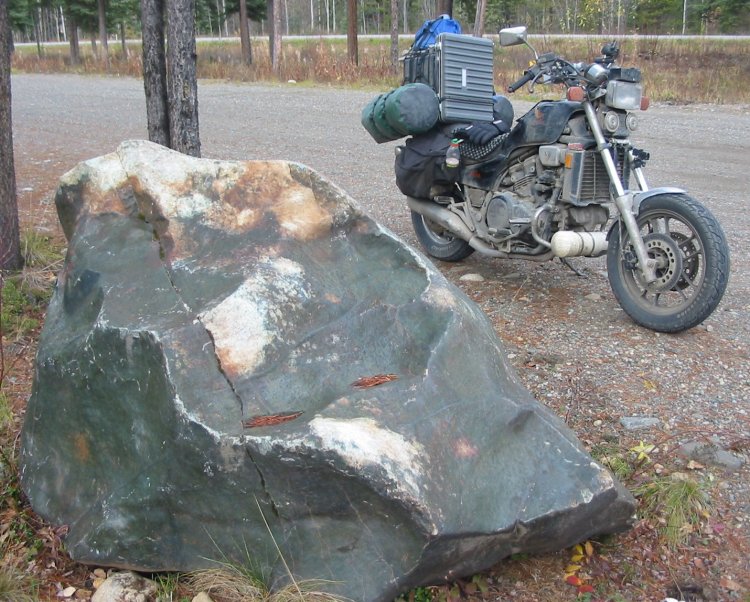 Mobile office
(looking for a spot to sleep - stay here in Dease Lake or head further south)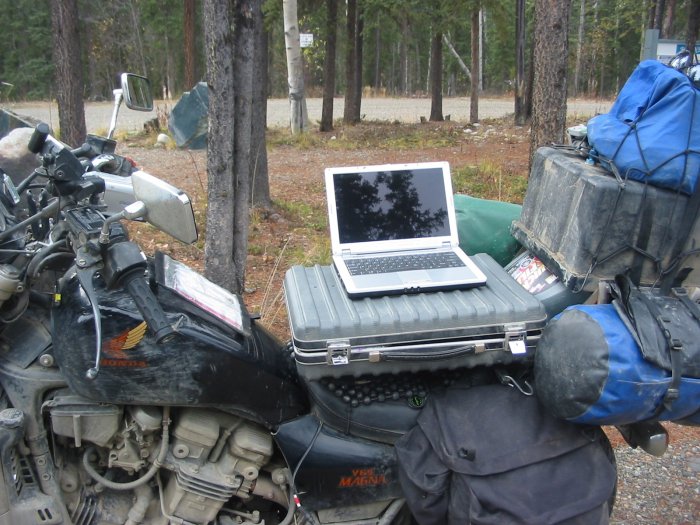 Out the south end of the town of Dease Lake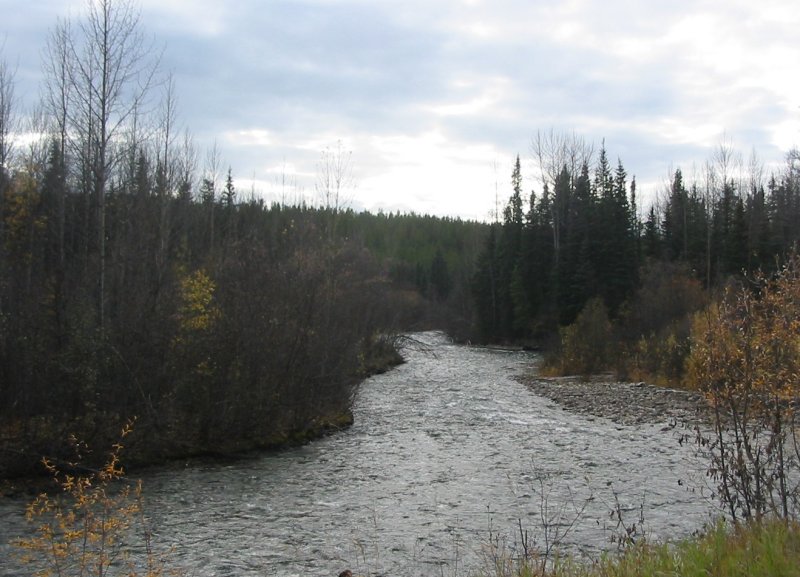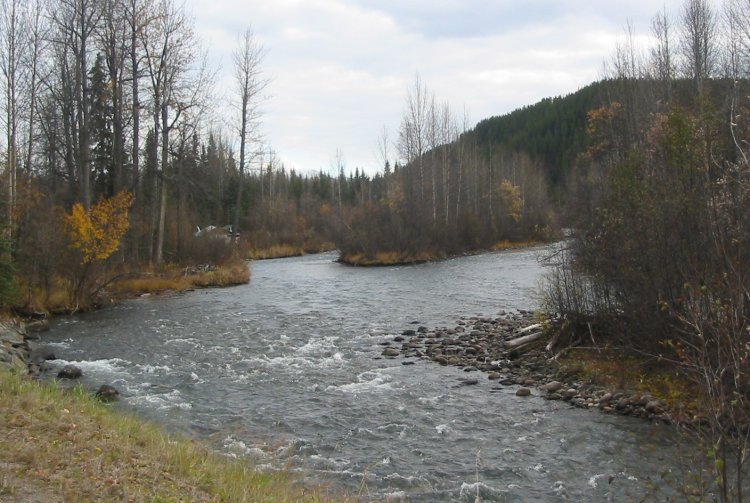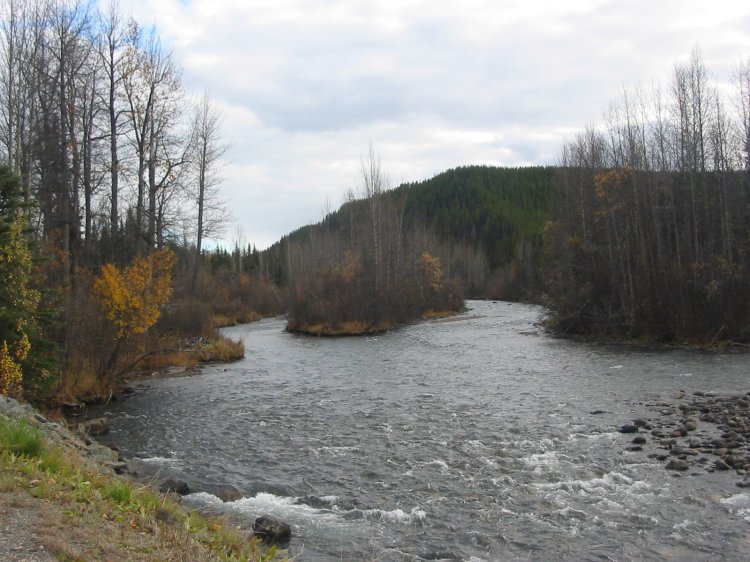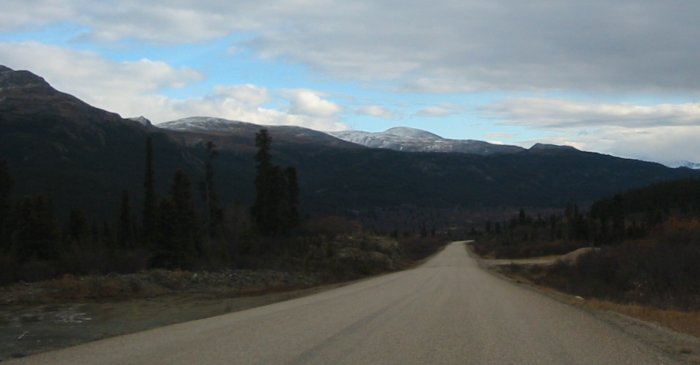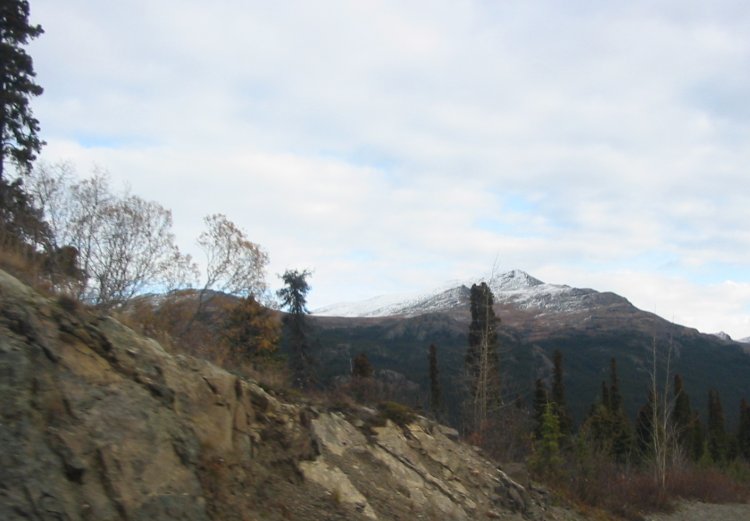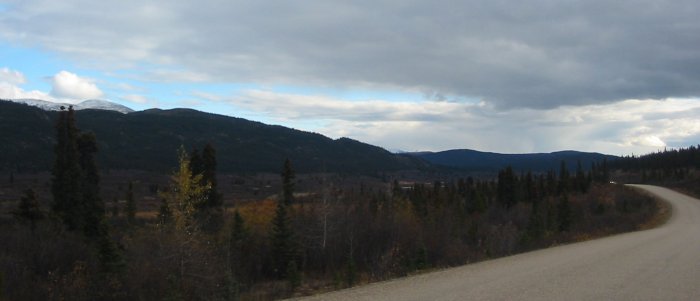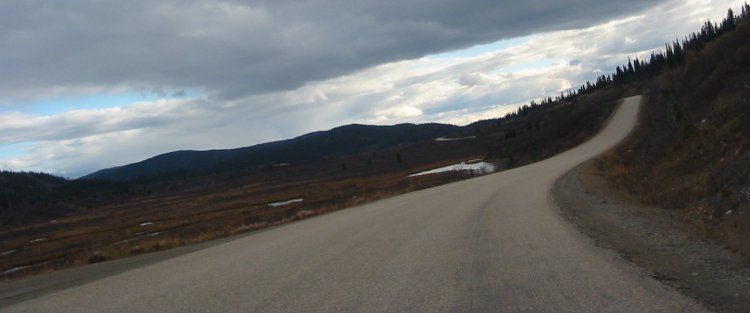 Upper Gnat Lake
Hmmm - what a name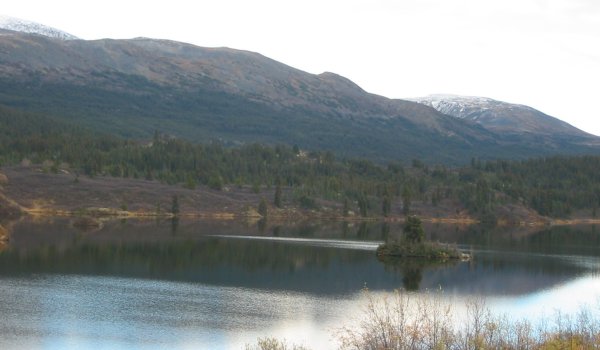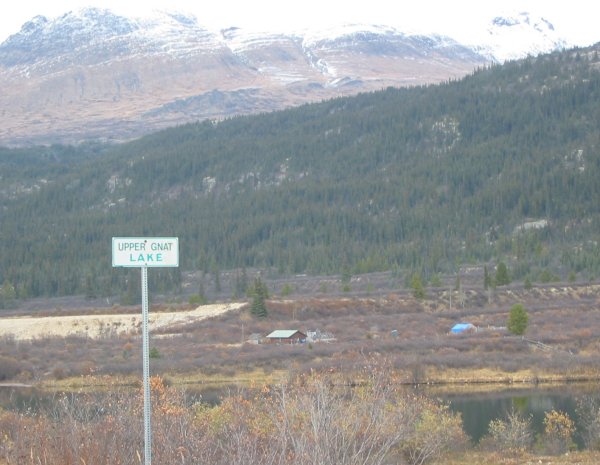 So for the past few miles I noticed a flat surface off to my right. I thought it might be an old section of the hwy before a relocation - until I came across this cut. Why would a cut through the rock be made for the road - and then have the road no go through it?? Well, right after I passed by this area it was confirmed... (see next two pics).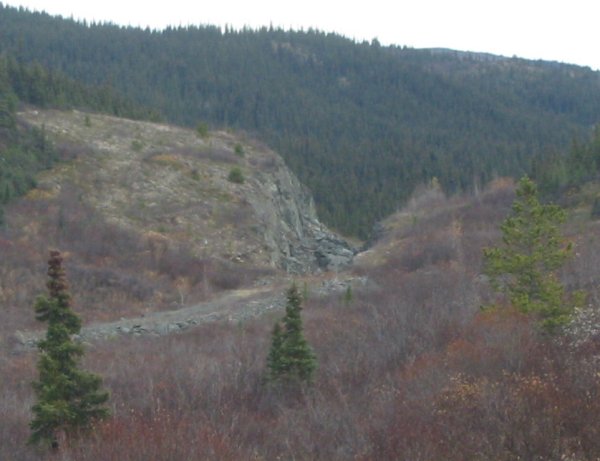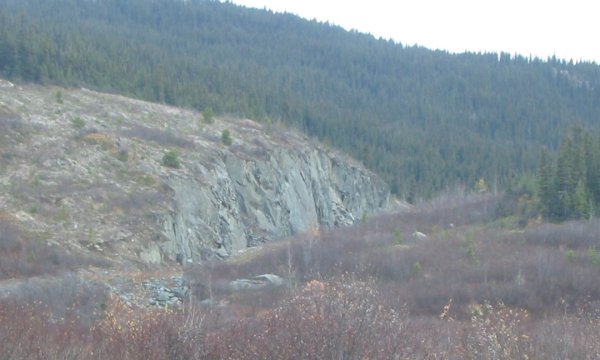 It was a RAIL road bed.
Hmmm - so there was a railway here at some time but little to nothing aside from this three mile long section remained visible.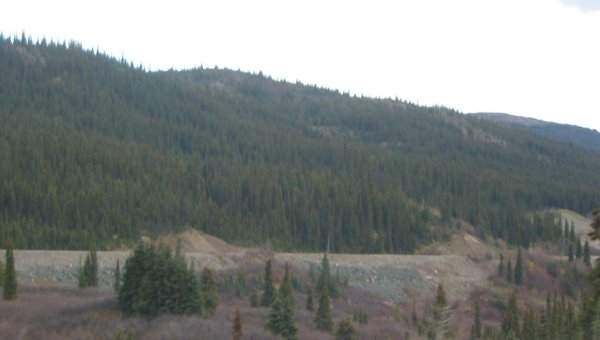 Crossing over the Stikine River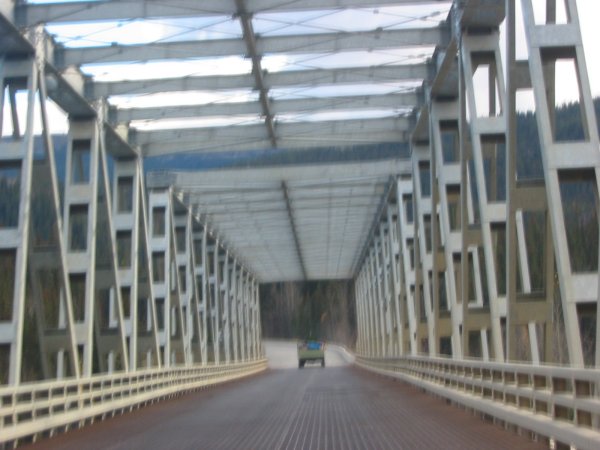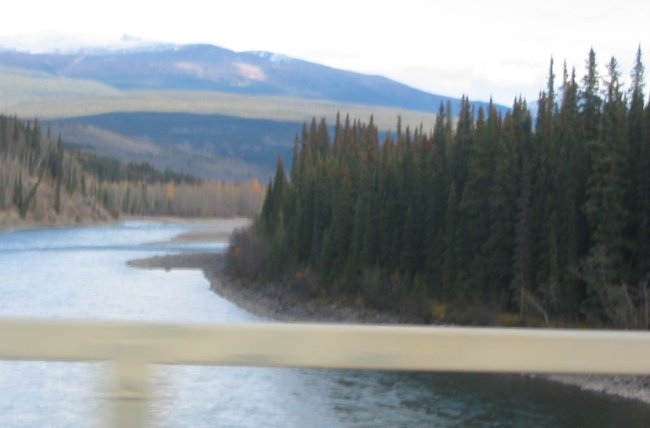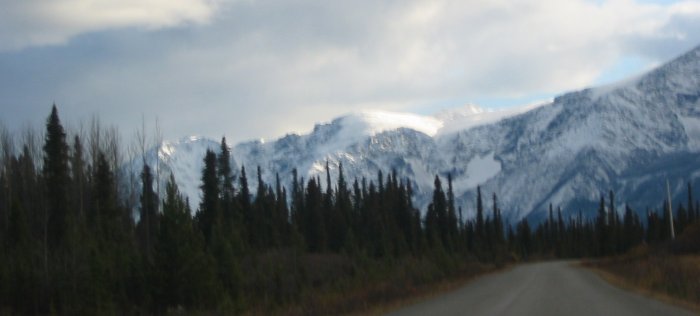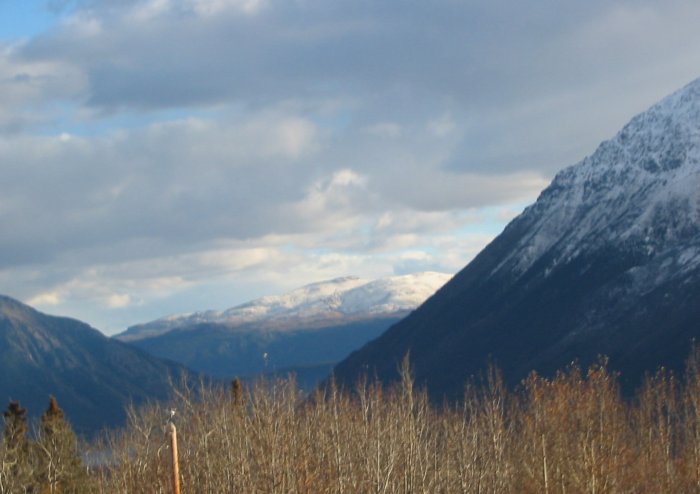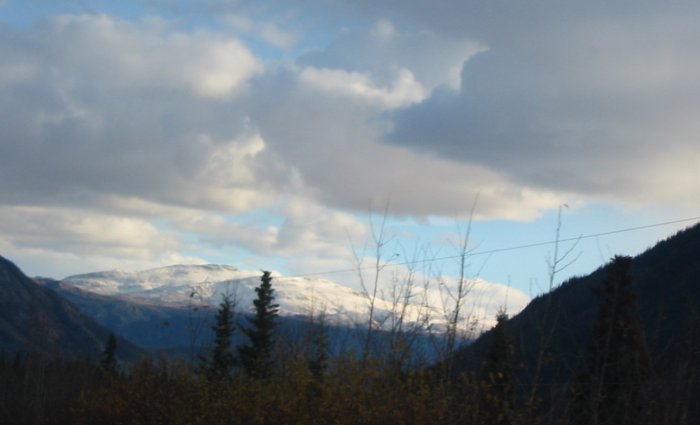 Right near the hotel, Iskut BC - horses out for a stroll