Sept 09, 2005 - Thursday
Anchorage, AK To Tok, AK
Video
2005-09-29.mpg
MPG, 32.3 MB, 4 min 6 sec
Today was to be a nice day!

I stayed last night at a hotel that advertised wireless Internet - and while it was true the speeds of the system were slower than dial-up. The front desk folks were great and we tried to see why it was so slow. In the end we called the support line for the provider and they confirmed that this installation, which was very recent (a week IIRC) had issues. It seemed the line (cable) into the building was only capable of a slow speed and the local cable company would need to fix the issue. No iNet tonight. Last night, down in Seward, I went to use the sleeping bag - but only to find it rather wet. The dry bag it had been in (for ~ 2 weeks) allowed a bit of water in - and now the bag was starting to smell (ugh). No place to dry it that evening I stuffed the wet thing back into the dry bag and strapped it back onto the bike (it's the "green tube" bag seen in some of the pictures - the "blue tube" bag is the tent). At the hotel I dumped it into the dryer for a couple sessions. I wished to wash it first but their washer was not large enough to handle it. I hope the smell is not set permanent.

In the morning I headed off to Suzuki / Arctic Cat for the tire change and oil change. This is where it was discovered I also needed some brake pads. I _thought_ a small rock had become lodged on the outer right front disc. There was some grinding and galling of the disc. Such was not the case - it was a basic lack of brake pad. I never imagined I'd own a cycle long enough to go through a fresh set of pads. 'guess I'll have to erase that ill mindset and give them some proper looking after. I bopped over to Honda a mile away (where I picked up the oil filter earlier) to see if they had pads - no dice. Guess I'll have to take it easy on the front brakes and use mainly the rears for normal stoppage. This shouldn't be much of an issue as out on these roads, aside from an emergency stop which the fronts will work, there is little need for brakes. I'll see about pads in Whitehorse or Seattle.

After the bike work I went in search of some granola bars and a bite to eat - taken care of at a Fred Meyer? store and a Wendy's nearby (that advertised wireless Internet). There a "signed up" tow truck, parked next to the bike, caught my eye - it resembled something Luke would do.

Morning tasks complete I headed Northeast - Glenn Hwy to Tok Alaska. I had no idea what scenery was up the road but once it started to unfold I was so happy it was a good weather / picture day. Once I was out of the 'urbanized' area the ride to Tok was generally - snow capped mountains on both sides in a nice valley (of course with a river) that slowly widened into a wide carpet of trees with the mountains out on the edges, to a couple massive mountains standing in front of me to a nightfall ride through a valley set in a tighter group of mountains (or hills - couldn't see how high) then a straight shot to Tok. When I passed through Tok, a week or so earlier on the way into Alaska, little did I realize that there were mountains to the South of Tok - a nice surprise. The scenery was fantastic! On to the pictures.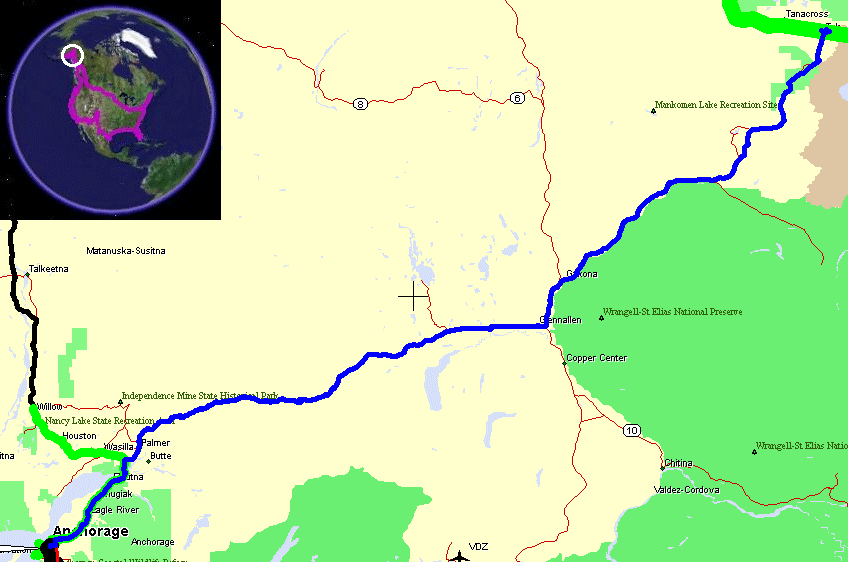 Signed-up tow at Wendy's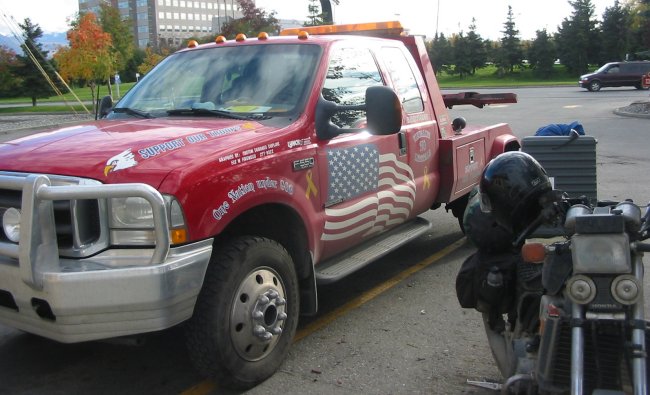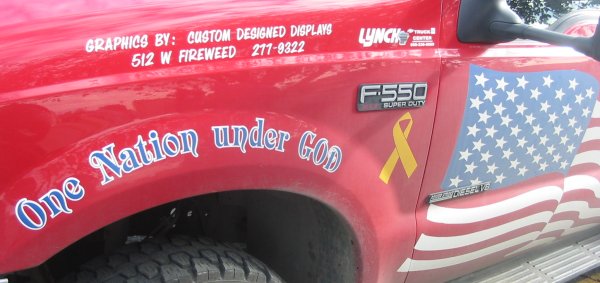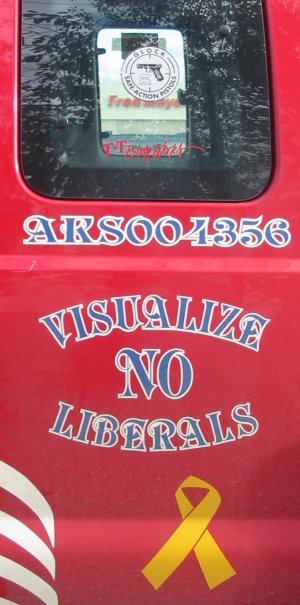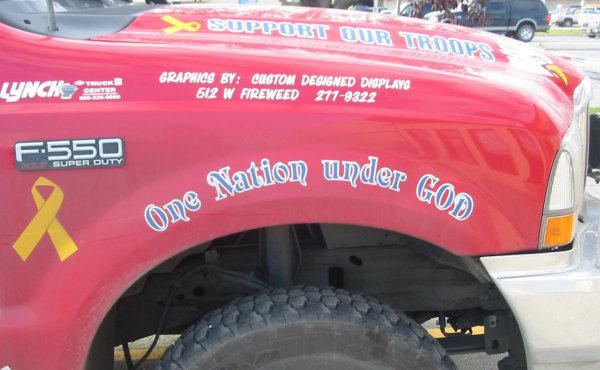 Heading East from there about a mile - perhaps some work for the tow to do. Traffic in the other direction was backed up for a decent distance - glad I wasn't in it.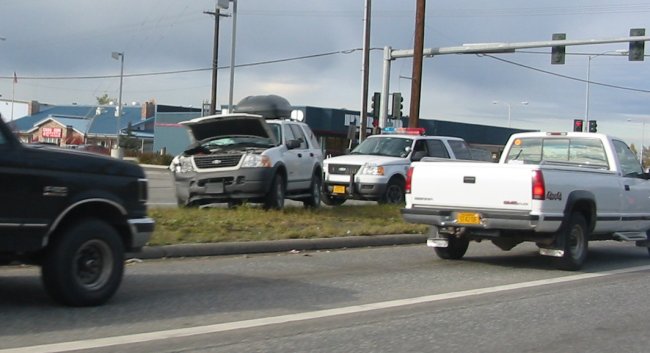 Basic shot of traffic heading out of town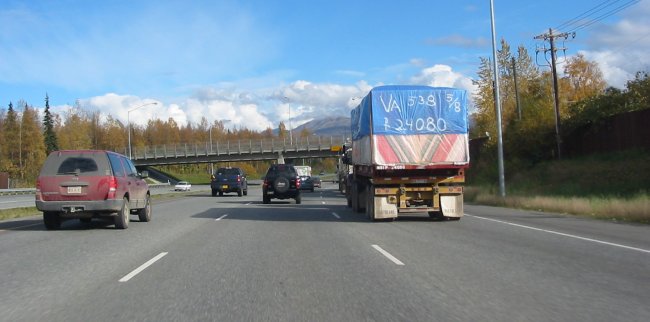 Shortly, turning onto the Glenn Hwy, I'll be heading directly towards these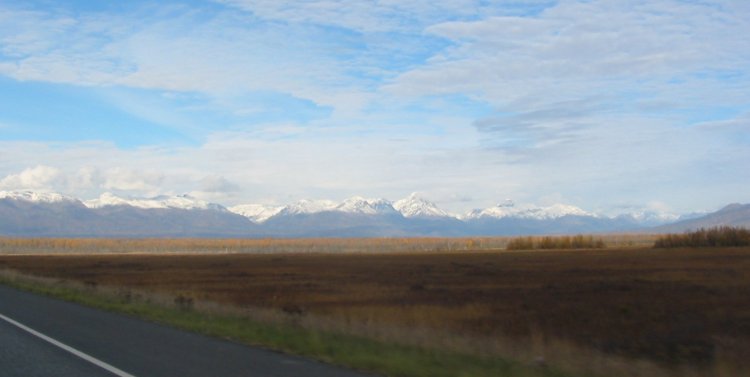 Ahhhh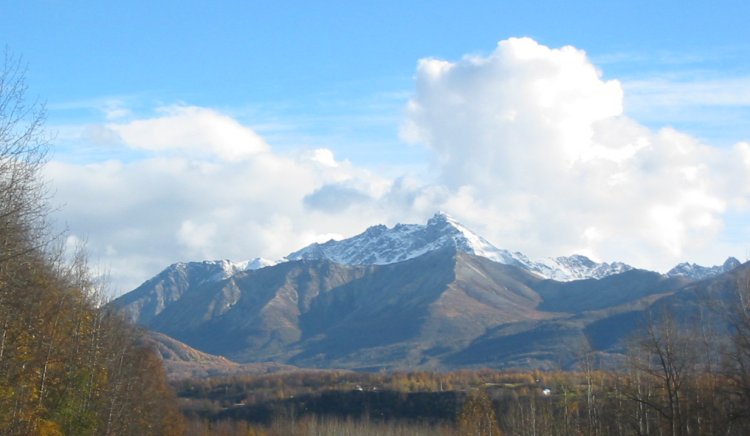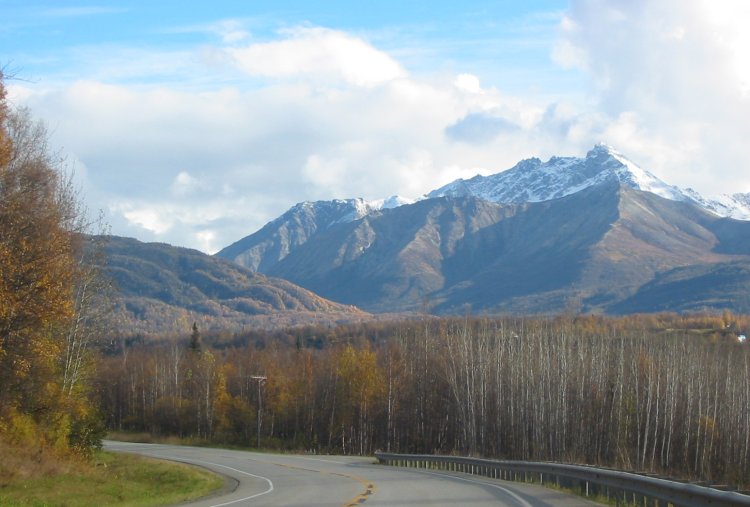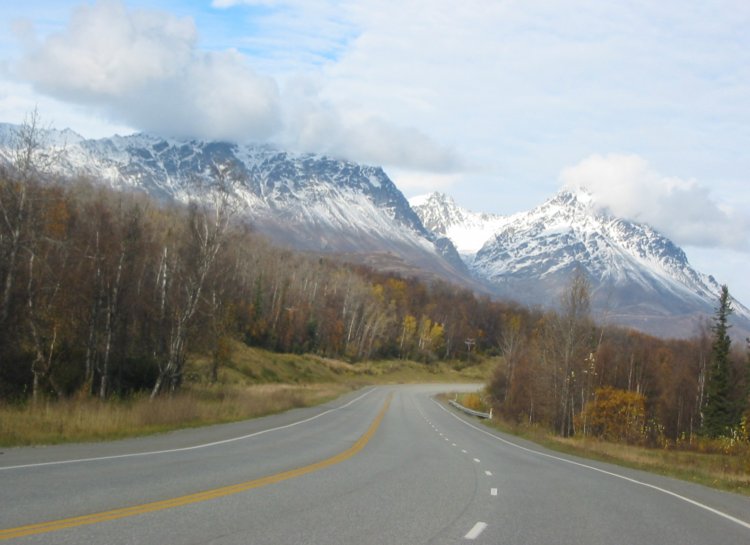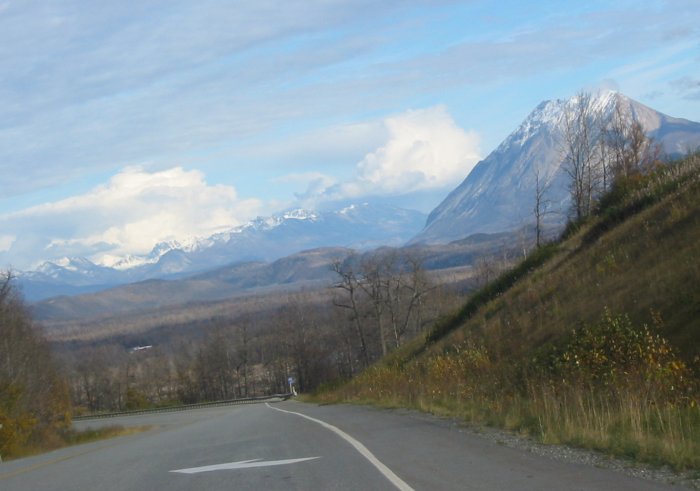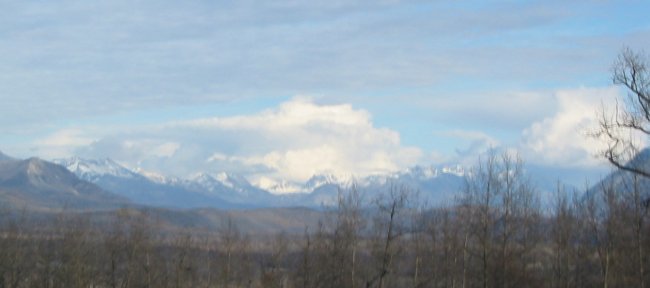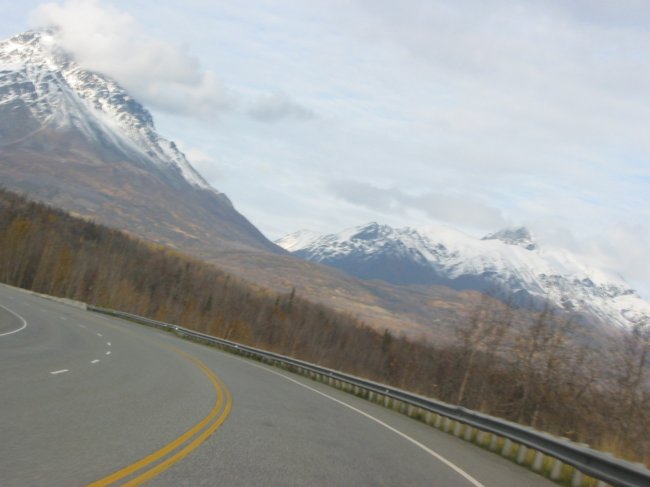 Stopped on a bridge I look to my right (southeast)...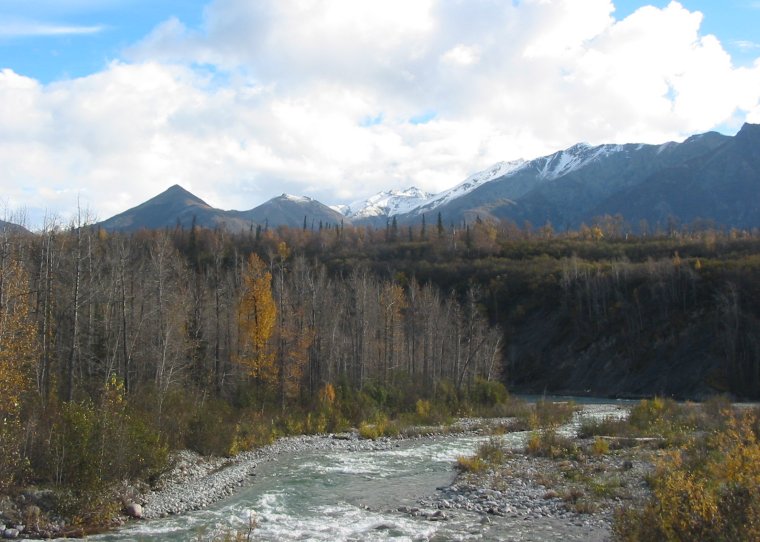 and look to my left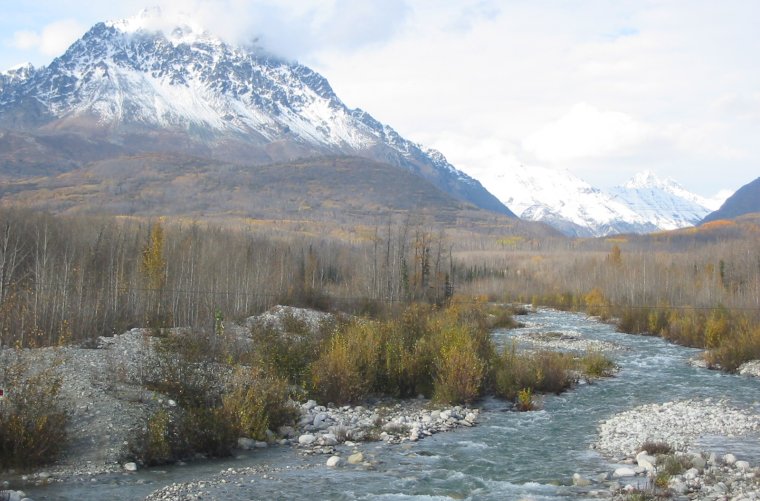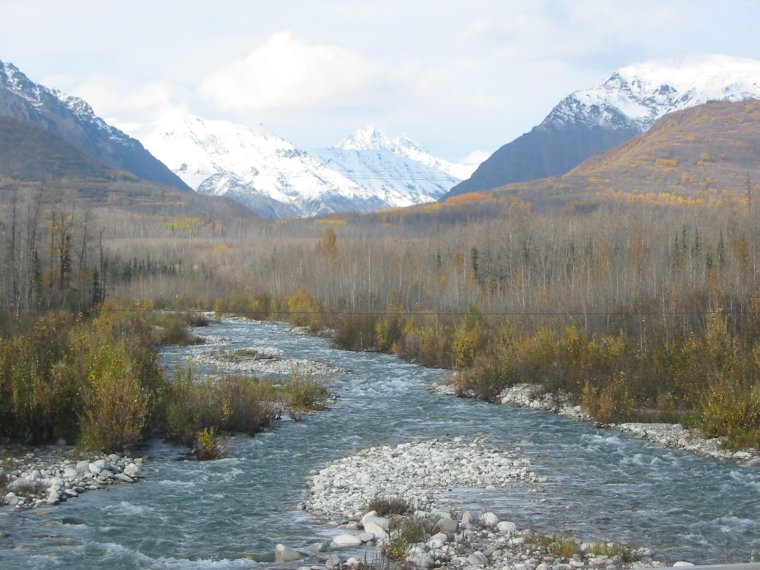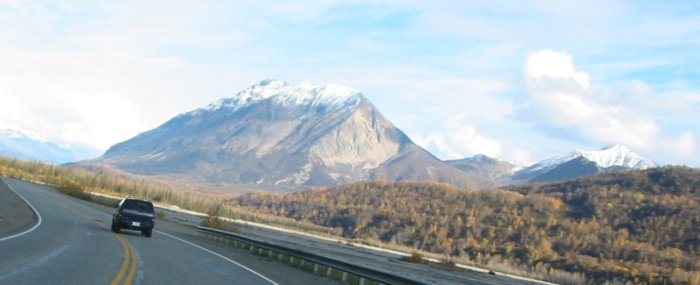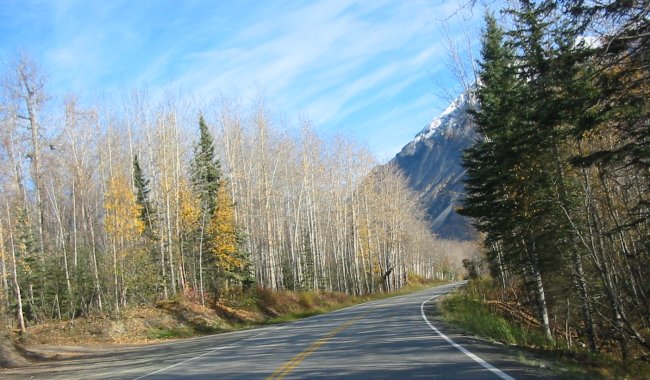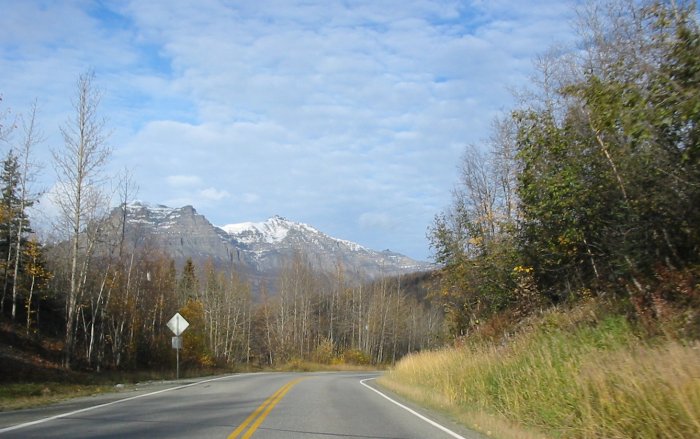 Road cut along the hill in center of pic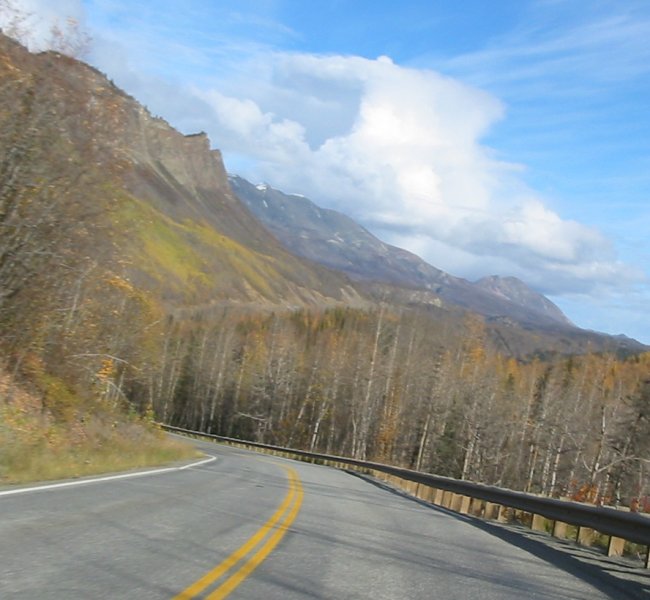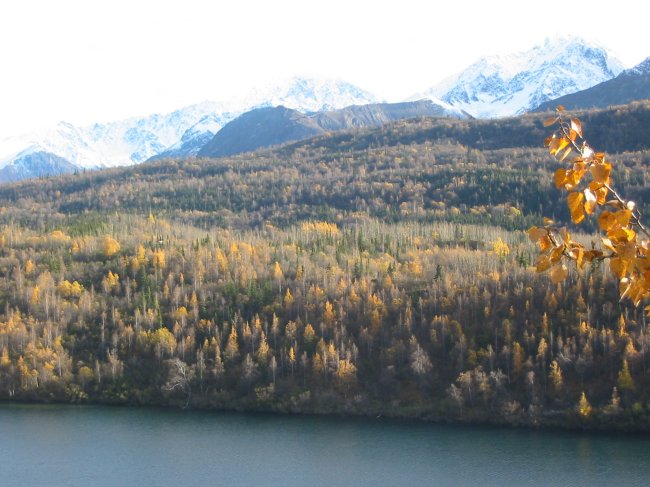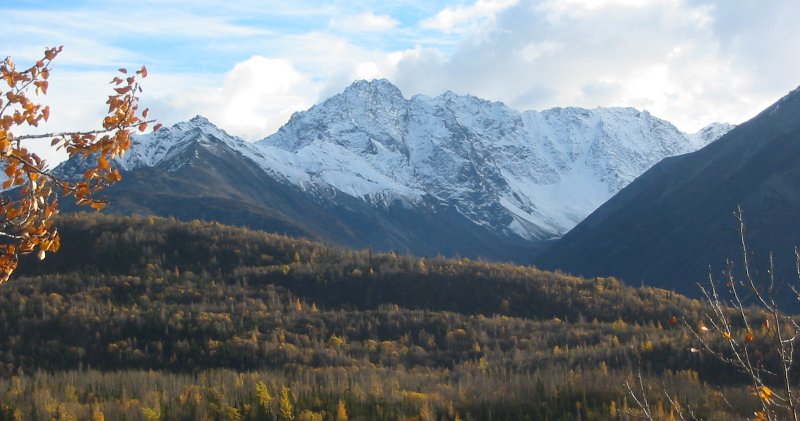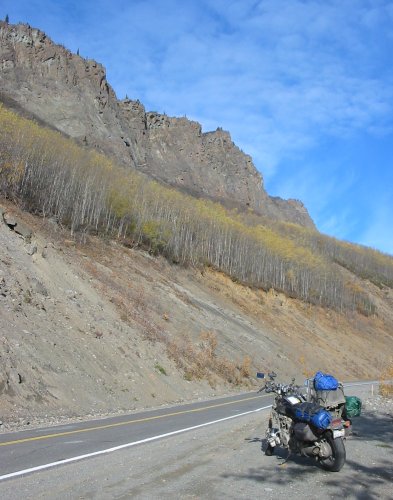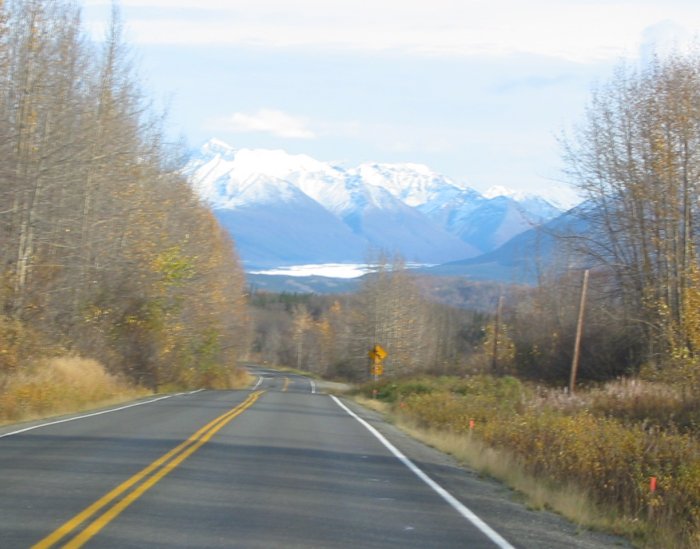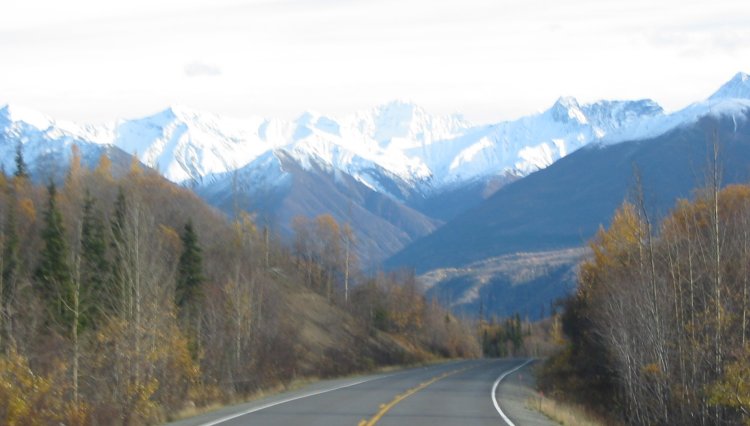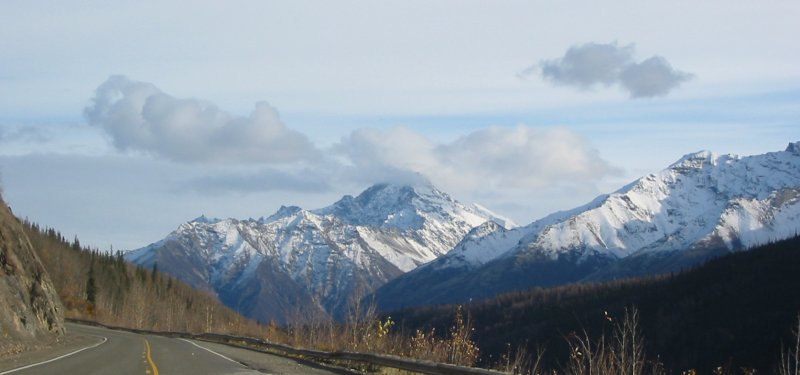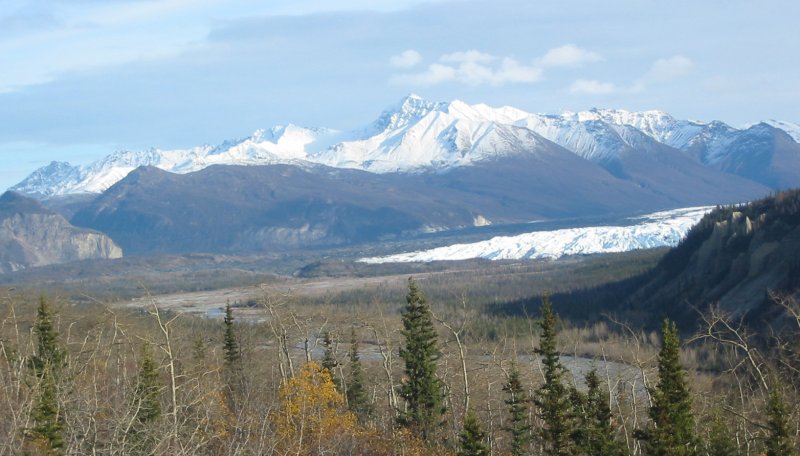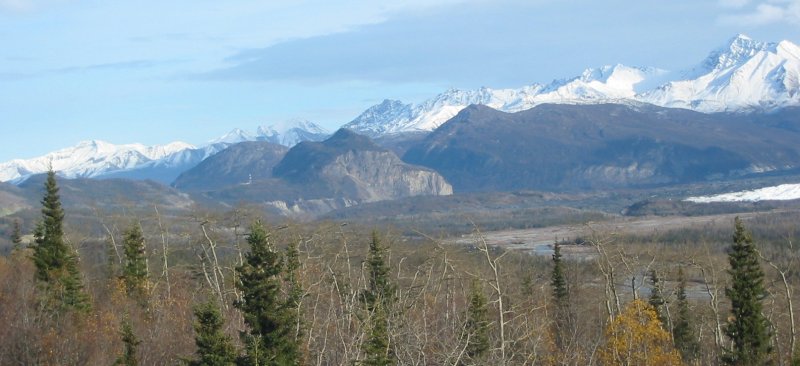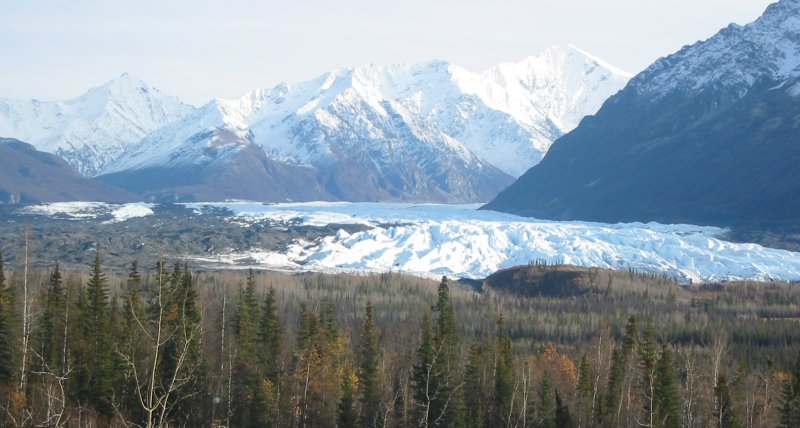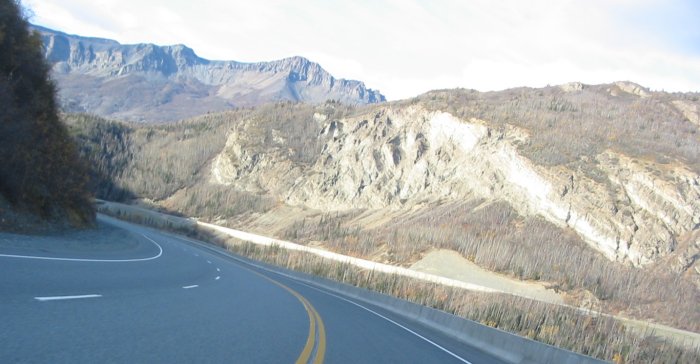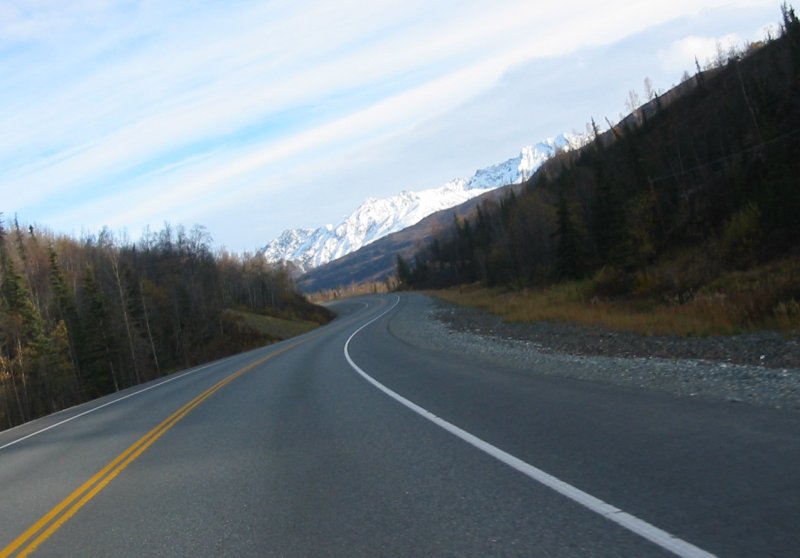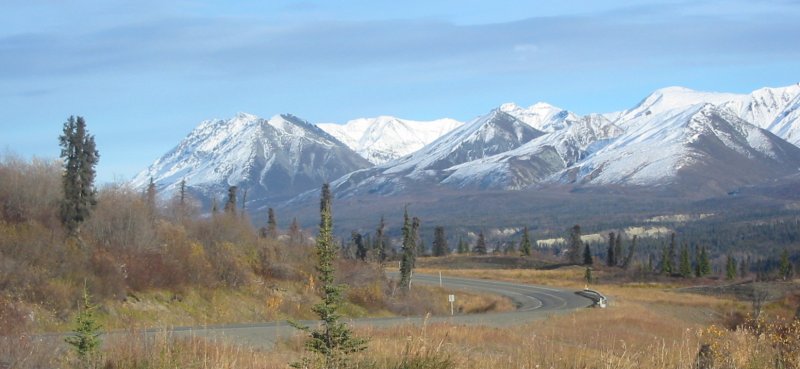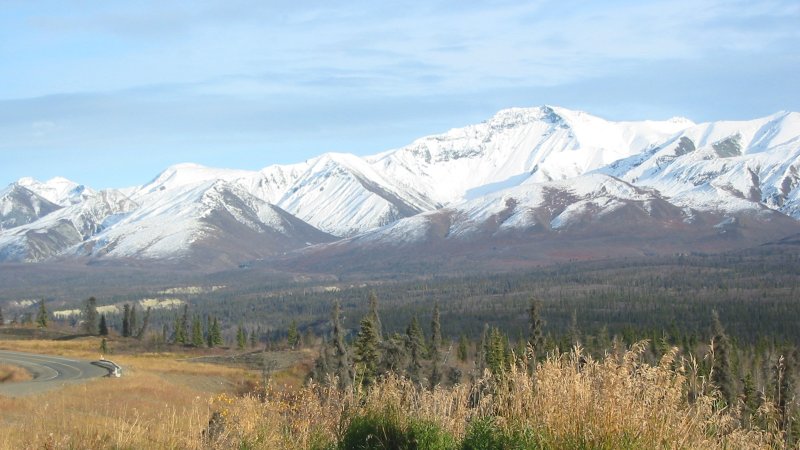 Panorama
(
click for a larger size
)

The valley starts to widen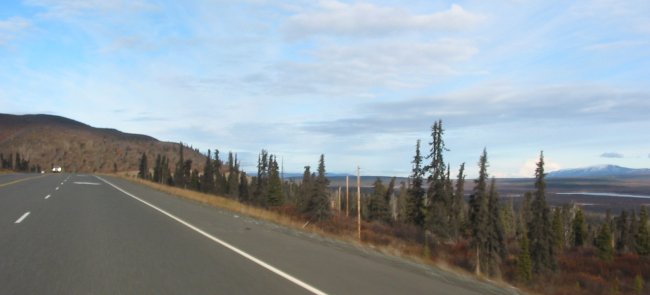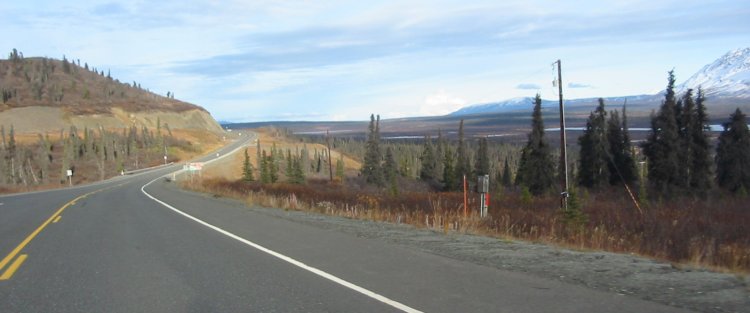 Info sign
(
click for a larger size
)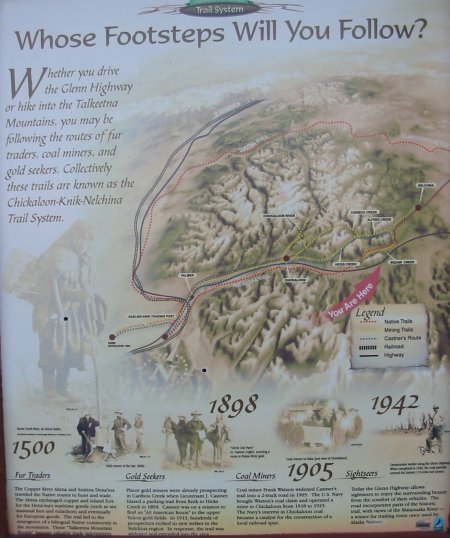 Info sign
(
click for a larger size
)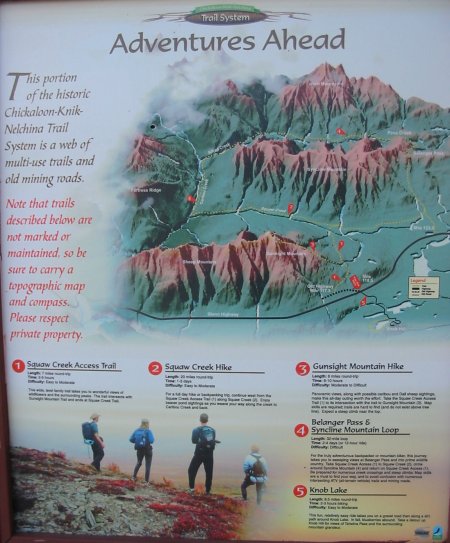 Note to self - when trying to setup a "reflections shot" don't look AT the camera's reflection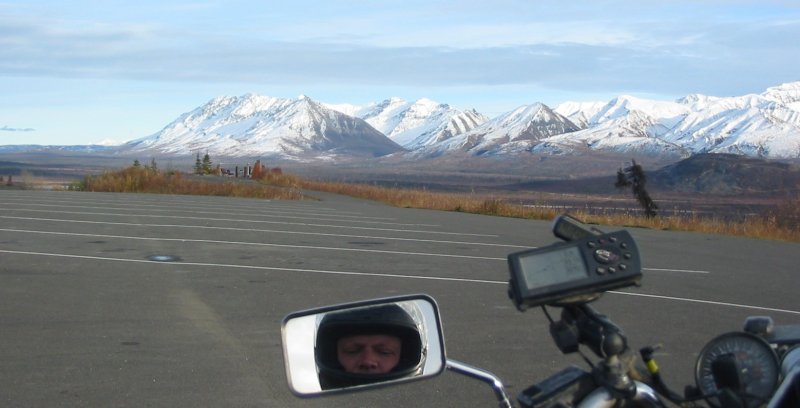 Sweet
To my left - Northish - snow happening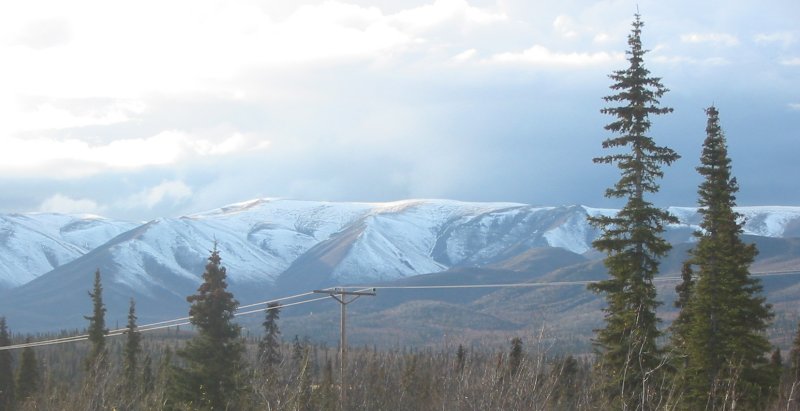 Shot of the "road markers" as well as the back end of a "wide load" marked flatbed. As I was sitting along side the road putting on heavier gloves a wide load pilot car and two truck passed. The second truck, I could be positive, was pushing the first truck up the hill (at about 60 mph). On the downhill the first truck would coast with some distance between them. Odd.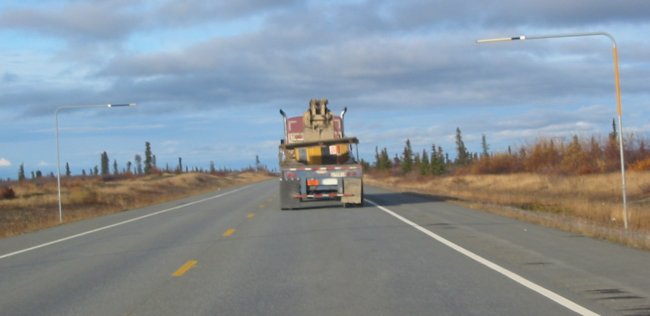 Valley opening more. Carpet of trees with a road cut weaving through.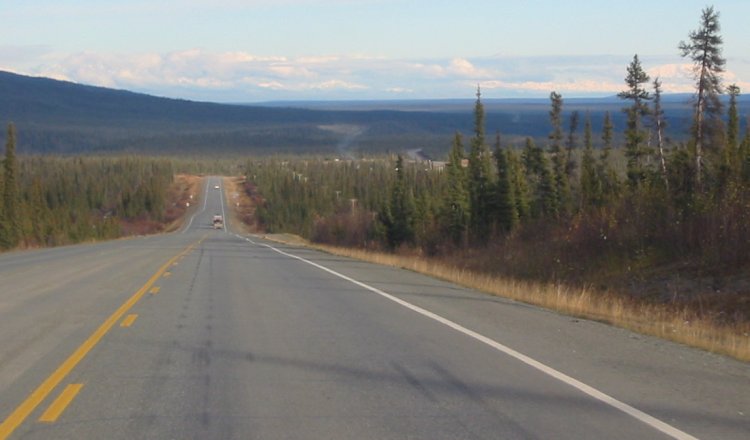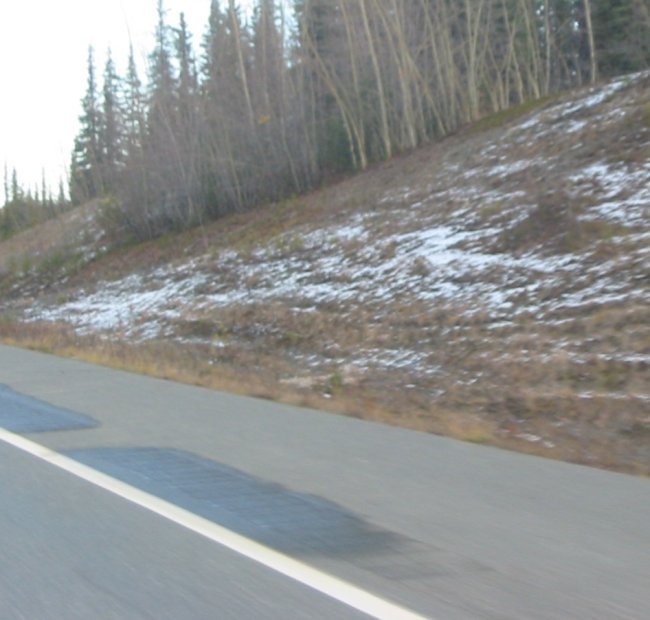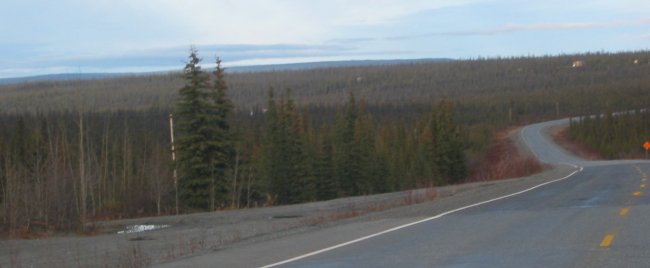 Some big peaks hidden in those clouds.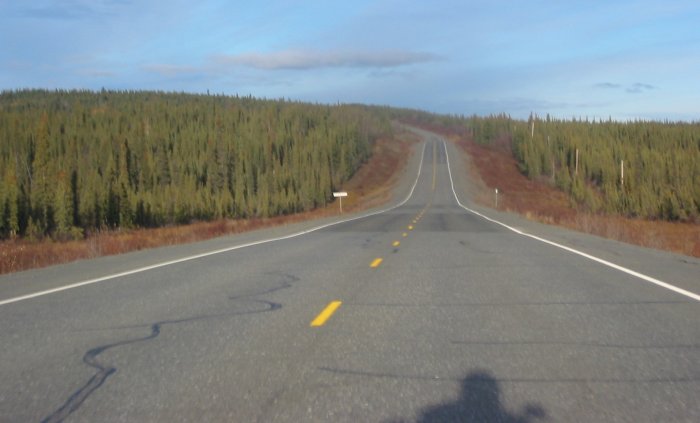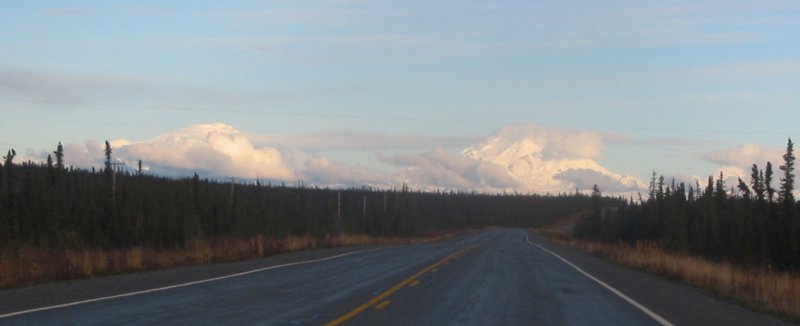 Panorama
(
click for a larger size
)

Panorama
(
click for a larger size
)