Sept 12, 2005 - Monday
Watson Lake, YK to Whitehorse, YK
The day started out with dry roads, mostly clear sky - a nice day. It did get cloudy and then have some rain. The fuel stop at Johnsons Crossing was a nice place - camping, RV spots, fuel, food, souveniers, nice folks - certainly a place to stop at. Near the end of the day I had to pull the cameras due to rain.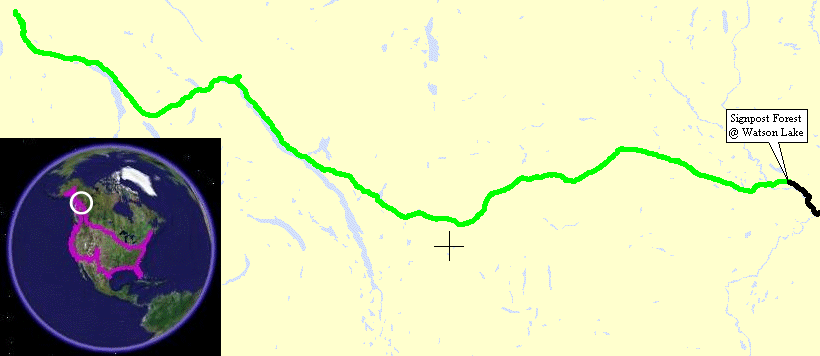 Video
Rancheria Falls, Teslin Bridge, camera play
2005-09-12.mpg
MPG, 12.1 MB, 2 min 54 sec
One type of bridge found on the bridge - some of these are iron mesh surfaced while others are solid asphalt.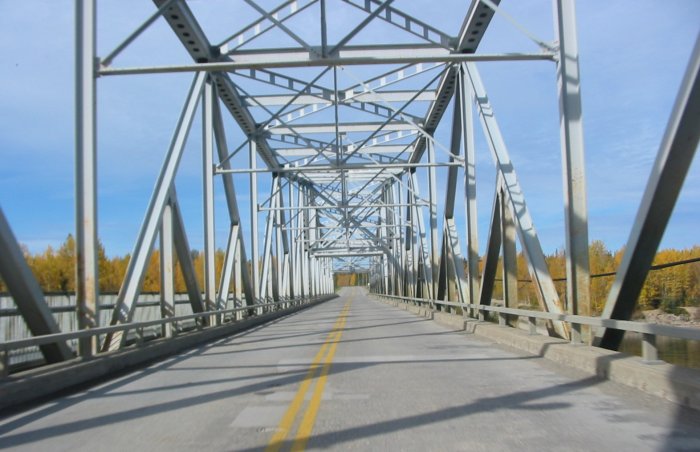 Shortly after leaving Watson Lake I came across a large stretch of "rock graffiti". There was one stretch that was perhaps a mile long - filled. Writings could be seen along the road, hear and there, for miles and miles.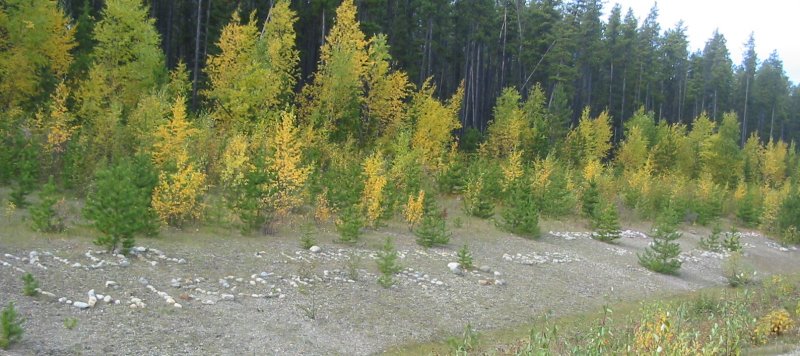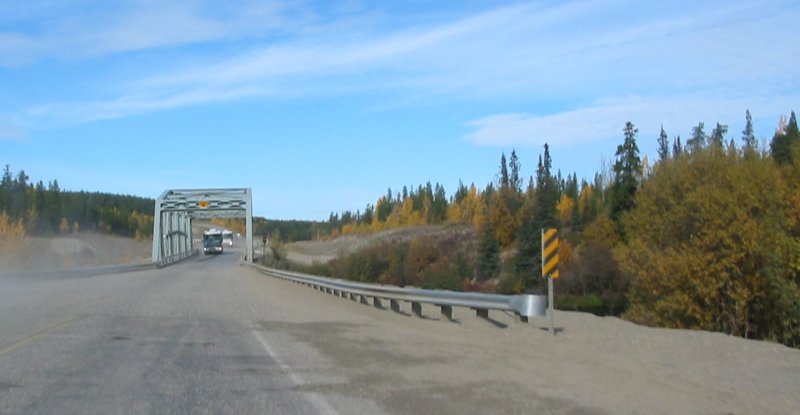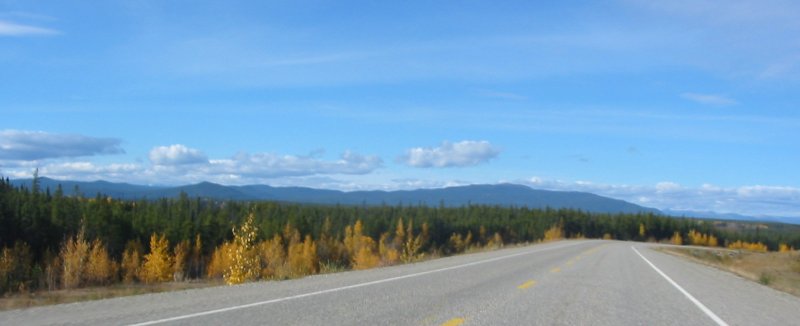 This stream crossing had a bridge as well as a cable car (notice the triangular frame to the right of the bridge).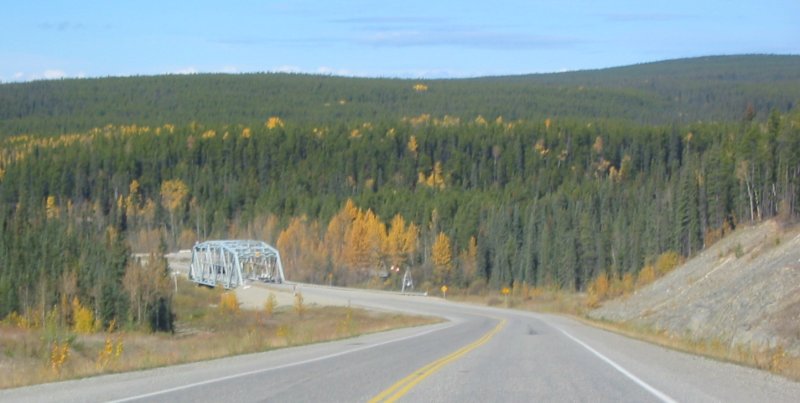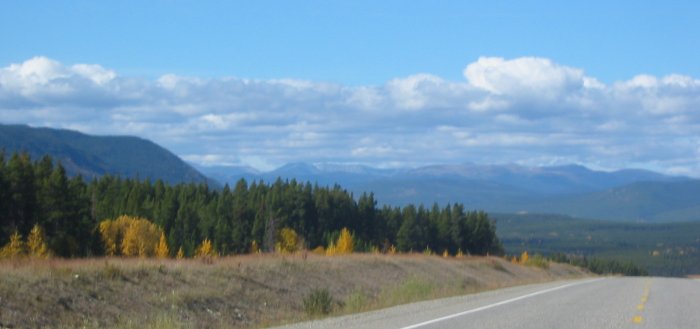 With the green of pine trees the yellow leaves of other trees stands out.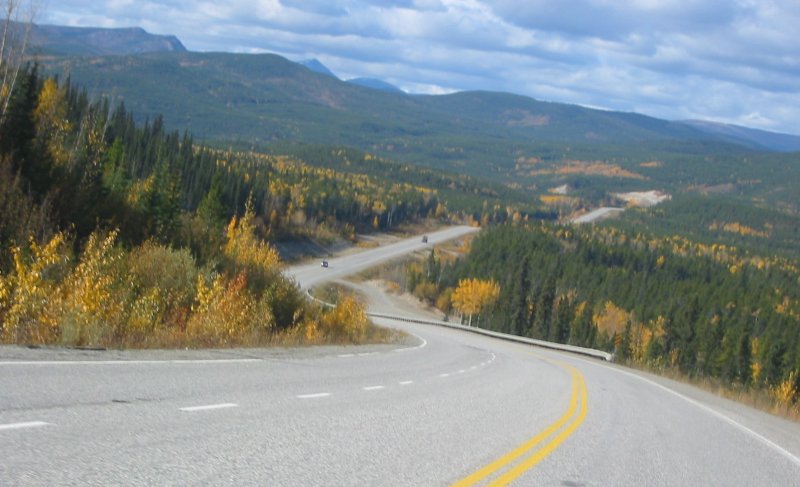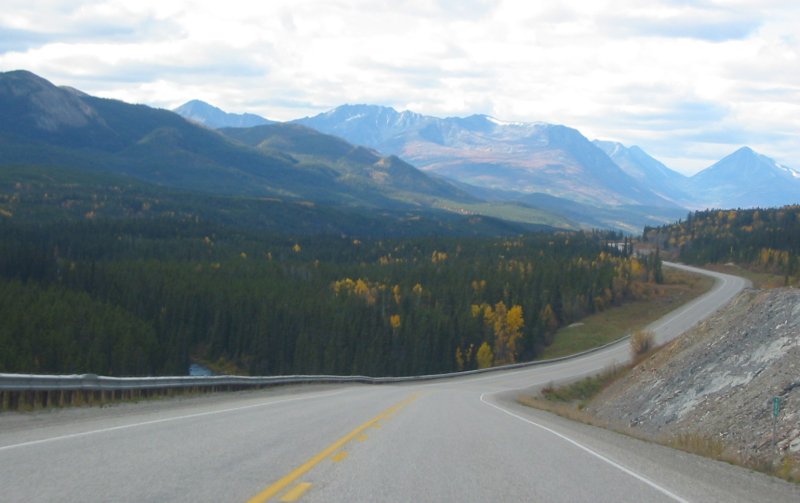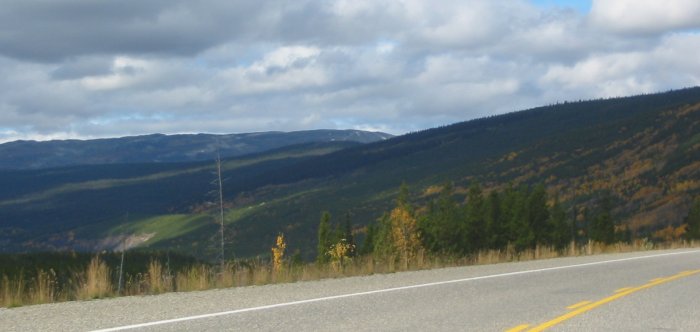 Rancheria Falls
(not much for pictures - more in the video)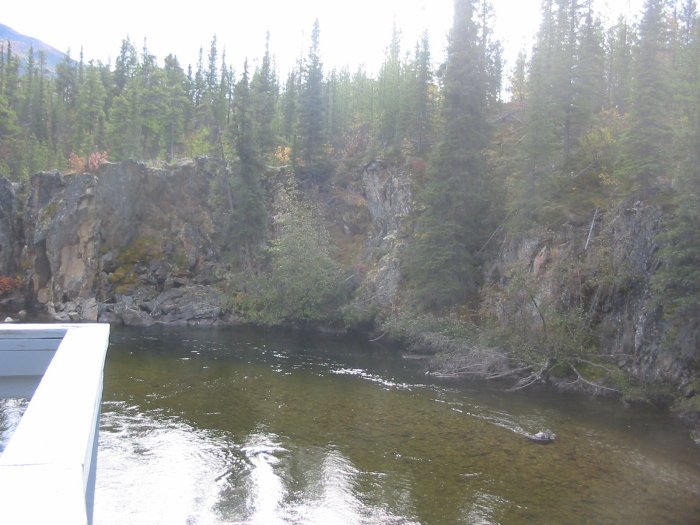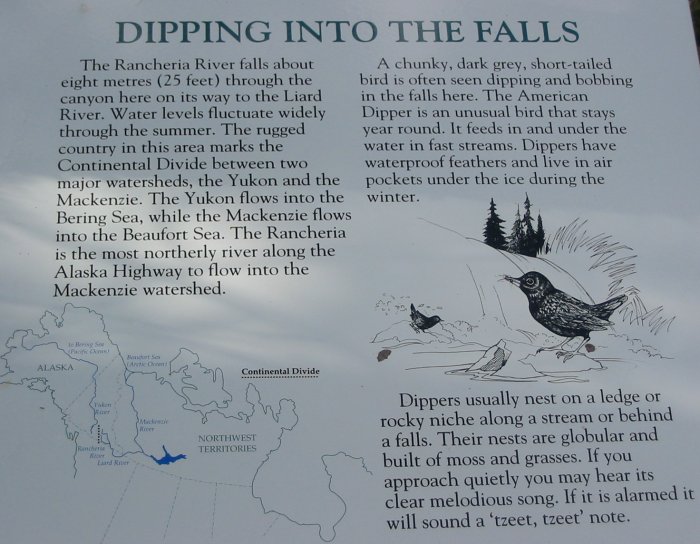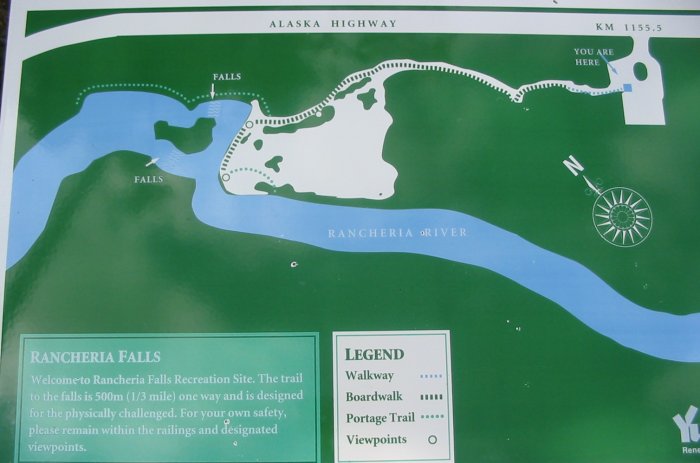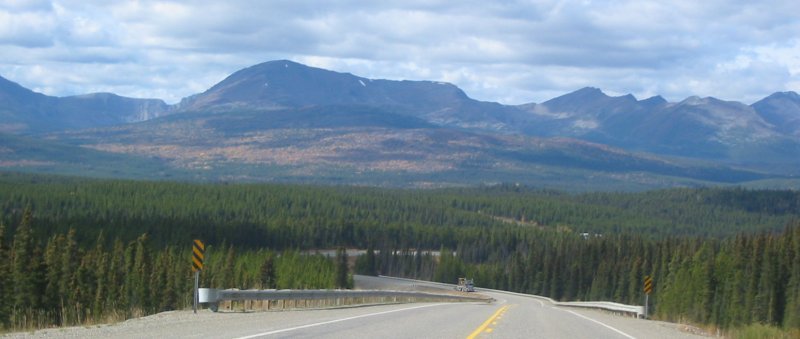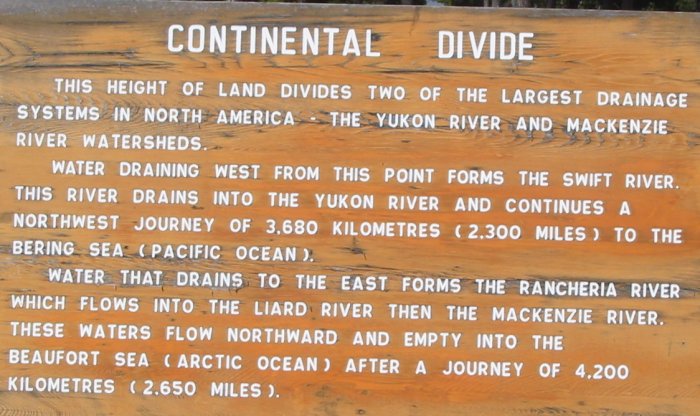 A sign next to this one had this to say:
"There is a distinct diference in traditional land use patterns corresponding with this separation of river drainages. Pacific salmon migrate up the Yuykon river watershed providing a reliable and relatively abndant food resource. This resource could generally support a larger and less transient human population than lands of the east."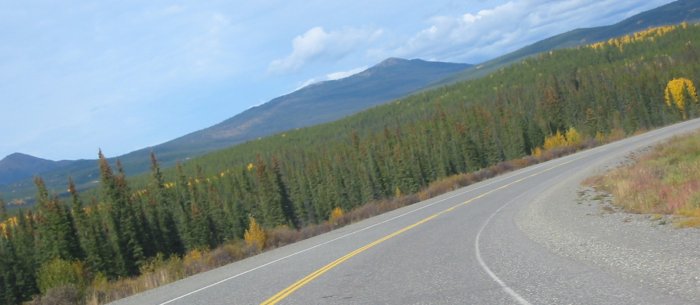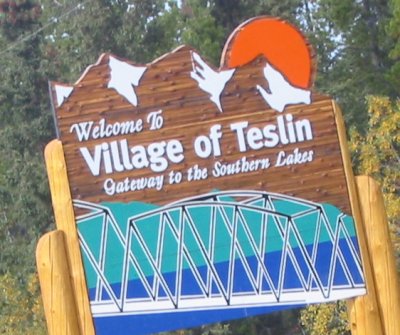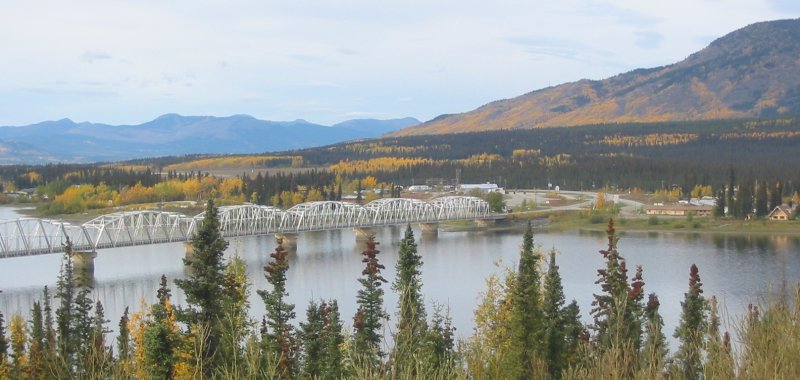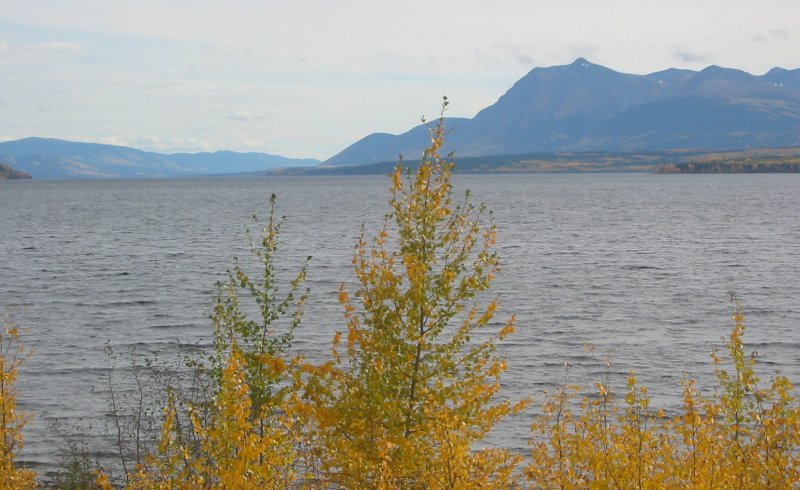 Gold on the hills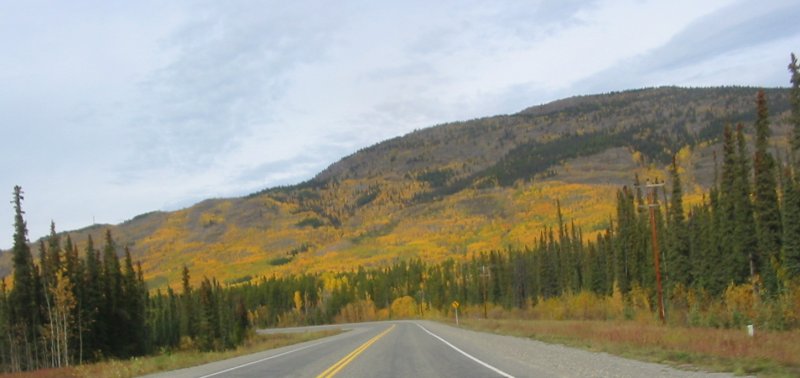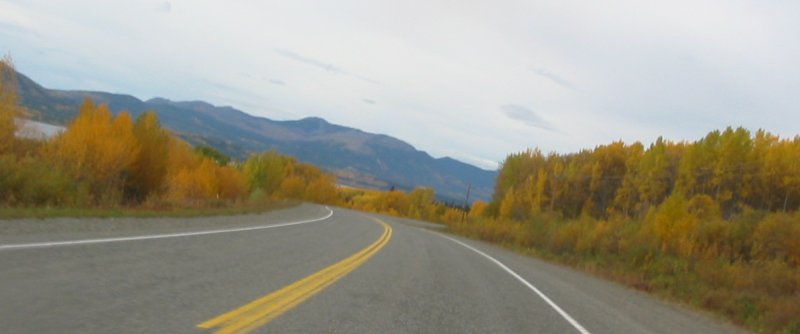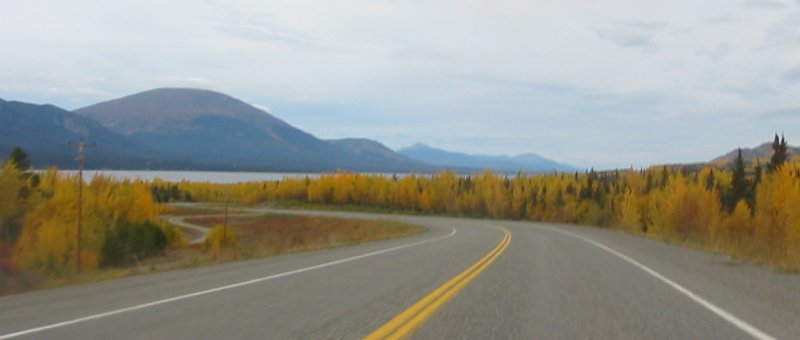 An original section of Alaska Highway - just before the bridge to Johnsons Crossing. Today I've noticed more sections of "re-alignment" where the road has been straightened and flattened.
One thing I've also noticed - little to NO road kill. I've seen a couple moose and a couple birds. Only one other small animal was on the road. Different.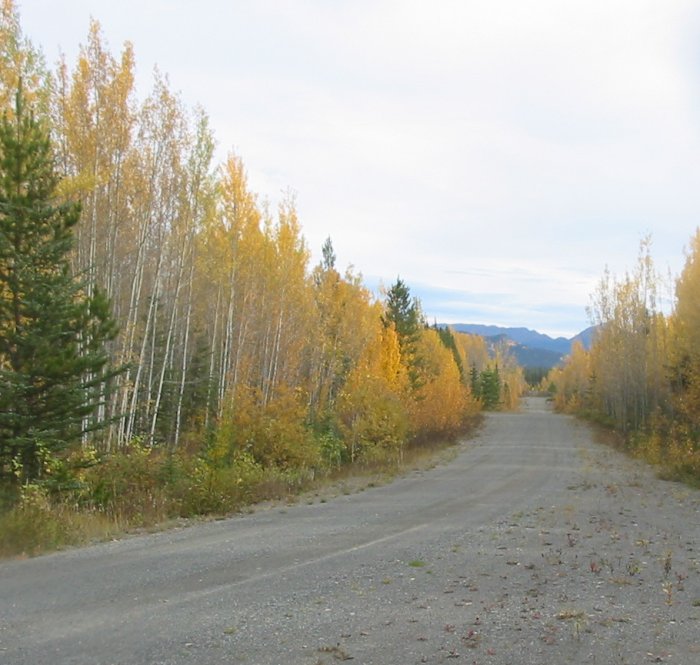 Also near the above picture was this road - with accompanying sign - so I stopped for a moment.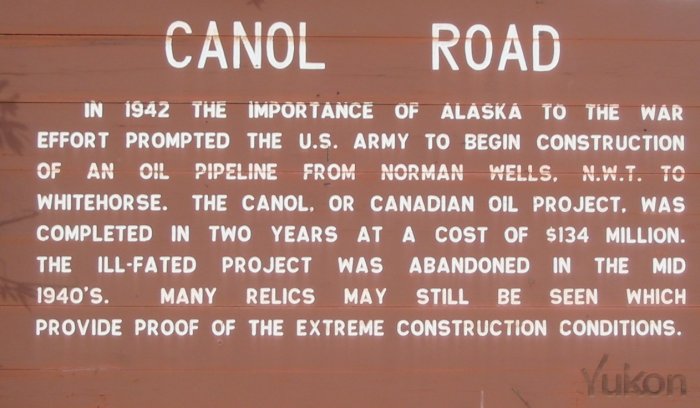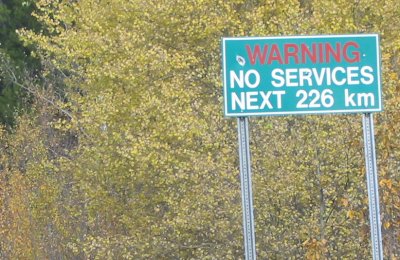 Hmmm - 226 km (140 miles) with a listed speed limit of 60 kph. For the stretch I was on it - I only went about 55 kph (not too fast - could get bumpy). The Alaska Hwy, two lane sections are listed at 100 kph (62 mph) with slow zones listed at 70 (43 mph), 60 (37 mph), or 50 kph (31 mph). Divided 4 lane roads are at 110 kph (68 mph) - but I've not been one one of those for a few days.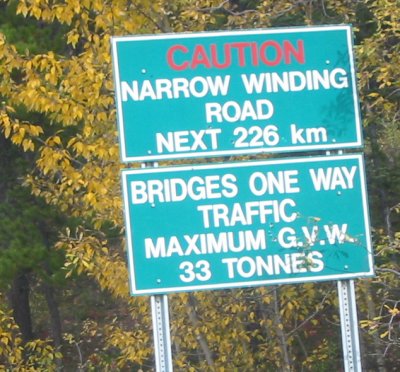 Looks decent - when dry - I saw a section that had traffic when wet - ruts I wouldn't want to make should it rain.