Ken Isacson and I headed down to US-129 in TN/NC for scenic motorcycle riding.
Ken made it back on his bike.
I made it back - but as a passenger in a car.

If you would wish to download Delorme StreetAtlas v5 annotated maps and WayPoint+ data files
Click Here (67KB - Zipped)


Day 1 track log
Friday, June 8, 2001
Leave Rockford. Stop by Ken's. Interstate as far south as reasonable.
Day 2 - first track log
Saturday, June 9, 2001
Complete the trip down, ride US-129, check into a motel.
Click to see Day 2 Pictures & Comments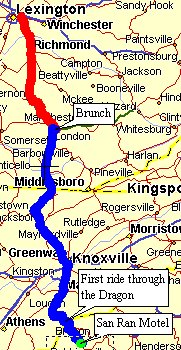 Day 2 - second track log
Saturday, June 9, 2001
Start from the motel and ride a clockwise loop.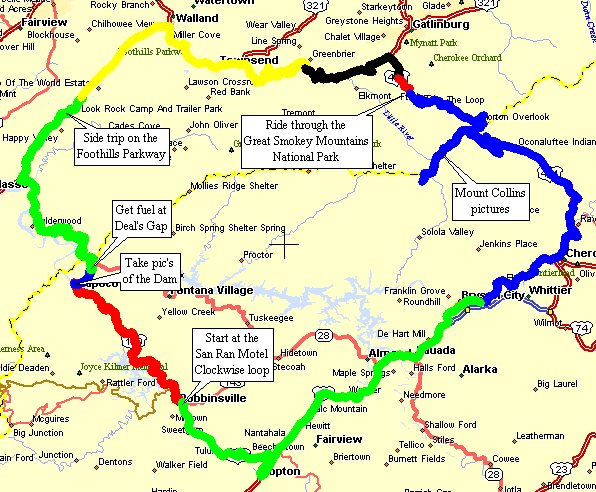 Day 3 - track log
Sunday, June 10, 2001
Leave the motel, head down to Andrews for church, head back to Robbinsville for breakfast.
Head on a clockwise loop through the Cherohala Skyway and US-129.
The loop does not complete for me as I had an accident (my fault & I was the only one involved).
Click to see Day 3 Pictures & Comments
Click to see Accident Pictures & Comments