Friday, February 2, 2007
A "Chicago Day" with Alice
With the planned move to Colorado approaching I want to "check off" some Chicago To-Do items. A new friend, Alice, is just the person to share the time and enjoy what The City has to offer. A week or so ago it was some Lou Malnati's deep dish pizza, at their original location.

Today we're heading downtown with a laundry list of possibilities in mind. We parked at the Monroe Street Garage and planned to walk - we'll get a good taste of some crisp and windy Chicago weather.

From the garage we walked through a portion of the Millennium Park and stopped at Cloud Gate for some reflection pictures. With time being about Noon we walked up to the Billy Goat Tavern for lunch - never been there - cool place - I'd go back. From the Billy Goat it was a quick walk to the Freedom Museum.

The Freedom Museum was one of my To-Do items. I heard it advertised on WGN AM720, a radio station in my selection. The focus of the museum is on the Founding Fathers, the Constitution, and the Bill of Rights. Well worth the visit.

We spent more time at there than perhaps either of us anticipated. Getting out we moved on down to the Art Institute of Chicago. The Lions were decorated with Chicago Bears helmets and people were milling about cameras in hand. Alice and I fit right in.

Photos of the lions dispatched we jumped inside to the Institute's museum - flowing through some of the classic gallerys, the Silk Road gallery, and the Black and White photography exhibit. We stayed as long as we could - closing time was 5p.

Down the road a block+ was Miller's Pub. We were fortunate to have a table waiting - there was a line when we left. Dinner complete the final stop was an evening of Jazz. To Symphony Center we go!

I should say sorry - there are no photos of the grand theatre. We arrived in time for the pre-concert, attended the main concert, and stayed for the post-concert. We left the building around 11pm - to then spend some time capturing the building lights - all of the "Bears" setups in anticipation of Super Bowl XLI in two days.

While the day was packed with activity it flowed smoothly. I enjoyed sharing the time with Alice as well.

On to some pictures...




A map showing the layout of the locations
Courtesy Google Earth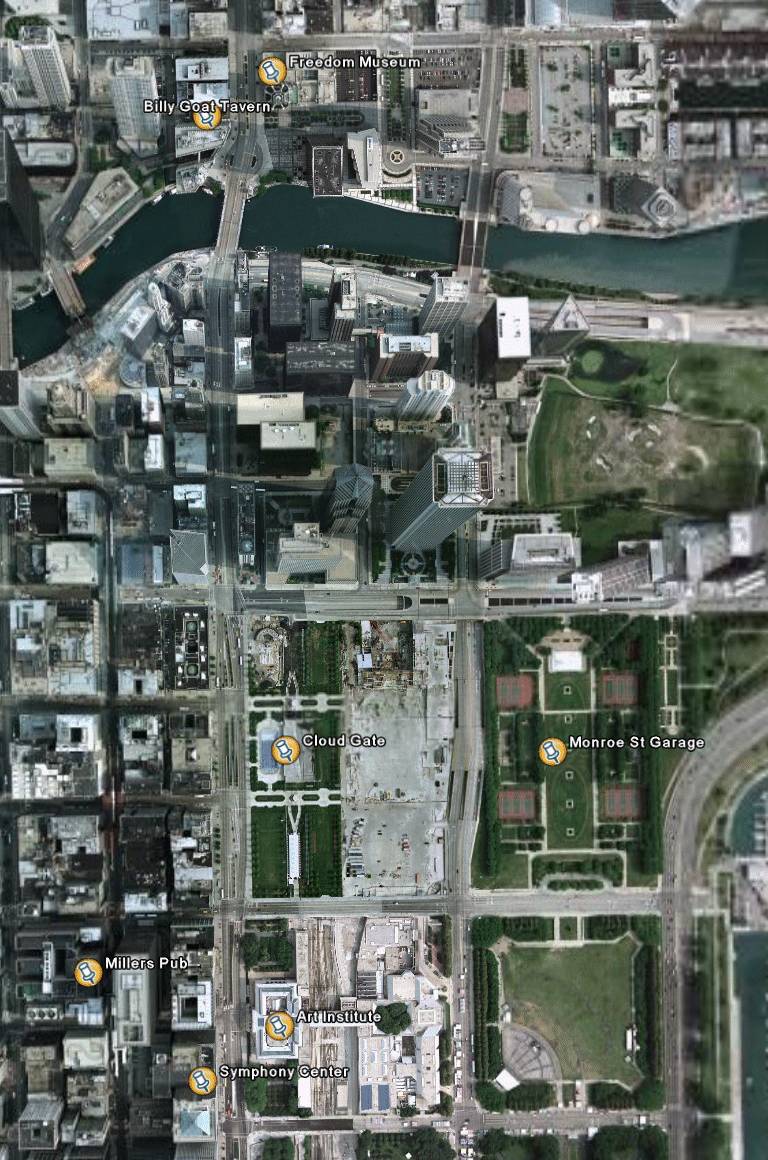 Standing under "
Cloud Gate
" aka The Bean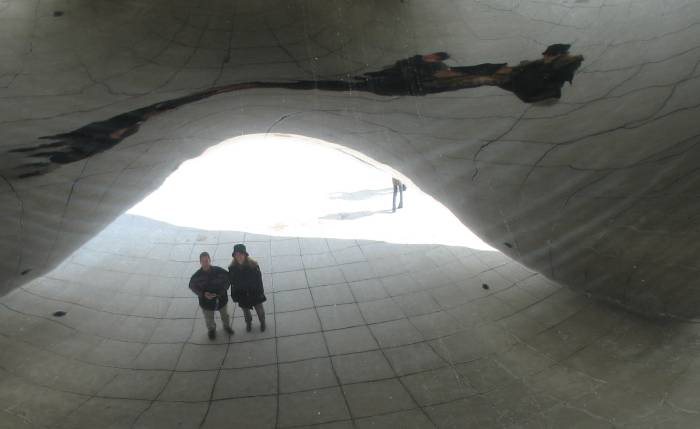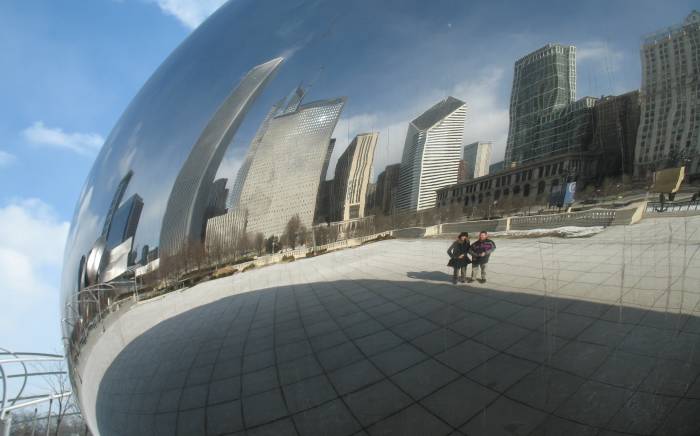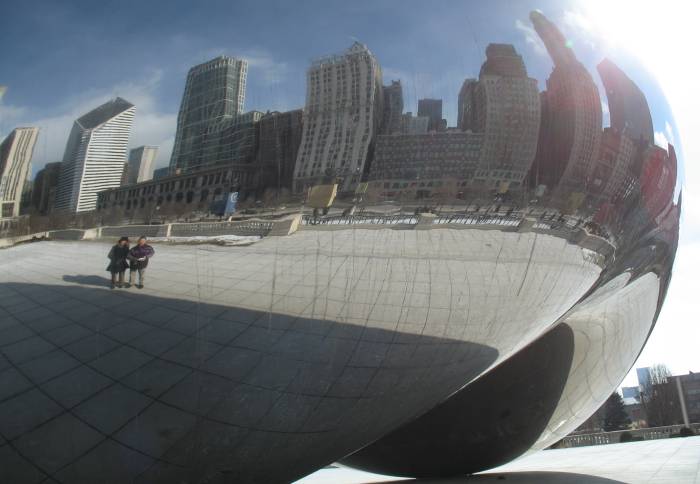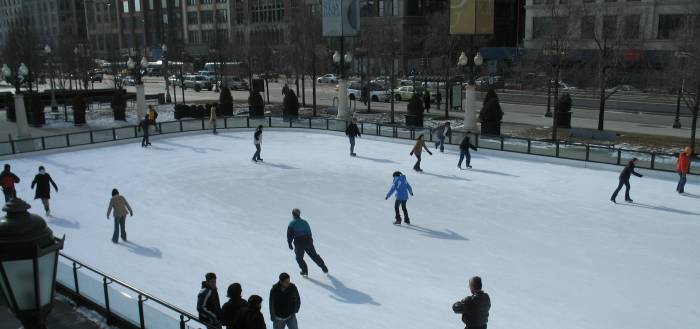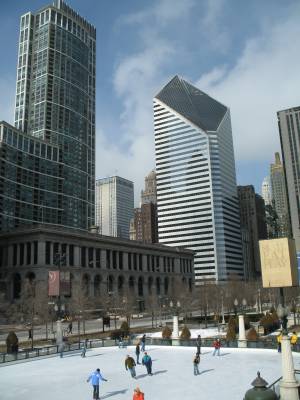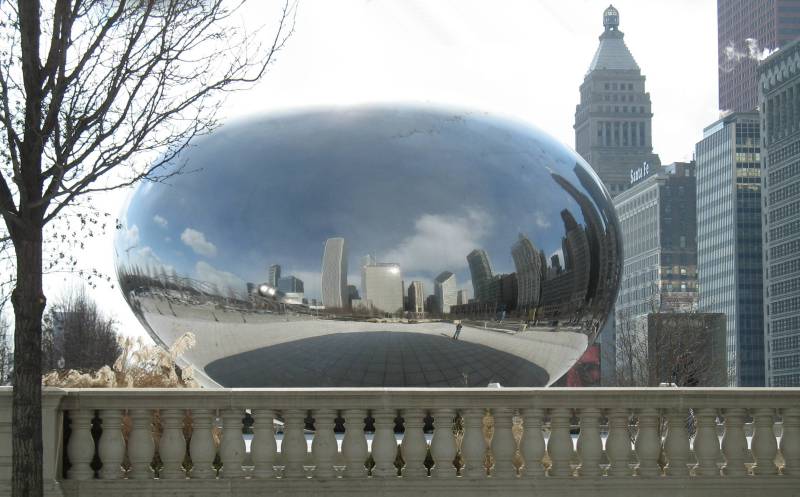 Lunch at the
Billy Goat Tavern
.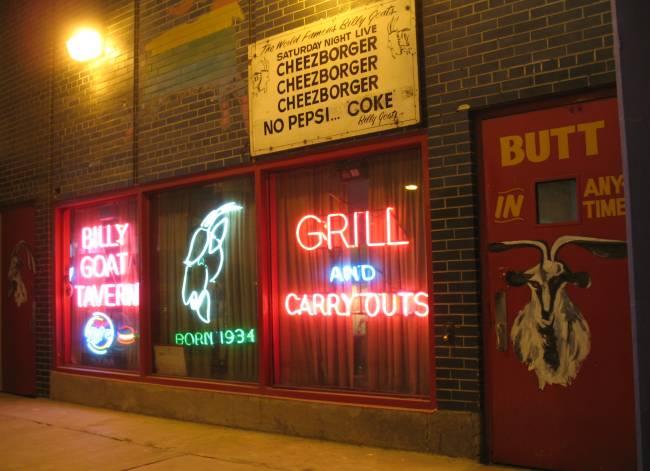 A "Michigan Avenue" view from the
Freedom Museum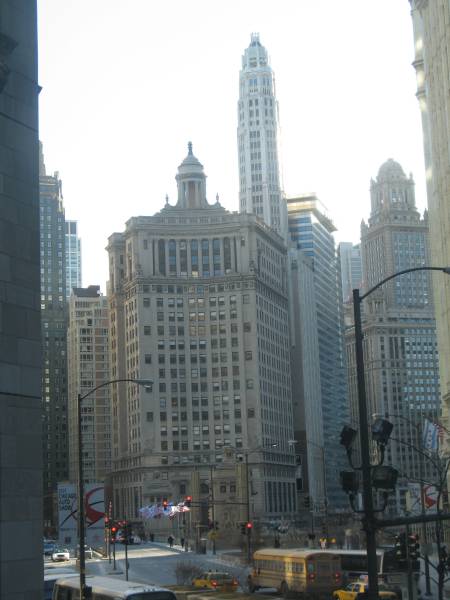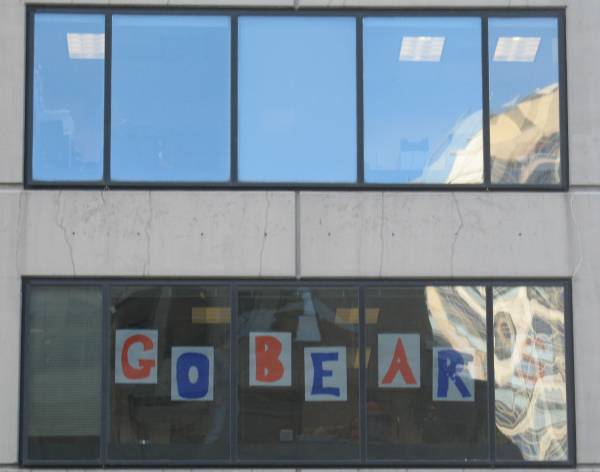 A reflections shot.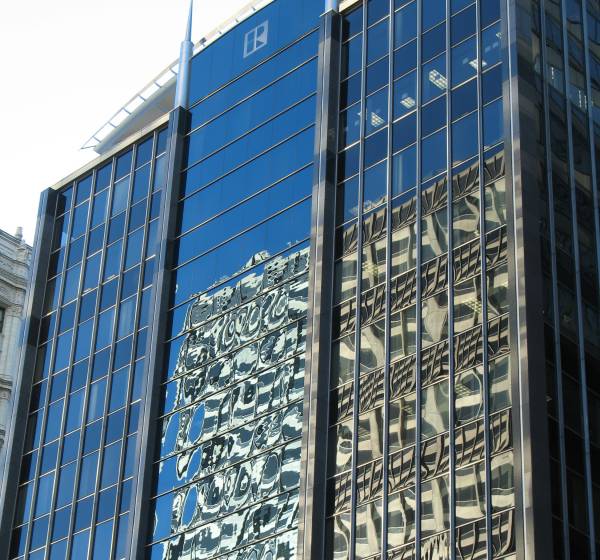 Yet another reflections shot. This is the "showcase studio" for
WGN Radio (AM 720)
. The announcer at the mic is John Williams.
I came close to deleting this photo as you really can't see much of the studio - but the reflected skyline is neat.
Still looking for John??? Center of the photo, just to the right of the "yellow box" on the mic.
Alice and I are somewhat reflected at the far left of the photo.
Pre-Super Bowl XLI mania.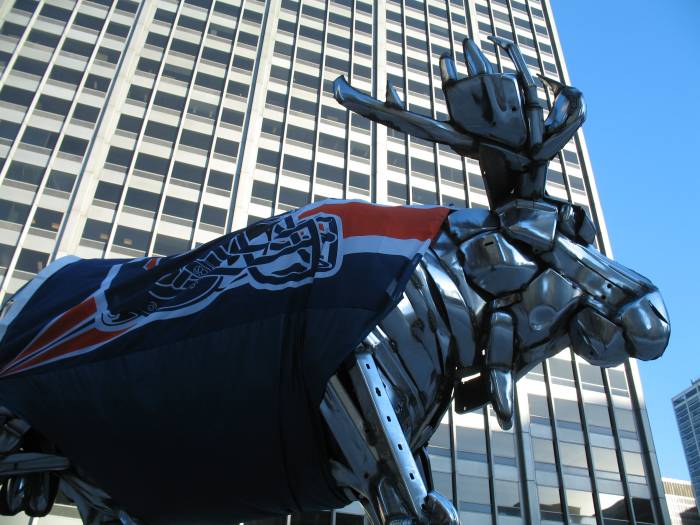 Finishing the ice in front of "the bean"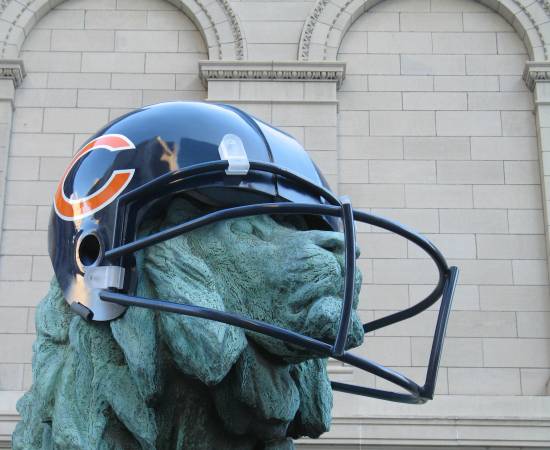 The Art Institute of Chicago on a free admission day.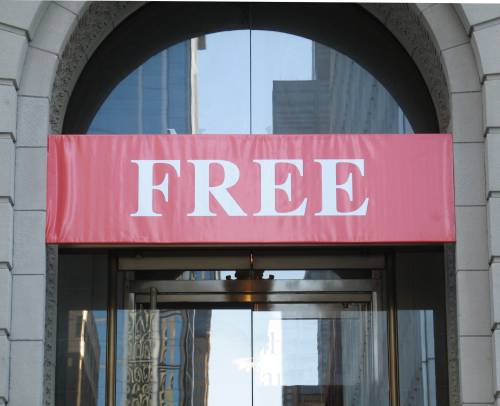 I was happy to discover that photography was allowed - so long as a flash was not used.
The purpose of these photos isn't for their beauty (low light + no tripod = blurry photos) but rather as a memory-jog of a few items that caught, and held, my eye.
Henri Fantin-Latour's
Still Life with Flowers
1881
This work had a bland background and table - no cause of distraction for the eye. The flowers were the focus.
They were VIVID. Three dimensional.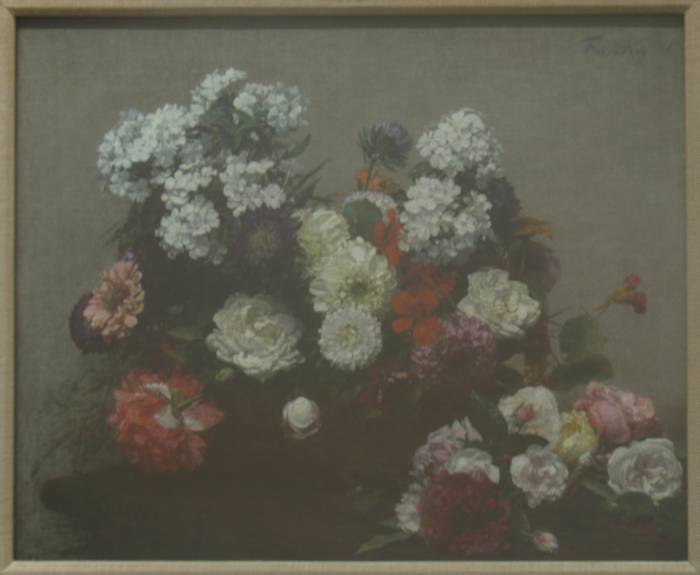 Claude Monet
Water Lily Pool
1900
My gaze flowed deeper into the Lily pool.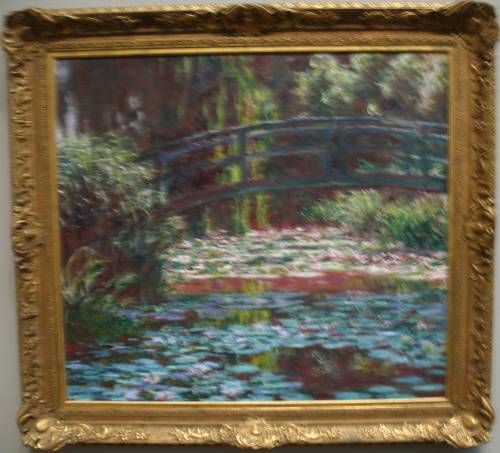 Nathalija Gontcharova
Spanish Dancer
c. 1916
This is one of Alice's favorites - perhaps it was a favorite, until I started to "figure out" what was going on with the arms and hands.
For Alice the allure is the painting of the lace cloth.
She commented on not seeing the top portion of the work - mainly gazing at the lower portion and the detail of the dress.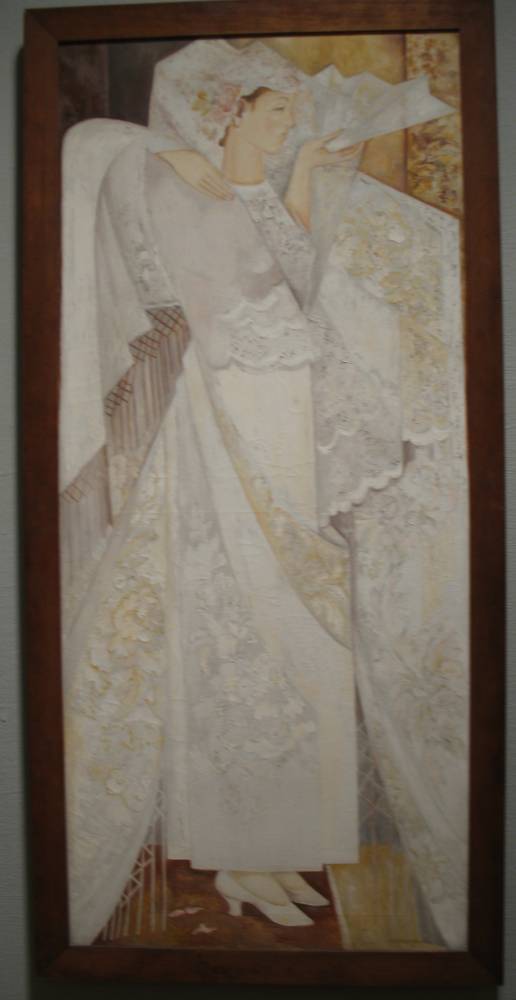 A closer view of the lower portion.
Harald Sohlberg
Fisherman's Cottage
1906
I'm not so set on this work. It is dark - eerily dark.
The contrast of the bright cottage.
Why does this work catch my eye? The horizon through the trees?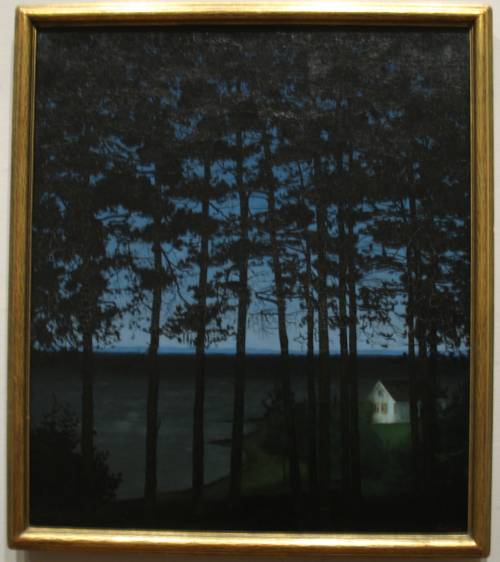 Linda Connor
Pilgrim, Hemis Monastery, Ladakh, India
1998
This work was in the black and white photography gallery.
Undesirable reflections in my photo of it. The background was essentially black.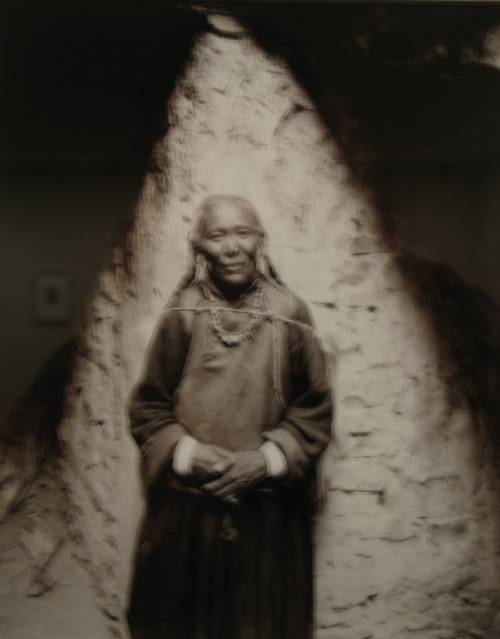 We're sitting at a small table in the rotunda of the
Symphony Center
. The evening's schedule includes a pre-concert, the main concert, and a post concert.
The main concert is the
Count Basie Orchestra
preceded by the
Joey DeFrancesco Trio
. While listening to the pre-concert music
I tried a shot or two of the table arrangement against the black coat. Not much success at a depth of field photo but the arrangement was enjoyable in itself.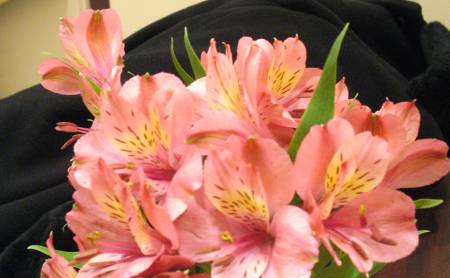 Walking about we'd stop to grab photos of the theme lighting - Bears Super Bowl frenzy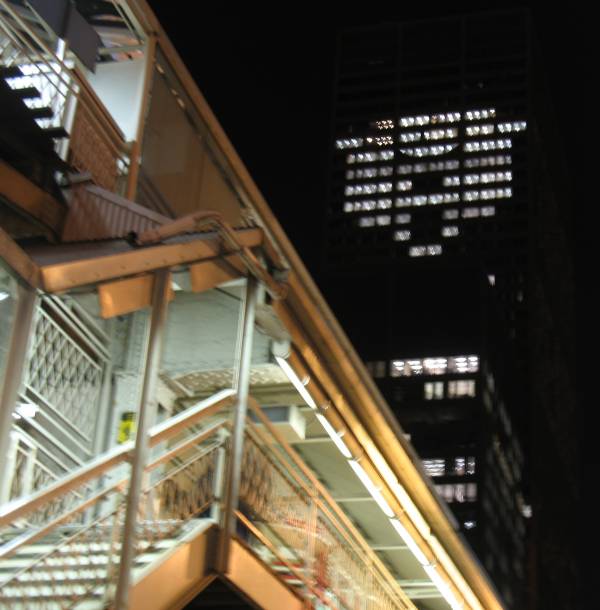 "Bear Down - Bears"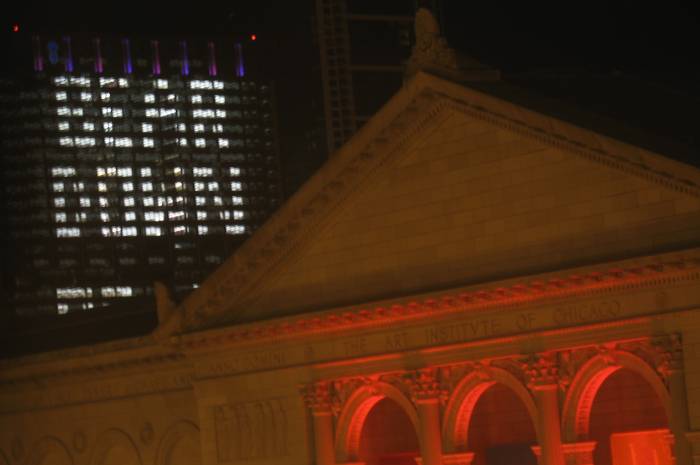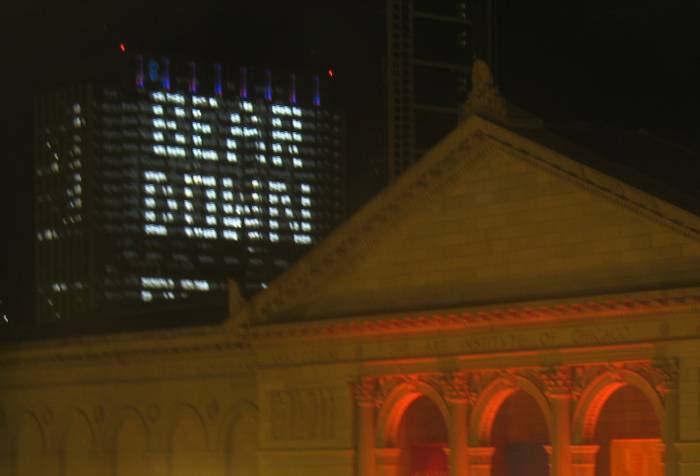 "Go Bears"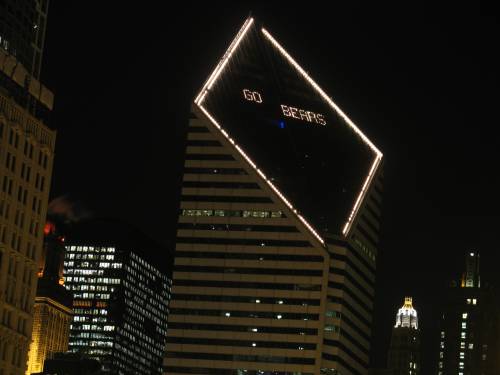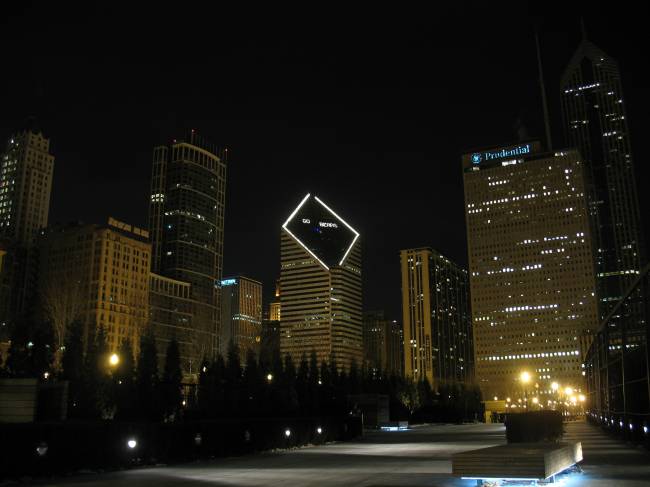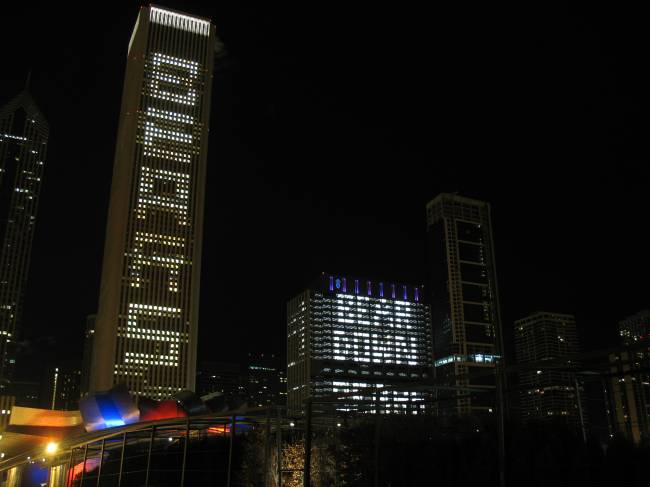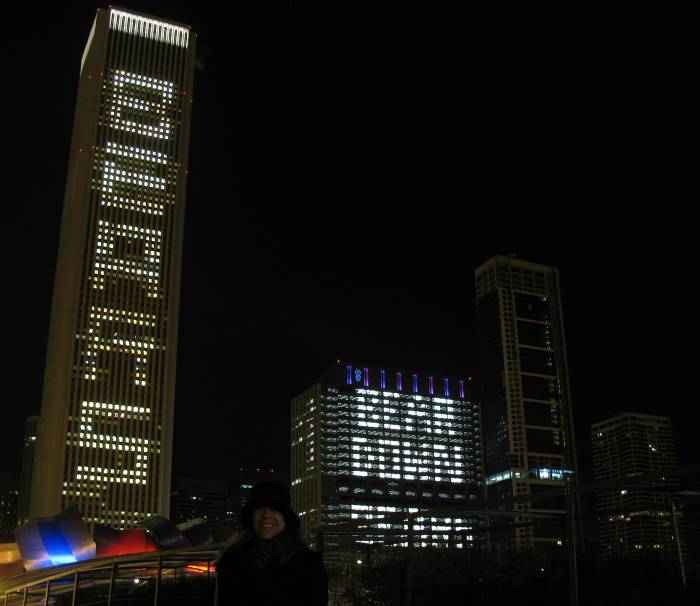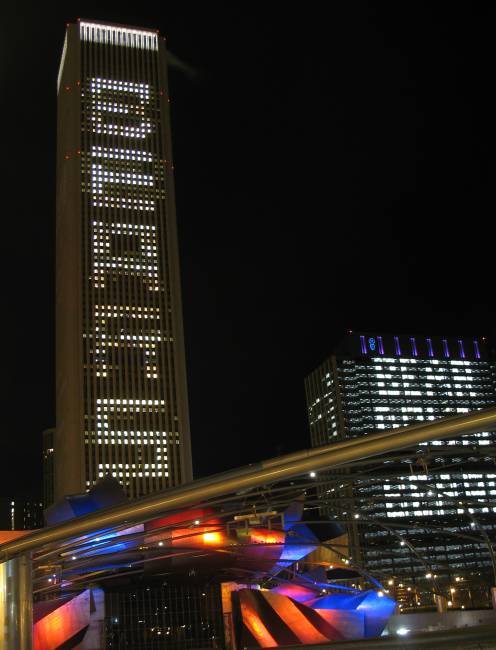 "Super Bears XLI"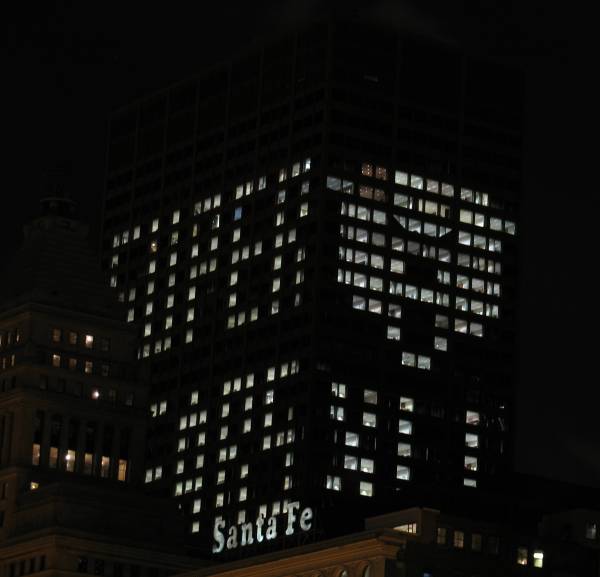 When I started to edit this page I was in a "GO BEARS" mood. The opening touchdown - wow.
Now, a few hours later.... "Maybe Next Year"